With the arrival of Instagram Reels, nowadays you have a more exciting way to share your travel experience than photos on Instagram.
By creating bite-sized Instagram travel Reels, you can better highlight your travel story through videos of epic landscapes, and intriguing cultural and culinary discoveries or share valuable travel tips for future travelers, etc.
In this tutorial, we will walk you through 2 great ways to easily create compelling Instagram travel Reels with Instagram travel Reel templates. So, you can share your journey while seeing your comments, shares, and likes skyrocketing on Instagram.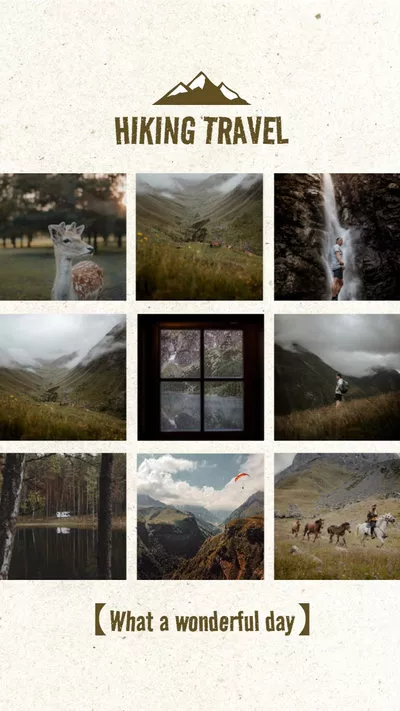 Hiking Travel Reels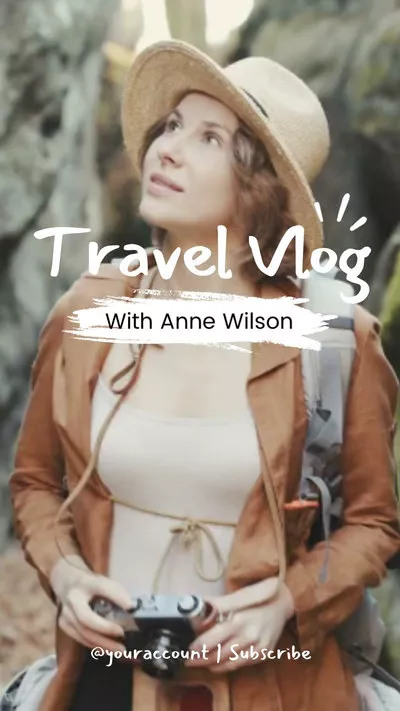 IG Travel Vlogger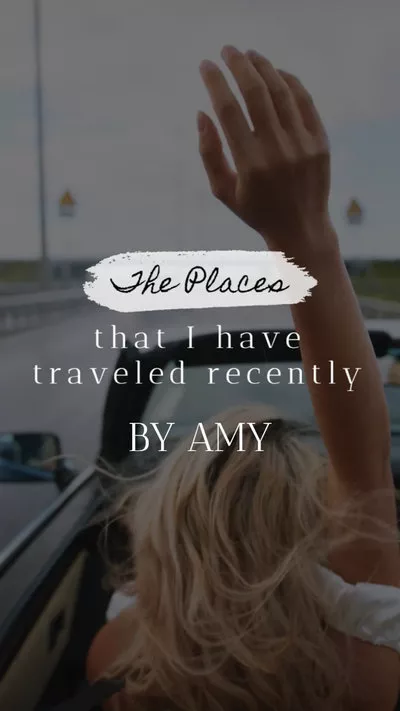 Travel Reels
Here is what you will learn:
Also, read how to add transitions to Instagram Reels.
How to Make Instagram Travel Reels on Instagram App
If you are new to video editing and don't know how to edit your existing travel footage into a compelling video, then the easiest solution to create great Instagram travel Reels is by using an editable Instagram travel Reel template available on Instagram.
The benefit is that you can directly replace the clips of an existing Instagram travel Reel template with yours since all the transitions, beat edits and music have already been made, which could be a great timesaver.
So, here is how to make an Instagram travel Reel with existing Instagram travel reel templates on the Instagram app:
Step 1
Open your Instagram app and swipe through Reels until you see an ideal travel Reel with the "Use Template" icon.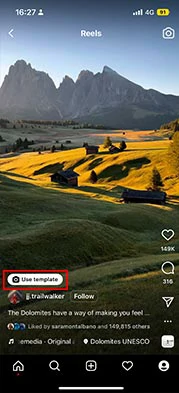 Find an Instagram travel Reel with the "Use Template" icon.
Step 2
Tap the "Use Template" icon > then you can see how many clips have been used in this travel Reel and each clip's duration. You can tap Add Media to replace the clips and photos with yours.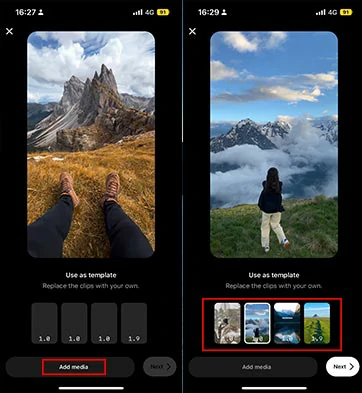 Tap "Add Media" to replace clips with yours in the template.
After you replace a clip with yours and you can tap the video and select which portion of a video to be used in the Instagram travel Reel. Or you may also long tap and drag to adjust the sequence of each short clip. Then, tap Next.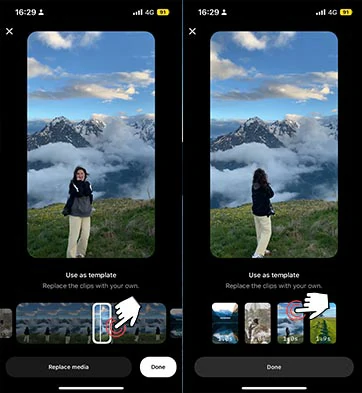 Tap to select video moments or tap and hold to adjust the clips' order.
Step 3
Add texts, edit the cover, captions, hashtag, etc. and share Reels as usual.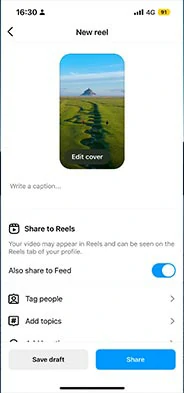 Edit Instagram travel Reel's cover, and add captions, hashtags, etc. before sharing it.
How to Create Instagram Travel Reels by FlexClip Online
Well, although the Instagram travel Reel templates on the Instagram app offer you a viable option to make Instagram travel Reels in minutes, it's not glitch-free, for example:
Not every viral Instagram travel Reel can be used as a template for edits. Only Reels with the "Use Template" icon can be edited. So, it takes tons of time for you to find an ideal travel Reels template.
Secondly, existing Instagram travel Reel templates are not fully customizable. You can't customize the audio and each clip's duration, transitions, etc.
So, for creative Instagram creators like you, a more flexible workaround to create great Instagram travel Reels is using the FlexClip online video maker.
Create engaging Instagram Travel Reels by FlexClip online.
With FlexClip, you can select from 300+ designer-made, and fully-customizable Instagram travel Reels templates. You can drag and drop your clips to customize a scroll-stopping Instagram travel Reel with the click of a button.
Trek Travel Reels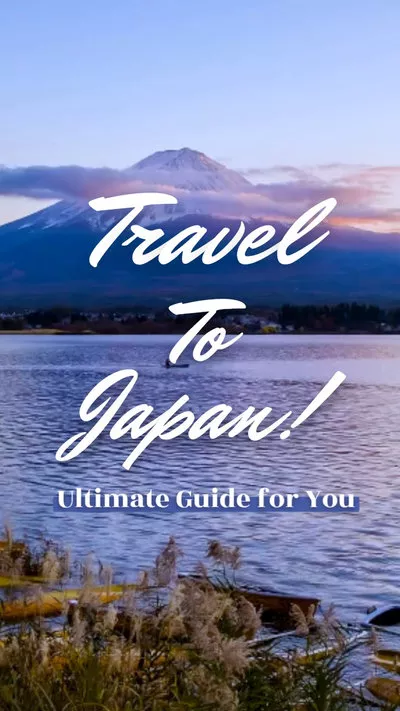 Japan Travel Reels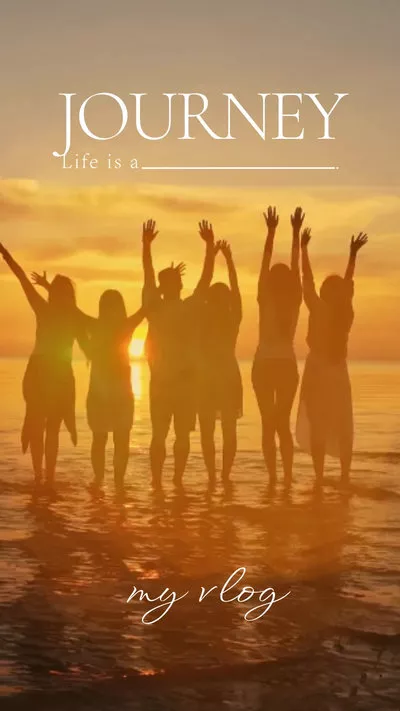 Travel Vlog
What's more, you can add 200+ trending transitions like liquid, circle, fade, glitch, etc. to smooth out each clip and 1,000+ text animations and 74,000+ music tracks and sound effects, GIPHY GIFs, animated illustrations, effect overlays, auto subtitle generator, image background remover, speech controls, etc. will unlock your creativity to take your Instagram travel Reels up a notch.
So, now let me walk you through how to make an Instagram travel Reel by FlexClip.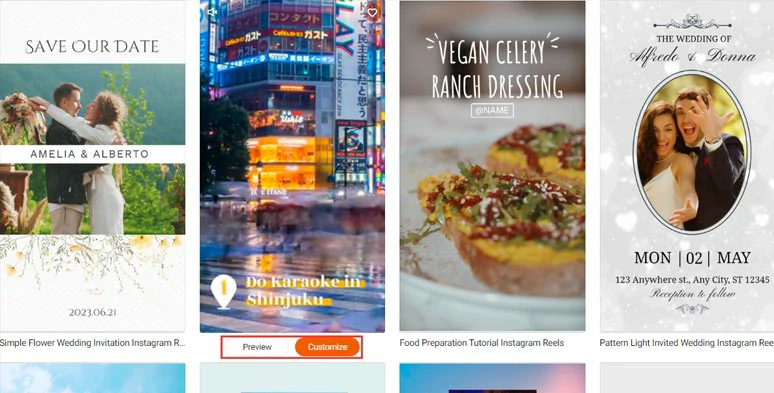 Select an Instagram travel Reel template.
Step 2
Upload your video assets to FlexClip from your PC, phone, Google Drive, One Drive, Dropbox, Instagram, Facebook, etc.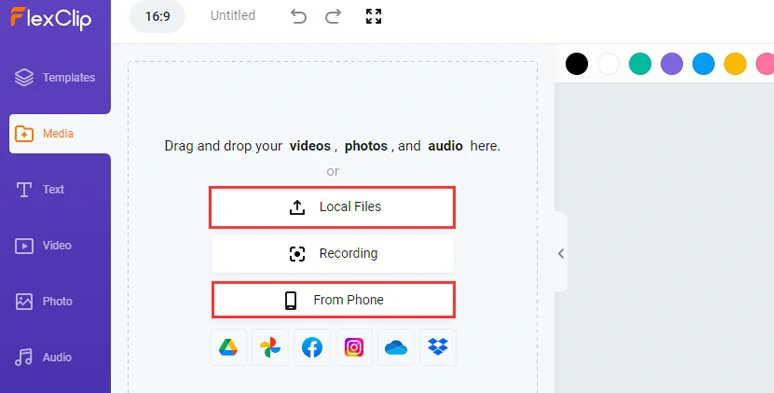 Upload your video assets to FlexClip.
Step 3
Drag and drop your video to replace the premade clips. Then, drag either end of the clip to trim the clip or split the clip into two to delete the unwanted video movement. You may also drag and hold to adjust the sequence of clips on the intuitive timeline.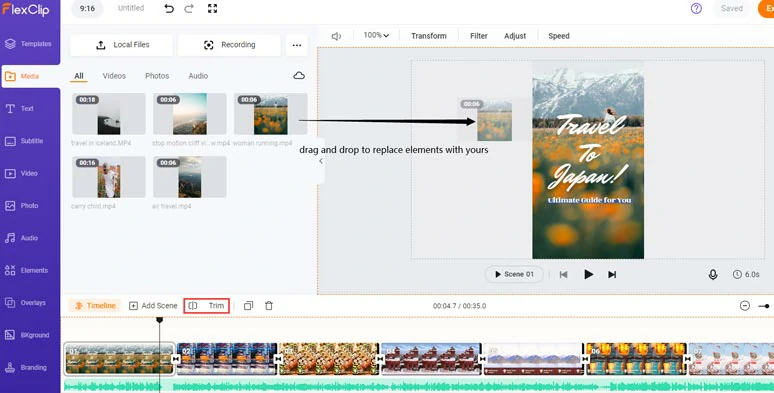 Drag and drop to replace premade elements with yours.
Step 4
Customize the text and text animations.
Double-click the text overlays > type in your texts and customize the font, styles and colors, opacity, alignment, duration, and animations like the Typewriter effect, Bounce, Glitter, Fade, etc.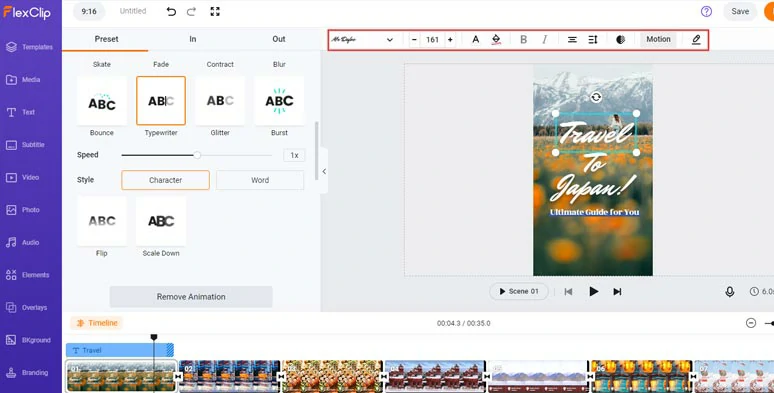 Customize the text, text styles, and text animations.
If you don't like the existing titles in the template, click the Text tab and scroll down to discover tons of animated texts available like Lower Thirds, Social Media, Callout Titles, Search Bar, Location Titles, Speech Bubbles, etc. All of these all fully customizable.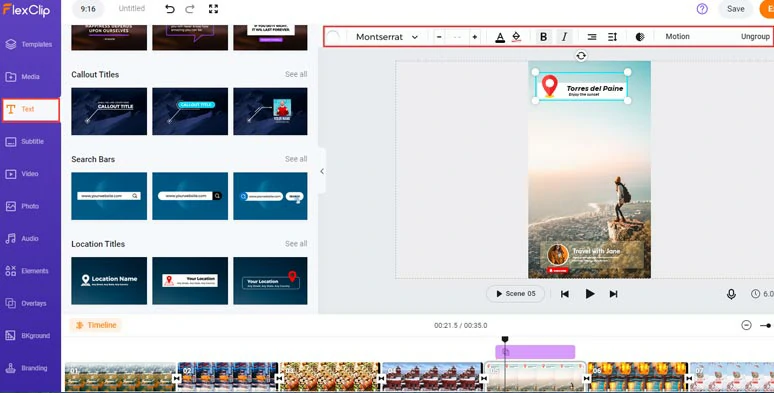 Use more animated titles with styles for your Instagram travel Reels.
Step 5
Add trendy transitions to connect each clip.
Click Transitions between two clips and select from 200+ transitions. You may customize the direction, color, and duration of the transition.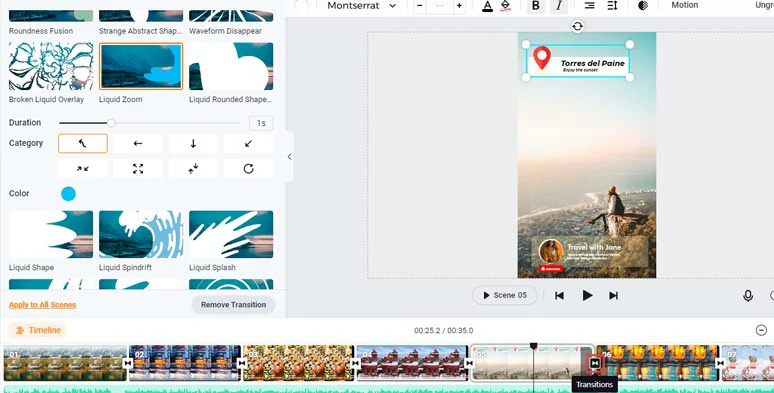 Use trending transitions to connect scenes for your Instagram travel Reels.
Step 6
Layer multiple music tracks and sound effects to add depth to your Instagram travel Reels.
Click the Audio tab > search for any music or sound effects to create vibes for your Reels. You can trim or split the audio and adjust its volume or add fade-in or fade-out effects for a smooth transition.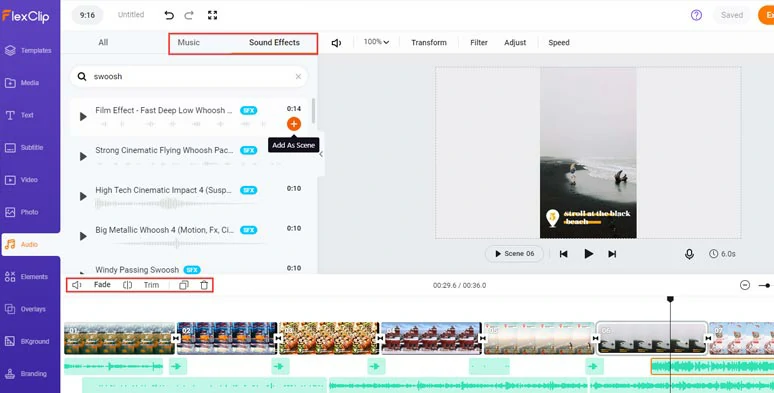 Layer multiple royalty-free music and sound effects to create the vibes.
Step 7
Preview and share.
Done with the editing. You can download the video to your hard drive or directly share it to YouTube, Google Drive, Dropbox, One Drive, or TikTok; a clickable link and an embed code are also available for your blogs, newsletter, or other repurposing.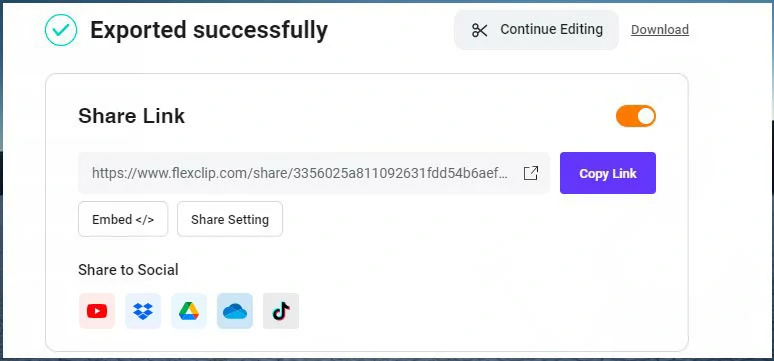 Share your Instagram travel Reels in multiple ways.
Actionable Strategies to Make Viral Instagram Travel Reels
Make sure your travel Reels have value to be shared or saved. It can be a jaw-dropping scenery that prompts viewers to share or practical travel tips for future travelers to save.
Cut to the beat. Place each short clip at the upbeat of the song. So, as the music changes, the clips change accordingly to help add rhythm to your travel Reels.
Add open captions
to Instagram travel Reels. Not every viewer will turn on the audio to watch your Reels. Adding burned-in captions to your travel Reels will make them available to all.
Use CTAs and trending hashtags (7-10 for each Reel) to prompt viewers to comment, like, and follow your Instagram and make your travel Reels more searchable on Instagram.
Learn to use Instagram Insights to know the best time to post Reels when your followers are most active on the platform.
Don't forget the power of an engaging and relatable cover for your travel Reels and great audio.
Now, It's Your Move
So, hopefully, you will find this tutorial helpful and love using the above two ways to create creative Instagram travel Reels for your Instagram. Finally, don't forget to share this post on your Facebook or Twitter and leave your comments for us. Cheers!