Adding open captions to your video makes it easier for people to read your video with eyes in public or quiet places and makes your video content accessible to viewers hard of hearing.
Besides, for social media like TikTok, Instagram, and Facebook that do not support SRT or TXT files for closed captions, adding open captions to your videos proves to be indispensable in engaging and reaching wider viewers.
So, in this tutorial, we will briefly explain what the open caption is and the difference between option caption and close caption and walk you through how to automatically add open captions to your video online and in Adobe Premiere Pro.
Here is what you will learn:
Also, read how to transcribe MP3 to text.
What Does Open Caption Mean
Open captions or burned-in captions refer to the captions that have been embedded into the video. Viewers can't turn off the open caption in a video as it is part of the video content.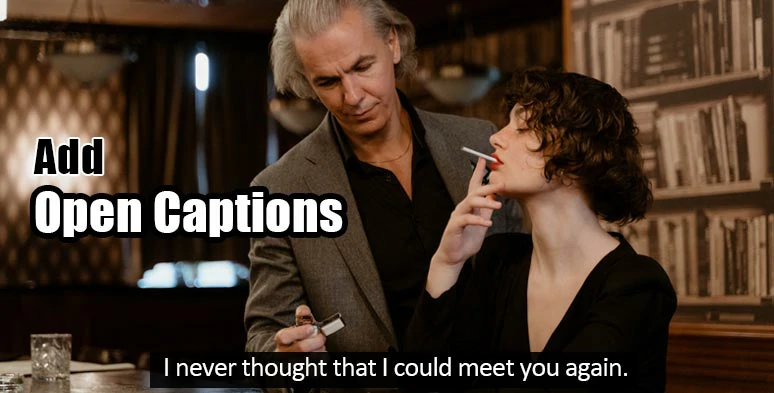 Add open captions to a video or a movie.
Open captions are widely used in movies, esp. foreign films. So, you can easily read the open captions and follow the narratives in the movie.
Open Caption VS Close Caption, Any Difference
| &nbsp | Open Captions | Closed Captions |
| --- | --- | --- |
| Turn on/off | Embedded into the video; can't be turned off | A separate text file from the video; can be turned off |
| Availability | Available to all social media and online and offline viewing | Available only to online social media and desktop media players that support uploading SRT/TXT files. |
| Edit | Can't be edited after it is burned in a video | Can be edited online or in some desktop media players |
So, it's highly recommended to add open captions for videos on Instagram, TikTok, Facebook, or Snapchat that do support closed captions. For YouTube videos, you may use either closed captions or open captions.
How to Automatically Add Open Captions to a Video Online
One of the easiest ways to automatically add open captions to a video is by using FleClip online video maker. With a great auto subtitle generator, FlexClip can identify 140+ languages with different accents and help you automatically generate captions for your video (up to 30 mins at a time) with the click of a button.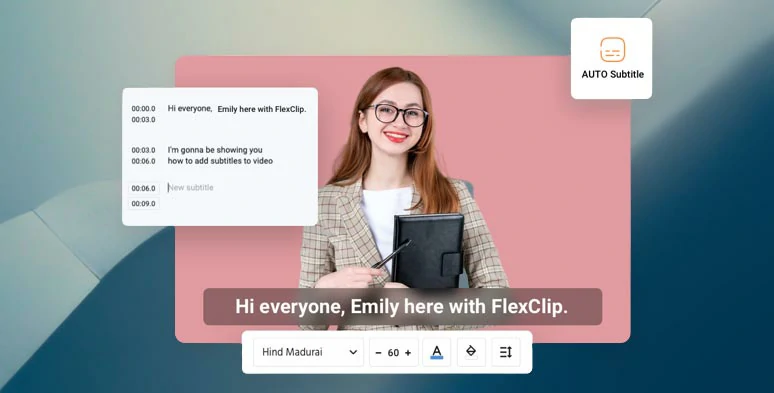 Automatically add open captions to a video by FlexClip online.
So, here is how to use FlexCLip to automatically add open captions to your video:
Step 1
Access FlexClip
and upload your video assets to FlexClip from your PC, phone, Google Drive, Dropbox, One Drive, IG, Facebook, etc.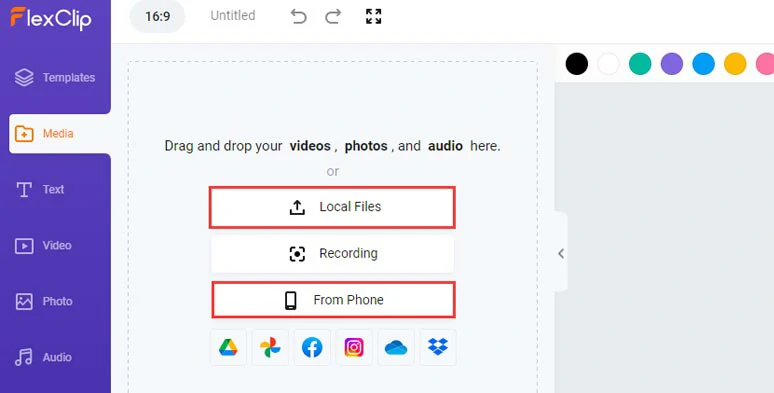 Upload your videos to FlexClip.
Step 2
Click the plus button to add the video to the magnetic timeline. Or you can click on the video and select portions of the video to add to the timeline.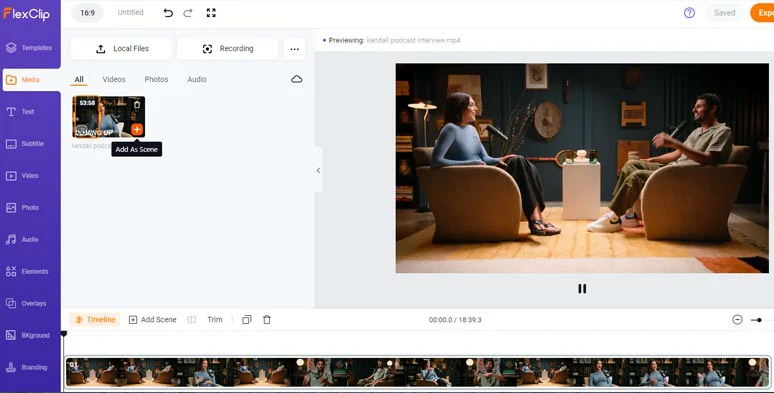 Add the video to the timeline and you may trim or split the video whenever you want.
Step 3
Automatically transcribe the video to text for open captions.
Click the Subtitle tab > Auto AI Subtitle > select the source language and accent in the video > hit Next and select the style of open captions > press the Generate Subtitle button. Then, FlexClip will automatically add captions to the video.

Automatically generate open captions for the video.
Step 4
Proofread the auto-generated captions and make small changes.
You can skim through the captions to check if there are any errors. Or customize the text's font, size, styles, colors, or the color of background fill, opacity, alignment, etc. or you may merge, delete or add captions wherever you want. Pretty helpful!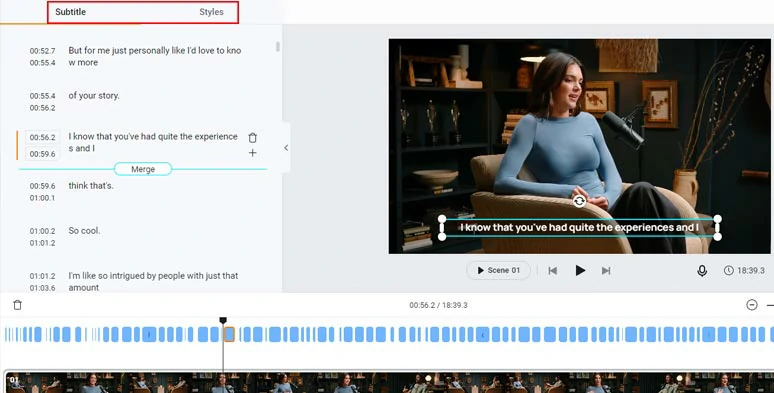 Proofread auto-generated captions and stylize captions and more.
Step 5
Preview and share.
Satisfied with the open captions in the video. You can download the video with open captions to your hard drive or directly share it to YouTube, TikTok, Google Drive, Dropbox, etc. A clickable link and an embed code are also available for repurposing.
Bonus: Explore the designer-made and fully-customizable video templates in FlexClip.
As you wait for FlexClip to generate open captions for your video, you may browse through the massive
trending video templates
for social media and promo videos, Instagram Reels, TikTok, etc. available. You can drag and drop to replace pre-made video elements with yours to create a compelling video in minutes, which will boost your workflow 15x faster.
Purple Lyrics Template
Ocean Adventure Movie Trailer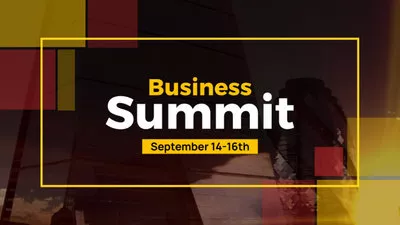 Event Promo Business Conference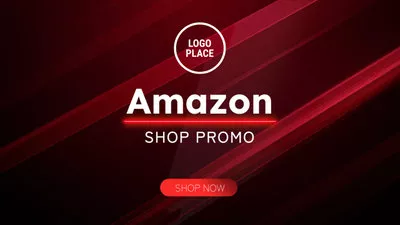 Classic Amazon Shop Promo
How to Automatically Add Open Captains to a Video in Premiere Pro
For Premiere Pro users, now you can update your PR to the latest version to enjoy a powerful speech-to-text feature to automatically transcribe the video to text and later manually set the caption to burned-in captions and export the video along with the open captions.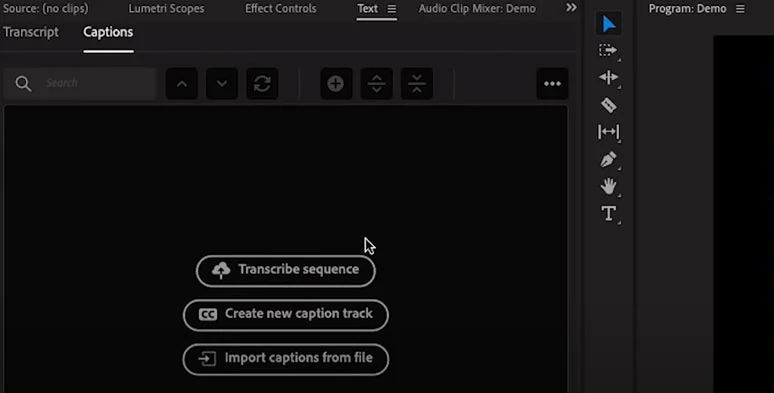 Automatically add open captions to a video in Premiere Pro.
Step 1
Add your clips to the timeline in Premiere Pro > go to the workspace and click Captions and Graphics > go to the Text panel > click the Captions tab.

Open the caption window in Premiere Pro.
Step 2
In the Caption window > click Transcribe Sequence > select the language you want to transcribe, and which audio track to be transcribed > hit the Transcribe button.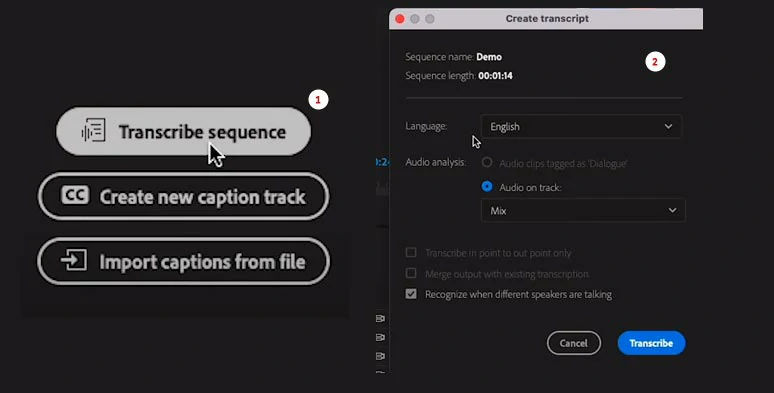 Automatically transcribe the sequence in Premiere Pro.
Step 3
Go through the transcribed texts and correct spelling mistakes > click Create Captions button > select the style of captions > and hit the Create button. Then the captions will show up on the caption track on the timeline. You can stylize the details of the captions, such as fonts, text size, fill background color, the maximum length in characters, single/double lines, etc. on the Essential Graphics panel.

Create the captions by adding the transcript to the subtitle track in PR.
Step 4
Click the Export button > Captions > select Burn Captions into Video > export the video with an open caption from PR.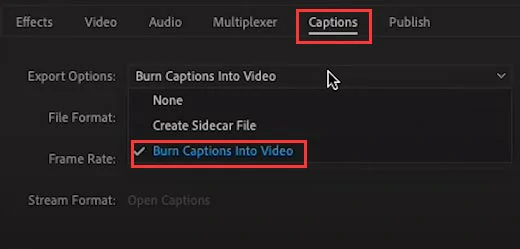 Export the video with burned-in captions or open captions from Premiere Pro.
Now, It's Your Move
Compared with closed captions, adding open captions to your video allows your videos to reach wider audiences on all social media. And it's highly recommended. So, start using FlexClip or PR to burn captions into your video now! If you find this tutorial helpful, do share it on your Facebook and Twitter and leave your thoughts and tag us. Much appreciated!