Summary: This guide covers how to make a storyboard the easy way and shares some great professional storyboard examples. Check out and learn how to make video storyboards, short film storyboards, animation storyboards, and pretty much any storyboard you can imagine.
Whether you're going to make a video for your business or want to create a short film or a funny animated video sharing to social media, storyboard your video is pretty essential. Making a storyboard makes your video production much easier and save you a lot of time.
Read on to learn how to create a storyboard with the detailed steps and the best storyboard examples from some great films!
Content:
Also Read: 6 Visual Storytelling Rules in Filming and Video Production >
Part 1 What is a Storyboard?
A storyboard is a sequence of drawings or pictures, typically with some directions and dialogue, that shows the outline of the story of a video, scene by scene. In other words, a storyboard is a tool used to plan the shots of video production.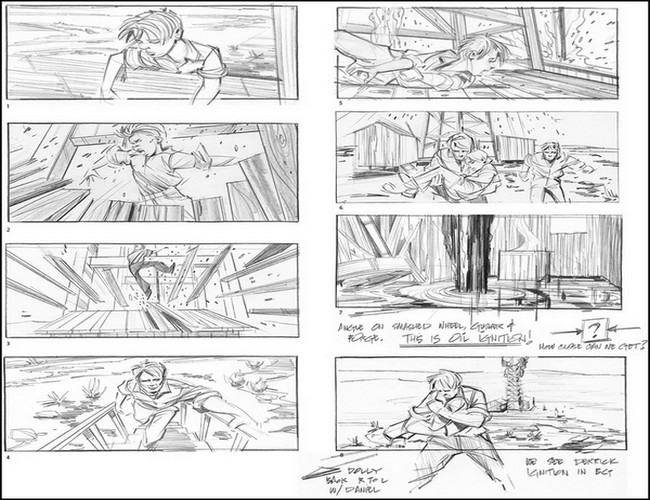 Storyboard from There Will Be Blood (source from dga.org)
As you can see above, a storyboard looks like a comic strip, but a comic strip is the end product itself, while a storyboard is an intermediate step in the video, animation, and film making.
Making an effective storyboard always takes times and skill, but you can refer to the detailed steps below and also learn from storyboard examples to gain some pro tips and inspirations.
Part 2 How to Make a Storyboard?
Ready to learn how to build a storyboard? Here's your guide to building a storyboard like a pro.
Step 1 Start with a Script
Each good storyboard starts with a script.
Before you start gathering images, drawing storyboards, you need to make sure what story you're telling with a script. It means you need to consider the details of every scene before making things visual, including the critical point you want to hit, describing transitions, voiceover, and more in great detail.
Step 2 Create a Template for Your Storyboard
Draw a series of rectangles, and take it as the template for your storyboard. Here you need to make sure you leave room for notes or lines of the script under each rectangle.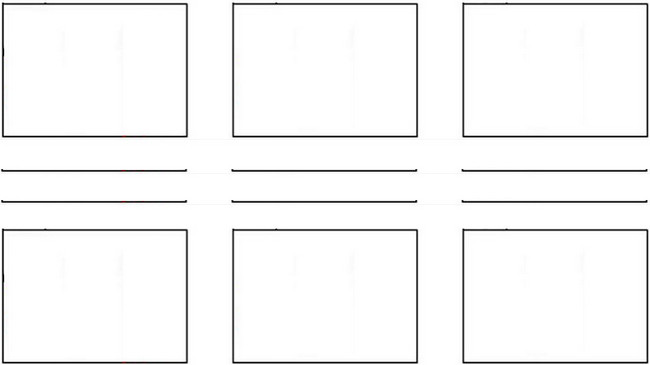 Create a Template for Your Storyboard
Step 3 Add the Script to the Template
Write the line of your script or dialogue that corresponds to that scene under each rectangle. This step can remind you what's going on in this scene so you can draw your storyboard easier and faster.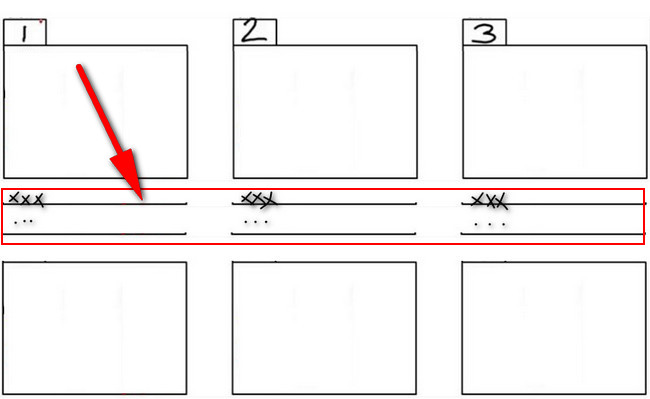 Add the Script to the Template
Step 4 Sketch Out Your Story
Now, let's turn a script from something written into something visual by sketching them out.
Worried about you're not an artist? Never! Just do it! You don't need to be a storyboard artist - stick figures or rough sketches can suffice!
Image board: Sketch Out Your Story
Do not want to sketch the shots by hand? You can use some images cut from a magazine or a comic book.
Step 5 Finalize Your Storyboard
Now you have visualized the script you've created, it's time to review and revise your storyboards to make sure the narrative is flowing, and any script amendments are signed off.
Besides, you can also add some additional notes on your storyboard to help you start creating a video easier, like camera angles or movement when your shot your video, and any special effects you want to use for the scene when you edit your video.
Part 3 Best Video Storyboard Examples
Let's take a look at three professional storyboard examples. Hopefully, you can gain some inspirations to create your own storyboard.
Harry Potter and the Order of the Phoenix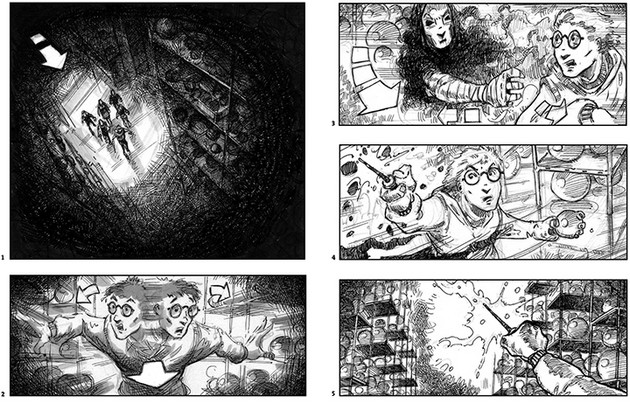 Storyboard from Harry Potter and the Order of the Phoenix (source from dga.org)
This storyboard from Harry Potter and the Order of the Phoenix, made by Jim Cornish, shows the fight inside the Department of Mysteries, one of the movie's most famous scenes.
In this storyboard, you can see the arrows are used to show movement in different scenes. The first scene is a high angle shot showing Harry and his friends enter the Department, and the arrow here show that they are moving forward. In the second scene, the shot focus on Harry, and the arrows here indicate Harry looking left and right as he moves forward.
When you make your own video storyboard, you can also use arrows to show how your characters are moving.
Now, let's see how this storyboard example transferred to the screen:
Iron Man
The scene below from Iron Man shows that Pepper catches Tony attempting to remove his suit after his first mission.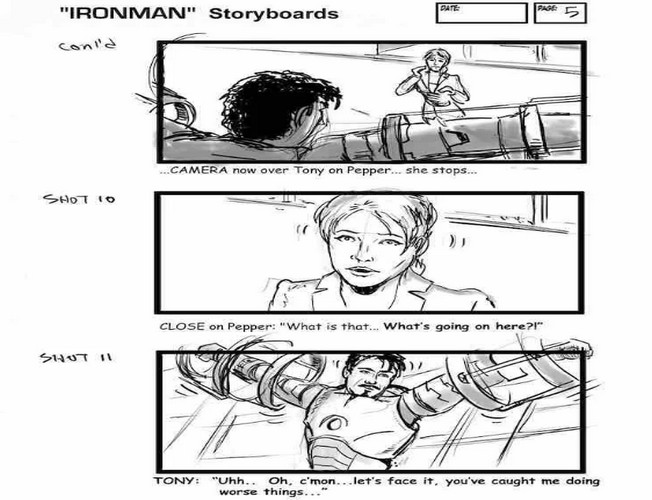 Storyboard from Iron Man
Notice how the storyboard artist David Duncan uses lines around the face to show the emotion and surprise of characters, which you can use to show your characters' feelings in your storyboard.
Let's see the final result:
Tom and Jerry
How to storyboard an animation? Let's see an animation storyboard example from an episode of Tom and Jerry.
Storyboard from Tom and Jerry
In this aged storyboard, every action is succinctly described for the final animation.
BONUS: Best Video Editor to Turn Your Project into a Masterpiece
With a video storyboard, you can film your video effectively and quickly. Also, a storyboard video editor helps you combine and edit those clips easily.
FlexClip is an easy-to-use video editor based on the storyboard. Its storyboard editing mode helps you organize and edit your video footage with great ease.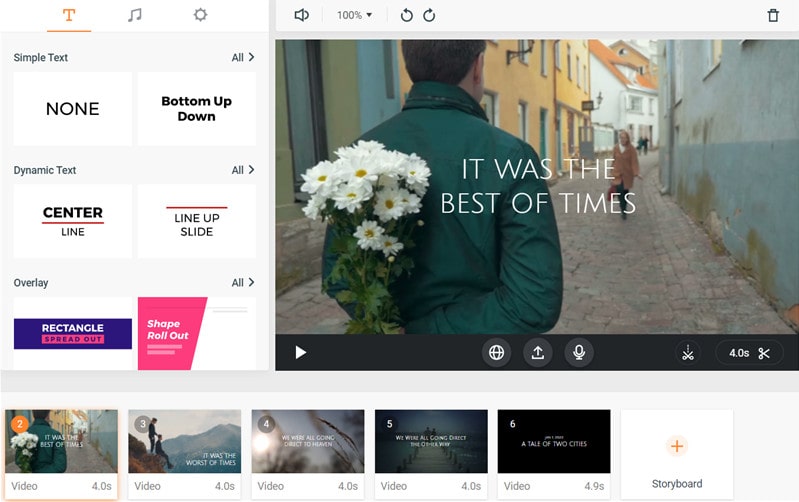 Storyboard Video Editor - FlexClip
Simply adding all your video clips to the storyboard video editor, you can immediately customize your video within the storyboard - trim & split, apply video transition, add video filters, and change video speed, etc. You can also find numerous royalty-free media resources like music, photos, and video clips to level up your video.

Make Videos in 3 Steps
Final Words
Now that you know how to create a storyboard, just start your video production with a custom storyboard now! Do not forget to use FlexClip storyboard video editor to level up your video and turn your project to a masterpiece.