Family means a lot to us. It's a place to share tears and laughter and a warm harbor to shore. As time goes by, there are tons of memories and happiness for us to remember and occasions to create a recap for a reunion. To make an engaging family reunion video, all you need is a video editor to gather your love.
This blog introduces an excellent tool to help you create videos online and also includes a tutorial to tell your family story. Let's dive in!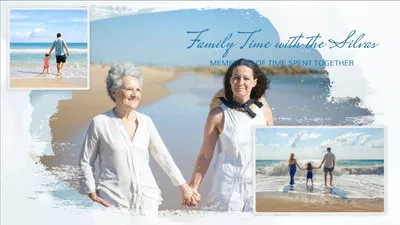 Can't Miss: Free Christmas Video Templates to Get Started Easily>
Part 1. The Best Tool to Create Family Reunion Video for Free
Tired of the troublesome editing process? Looking for an easy tool to turn your memories into a laughter-filled video quickly? FlexClip is what you need. Firstly, it has a super easy-to-use interface with handy editing tools, allowing you to polish videos effortlessly. Then, millions of royalty-free videos, photos and soundtracks are within your reach.
Besides, you can easily produce heart-warming family reunion videos with ready-made templates and special effects. Can't wait to get started right now? Follow the next part to learn how to tell your family story with FlexClip.
Part 2. How to Make an Engaging Family Reunion Video Using FlexClip
Whether you're making a surprise family reunion video or want to generate a family reunion slideshow with photos, FlexClip can help you get one in minutes.
Step 1
Go to FlexClip's website and upload your videos and photos to the Media section. By the way, there is an
inbuilt recorder
to help you capture live scenes from the camera.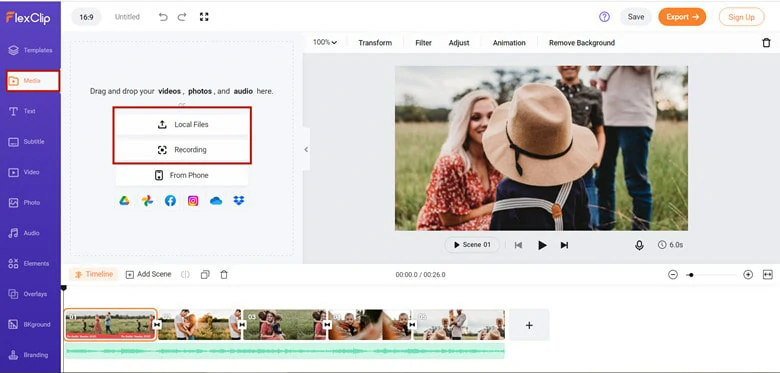 Upload Media Resources to FlexClip
Step 2
Make basic edits by trimming, cutting or
cropping
and place all the footage correctly.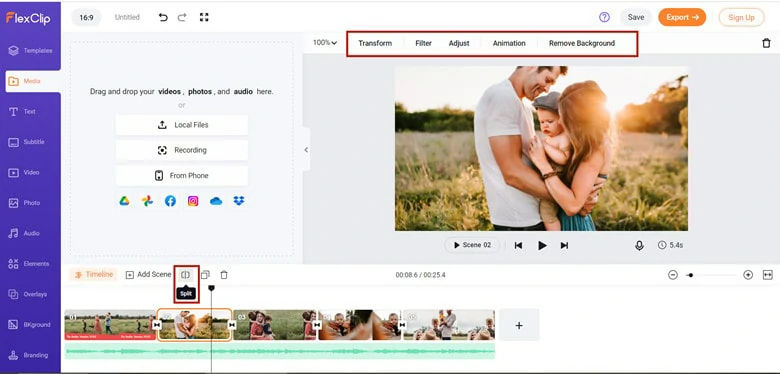 Make Basic Edits to Your Family Reunion Video
Step 3
Determine the look of your reunion video with different
transitions
and stylish text. Also you can use the overlay effects to create special effects.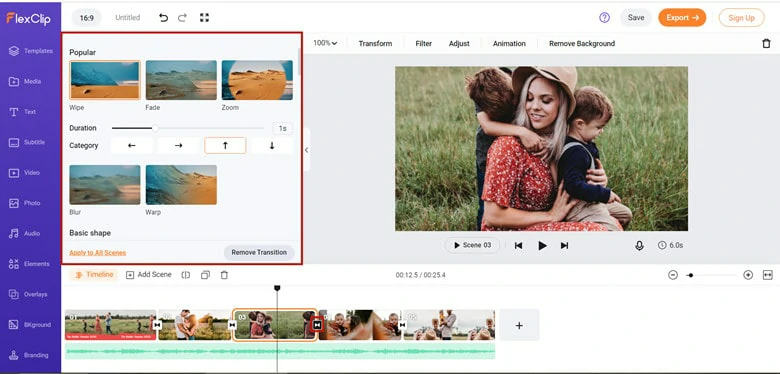 Add Transitions to Your Family Reunion Video
Step 4
Pair your visuals with some sound elements. It's up to you to capture sound from all the guests or arouse emotion with the right background music.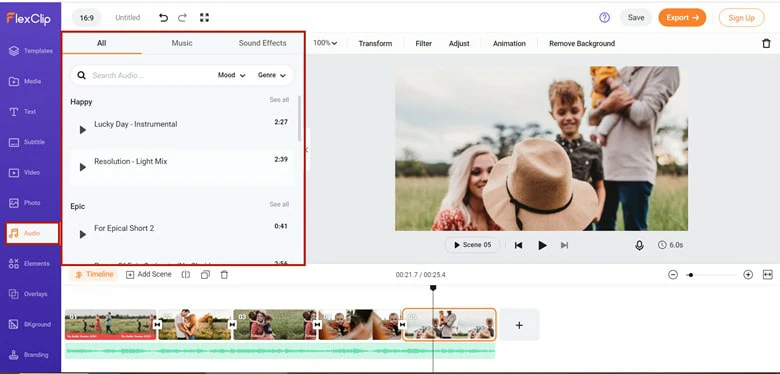 Pair Your Family Reunion Video with Soundtrack
Step 5
Add some funny stickers or animation to make your family reunion video outstanding. When you've finished your reunion video, tap the Preview icon to check all the changes. After that, click on Export icon to save your family reunion video.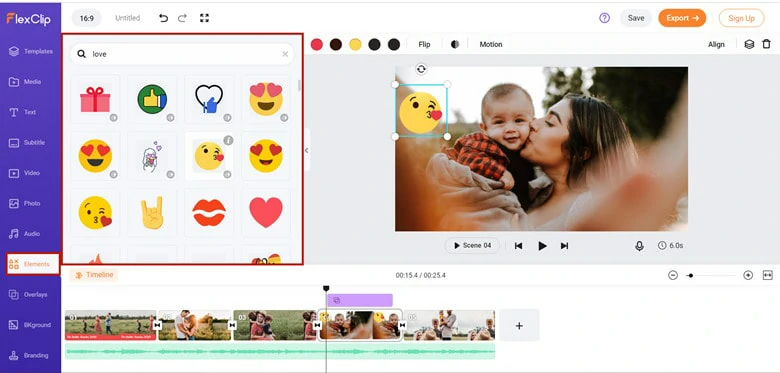 Perfect Your Family Reunion Video with Stickers and Animations
Once your video is produced, you can share it. Here are a few ways to get your reunion video to the whole family:
Show your video on a projector or TV
Download it and share it on your social media accounts
Make a webpage for your video and other family memories
Part 3. Best Song for Family Reunion Video
A soundtrack can make or break your family reunion video. That's why many people are trying to find a right tone to add vibe to their videos. Here you can boost the emotional impact of your family reunion videos with these songs.
* "Who Says You Can't Go Home" by Bon Jovi
* "The Boys Are Back in Town" by Thin Lizzy
* "We Are Family" by Sister Sledge
* "Take Me Home Tonight" by Eddie Money
* "Celebration" by Kool & the Gang
* "Happy" by Pharell Williams
* "My Hometown" by Bruce Springsteen
* "I Want to Thank You" by Alicia Myers
* "Never Grow Up" by Taylor Swift
* "Love Train" by The O'Jays
The Bottom Line
That's all for how to make an engaging family reunion video using FlexClip. It's easy to make and joyful to watch. Now it's your turn to tell your family story via a family reunion video.