Screen recorders are useful tools to capture activities on your computer or record the interface on your mobile. This kind of software enables you to capture an online lesson, make a how-to video of your onscreen application used and record a movie.
There are tons of computer and mobile screen recorders, some claiming the ads-free and simple operation but not all of them are reliable. Hence, this guide includes 8 top screen recorders with no ads to leverage your experience of recording visuals hassle-free on laptops and phones. Let's explore it together!
Content Table for a Quick View
Screen Recorder No Ads for Computer
Screen Recorder Without Ads for Mobile
Top 1. FlexClip
You can't imagine how easy it is to record screen with FlexClip. As a screen recorder without ads, it meets all your needs to capture all types of onscreen activities in a few clicks. Be it a gameplay highlight, a funny video or a software tutorial, you can easily record it with audio and webcam turned on.
Aside from flexible recording, there are numerous video formats to choose from, which makes it convenient for sharing on social media sites. In case you want to level up the recording, this no ad screen recorder already packs a full editing suite including trimming, filtering and cropping, to make your process a breeze.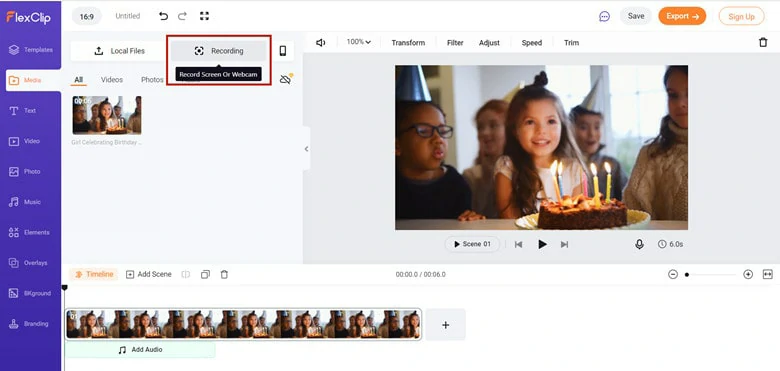 Screen Recorder No Ads - FlexClip
Pros:
No download or editing skills needed.
Able to record screen with audio and webcam.
Export high-quality video and audio in various formats.
Capture activities from full screen, app windows and Chrome tab.
Quickly trimming,
filtering
, and adding transitions and text to level up your video.
Cons
The maximum recording duration is 30 minutes.
You can't drag and drop to record a specific area.
Supported OS:
Windows, Mac and Linux
Top 2. Screencastify
Screencastify is specifically designed for laptop users to record their screens. It is free and has many features you want for a screen recorder no ads. Firstly, you can quickly create and share a video recording from a webcam, a browser tab or a full desktop view. If you need to take down notes during recording, go ahead to use the real-time drawing tool.
Besides, this no ad screen recorder takes high-quality recordings and provides fast file-sharing options, making your recording process a breeze. Finally, an inbuilt editor is available if you need to do some essential editing.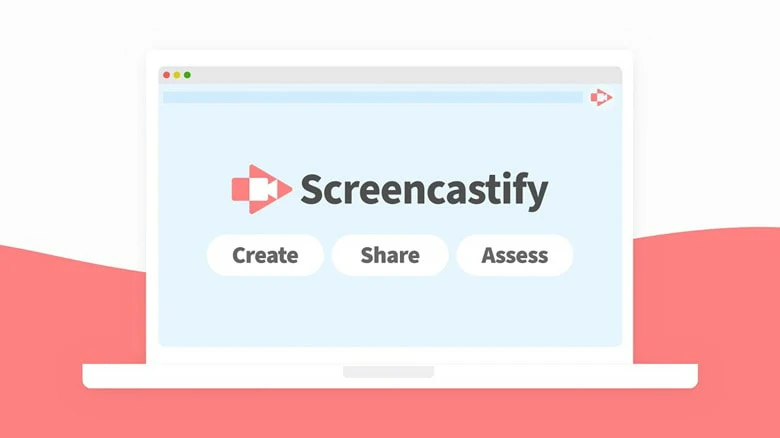 Screen Recorder No Ads - Screencastify
Pros
Real-time drawing tools to take notes easily.
Simple editing suite to beautiful the recording video.
Record computer screen, a particular window or a Chrome tab.
Screen record directly from Chrome regardless of the device type.
Cons
You can only record 30 mins for free.
The Lite version leaves a watermark to your output videos.
Supported OS:
Chrome web browser
Top 3. OBS Studio
OBS Studio is the best screen recorder without ads for computers since it allows users to record screen with powerful configuration options. Before launching a screen recording session, you can select a frame rate, decide the recording area, and set up the audio resources and file format so that your recorded video will include high-definition image and clear audio speech. However, the interface is complicated which intimidates computer beginners.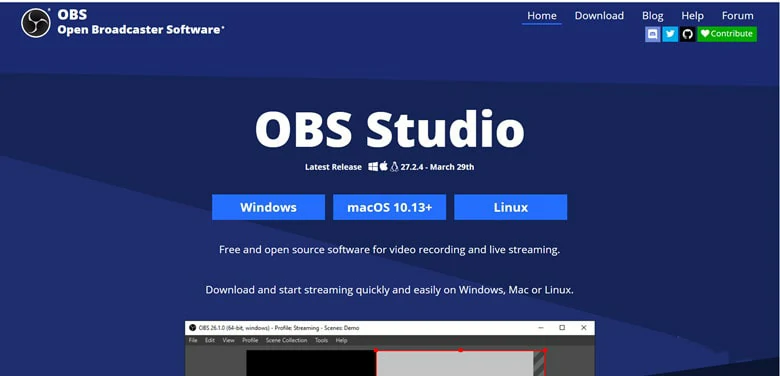 Screen Recorder No Ads - OBS Studio
Pros
Record high-quality video and audio.
There is no time limit on recordings.
An audio mixer is here to make multitrack capture.
Customizable settings including frame rate, recording mode and audio resources to match your needs.
Cons
The UI is unfriendly for beginners.
Most people complain about the black screen error during recording.
Supported OS:
Windows, Mac and Linux
Top 4. Screenrec
Screenrec makes it simple to capture and share what happens on your computer screen. Open Screenrec on your computer, drag to select recording area and unleash your cursor, then it captures automatically.
Like no ads screen recorders above, Screenrec gives you complete control of recording area and lets you simultaneously make screen tracks with audio and webcam. Whether you're tech-savvy or a novice, Screenrec is well worth a try!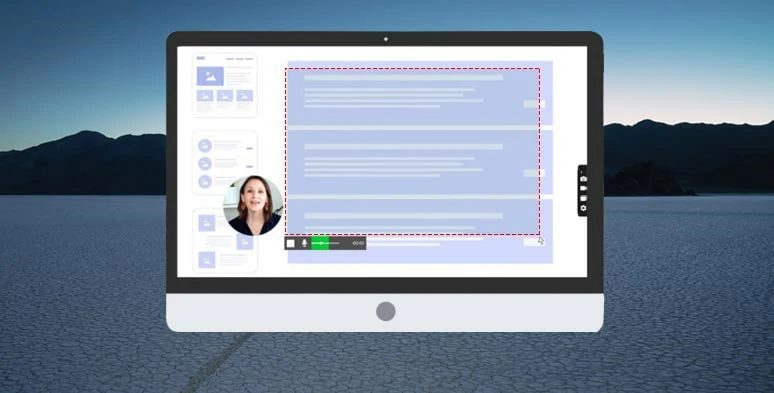 Screen Recorder No Ads - Screenrec
Pros
Able to take screenshots.
Record audio from mic and computer system.
It generates a shareable link for the output videos.
Make screen tracks with audio and webcam simultaneously.
Cons
Limited 5 minutes recording length for free users.
Supported OS:
Windows, Mac and Linux
Top 5. Screen Recorder No Ads APK
Screen Recorder No Ads is an app that helps you record screen quickly and takes screenshots everywhere. It supports both rear and front cameras during recording and provides the cropping feature to edit the recorded MP4 format. Moreover, there are several languages to choose including English, Portuguese, French, Turkish, Spanish, Italian, Bur and many more.
However, Android doesn't have a public API to support 3rd party app so the MIC is the only way for screen recording.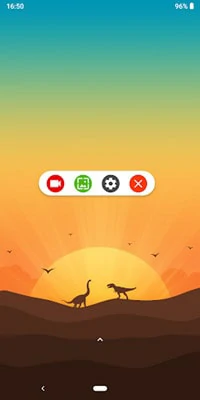 Screen Recorder No Ads - Screen Recorder No Ads APK
Pros
It records screen and takes screenshots.
Support both front and back facecam while recording.
You can draw notes onto the screen while recording.
Trim video after finishing recording or any video has format MP4 available on devices.
Cons
Two apps can't use the MIC at the same time.
This app doesn't support recording internal sound.
Supported OS:
Android
Top 6. DU Recorder
DU Recorder is a reliable and easy-to-use no ad screen recorder that lets you capture whatever happening on your mobile's screen. It features options including video resolution, fps, video format and bit rates to get the recordings of your needs.
Besides, DU Recorder has an inbuilt video editor, which is really awesome. It allows you to add effects and music, or even create a video slideshow. However, a watermark will be displayed on every video that you create.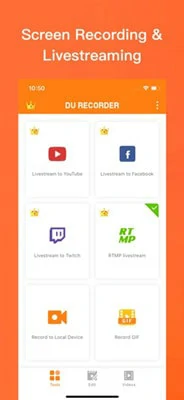 Screen Recorder No Ads - DU Recorder
Pros:
You can record screen, audio and webcam without limitation.
High-quality livestreaming, with various resolution options.
Convert video formats to GIF.
A set of editing tools with this no ads screen recorder.
Cons
Limited functions for free users.
A watermark will be displayed on every video that you create.
Supported OS:
iOS 11 and above, Android 5 and above
Top 7. EZ Screen Recorder
Most people choose the EZ screen recorder because it is easy-to-use, free and has no annoying ads. You can use it to record the whole screen, window screen, fixed region or any part of the screen and save it in AVI format. Besides, there is a three-second countdown before recording, giving you plenty of time to prepare for your screencast. Once you complete recording, share your screen recordings directly to Facebook, YouTube, and other major platforms.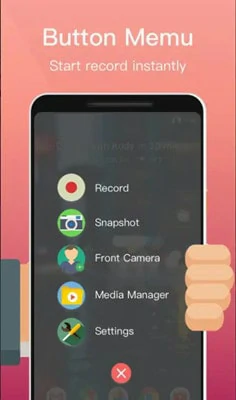 Screen Recorder No Ads - EZ Screen Recorder
Pros
It's free and easy-to-use.
The recorded video is watermark-free.
You can record screen in full screen or any particular region.
Upload the screen recording directly from the app itself on YouTube.
Cons
The video will be automatically deleted after 24 hours.
External microphone recording is not supported.
Supported OS:
Android
Top 8. ADV Screen Recorder
Need to record your screen in an easy way? ADV Screen Recorder is what you need. It's designed to be fully featured for screen recording, without any kind of restrictions and without requiring root. When recording, both rear and front cameras are available. Besides, you can adjust the resolution, FPS, and bitrate for the recording.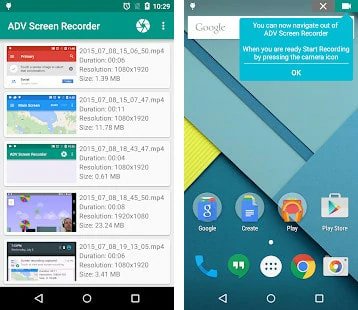 Screen Recorder No Ads - ADV Screen Recorder
Pros
It's simple and user-friendly.
It is high resolution and language ability.
Record with two engines both default and advanced.
Record screen and customize with the new trimming screen.
Cons
Sometimes, it doesn't save your recording if it exceeds 30 minutes.
Many users report that the recorder randomly disappears during recording.
Supported OS:
Android
The Bottom Line
That's all for screen recorder no ads for computer and mobile. Choose the application per your need and start your recording on your device.