A promotional video is undoubtedly one of the most effective ways to boost your marketing and sell your brand. According to Wyzowl video marketing statistics 2023, 92% of video marketers say promo video gives them a positive ROI. 96% of customers say they prefer to learn about a product or service by watching a promo video.
So you can't go without promo videos and that's for sure. However, the process of making a compelling promo video can be challenging and tiresome especially for the newbies. That's why a good promo video maker comes in, helping you promote your brand even without any editing experience. Here we've gathered 10 best promo video makers for you and here check the list to select the best one.
4 Best Promotional Videos Examples
1.Explainer Video
As its name suggests, an explainer video is usually used to explain a product, service or specific feature. It's typically an animation and appears on the homepage of a website. Nowadays, many enterprises use these videos to advertise their brands on social media.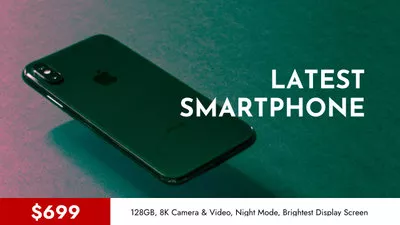 Ecommerce Product Explainer
2.Testimonial Video
A testimonial video gathers customer feedback to show how your product solves their problems. It's more persuasive than any promotional video as it features real customer comments about your product. If you want to convince your potential customers without a traditional ad, try to make a testimonial video.
Client Testimonial
3.Company/Brand Culture Video
Video is a compelling way to review a company's culture in visuals and distribute this information across social media. It helps you promote your brand awareness and gives your customers an opportunity to form a personal connection to your brand. In the meantime, prospective employees can have a  glimpse of what it's like to work at your company and it helps you attract the right people.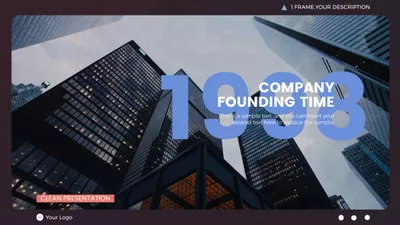 Company History
4.The Production Demo
The purpose of a product demo video is to flaunt your product or service to the audience. It differs from an explainer video in that you're not explaining how your product works but showing off its features, perks and benefits.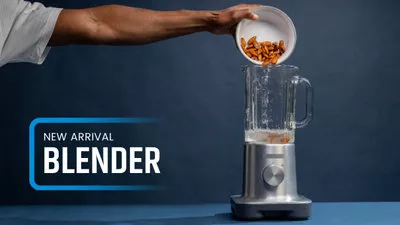 Ecommerce Product Presentation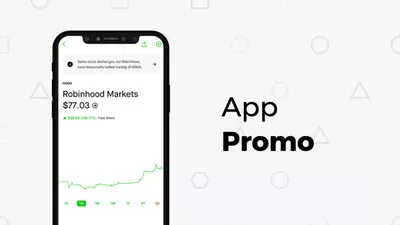 App Launch
#1 FlexClip
Say goodbye to long video production times and hello to the smart and easy video creation area. Thanks to AI development, making a promo video with the power of AI technology is no longer a daydream! Come and use this AI promo video maker called FlexClip to spice up your videos! From video script to creation production, all you need to do is enter your prompts and the AI machine will do the rest, producing a compelling promo video in seconds. No editing experience is needed!
Besides, auto subtitle generator, AI image generator and text-to-speech tools are available to take your promo videos to the next level. Worry about finding resources? No matter what is your editing purpose, you can always be inspired by FlexClip's 6000+ professional-looking templates and 7M+ royalty-free media resources.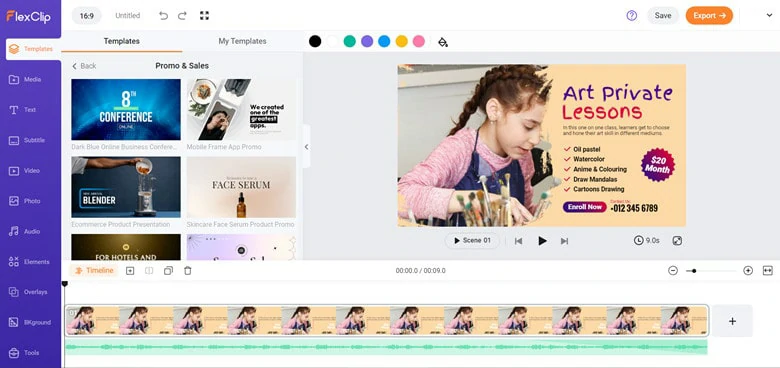 Best AI Promo Video Maker - FlexClip
For companies who relies heavily on collaboration, FlexClip also provides a team feature that allows users to communicate and handle task in groups with real-time storage save. No editing experience or download is needed!
Key Features of FlexClip:
Easy-to-use and fast speed in rendering and exporting.
Instant sharing to social media platforms like TikTok and YouTube.
Real-time storage to avoid resource loss.
A complete set of AI tools like text-to-speech, auto subtitle,
text-to-video
and more.
Hundreds of overlays, special effects, animations and sound effects.
Unlimited video length to unleash your creativity.
6000+ ready-made
templates
in different styles including product demo, testimonial, holiday greeting, company culture and more.
Cons:
Free users can only export videos in 720p up to 10 minutes.
Save up to 12 video projects online and a subscription is needed to get more storage space.
Pricing:
Free: free AI credits; video length up to 10 minutes; export videos in 720p.
Plus ($9.99/m): unlimited video length; download video in 1080p; support custom fonts.
Business ($19.99/m): 100GB cloud storage plus features in the Plus plan.
#2 Promo
As its name suggests, Promo excels in turning business wishes into stunning promo videos along with Facebook ads, Instagram ads, YouTube ads and Linkedln ads. No matter what type of promotional video you wish to create, Promo.com will always offers a quick solution for creating high-performing videos to boost your sales.
It has a gigantic promo template library ranging from holiday sales to social media marketing in order to satisfy all your promotional purposes with a ready-made creation. You can not only rely on these templates but also customize them to make them perfect. Besides, you can choose from over 12 million premium HD videos and photos from Getty, Shutterstock, and other top-rated platforms and use these resources to enrich your content with ease. After making edits, it allows you to export the promo videos to your social media directly.
Although it's a little pricey, this one-shop-stop for professional promo video creation will get value for your money.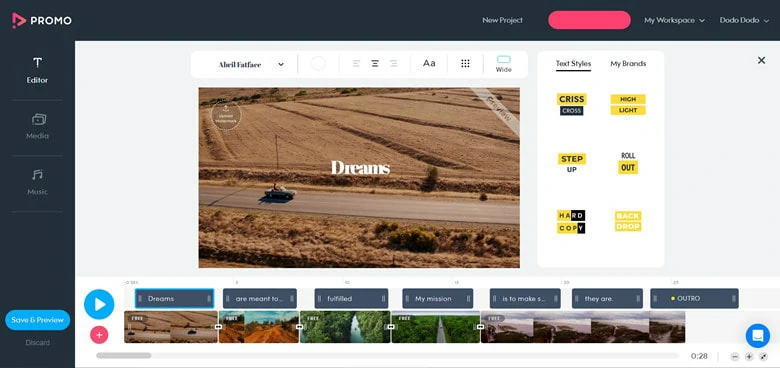 The Best Professional Promo Video Maker - Promo
Key Features of Promo:
Millions of photos and video clips.
Available on a mobile app as well.
Easy-to-use interface with basic editing tools.
Eye-catching templates to match your different needs.
Integration with many social media platforms.
Cons:
No way to change the font in template.
Limited customization options.
You may encounter laggy problems for unknown reasons.
Pricing:
When it comes to pricing, Promo has three plans for you to select.
Annual basic ($29/m): use 36 premium clips per year; add logo to your videos; publish unlimited videos.
Annual standard($59/m): access to unlimited premium clips; new editorial media,
Annual Pro($199/m): reseller rights; white-label sharing; manage multiple brands.
#3 Typito
Typito is suitable for enterprises that want to have text promo videos for social media platforms. The newbie can take advantage of 200+ ready-made templates that make them easy to start. You can also upload own footage or get from its built-in stock of more than 600K+ images to produce a compelling marketing video.
Besides, this promo video maker allows fast sharing on YouTube with titles, descriptions and tags. Moreover, the paid subscription includes a teamwork feature that supports multiple team members to work on the same project. Thanks to its high compatibility, you can export videos in 20+ formats with different aspect ratio options.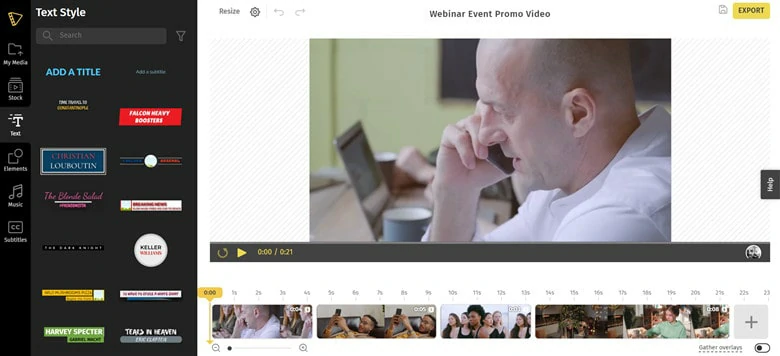 he Best Text Promo Video Maker - Typito
Key Features of Typito:
Specialize in text promo video creation.
Fast-sharing to social media platforms like YouTube.
Support more than 20 video formats.
Collaborative teamwork is accessible for pro plan users.
Multiple text animation and motion graphic templates.
Cons:
The promo video style is limited to typography promo video.
Pricing:
Below are the details of Typito's pricing plan:
Free: videos up to 5 minutes with watermarks; 250MB storage within 3 months; 30 mins export duration per month.
Solo($15/m): 5GB storage; 10 minutes project duration without watermark; auto-generate subtitles.
Pro($29/m): unlimited video projects and duration; 25GB storage per seat.
#4 Headliner
Thanks to Headliner, creating a professional promo video for your business has never been easier. Just go with its three-step operation to make an engaging video: upload your videos, add assets from the library and tweak to your video and export and download the video.
If you're interested in uploading long YouTube videos, Headliner will work best for you, which allows you to create YouTube in 120 minutes along with a caption and auto uploading feature. Additionally, it specializes in turning podcasts into videos with a waveform animation to hook the audience to turn on the audio, which is a new promo video type you can try if you're running a podcast channel.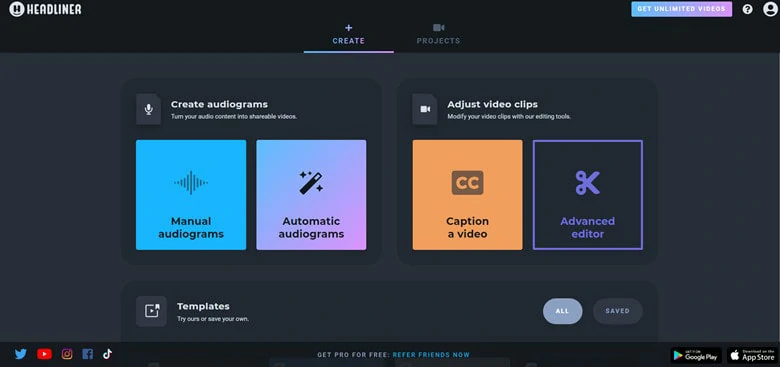 The Best Promo Video Maker - Headliner
Key Features of Headliner:
Create 1080p YouTube videos up to 120 minutes.
Ideal for transcribing audio to video with a waveform thumbnail.
Multiple font and text animation for you.
Automatically upload to YouTube.
Cons:
The interface is a little confusing for beginner.
Limited video editing functions and video styles.
The majority of tools are for audio editing.
Pricing:
Check the pricing plan of Headliner with the information below.
Free: up to 5 watermark-free videos per month; export videos in 1080p; 10 transcription minutes per month.
Basic($7.99/m): create custom templates; up to 10 videos without watermark per month; produce custom intro, outro with personalized fonts.
Pro($19.99/m): unlimited videos without watermark; automatically upload your entire back catalog to YouTube; transcribe full episodes - 15hrs/month.
#5 Animaker
If you create a promo video in cartoon style, this promo video maker is an excellent option for you. Animake is a popular platform for creating animated videos regardless of your editing experience. Aside from animated videos, Animaker is also competent in GIF and live-action video editing for promotion. With its drag-and-drop operation, you can craft any type of video.
One of the fantastic features of this promo video maker is that Animaker lets you create custom characters and bring the characters to life with facial expressions, voiceover and other animated elements to spice up your promo videos. All these elements will make your promo videos funny and interesting.
Like other promo video editors, Animaker also comes with 1000+ ready-made templates and an extensive media stock to find anything you want in clicks. To level up your videos, feel free to add transitions, filters and text to make it a breeze.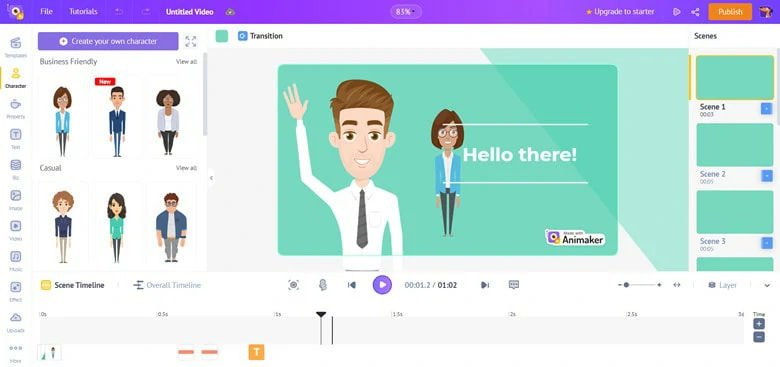 The Best Animated Promo Video Maker - Animaker
Key Features of Animaker:
Create custom characters and personalize characters for your brand.
Animaker's asset library includes more than 100M photos and videos you can use with joy.
A variety of visual and audio effects.
Thousands of customizable templates you can rely on.
Support animation, GIF and live-action creation.
Cons:
No direct way for sharing to social media.
The character style is a little childish for a professional promo video.
Pricing:
Basic($12.5/m):HD videos under 5 minutes; build 5 characters per month; 10 premium assets credits.
Starter($20/m): export FHD videos up to 15 minutes; 15 custom characters per month; 10 premium downloads.
Pro($39/m): the maximum video length is 30 mins; 30k premium music tracks; support 2k videos.
Enterprise(custom): unlimited video length and premium downloads; able to create 4k videos.
6.Offeo
Featuring template-style designs, Offeo is an ideal promo video maker for the novice to grow his business via an engaging promo video. It covers multiple ready-made templates from product introduction to holiday sales, allowing you to create all sorts of videos for social media in minutes. You can also access to a huge library of assets including photos, animations, soundtrack and other interesting items.
This service allows short video creation with personal touches like adding custom font and changing template color. While for more experienced users, creativity may be limited to the basic editing tools provided by Offeo.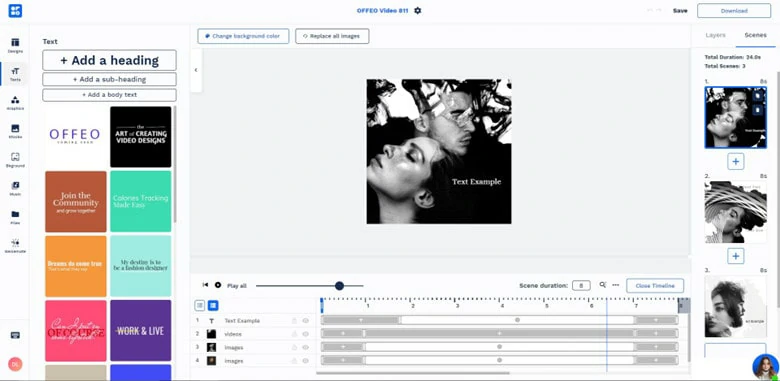 The Best Template-style Promo Video Maker - Offeo
Key Features of Offeo:
Competent in YouTube, Facebook, TikTok and Instagram creation.
Support uploading original content & fonts.
It's an easy-to-use promo video maker for the novice.
A wide range of templates to simplify the process.
Thousands of photos and videos to sparkle your creativity.
Cons:
It may be sluggish sometime.
Its online version contains bothering ads everywhere.
The subscribed users can only create videos up to 3 minutes.
Pricing:
The free version is available for everyone and you can enjoy more functionality by purchasing a paid suite for $12.42 per month.
#7 Renderforest
With an extensive stock, Renderforest makes it super easy to boost business with stunning videos, animations and mockups. To create a promo video in Renderforest, you just need to pick the template you like, replace your footage and customize it as needed, then it's time for sharing. Whether you're looking for a professional explainer or a high-quality intro, Renderforest will always offer the best solution for you.
One of the outstanding features is the website builder, which empowers you to create a new website and run your business like a pro without any programming skills. In a nutshell, it's an all-in-one promo video maker especially for people who want to build a website and start creating landing pages with remarkable video content.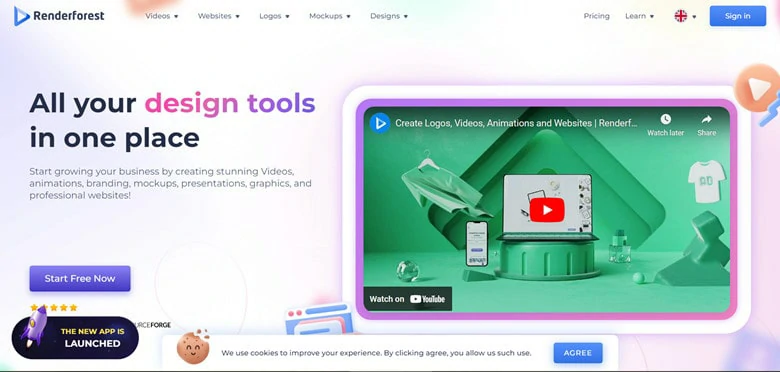 The Best Promo Video Maker - Renderforest
Key Features of Renderforest:
Extensive collection of background music.
An all-in-one promo video maker for the beginner.
Multiple ready-made templates to match your different needs.
You can use this tool to build new websites as you like.
Multiple video resolutions to choose from: 720p, 1080p and 4K.
Cons:
The process of adding voiceover is challenging.
Customization of ready-made templates is limited.
A little package of effects, elements and text.
Pricing:
Renderforest includes four plans with different features for users to choose from. Here are details of each plan accordingly.
Free: 500MB storage; create videos in 720p; limited amount of stock images and images.
Lite($9.99/m): 10GB storage; full access to 1M+ premium assets stock;create unlimited 720p videos; available for mobile app subscription.
Pro($19.99/m): create videos in 1080p; advanced website control and editing tools; 30GB storage.
Business($29.99/m): make videos in 4k; support team management; 50 GB storage.
#8 Vimeo
All-in-one video hosting, creating, marketing and live streaming platform, Vimeo is a powerful video platform for the enterprise to grow their business. For video creation, it includes an extensive collection of awesome templates to sparkle your creativity with ease. Moreover, amazing text-based video editing is available which means that you only need to type in words and the AI machine will do the rest for you.
When it comes to marketing, the Vimeo community is a good place to start from scratch. It integrates a feed feature where you can share your videos and monitor real-time performance. Additionally, if you want to engage with your audience, directly start a live event using Vimeo.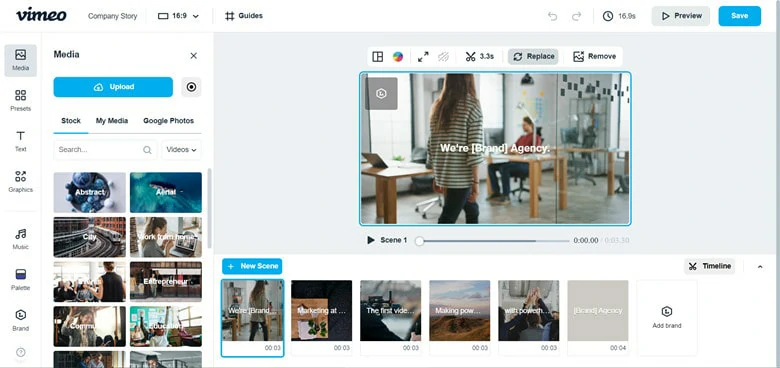 The Best Promo Video Maker - Vimeo
Key Features of Vimeo:
Support live events & webinars.
Selection of 3000+ templates.
Able to edit your videos with text.
Video creation with custom brand kit.
Multiple editing tools and effects.
Cons:
The pricing is a little high.
It takes time to familiarize with this powerful promo video maker.
The process of uploading and publishing video content may be a bit slow compared to other similar platforms.
Pricing:
Vimeo offers 5 different plans and each plan offers a free trail. Here we make a brief introduction to the subscription information.
Plus($7/m): video creation; player customization; unlimited screen and webcam recording.
Pro($20/m):brand kit; AI script generator; text-based video editing.
Business($50/m): video creation with custom branding; lead generation; Google Analytics
Premium($75/m): browser-based production tools; unlimited live events &webinars.
Enterprise(custom): tailored features according to your needs.
 #9 Vyond
Want to create interesting animated promo videos for your business? Vyond is the right tool for you. It offers three main styles of videos & assets: contemporary, business and whiteboard. You can take advantage of this promo video tool to create diverse promotional videos for your business such as explainers, customer reviews, tutorials and more.
It features a standard asset library, timeline and also includes a special character creator that empowers you to create funny and unique characters to make your videos attractive. To make your team work effective, you can rely on the team collaboration function to communicate and monitor the real-time process.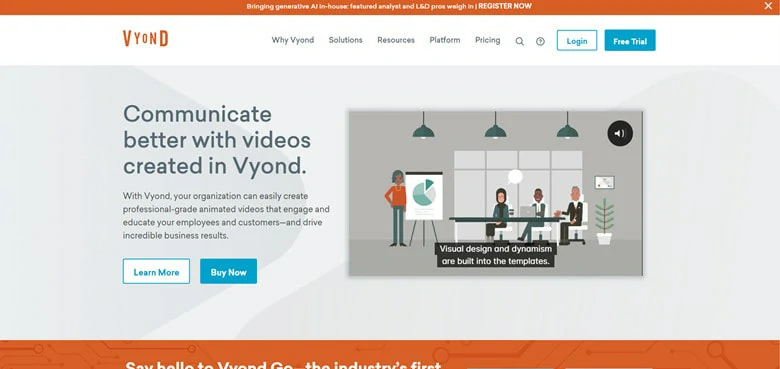 The Best Promo Video Maker - Vyond
Key Features of Vyond:
Basic editing tools to unleash your creativity.
Able to create animated characters.
Support team collaboration function.
Multiple photos and video assets to choose from.
Diverse promo video templates to match your different needs.
Cons:
Lack of captioning availability for accessibility.
Limited options for sound effects.
Limited in some of its office/document templates.
Pricing:
Essential($25/m): export videos in 720p; remove photo background; create custom characters.
Premium($54/m): download videos in 1080p; export videos in GIF; customize video aspect ratio.
Professional($92/m): share assets with your team; instant video translation; brand font import.
Enterprise(custom): provide personalized features according to your actual needs.
#10 Animoto
If you know nothing about creating promo videos, Animoto will handle the job for you. It has an extensive library of videos, photos, soundtracks, templates and fonts. All these resources help you make any promo video for your business. Besides, the workflow is straightforward: choose a storyboard template, upload your video, customize it by adding music and other material from the library and finally export the video with ease.
With its drag-and-drop interface, even the newbie can make an eye-catching promo video in minutes. Custom feedback helps improve products and services. Here Animoto offers a real-time comment feature behind your video that allows viewers to leave their opinions and engage with your brand.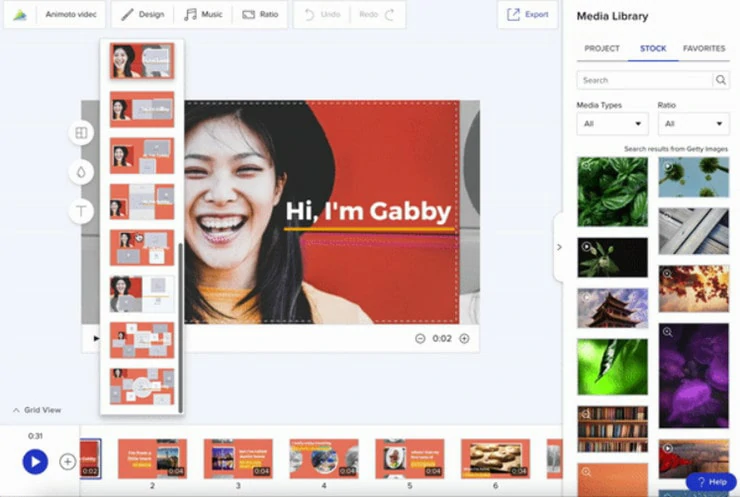 The Best Promo Video Maker - Animoto
Key Features of Animoto:
A large stock of videos, photos, music and fonts.
Multiple promo video templates you can rely on.
Export videos in 720p and 1080p.
Engage with your audience with the comment feature.
Branded your video with custom font, logo and color.
Cons:
The template can sometimes be very restrictive.
Unlimited editing features for tech-savvy.
You may encounter the operation sluggish problem.
Pricing:
Animoto provides 4 pricing plans for users to select.
Free: export video in 720p; screen and webcam recording; unlimited social sharing.
Basic($8/m): unlimited downloads of watermark-free videos; export videos in 1080p.
Professional($15/m): add multiple songs to your videos; custom your logo and color; voiceover
Professional plus($39/m): upload your fonts; 100 million+ premium photos and videos.
FAQ
A promotional video is a short video that promotes company's product and service. The best promo video usually waves a story to educate, delight or inspire the viewers and influence them to take a step forward.
2.How to make a compelling promo video
Before creating a promo video, you have to make a plan: what product you're trying to promote, the concept you will use and an executable script to conduct the process. After that, choose the right tool to polish the promo video for you.
3.How long should a promo video be
The best duration of a promo video on social media is 30 seconds or less. If you'd like to make a storytelling promo video, consider keeping the your promo videos shorter than 2 minutes. By doing so, the audience can fully concentrate on your content and the videos are easy to share.
The Bottom Line
Promo videos are the main way to boost marketing and reach more potential audiences. Here we've take you through 10 best promo video makers to help you make compelling business videos in minutes. Now it's your turn to have a try.