The thunder or lightning effect is a fantastic setting for many genre films, whether it's a sci-fi movie or a horror film, the lightning effect can help set the mood and make your movie project far more appealing.
However, it's not that easy to film in a thunderstorm. Luckily, you can easily add thunder and lightning effects into your videos using a right video editor, like FlexClip.
Now, follow us and learn to add thunder & lightning to your videos.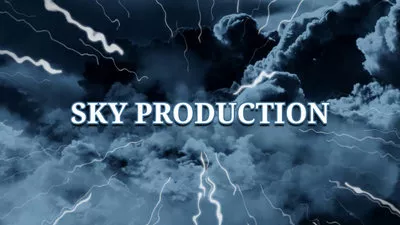 Epic Lightning Effects Movie Trailer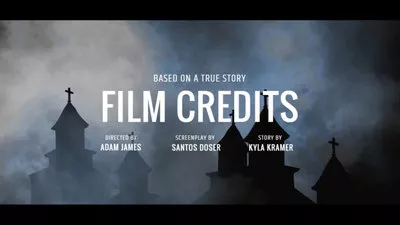 Retro Film Title Package
Can't Miss: How to Add Effects to a Video to Make it Stunning>
How to Add Thunder & Lightning Effects to A Video
The tool we used to add thunder and lightning effect to a video is FlexClip, a powerful online video maker/editor helped thousands of users make their masterpieces. FlexClip offers various free effects, consisting of lightning effects, snow overlay effects, cool transition effects, text animations, and more.
By the way, FlexClip also offers kinds of basic and advanced video editing tools to help you easily create compelling video content for personal or business purposes without any learning curve. What's more, you can also explore the possibilities of its smart AI tools, like text-to-speech tool, auto subtitle generator, etc., to save time and effort on video creation.
In the following, we'll show you how to add special lighting effects and thunder to a video with FlexClip to make the lightning effect video as below.
Lightning Effect Video Example
Step 1 Add Media to FlexClip
Firstly, import the video footage that you's like to add the lighting effect and add it to the timeline. Here you can directly import from your computer or upload files from you mobile device. Once added, you can trim out or split unwanted parts of your video to make raw edits.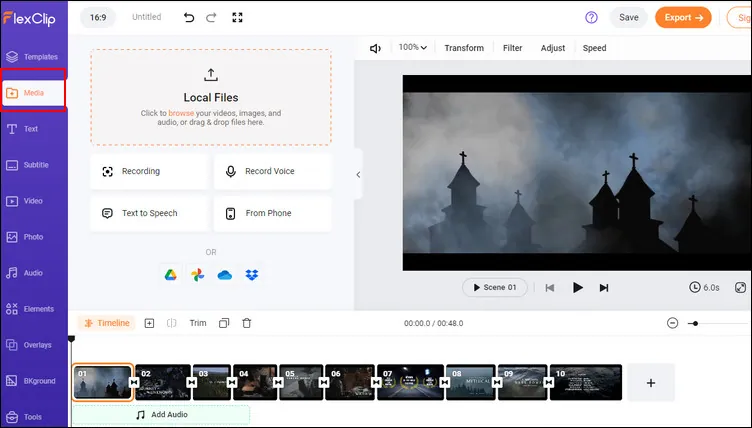 Lightning Effect Video - Add Media to FlexClip
Step 2 Add Lightning Effect to Video
Now it's time to apply lightning effect video. Go to the Overlays tab on the sidebar and find the Effect Overlays option. Here tap on the See all icon to explore all the effects.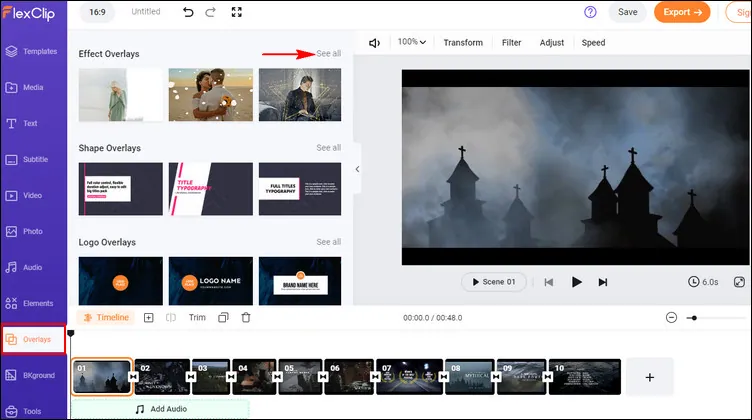 Lightning Effect Video - Effect Overlay
Here, you should see a lots of effect overlays, such as brush effect, glitch effect, bokeh effect, and the lightning effect you want. Simply browse through to find the lightning effect you like, add click it to add to your video, and adjust the blend mode and opacity degree to integrate better.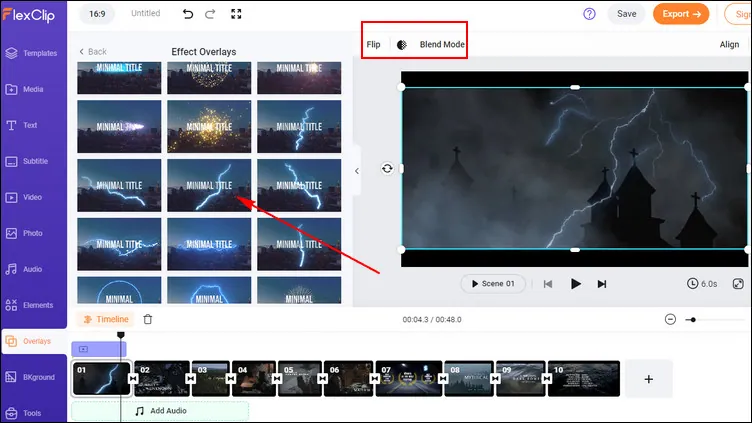 Lightning Effect Video - Lightning Effect
Step 3 Add Thunder Sound Effect
Now, to make the lightning effect more realistic, it's necessary to add a thunder effect to the video. You can go to the Audio library and simply search with related keyword, like thunder, lightning, to pick one and pair the sound effect with the lighting effect in your video. Here, you can trim the sound effect and adjust the position where the thunder starts and ends, apply the fade in/out effect to make it match the lightning effect perfectly.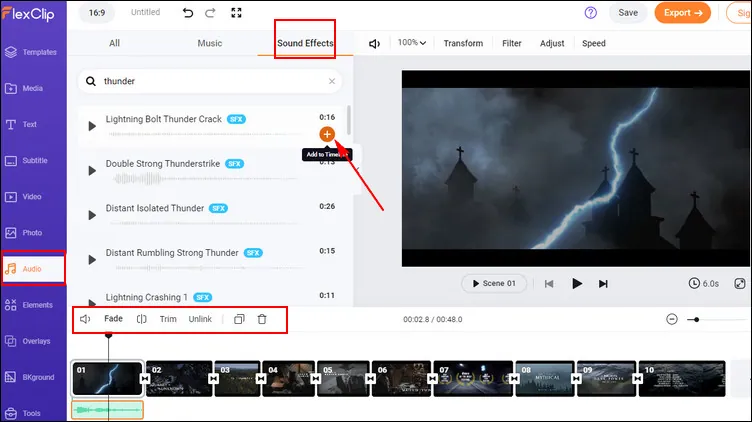 Lightning Effect Video - Thunder Effect
Step 4 Make Your Lightning Effect Video Stand out
Almost done, but you can add a few more things, like filter effect, transition, text animation, to create a professional-looking lightning effect video that stands out better among others.
Have no ideas on editing your video? FlexClip's pre-made templates are sure to inspire you.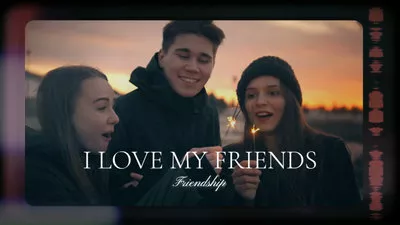 Friendship Video Memories Slideshow
Summer Travel Seaside Vlog
With everything settled down, save and export the lightning effect video to your local drive or share it to your YouTube account.
Final Words
So, this was our quite impressive tutorial on adding lightning effects to videos. Now, it's your move, simply turn to FlexClip and start your lighting effect video making right now. Also, FlexClip provides a vast quantity of available yet free media resources and editing tools to assist you in making videos.