Brush strokes are not simple lines as they can easily make your content pop up. Using a brush stroke effect to your video opens new possibilities for your work and creates a dynamic palette for you to work on. But how to add a brush stroke effect to your video? Below lists two ways for you to make that online and offline. Let's dive in.
Free and Customizable Video Templates with Brush Stroke Effects: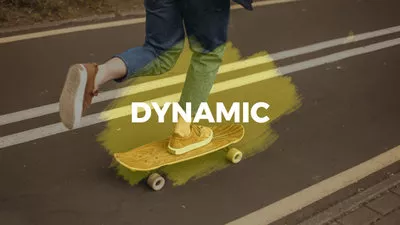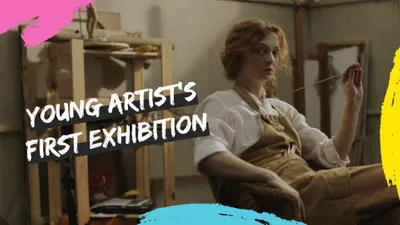 Can't Miss: How to Add 3D Special Effects to Video on Windows 10>
Part 1. The Easiest Way to Make Brush Stroke Effect Online
FlexClip is an all-in-one tool for you to make brush stroke effects online. Whether you need brush typography, a broke slideshow or an animated brush sticker, you can get multiple high-quality results in a few clicks. Besides, it has extensive media resources and ready-made templates with a brush stroke effect, helping you get inspiration right away. No editing experience or download is required.
Let's see some details about brush stroke effects in FlexClip.
1.Brush Typography Pack
Reveal text with a brush stroke effect to wow your audience. FlexClip packs various title presets around different themes with brush stroke effects. It could be a circle shape to showcase your title or creative shapes to unleash creativity. No matter what type of typography pack you use, you have full control over changing size, color and adding motions.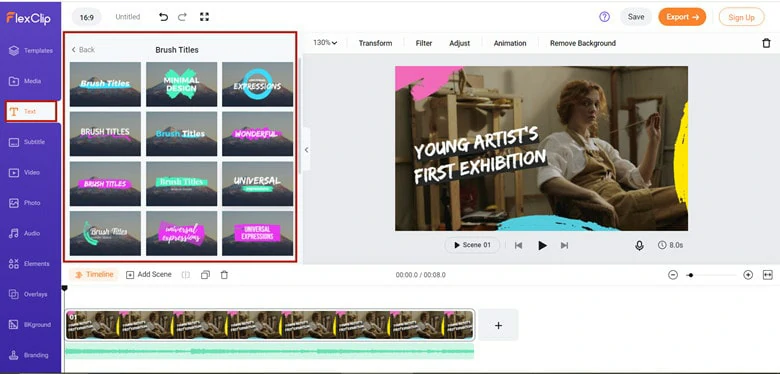 Brush Typography Pack in FlexClip
2.Brush Animated Elements
Bring your art video to life with animated brush elements. There are loads of funny and original brush animations to perfect your art videos. Be it brush elements in solid color, stickers with brush stroke effects or creative items to present brush strokes, FlexClip can always offer you the most satisfying result without copyright issues.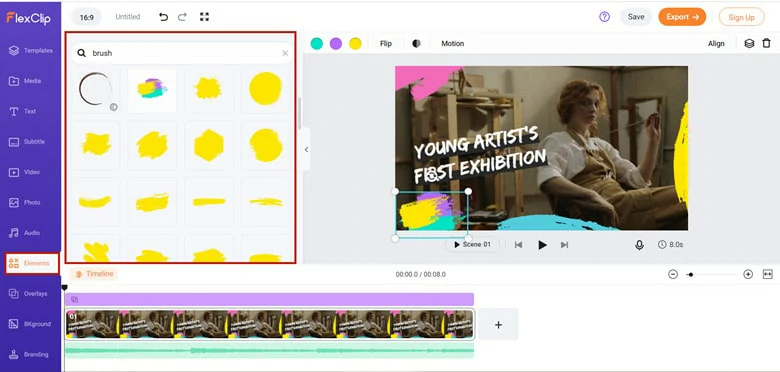 Brush Animated Elements in FlexClip
3.Brush Art Design
Need some brush photos for your slideshow? Want to give your video a brush broke effect look? FlexClip has much to offer. Firstly, it includes rich media resources, including brush photos and videos that you can use for free. Besides, you can apply the pre-made brush broke overlays to make your video stand out.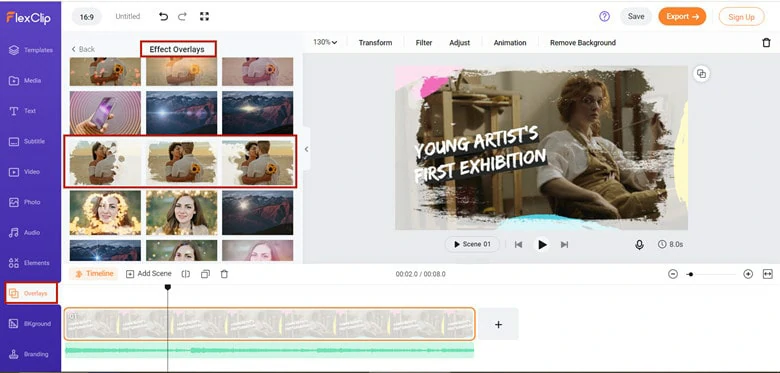 Brush Art Design in FlexClip
How to Create a Brush Stroke Effect Video Using FlexClip
FlexClip helps you create videos with brush stroke effects, be it brush slideshow or art videos. Now follow the guidelines below to create a brush stroke video online using FlexClip.
Step 1
Click on Create a Video to start from scratch or tap the Template icon to unlock your creativity with a ready-made template.
Step 2
Next hit the Media icon to upload photos, video clips and soundtracks from your PC. Then, add them to the timeline. You can also get thousands of brush resources from FlexClip's stock.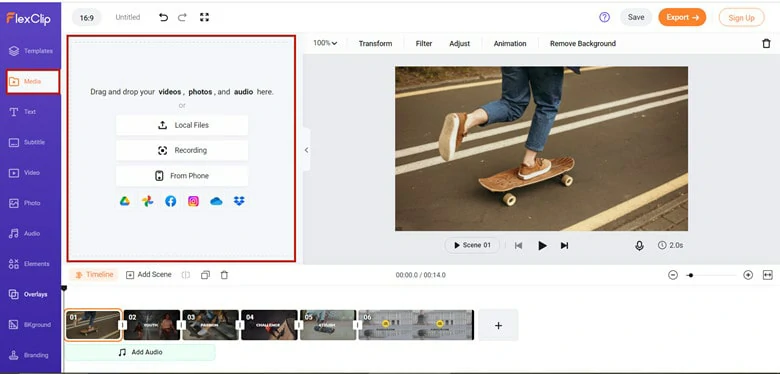 Upload Media Resources to FlexClip
Step 3
Give your video a brush look with FlexClip's overlay effect. Find Overlays on the left menu and select the brush overlay you want to use.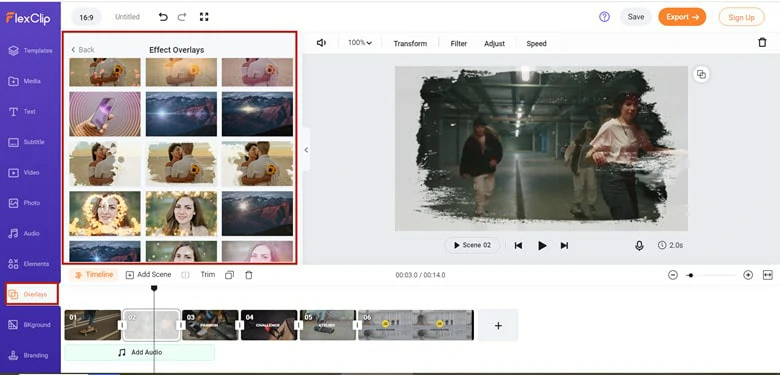 Apply a Brush Stroke Effect to Your Video
Step 4
Go ahead to Text panel and scroll down to find
Brush Titles
. Pick the style you like and start to type in words.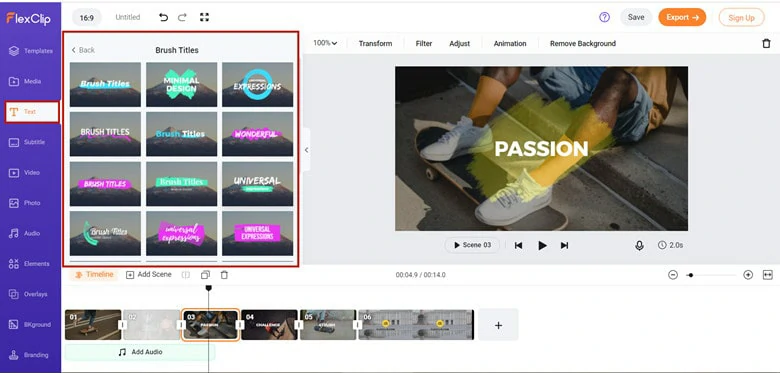 Apply Brush Typography to Your Video
Step 5
Add animated items to your video. Tap the Elements button and get brush results with the search box. Apply your favorite one to your video and edit with ease.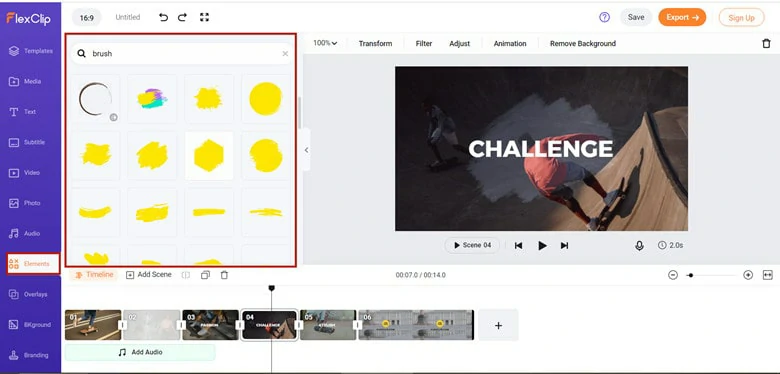 Add Animated Brush Items to Your Video
Step 6
Pair your brush video with an engaging soundtrack. When you finish, tap the Export icon to save your video or directly share it with a clickable link.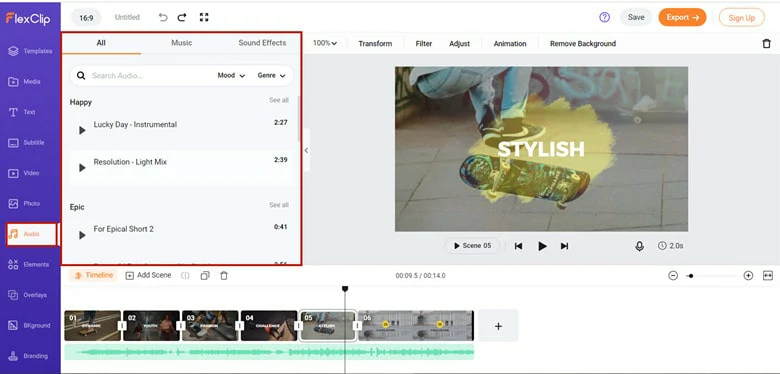 Add Soundtrack to Your Video
Part 2. How to Make Brush Stroke Effect in After Effect
 Creating brush stroke art and animation in your video is easy with Adobe After Effects. The industry-standard visual tool is competent for visual effects and motion graphics in digital art. Also, it will lend you a hand to make a brush stroke effect. You can follow the tutorials below to learn how to add brush stroke effects on After Effect.
Open After Effect, click "New Composition" in the main interface, and rename it if necessary. Next, go to Layer>New>Solid to create a solid white background. Also, give it a new name if you like.
Now create another new composition for the brush and easily adjust the height and width. After that, produce a white layer above the brush layer and you need to change the shape by clicking the Mask Tool icon on the top > Ellipse.
Step 2
Apply Fractal Noise
Go to the Effects & Presets panel and find the fractal option. Then grab Fractal Noise" and drop it into the white solid layer. Here you can increase the contrast value to 300. After that, select the "Evolution" keyframe and drag it to the end of your timeline.
Step 3
Draw the Animation
Go to the main composition and change the Brush composition above the white solid layer. Use the Pen tool to draw a letter or shape you like. From the left, go to "Path" and press "Ctrl + C" to copy. Then select the brush layer and hit "P." Select "Position" and pierce that.
Tap "Layer" >"Adjustment Layer"> "New and go to the Effects panel to "Echo option. Then drag it to the layer you're working. Here you need to change some parameters to enable the echo effect. Below is a parameter example for reference.
In the "Effects Control" panel, increase the echo number to around 400 and set "Echo Operator" to "Minimum." Also, set the "Echo Time" as low as you can while keeping it smooth.
Adjust the opacity and size of the brush you've added and save it. If you do not satisfy the result, apply the "Fast Box Blur" effect from the Effects panel to make it smoother. When you're done, save and export the brush stroke effect.
Animated Brush Strokes in After Effects
The Bottom Line
Simple paint brush strokes make significant differences in your art creation. Now you've known how to make a brush stroke effect in two ways. Try the designer-made brush strokes effects in FlexClip to level up your videos effortlessly.