Making your audience laugh is a huge achievement. Therefore when you make a video, adding laughing sound effects can help you make it super hilarious and more expressive.
A funny effect lets you better engage with your audience by keeping them hooked with your content. Do you remember that evil laugh of a villain in a movie that gave you terrifying chills? That's what we are talking about.
To ensure the results are equally entertaining and pleasing, you will need a high-quality laughing sound effect. The soundtrack needs to be appropriately timed with your joke to make it realistic and effective. The article explains how to add laughter to a video the easiest way.
So, let's get started.
There are some laughter video templates: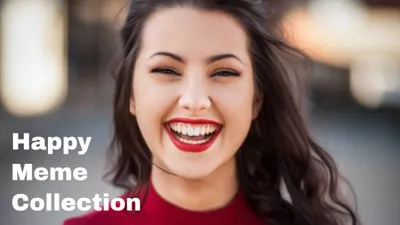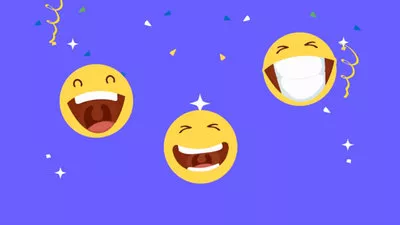 How to Add Laugh Track to Video
There are several ways to add a laugh track to your video. One of which is to generate a laughing sound yourself. How? For example, you can ask a friend or a family member to laugh in a certain way and record their voice. You will get an original laughing soundtrack to fit with your video. We guarantee it will be an experience to remember.
Another way to add a laugh track to a video is to use powerful video editing software. Here's how to do that:
Step 1: Open FlexClip
FlexClip is a professional video editing software loaded with numerous yet handy editing tools that ensure that when you work on your video, the results are never less than the best. It is the only video editing software in the market that is highly user-friendly and generates even better results.
Your first step will be clicking the Create a Video button below to open FlexClip and then go to the local files option to upload your video. Once your video is uploaded you will be able to trim it and add it to the timeline.
Step 2: Uploading the Soundtrack
If you can record a perfect laughing sound, then upload it to FlexClip from your desktop using the Browse your Music option in the Music option.
Otherwise, you can click on the Music option and explore the Add Stock Music option. Here you will have access to over one hundred thousand royalty-free music in a black clip music library. You can filter the options available on the left side. They are categorized into different natures, for example, mood, gerunds instrument, or write a keyword in the search box like a laughing effect.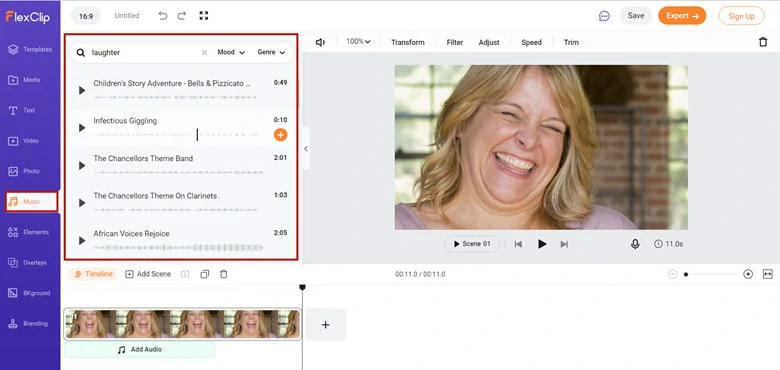 Find the Laughter Soundtrack
Step 3. Split the video and audio track
The audio cutter tool of FlexClip lets you trim your audio files at will without downloading complex software on your device. Then cut it and preview it with the video to make sure that the laugh track matches your video clips perfectly.
If something doesn't feel right, you can remove it and find another sound.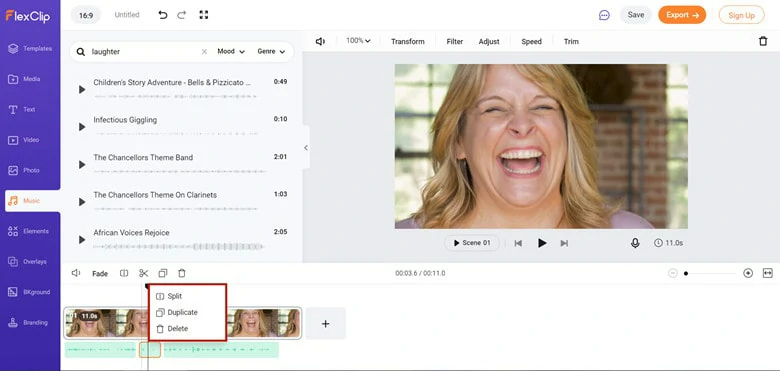 Cut the Audio as You Need
Important Note
1. You can also use FlexClip to make other video edits, like adding transitions, special effects, and changing video speed. Give those unique features a try!
2. You can download the video you made in 1080p HD. No video quality loss will occur.
3. FlexClip is a professional tool for making videos, like promotional videos and YouTube videos. Remember to give it a try.
Step 4. Export the video
Download your funny video to your local PC or directly share it to YouTube, Google Drive, or Dropbox or generate a clickable link or embed code for blogging. You can download the audio in several formats, including AAC, FLAC, M4A, MP3, OGG, and WAV format.
Top Features of FlexClip Sounds
1. Enjoy free access to FlexClip's 10,000+ royalty-free sound effects and a music library where you can easily find studio-like ambiance, atmosphere, or transition sound effects for your videos.
2. An intuitive timeline allows everyone to layer multiple sound effects and sync video to sound effects and music beats in your browser without software download and experience.
3. Simultaneous cloud storage to avoid the loss of the video projects and multiple ways for video sharing, such as YouTube, Google Drive, Dropbox, clickable links, and embed code.
4. Tons of video and image tools and designer-made video templates spark your creativity for video and audio editing.
The Bottom Line
Learning how to add a laugh sound to the video can help you bring a unique aspect to your videos. Try FlexClip video editor to add unique sounds to your videos, or you can even use it to edit them in other aspects. Try it today. Let us know how much you like it.