Are you interested in creating animated videos? Then it would be best if you kept in mind that the charm of a great animation video or cartoon depends not only on its beautiful graphics but also on the voice of those characters. A bad voiceover can ruin your entire project!
Of course, you can hire a voice actor to get narration or voiceovers based on your character animations — this is one of the simplest but most expensive ways for most of us.
Thankfully, hiring a voice actor is far from the only method you can use for your animation! Keep reading to find out how you can create animated voiceovers for your animation and cartoon on a budget.
Can't-Miss: 4 Best Female Voice Generators to Create Realistic Female AI Voices >
How to Create Animated Voices for Your Animation and Cartoon Video
With today's technology, hiring a voice actor is not the only way to create voices for animation or cartoons. Those innovative AI text-to-speech tools can work perfectly as the animation voice-over generator to create the perfect voice for all your videos and characters in seconds!
All-in-One Animation Voice-Over Generator - FlexClip
There are several voice-over generators to approach voice and narration in animated movies and video content. One of the most popular animation voice-over generators we'd like to share is FlexClip, which includes 400+ voices across 140+ languages in different accents, gender, and age. These voices are highly expressive and can convey a range of emotions and tones, making them ideal for giving each character a unique voice for your animation or cartoon video.
Key Features of FlexClip:
Quickly create
AI voices
and narration for all animation genres
Up to 98% accuracy to produce high-quality voices for your animation
Support customizing the voice styles, speed, and pitch to fit your characters
Create ready-to-use clips in seconds for your animation or cartoon video
With FlexClip, you can convert your text to realistic AI voices for your animated video and witness your stories come to life in a matter of seconds. Now let's check the simple steps on how to create animated voiceovers for an animation or cartoon video with FlexClip.
How to Create Animated Voice with FlexClip
Step 1
Access FlexClip > upload your animation video footage from your PC, phone, Google Drive, One Drive, Dropbox, or Google Photos.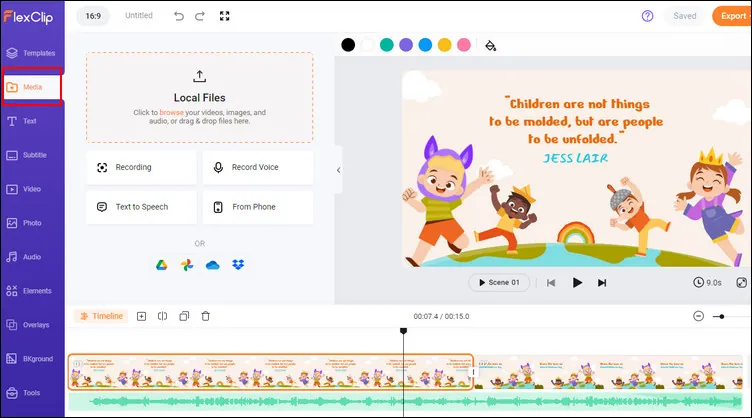 Create Animated Voice with FlexClip - Upload
Step 2
Click the plus button to add your footage to the intuitive timeline. You can trim or split the clips or make any raw edits when needed.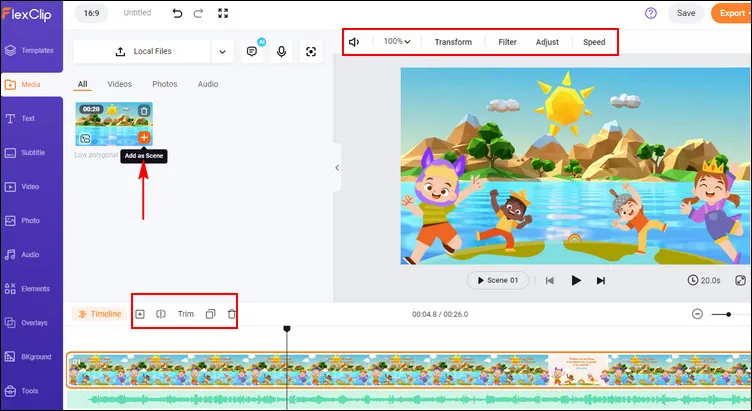 Create Animated Voice with FlexClip - Add
Step 3
Now, it's time to apply the text-to-speech feature for generating voice for your animation. Go ahead to the Tool panel located at the bottom of the sidebar, and select the Text to Speech option.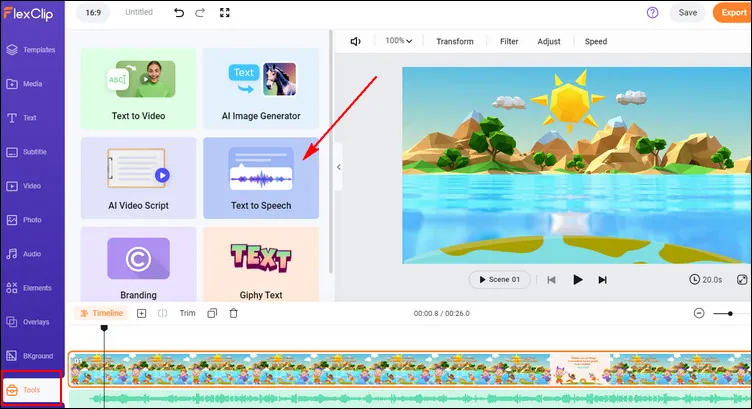 Create Animated Voice with FlexClip - tts
Step 4
Choose the language and accent needed > preview the AI avatars' voice > set the video styles, emotions, voice speed, and pitch for animation videos > type in your text > preview the AI voice > tap on Save to Media icon. FlexClip will automatically convert text to speech and add it to the media library.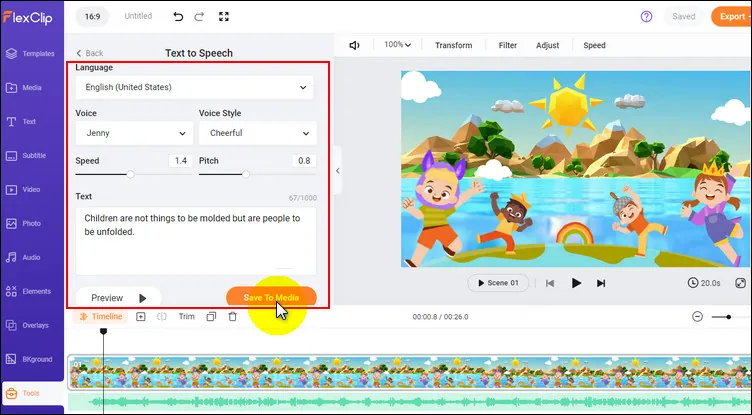 Create Animated Voice with FlexClip - Generate Voice
Step 5
Then, you can add the generated AI voice to your animated videos and trim or split it to align it to the right video moments. Meanwhile, a free converted audio file will also be saved to your PC for backup or future use.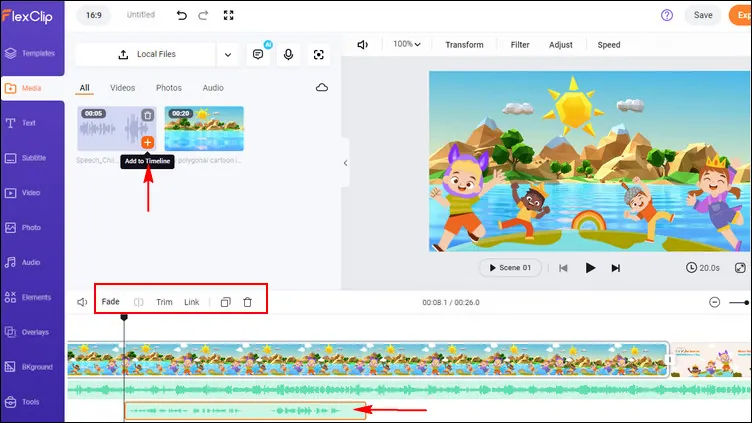 Create Animated Voice with FlexClip - Add Voice to Video
Final Words
Can you guess the movies using only emojis? A popular challenge on social media is waiting for you to take part in! Simply turn to FlexClip and make an emoji quiz video to challenge your friends or post for YouTube or TikTok to increase your visibility and gain more viewers!