Cartoon animation isn't just for kids anymore. With this growing demand, cartoon videos leveled up themselves by shifting from a mere niche to one of the most sought types of content. It uses interesting visuals and text to get your passage across and expands the audience group.
To create an engaging cartoon video, all you need is a powerful animated video editor. Here we've rounded up 5 best cartoon video editors along with each characteristic and pros. Check on the list to explore it more.
Popular Cartoon Video Types You Can't Miss
1.Company Onboarding Video
Cartoon videos change the way of introducing the new employees to the organization's environment and culture. Compared to traditional presentations, animated videos make it funny for the newbie to integrate into your company.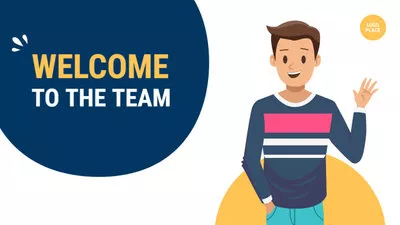 Welcome New Employee Cartoon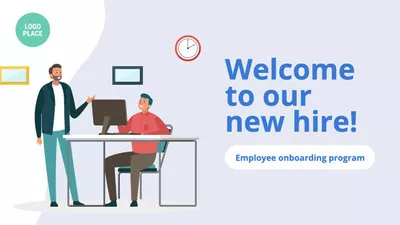 Administration Office
2.Cartoon Party Invitation Video
Be it your kid's birthday party or your wedding event, a cartoon video invitation is a nice option to extend the joy and invite all the guests to share your happiness.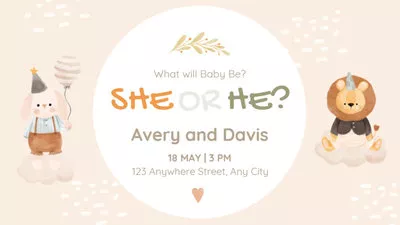 Gender Reveal Invitation Cartoon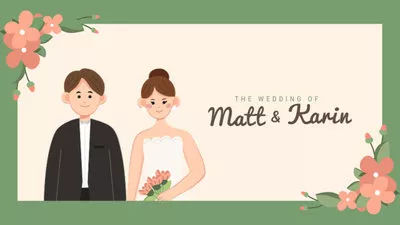 Cartoon Wedding Invitation
3.Animated Business Promo Video
Animated videos are one of the video kinds with the highest engagement rate. The engaging and exciting content of an animated promo video makes it easier for viewers to get the message across and retain the information, making the promotion process more enjoyable.
Pet Shop Feed Ad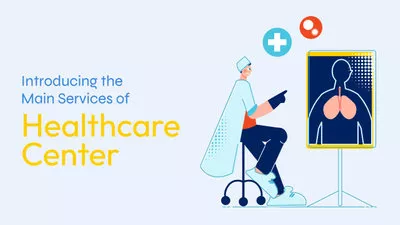 Healthcare Animation
4.Holiday Greeting Video
Share creative and unique holiday greetings via an animated video to celebrate the upcoming holiday. This type of video usually includes cartoon characters, cute text and funny music. Below are two holiday greeting video examples you can refer to.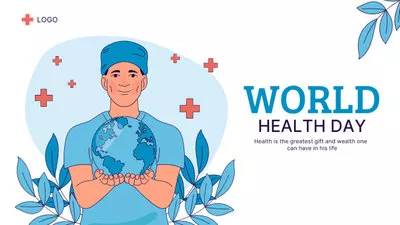 Cartoon World Health Day
Cartoon Happy Turkey Day
5 Best Cartoon Video Makers to Create Animated Videos Online
#1 FlexClip
Compatibility: Online-based platform
Pricing: Free version available, subscription plan starts at $9.99 per month billed annually.
As an AI-powered video editor, FlexClip packs a set of tools using AI algorithms to help users create stunning cartoon videos, regardless of your editing experience. The AI text-to-image feature automatically generates anime photos based on your prompts and the text-to-speech tool will effortlessly create human-like voices in different avatars.
Besides the AI editing toolkit, there are 1000+ animated video templates in various themes to match your different needs. If you'd like to make the elements move, motion graphics are here for you. In a nutshell, this is a simple and free cartoon video maker.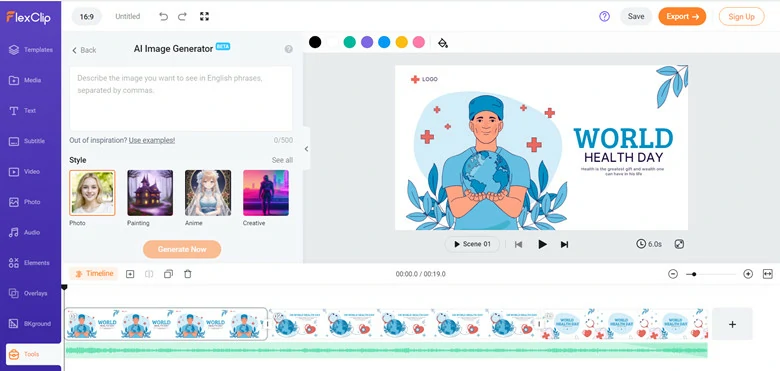 The Best AI Cartoon Video Maker - FlexClip
Pros:
Offering a library with lots of animated elements to choose from
1000+ Animated video templates to unleash your creativity
8M+ Royalty-free videos, photos and soundtrack you can use for free
User-friendly interface yet powerful editing features
Multiple AI tools to simplify the process of creating an incredible cartoon video
Cons:
Watermark will be added to your videos for a free version
#2 Animaker
Compatibility: Online-based platform
Pricing: Free version available, subscription plan starts at $19 per month billed annually.
Animaker is born for creating cartoon videos with easy drag-and-drop operations. Offering a variety of features, it enables you to make unique characters with customized positions, easy-to-made backgrounds and personalized appearances. Besides, there are advanced tools like text-to-speech and syncing to bring your creation to life.
While if you need some inspiration, just explore its template library to find a stunning preset for help. Meanwhile, it has many valuable features to make your cartoon videos look professional, for example Whiteboard for board style and easy animation with customized movement.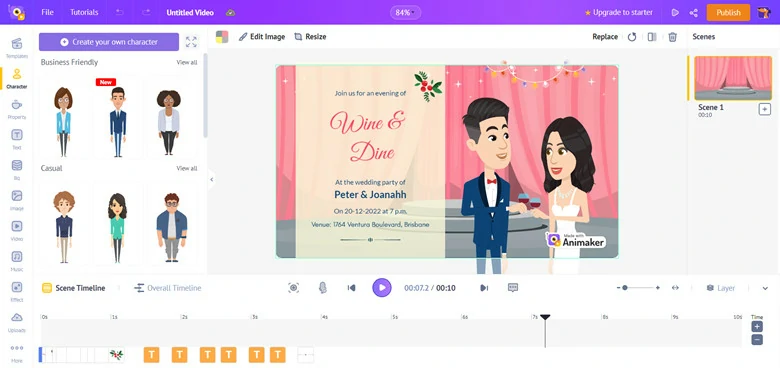 The Best Cartoon Video Maker - Animaker
Pros:
Able to build custom characters with gestures as you like
A rich selection of templates in a cartoon-like style
It offers auto-lip sync with advanced animation effects
You can also insert royalty-free videos and pictures, courtesy of Animaker's collaboration with iStock
Cons:
The free version contains a watermark
Account creation is mandatory before making cartoon videos with this video editor
#3 Biteable
Compatibility: Online-based platform
Pricing: Free version available, subscription plan starts at $49 per month billed annually.
Biteable is a leading solution that provides a seemingly endless list of animated template categories to cater to your online media marketing needs. Aside from cartoon videos, this platform also lets you create motion graphics and content for your social media channels. Once you upgrade to a premium account, disturbing watermark can be removed and unlimited video downloads will be available.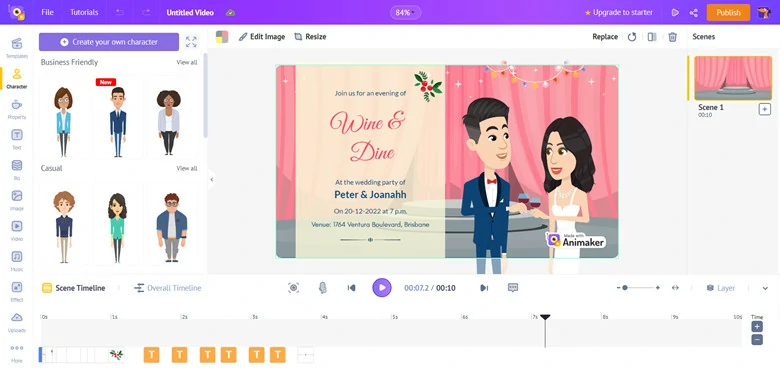 The Best Cartoon Video Maker - Biteable
Pros:
Easy drag-and-drop cartoon video editor online
Robust library with new clips, images, and templates added monthly
The team collaboration feature makes your workflow easily
Multiple conversion ways and ratio options for different social media purposes
Cos:
The monthly fee is pricey
The video download option is disabled in the free version
#4 Potwoon
Compatibility: Online-based platform
Pricing: Free version available, subscription plan starts at $15 per month billed annually.
Powtoon empowers individuals, team and companies to turn messages into eye-catching animated videos. It offers a straightforward interface with compact access to tools. The operation process is super simple: directly select a template from its huge stock and give the visuals and textual elements some personal touches. Furthermore, you're allowed to add props, characters, or sound effect that come with cartoon to your videos.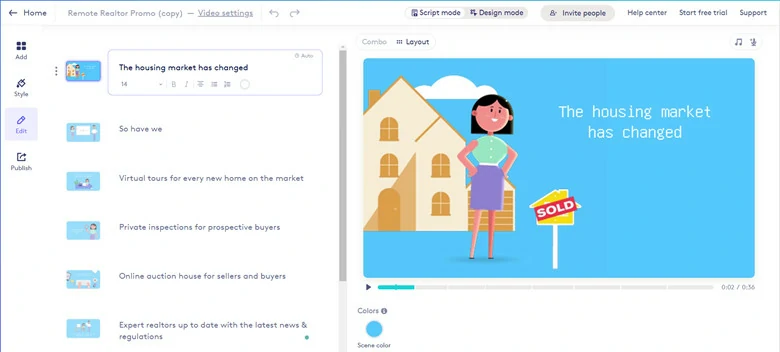 The Best Cartoon Video Maker - Potwoon
Pros:
A large collection of templates, videos and music
Clean and easy-to-follow interface
Able to add characters and cartoon items with ease
Great file-sharing capabilities
Cons:
Voiceover recording feature is not available
Free version only supports storage space of up to 100MB
To remove the intrinsic watermark, you need to upgrade to a premium plan
#5 Doratoon
Compatibility: Online-based platform
Pricing: Free version available, subscription plan starts at $16 per month billed annually.
Doratoon is designed to help beginners with little or no knowledge of video creation to create professional-like presentations and videos. It packs thousands of templates and allows you to customize animated characters with adjustable actions in accordance with the purposes of the project you're working on.
In addition to cartoon templates, there are advanced features like auto lip sync options, text-to-speech conversion, and AI intelligent drawing to smooth your editing process and easily make your video stand out.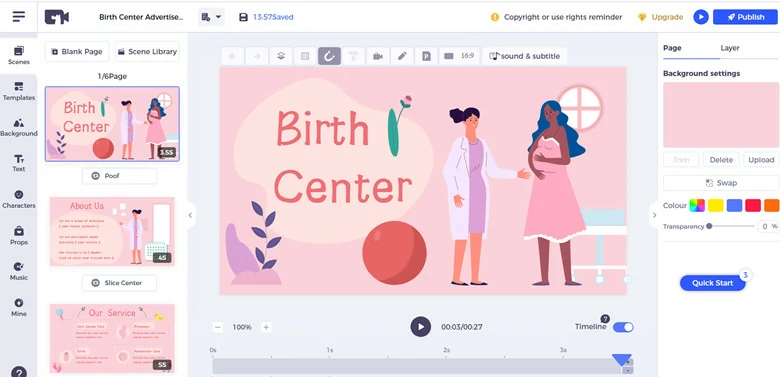 The Best Cartoon Video Maker - Doratoon
Pros:
Easy video conversions and one-click uploads that ease your offline storage burden
An extensive media stock with royalty-free assets
Clean interface with a wide range of features, tools, props, and templates
Advanced tools to simplify your editing process
Cons:
With a free account, you can only access a few templates and media resources
Limited storage space and downloads, depending on the pricing plan you choose
The Bottom Line
That's all for the 5 best cartoon video makers online with their features and shortcomings. If you'd like to choose a video editor with satisfying performance, FlexClip's flexible features and user-friendly interface won't disappoint you.