How can I make a cartoon video?
How do you make cartoon videos for business?
How can I create a video cartoon for YouTube for children? I want to create nursery rhymes videos but I don't know where to start from.
Want to create a cartoon video but with no ideas for where to get started? You're not alone! Nowadays, cartoon or animated videos become the trending way to explain a complex concept and promote the business effectively.
Well, with the surge in demand for cartoon videos, more and more people want to jump on the board but impeded by the lack of professional skills or media resource stock. No worries! Here we'll take you through an all-in-one AI tool to make mind-blowing cartoon videos in seconds! Let's dive into it right now!
Free and Customizable Cartoon Video Template for You: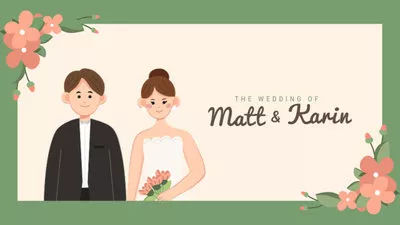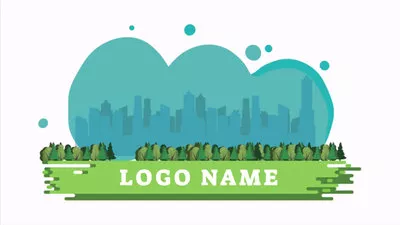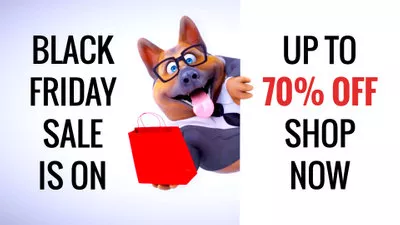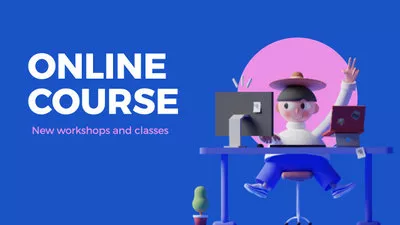 The Best AI Tool to Create Cartoon Videos Online
Many AI tools spring up to help you handle all sorts of video editing issues. Well, is there an all-in-one platform that packs all the AI tools for generating dynamic cartoon videos from the beginning to the end part? Congratulations! A comprehensive yet user-friendly AI video editor called FlexClip is what you're looking for.
From cartoon story writing to cartoon video creation, FlexClip offers various specific tools driven by AI technology to simplify the work and smooth your process. No matter what tool you choose, you can always get the most satisfying result without any effort. Here, no download or any editing experience is required to create eye-catching cartoon videos in minutes! Ready to have a try? Let's take a look at FlexClip's stunning features first.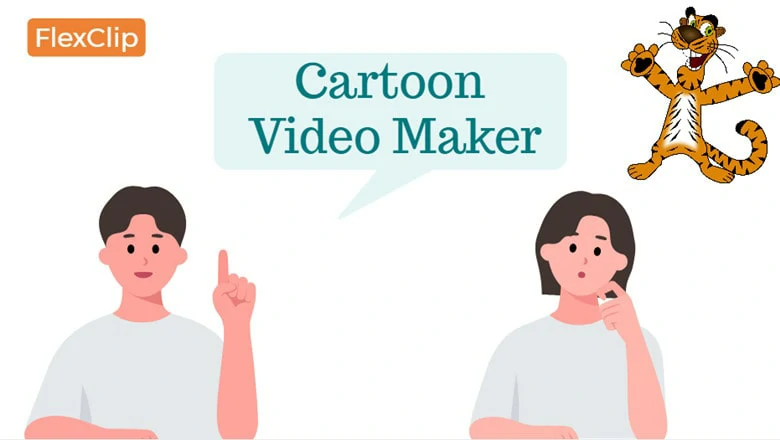 The Best AI Cartoon Video Maker - FlexClip
Your cartoon video can't go well without a good story. If you don't know how to write a cartoon video story, let AI tools do it. Integrated with ChatGPT, FlexClip's video script generator can analyze the information you given like a video theme and produce short/medium/long scripts with all the details you need to make a stunning cartoon video. After that, you just need to follow the guidance to complete editing.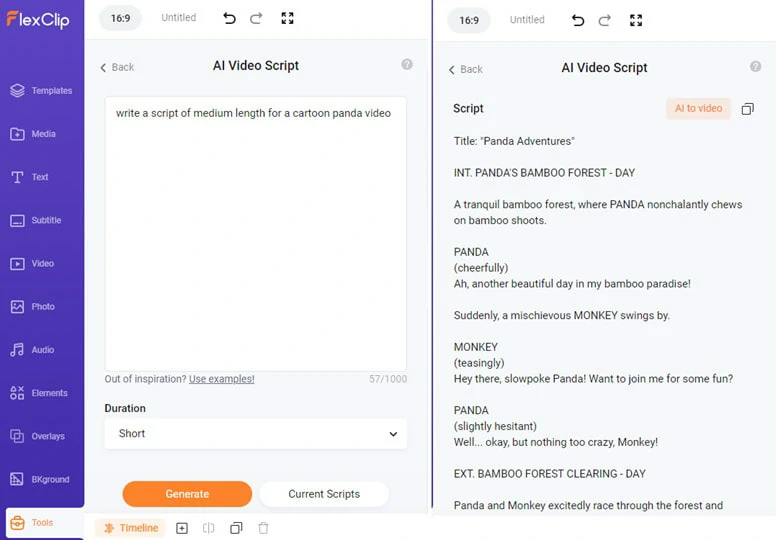 Video Script Generator in FlexClip
There is no need to hire professionals to draw customized cartoon images! Simply enter your ideas with a text prompt, FlexClip's AI image generator will instantly craft creative yet original photos tailored to your theme. Besides, 17+ image styles including cartoon, anime, oil painting, futuristic, etc and three image aspect ratios(1:1, 9:16, 16:9) are available, allowing you to create cartoon videos for different platforms with ease.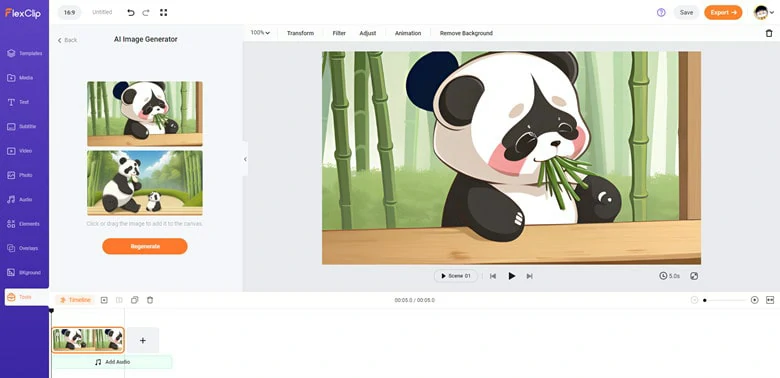 Cartoon Image Generator in FlexClip
TTS feature is widely used in cartoon videos to make the audience invested. Whether you need a cute kid voice, charming female sound or rough male audio, there is a quick solution in FlexClip. It can identify 140+ languages with different accents and transform the text into an appealing voiceover with high-quality so that you can apply it to bring your cartoon videos to life.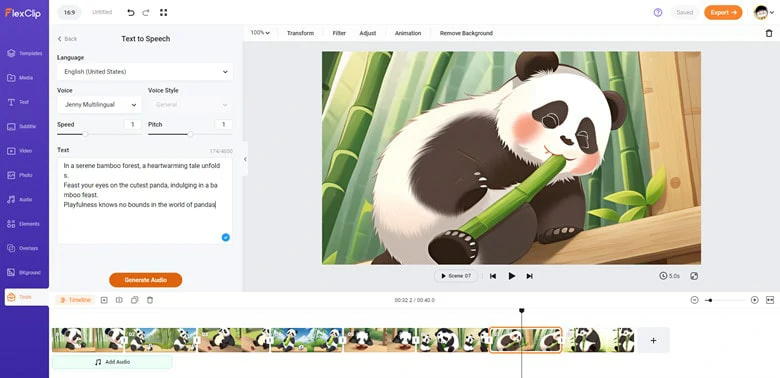 Use TTS Feature to Generate Voiceover for Your Cartoon Video
Turning text into video is no longer a daydream! Driven by AI technology, FlexClip's text-to-video function allows users to be creation masters and all they need is a text prompt. Once it receives the text information, the AI machine will automatically grab relevant media resources from its built-in stock and merge them with subtitles and text-to-speech audio to produce an engaging cartoon video. To be honest, sometimes, the generated videos require some manual adjustments to remove improper elements from videos.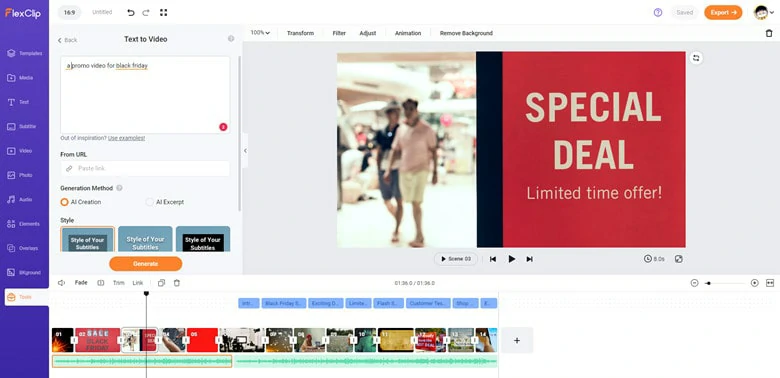 Use Text-to-video Tool to Generate Cartoon Videos
Hundreds of cartoon video templates targeted for different themes are included in FlexClip. From cartoon music video, cartoon intro to cartoon advertisement videos, you can always find a cartoon video template with awesome designs and cool effects for help. Apparently, they're all editable and free to use.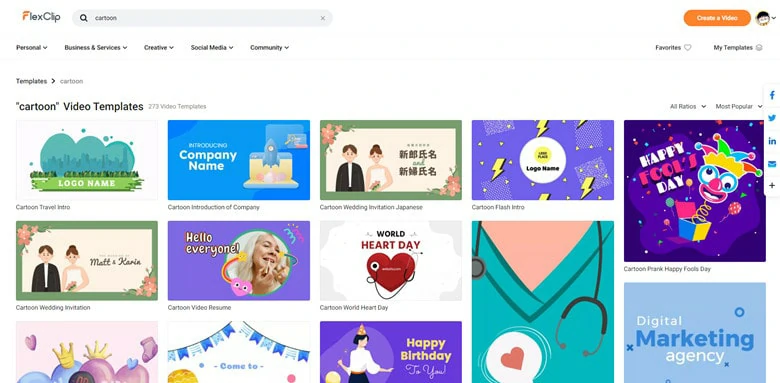 Various Cartoon Templates in FlexClip
What content creators like most is the direct upload feature to YouTube and TikTok. By doing so, the possibility of uploading failed will be dramatically reduced and also the time invested in download-and-uploading can be shifted to other projects like marketing, which helps you focus on the thing that matters most.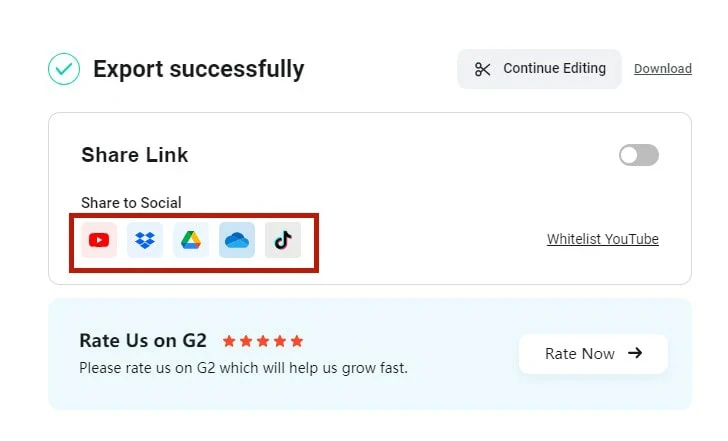 Direct Upload Feature to YouTube and TikTok
Besides powerful AI tools, multiple animation effects, 4M+ royalty-free media resources and handy editing tools in FlexClip guarantee your video creation process a breeze. No need to look further! All you need is FlexClip!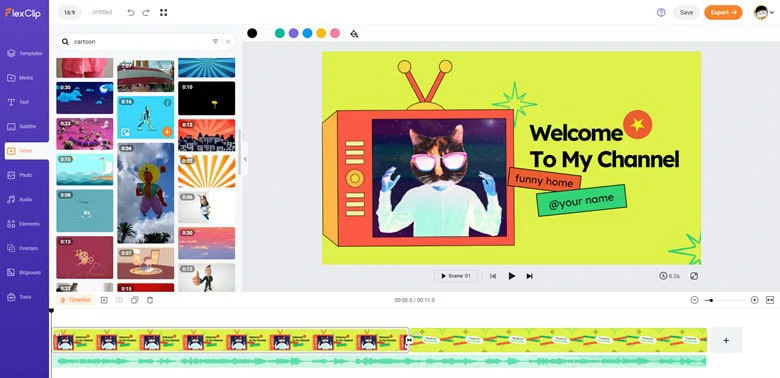 Stunning Features in FlexClip
How to Make Cartoon Videos for YouTube Using FlexClip
Step 1
Click on the Create a Video button below to enter FlexClip's editor page.
Step 2
Find the AI Video Script feature under Tools panel and type your text prompt in the dialogue box and don't forget to select the script length you want. Here let's say write me a story of medium length about the forest adventure of a three-year-old girl. Wait for seconds and now you can preview and check the generated video script.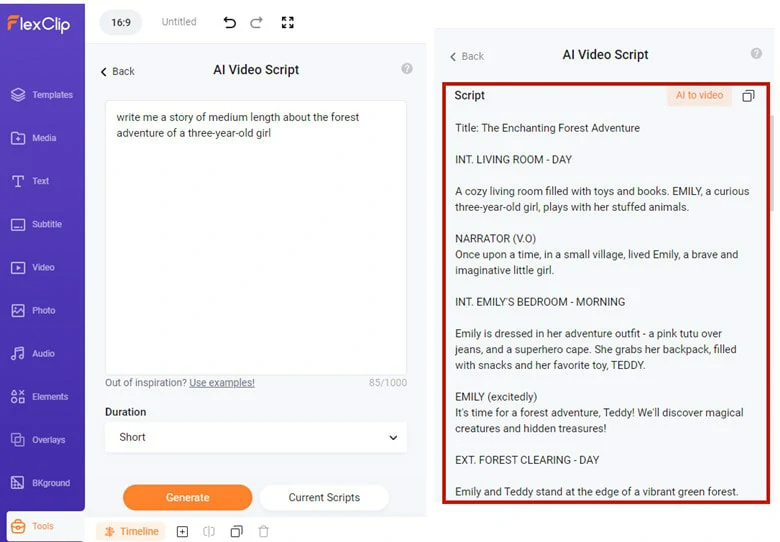 Use AI Video Generator to Generate Script for Your Cartoon Video
There are two options for you: one is to apply the AI to Video to automatically generate videos based on your script or use the script to start from scratch. As we mentioned above, the AI tool will grab relevant resources from its stock and the visuals may not match your style, which means it requires some manual adjustments in the video. Here we'd like to start from scratch.
Step 3
With the script of each scene, it's easy to generate cartoon images tailored to your story. Here move to the AI image generator under Tools and paste your descriptive words, then choose the desired image style and aspect ratio according to your targeted platform. Repeat the step until you've got all the scene photos for the cartoon video. To make your cartoon videos perfect, use third-party software like LeiaPix to convert cartoon images into 3D videos in seconds.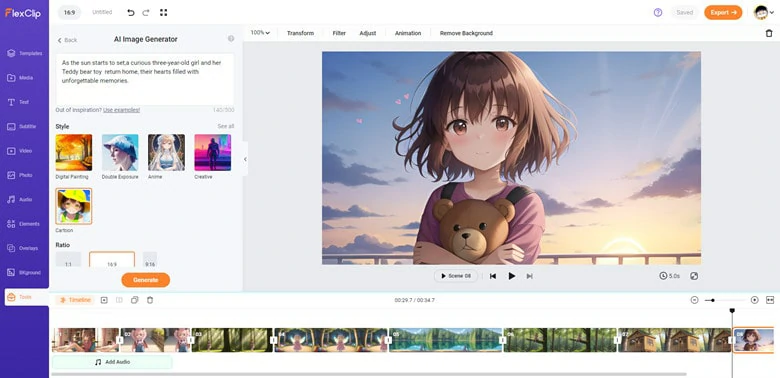 Use AI Image Generator to Create Photos for Your Cartoon Video
Step 4
Now it's time to infuse dynamism into your cartoon video using the
text-to-speech
feature. Paste your story and make options of language, avatar, style, speed and pitch that determine how the output voiceover will sound. Once you hit the Generate Audio icon, you will instantly get the desired voiceover.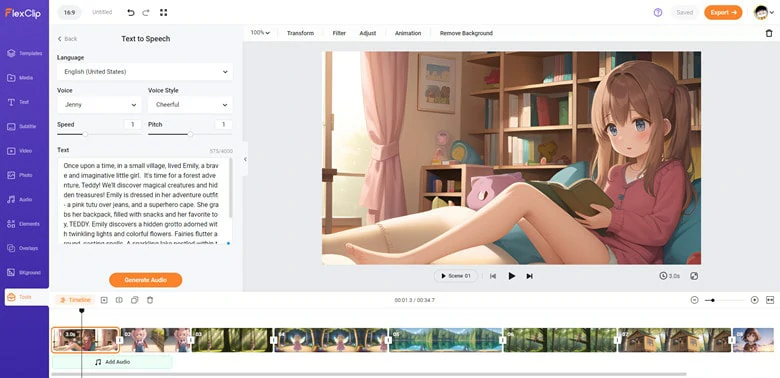 Use TTS Feature to Generate Realistic Voiceover for Your Cartoon Video
Step 5
With a voiceover at hand, it's super-simple to add subtitles to your cartoon videos. Go ahead to Subtitle panel > Auto AI Subtitle > select the language and source for the AI machine to extract subtitles from > hit on Next button and here determine the subtitle styles. After that, tap on the Generate icon and AI technology will automatically transcribe your voiceover into attractive subtitles.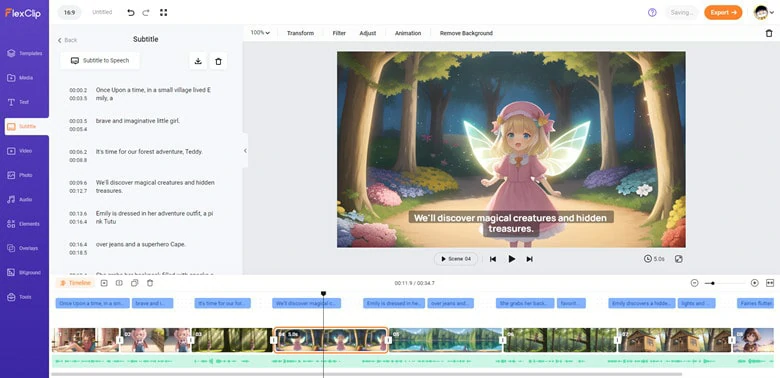 Use TTS Feature to Generate Realistic Voiceover for Your Cartoon Video
Step 6
Here let's do some magic with your fingers. Manually add transitions, sound effects, filters, funny items and other funny elements to take your cartoon videos to the next level. When you end edits, tap on the Export icon to download or directly upload your cartoon videos to YouTube.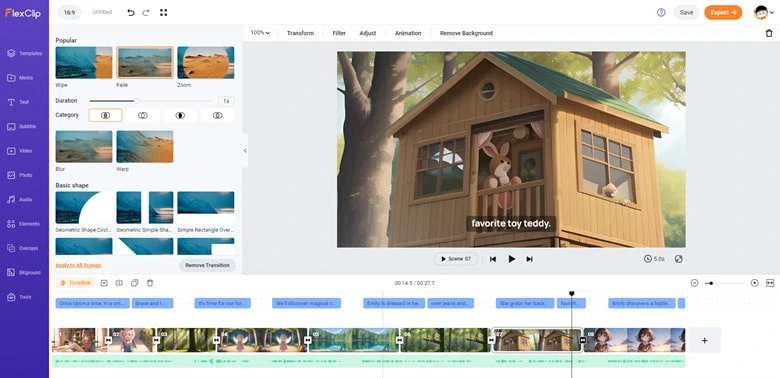 Perfect Your Cartoon Video with Further Edits
FAQs
1.How to make cartoon videos in mobile?
For mobile users, there are many cartoon video makers you can rely on. Kinemaster, a video editor with a chroma key feature, is the most popular top-list option for many mobile phone users when creating cartoon videos on the phone. Aside from the chroma key feature, basic editing features like cropping and advanced functions like speed control are also available.
2.How to make animated cartoon video of yourself?
With the combination of Photoshop and Adobe Character Animate CC, you can easily build a tailored character based on a series of images you given in minutes. After that, it's time to make animated cartoon videos of yourself. For more details, refer to this tutorial video>
While if you already have a video that you want to cartoonize, AI tools like EbSynth are what you need. With a one-click operation, it will turn your video into stylized art, which looks like animated cartoon videos.
3.How to make animation videos for free?
A free animation video maker makes it easy and convenient to create animated videos with ease. Popular animation video makers like FlexClip, Animaker, Potwoon, Biteable, etc fall on our recommendation list to easily create animated videos.