Tired of boring PowerPoint presentations? A modern video presentation is what you're looking for! Using a video to complete the presentation can help those presenters communicate their vision, passion, and message more effectively.
Keep reading and learn how to create video presentations online and also turn your PowerPoint presentation into a video that win the hearts of your audience. You can also check some stunning presentation video templates for inspiration to make your own one with great ease.
Contents:
Free Customizable Presentation Video Templates: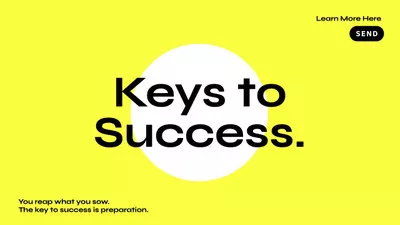 Business Plan Presentation
Anniversary Photo Collage
Can't Miss: How to Make a Corporate Video with Free Templates>
Part 1 How to Make a Video Presentation Online for Free
When you're making your presentation, you can make your video the whole presentation, or just a part of the whole. And even you can embed a video in a Powerpoint presentation.
Here we'll show you how to make a video presentation online easily with a powerful presentation video maker, FlexClip.
FlexClip is a free and easy-to-use, powerful and flexible video maker allowing you to make professional and excellent videos for your presentation with great ease. It's all online, so there's no software to download.
Once you have come up with a concept for your presentation and got all your visual assets ready, you can turn to FlexClip presentation video editor to bring it all together. Simply click the Get Started Now button below to start your video directly, or you can view our stunning templates for inspiration and pick one to customize.
Step 1 Add Footage to Your Presentation Video
Drag and drop all your photos and videos to the blank section and apply them to the Timeline. You can add the footage to the timeline directly or use the PIP feature to make the photo/video collage in your video presentation.
If necessary, you pick some stock Video and Photo assets from FlexClip's media library.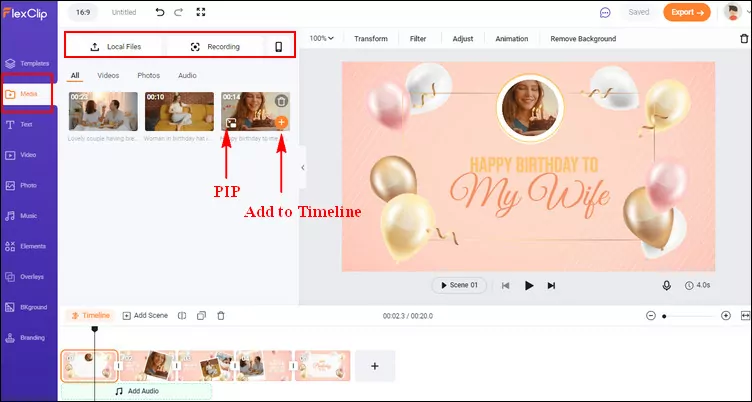 Image Board: Add Footage to Your Presentation Video
Step 2 Highlight Your Presentation Video with Text
Switch to the Text to add some text to your presentation video. Enter the title or write a short description to highlight the main ideas.
FlexClip's text tool is rich-features, allowing you to customize the text in your video presentation in various way - change the color and font, adjust the style and motion, and also set the text duration to control the time when the text appears and disappears.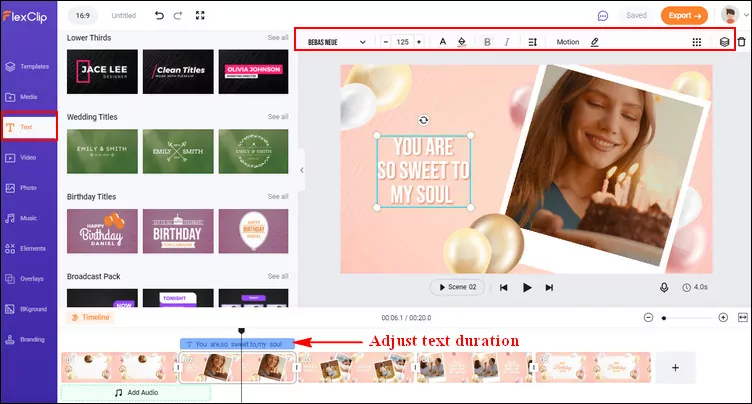 Image Board: Highlight Your Presentation Video with Text
Step 3 Set the Tone of the Presentation Video with Music
Go to the Music to add a piece of music from FlexClip's music library to your video. You can also upload your own music from a local file simply by clicking the Add Audio.
Once the music added, you can trim it and adjust the position where the music starts and ends, apply the fade in/out effect to make the music match your video presentation perfectly. Also, you can adjust the volume to make the music softer.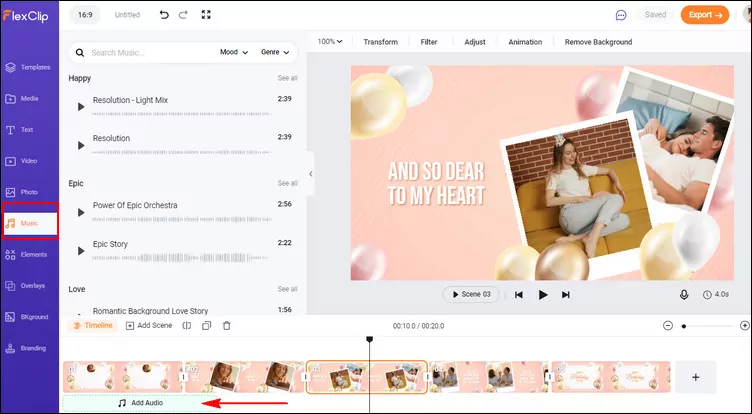 Image Board: Set the Tone of the Presentation Video with Music
Step 4 More Edits to Enhance Your Presentation Video
FlexClip features many editing functions allowing you to customize your presentation video in many ways, like adding transitions, filters, color grading, etc.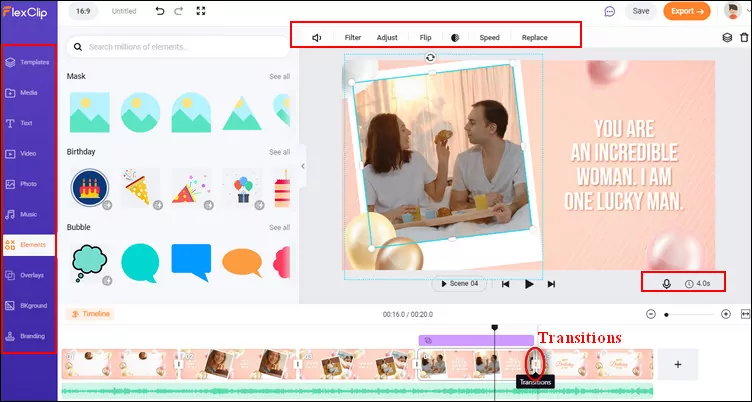 Image Board: More Edits to Enhance Your Presentation Video
Part 2 Creative Video Presentation Ideas with Free Templates
Have no ideas on your video presentation?. Here are some free templates for you to choose depending on your purpose. Check out and you should be inspired to make your own video presentation.
Sales Video Presentations
>> Every business has a primary function of making sales and increasing them. The sales video presentations can help you achieve this goal easily.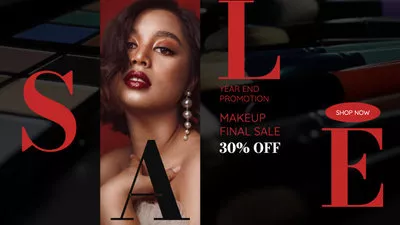 Makeup Final Sale
Promotional Video Presentations
>> As its name suggests, the promotional video presentation is those videos that promote or depict a particular cause or thing. It aims to spread a social cause or popularize the concerned product.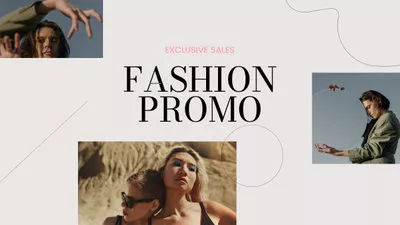 Exclusive Sale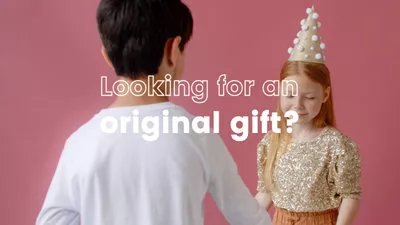 Ecommerce Product Promo
Educational Video Presentations
>> Video presentations are not just restricted to business purposes but are also widely used for educational uses. You can teach or learn something easily through an educational video presentation.
Informational Video Presentations
>> Informational video presentations are those that purely offer some information for the audience. Their purpose is mainly to inform you about the current events and make you alert and aware of them.
Corporate Video Presentation
>> For corporate, video presentations are also a great tool to manage employee relationships, and they are great for conducting employee training and onboarding.
Company Introduction Presentation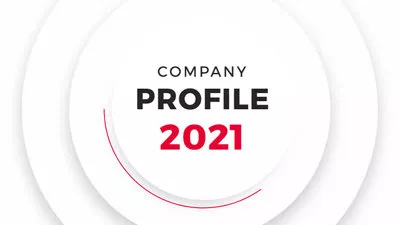 Company Profile Presentation
Entertainment Video Presentations
>> Entertaining video presentations solely for entertainment's sake. Entertaining video presentations can vary in scope, genre, and purpose.
Family Memories Slideshow
…
More excellent video presentation ideas are waiting for you to explore, just turn to FlexClip templates library right now.
Part 3 How to Make a Video Presentation with PowerPoint
May you also want to turn your PowerPoint presentation into a video directly, PowerPoint allows you to do so by saving it as one. Now, we'll show you step by step, how to make a video presentation with PowerPoint. Later, we'll also provide you with the online video presentation tool that can help you make the presentation video look even more professional with captions, effects, and more.
Here's what you need to do to turn your presentation slides into a video in PowerPoint:
Step 1
Launch PowerPoint and open the PPT file you want to convert into a video, then go to File and select Export (select Save & Send in PowerPoint 2010), select Create a Video.
Step 2
In the drop-down box under the Create a Video, you can select the desired file quality you want to use for your video presentation and choose how to export the presentation: with narration (if you've already recorded it) or without. If you want to record a narration at this point, click "Record Timings and Narration".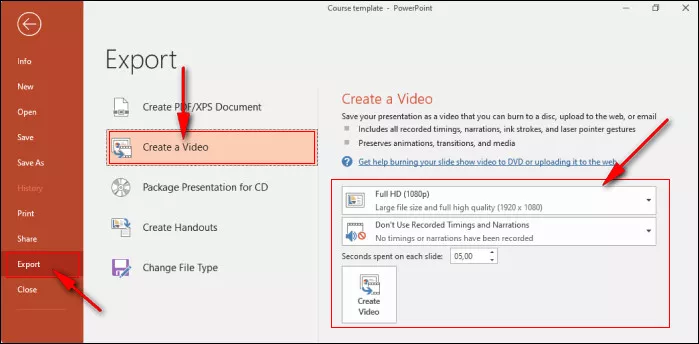 Image Board: Make a Video Presentation with PowerPoint
Step 3
Next, choose how long each of your slides will appear and manage the demonstration speed in the small drop-down menu.
Step 4
After you've made your choices, click the Create Video button to start downloading your presentation video.
Final Words
That's all for how to make an excellent video presentation. We hope you can get some inspiration from this blog and start your video presentation on the right foot.