Want to edit a video on Mac on a budget and looking for the best free Apple video editor for your Macbook? You've come to the right place! We have tested some of the most popular FREE Mac video editors and have listed some features to help you edit any video on your Mac in this post.
What is the easiest video editor to use on a Mac?
What video editor to use Mac?
Does Mac have free video editing?
"Is there any excellent free video editing software available for Mac users?" Many Mac users may ask such questions when working on their short films, daily vlogs, YouTube videos, and more on their Macbook. Have you ever had questions like these? You've come to the right place!
We've put together a list of some of the best free video editor for Mac, along with main features about each one for your convenience. Whether you're trying to edit a video on your Mac with the Macbook Air or Pro, iMac, or Mac Mini, and no matter if you are a pro or a newbie comes to your video creation on a Mac, you can find the perfect free video editor for your Mac here!
Read on to check out our choices for the best free video editing software for Mac.
Top 6 Free Video Editors for Mac
You May Like: How to Make A Slideshow on Mac
Top 6 Free Video Editors for Mac to Edit Videos Like a Pro
Macs are powerful tools for media editing, and when you try to edit a video on Mac, there are a number of good, video editing software for Mac, like Adobe Premiere, After Effects, and Apple's own Final Cut Pro and iMovie to choose from. However, most of them are not cheap and are always too complicated to operate, which is not friendly for beginners and those who are on a budget.
These are our favorite free video editors for Mac for your references.
FlexClip - Easy & Free Online AI Video Editor for Mac
Developed as a powerful yet free online video editor, FlexClip is workable on both Mac and Windows. No download is needed, no experience is required.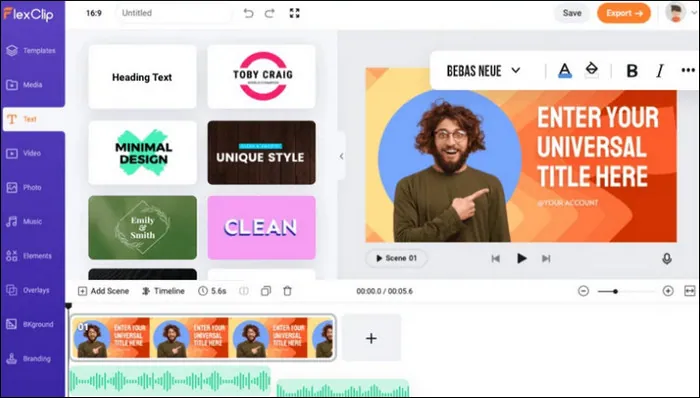 Free Online AI Video Editor for Mac - FlexClip
FlexClip comes with a simple interface and rich features as well: you can easily trim, split, crop your video, do more raw edits to adjust the video; add text animations, filter effects, overlays, transitions, and more stunning effects to level uo your video; use funny elements, like emojis sticker, subscribe buttons, various shapes, etc., to make your video far more appealing. Additionally, its extensive templates, rich media stock, and even the AI editing features, lets you get the high-quality video on your Mac without hassles.
FlexClip's AI Revolution
Key Features of FlexClip:
It's free and pretty easy to use; no editing skills and experiences required!
Thousands of
designer-made templates
to help you start editing your video on your Mac smoothly with endless inspiration.
Integrate with resource-rich stock media providers to offer royalty-free music, high-quality videos and photos allowing you to unleash your creativity.
A fantastic collection of built-in resources, like
text animations
, elements, transitions, overlays, etc., to level up your video.
Multiple export paths such as instant-sharing to social sites, like YouTube and TikTok, sharing via the link, cloud storage and local save.
iMovie - The In-born Free Video Editor for Mac
Developed by Apple, iMovie is a basic video-editing software for Mac available to all Apple users for free. It supports cross-platform, meaning you can start editing on Mac and finish it on the iPhone or iPad.
With a simple interface and a good set of features, iMovie is among the best video editors for Mac for beginners to easily take their footage and edit a video with a clear flow. However, it uses a simplified timeline editor that doesn't allow for multi-track editing, which make it a bit difficult to do the multi-track editing. Overall, iMovie is idea for Mac users who want to find a simple video editor with basic editing features.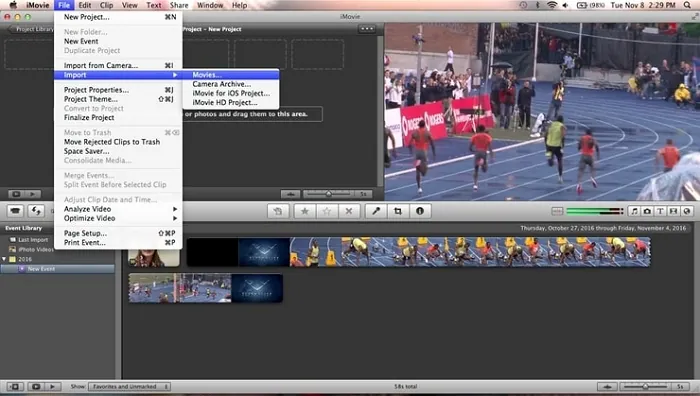 In-born Free Video Editor for Mac - iMovie
Key Features of Mac:
In-born free video editor for Mac to offers some nifty video editing capabilities in a clear, usable interface.
Offers advanced tools for chroma-keying, color-matching, and working with audio.
Supports handling 4K video and green screen compositing, picture-in-picture video and slow-motion/fast-forward effects.
Tons of animated title, credit templates, different filters that can be used for your footage.
Allows to export directly to YouTube and Vimeo at up to 4K resolution.
DaVinci Resolve - Free Video Editor for Mac
Another great video editor for Mac you can try is DaVinci Resolve. It offers a basic and free version for Mac users to edit a video on a budget. But it still includes the same high-quality image-processing abilities as the pricier version.
DaVinci Resolve is one of the best free video editing software for Mac because of its high-quality, pro-level tools and features. You can edit videos on Mac quickly using keyboard shortcuts, automatic trimming tools, and drag-and-drop editing. You can also quickly cut up and correct videos using multiple video and audio tracks with DaVinci Resolve.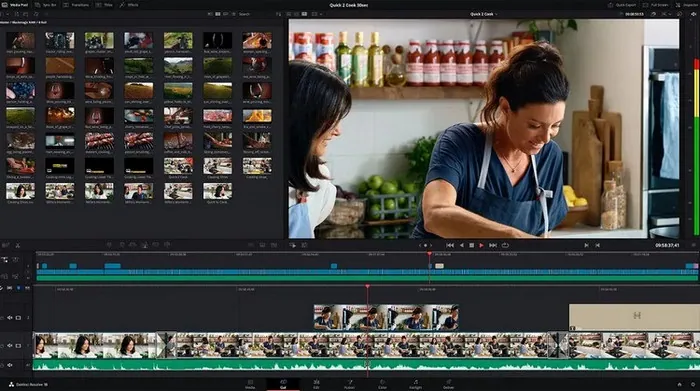 Free Video Editor for Mac - DaVinci Resolve
Key Features of DaVinci Resolve:
Fast and easy-to-use free tools for basic video editing on your Mac
Supports for external hardware panels to enable faster editing.
A wide range of advanced features, including intelligent color correction, motion graphics, and visual effects.
Supports 8K video, offers Hollywood-grade special effects, and more.
Openshot - Free Open-Source Video Editor for Mac
Openshot is a completely free and open source video editing tool for Mac, which offers more features than the in-born editor, iMovie, including an unlimited number of layers and sound mixing. It also supports other operating systems like Windows and Linux.
You can crop videos, combine video, add audio, add text, use transition effects and more. And it will show wave forms while editing and offers templates to edit titles. If you're looking to make your videos stand out, this editing software allows you to add 3D animations and some stunning preset effects such as lens flares or special 3D text to your video.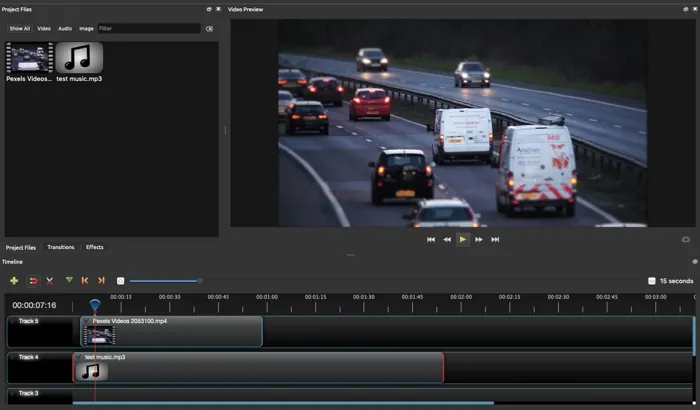 Free Video Editor for Mac - Openshot
Key Features of Openshot:
Offers an intuitive drag-and-drop interface, simplifying the editing process.
Supports for unlimited tracks in layer-based editing to help you make complex video compositions with ease.
Animated templates with awesome video and audio effects.
Packs in transition and compositing support, titles, and a heap of extra features.
Blender - Free Open-Source Video Editor for Mac
Blender is an impressive open-source video editor for Mac for animators or editors interested in animation as it offers 3D rendering, 3D modeling, UV unwrapping, texturing, skinning, animating, particle and more.
As one of the best video editors for Mac, especially if you're looking to create complex, 3D-rendered videos, Blender allows you to easily create 3D-modeled scenes that can bring your imagination to life. You can cut and edit video, mix or apply adjustment layers, transitions, and filters. All those features make it pretty easy for you to composite and create interactive 3D applications, animated film, video games, or other visual effects.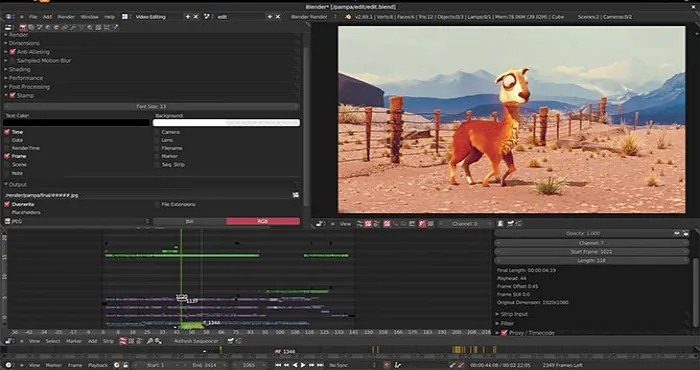 Free Video Editor for Mac - Blender
Key Features of Blender:
A free video editor with 3D modeling perfect for animators or editors interested in animation.
Allows to combine a number of different videos, images, and effects together.
Provides all the basic editing tools to edit a video, like cut and splice video, mix and sync audio, apply adjustment layers, transitions, etc.
Offers advanced tools like 3D painting, modeling, sculpting, onion skinning, etc.
Lightworks - Free Video Editing Software for Mac
As a free powerful video editing software for Mac, Lightworks is one of the most popular video editing software for professional video processing as it includes video effects, multi-cam editing, titling, and the usual multi-layered timeline approach, and more advanced features.
While editing videos on Mac with this tool, you can import just about any common type of media file, add as many video/audio tracks as you can, and start editing with its powerful features. All these features made it perfect for advanced video editing needs on a Mac. However, the free version offers you limited export options.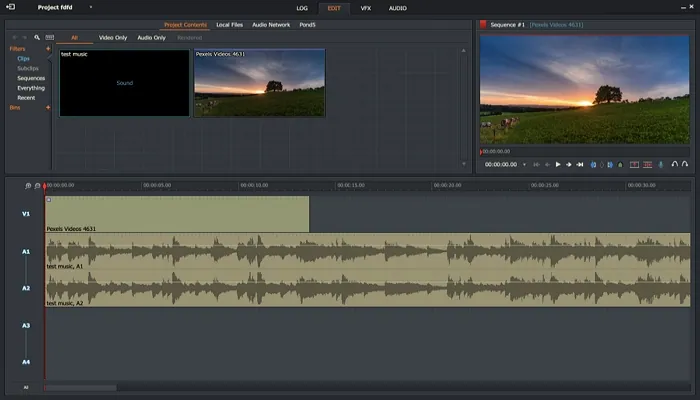 Free Video Editor for Mac - Lightworks
Key Features of Lightworks:
Wide format support, allowing you to works with any type of media file.
Advanced editing features, includes multi-point and asymmetric trimming, slide, ripple, roll, etc.
Comes with a vast collection of tutorial videos and free-to-use music and video clips.
The package is lightweight; only needs 3GB RAM to use.
Final Words
That's all for the 6 best free video editor for Mac. Hopefully, it'll make your choice easier! Pick your favorite one and start your journey now! If you don't make up your mind, give FlexClip a try for its user-friendliness and flexibility.