Although each type of these computer has an advantage over the other, the truth remains that each of them serves an entirely different purpose. We will give you an example; while laptop users find it very easy to install and use, desktops require all manner of assembling and connections before using. Again, the laptop's portability makes it very mobile, but the same can't be said about desktops that are meant to be fixed; on and on, the pros and cons go.
Although video editors are designed to work on both laptop and desktop computers, when it comes to selecting the best video editors for laptop, there are lots of things to consider. For example, less storage space, easy-to-use user interface, faster user response rate, and the ability to synchronize well with the laptop device.
In a bid to make the process of choosing your video editor easier, we have decided to list some free video editors for laptop computers. This will enable you to choose the right editor out of a hundred more that are there. Please follow the list below.
Best Free Video Editors for Laptop Online
Best Free Video Editing Software for Laptop
Best Free Video Editors for Laptop Online
1. FlexClip
This video editor assumed the first position for a reason. FlexClip is one of the most used videos editing online software tools in the market. Used by thousands of professional video editors all over the world, this tool comes with exceptional fast, easy-to-use features, which sums up its many merits. With FlexClip on your laptop, you won't have to worry about it occupying larger space on your system – since it is online based, it takes little space on the CPU and doesn't take much storage room on your computer. And lastly, it has a cloud storage feature. That's to say, you can stop at one computer and start again at another one.
Some other noticeable features of FlexClip include a wide variety of templates, textual characters, and shareable features to pick from: you can actually share your videos on major streaming platforms like YouTube and Facebook. And we will have to mention again the online-based feature that enables users to seamlessly access it without downloading it first.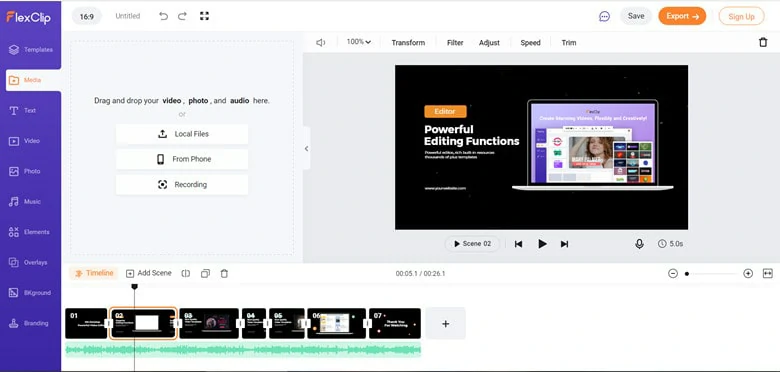 Best Free Video Editors for Laptop Online - FlexClip
2. Clipchamp
Clipchamp is another popular video editing software for laptop used by thousands of professional video editors worldwide. It comes as a suite and can work on both desktop, laptop, or android devices. It comes with wonderful functionalities that make it easier for users to take advantage of. Like FlexClip, Clipchamp gives users the opportunity to make their choices from the arrays of color, text, and extensive stock library.
But unlike FlexClip and others like it, it comes in an app form. The speed at which this app responds depends on how free your laptop's storage is. If it is free, you don't have a problem with the response speed. The interface is pretty simple, but you should at least have an intermediate knowledge of computer skills before you can perfect the operations. Clipchamp and FlexClip don't share the same similarity – as FlexClip doesn't leave you with a complicated user interface, Clipchamp does (unless you have to go for the premium package).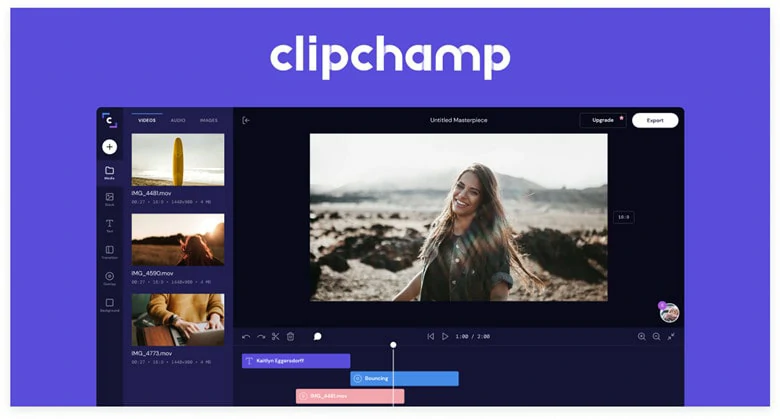 Best Free Video Editors for Laptop Online - Clipchamp
3. InVideo
We have practically made it a culture to mention the InVideo video editing tool in our articles for a reason. This powerful video editing tool allows users to experiment with many creative features like media, filters, and transitions. It comes with over 5000 templates, iStock media, filters, and hundreds of music libraries. The list goes on and on. Invideo has similar features to Clipchamp, especially when upgrading your package to a more exclusive feature: it is a paid app. This tool has both online and app sections and can respond pretty fast, depending on how spaced your laptop storage is.
Aside from being a perfect video editor, it also serves as a good YouTube Video Maker and has this simple interface that blends well with every user, no matter the level of your computer skills. And yes, Invideo can add a watermark to your videos unless you subscribe to one of their paid packages. Again, it is designed to be compatible with both desktop and laptop platforms.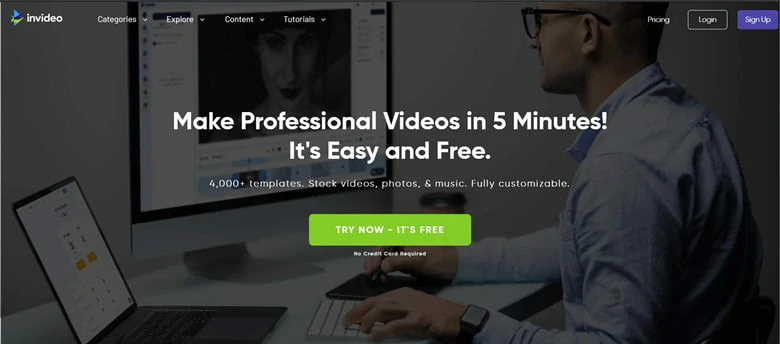 Best Free Video Editors for Laptop Online - InVideo
4. Animoto
This is another paid video editor that has the capacity to not only perfect editing your videos to your test but can seamlessly create video slides for your videos. This tool can be compared with FlexClip: they have similar features. Like FlexClip, Animoto is free and also an online based video editor for laptop computers. As for the response speed, it is really fast. This is because it is online-based, and you won't have to worry about space on your storage devices before using it. Unfortunately, Animoto adds a watermark to your videos, but the positioning is perfect. Since this is an online-based tool, it can be used on any device: laptops, desktops, and any other internet-enabled mobile devices.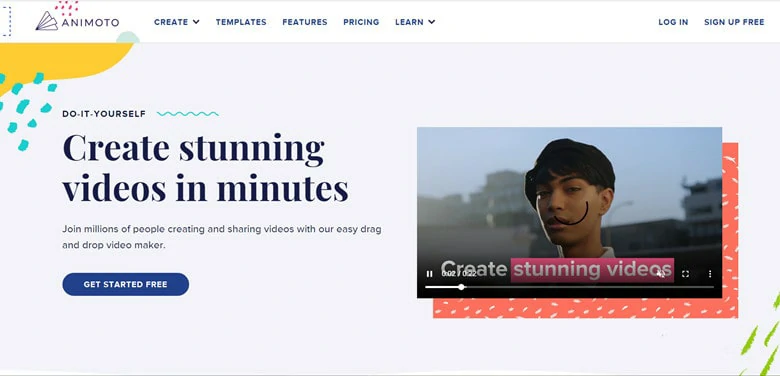 Best Free Video Editors for Laptop Online - Animoto
5. Veed
Professional video editors are no stranger to Veed. This app's developers designed it so that users can make a perfect video in a single click. With this tool, you can trim, cut, crop, add subtitles, and lots more. And unlike most of its counterparts, you don't need to open an account before you can use it. And like FlexClip, Veed is online based, so the speed at which it responds is not in doubt.
Veed has a pretty outlook; the easy-to-use interface makes it even more acceptable for first-timers, and yes, you will get to have a watermark on your video, but it depends. Since this tool is not free, you can only get rid of the watermark after subscribing to one of their paid packages. And since it is closely similar to FlexClip in terms of its online function, you won't have to worry about occupying more space on your storage. And you can as well access it on any device since it is online-based.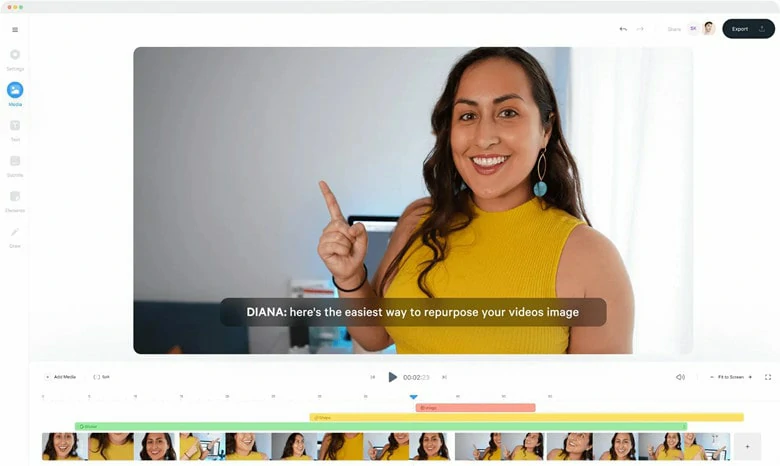 Best Free Video Editors for Laptop Online - Veed
Best Free Video Editing Software for Laptop
1. iMovie
This is one of the most advanced video editing software tools that has made it to the video editing industry. Developed by the popular Apple Corporation, iMovie has virtually everything you need as a video editor. Although some users believe the interface is a bit complex, that doesn't dispute the fact that it is very powerful in performance and compatible with Mac laptops. Most importantly, you have to also make sure your system has enough space to accommodate this app – it is 86MB in size. On a system with free space, the response speed is pretty fast, but as for the interface, you might need a considerable amount of computer knowledge to deal with it.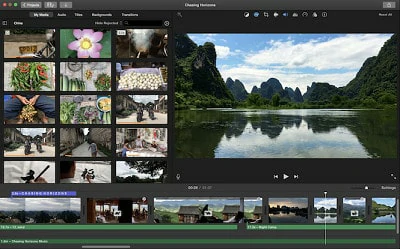 Best Free Video Editors for Laptop Online - iMovie
2. Windows Photos
This video editor is a proof that the big corporations are taking interest in the video editing niche. Like what Adobe is doing with the iMovie tool, Microsoft does the same with the Windows Photos video editing software. But don't be deceived by the name and the developers; it can still work on the iOS platform. With an app size of 56MB, Windows Photos is used by over 3 million people around the globe. And because of the size, you might want to consider making sure your storage is free – it has a way of guaranteeing a quicker speed response. And like the iMovie app, it doesn't have the simplest user interface around.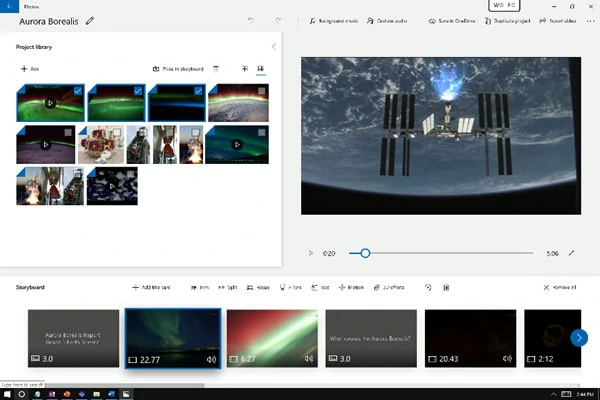 Best Free Video Editors for Laptop Online - Windows Photos
3. VSDC
This free video editor can measure up with other popular industry video editing tools like iMovie and Windows Photos. It comes with a user friendly interface that has the capacity to deliver nothing less than quality. It is very compatible with both Windows and iOS platforms and comes with a simpler interface compared with what is applicable on Windows Photos and iMovie tools.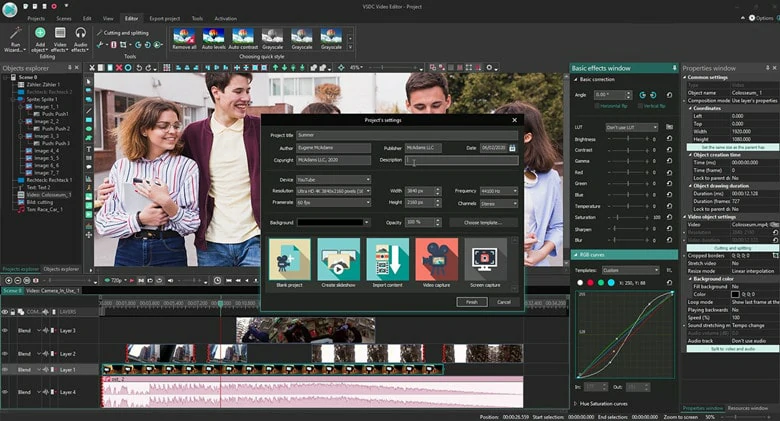 Best Free Video Editors for Laptop Online - VSDC
4. Shotcut
The company was founded by Dan Dennedy in 2011 after he developed this tool on MLT Multimedia Framework. Aside from being an open source, Shotcut is also free. It is termed a "cross-platform video editing app" that allows it to run on multiple OS. Shotcut is designed to work seamlessly on Linux, macOS, FreeBSD, and Windows platforms. Currently in use by over five million people worldwide, the Shotcut response rate depends on how many apps your system can accommodate. If it is spaced enough, you will get to enjoy the faster response speed, considering the app's 27MB size. And as for the interface, very simple to interact with.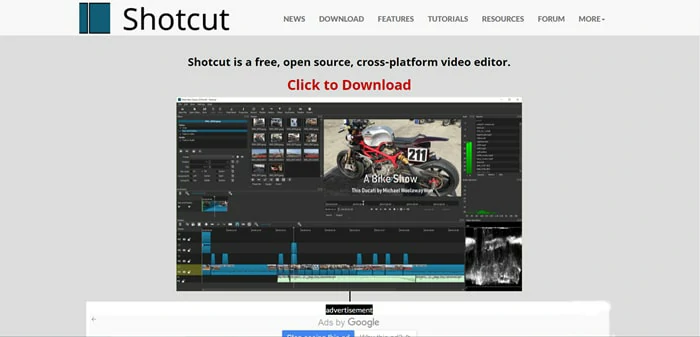 Best Free Video Editors for Laptop Online - Shotcut
5. Openshot
This is an award-winning free, open source video editor that is very compatible with multiple OS. It works perfectly well on Windows, Linux, and Mac laptops. Most professionals who are more interested in adding nice video effects, audio tracks, and titles often go for this tool. Although one can't compare this tool with the above mentioned ones in terms of the simple user interface, it can still boast of very small size in weight. This is more reason it is faster in response compared to iMovie or Windows Photos, which usually hangs if there is insufficient space on the system storage.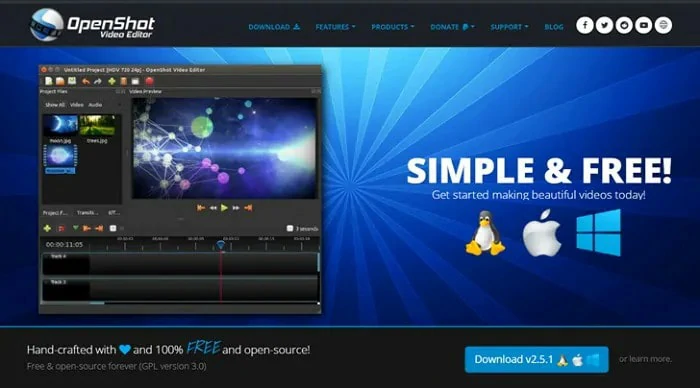 Best Free Video Editors for Laptop Online - Openshot
The Bottom Line
Although you may still find other good video editors out there that suit your needs as there are lot of them out there. According to popular reviews, the ones we have listed above are considered the best video editing software for laptop computers. Notwithstanding, we still very much recommend you try out FlexClip, which we believe has more advantages than others considering its user-friendly features. As usual, please don't hesitate to share this piece if you find it interesting.