Are you a passionate writer or a content creator who always wishes could reach a wider audience or provide an alternate format for your articles?
Or a common reader who finds yourself struggling to find the time to sit down and read long articles and look for an easy way to absorb valuable content?
The answer lies in podcasting! Just turn the written articles into captivating podcasts! In this post, we'll explore the art of converting any article into a captivating audio and even video podcast. Follow us and learn how to add dynamic elements to the writing and effectively connect with your audience through the power of voice and video.
Also Read: 5 Best AI Podcast Generators to Level up Your Podcast Shows in a Snap >
How to Convert Articles into Podcasts with AI using FlexClip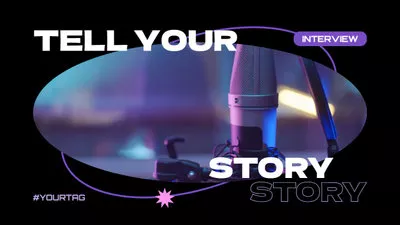 Podcast Trailer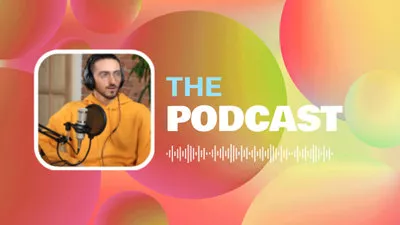 New Podcast Trailer Youtube Video
Best Online Article-to-Podcast Converter with TTS and AI Text-to-Video Features - FlexClip
Podcasts have gained more and more popularity in recent years due to their convenience and ability to convey information. However, if you want to turn the written article into a podcast, it can be a time-consuming and complex task. That's where FlexClip comes in.
FlexClip is an innovative and user-friendly video maker that allows you to convert written articles into engaging and impactful podcasts effortlessly. Its powerful TTS (Text-to-Speech), AI text-to-video, as well as more editing features can simplify the process of converting articles into engaging and high-quality podcasts, whether it's an audio podcast or a video podcast that captivates listeners and conveys your message effectively.
Let's dive deeper into the features and capabilities of FlexClip's video maker and discover how it can empower you to create compelling podcasts from your written content.
Best Features to Convert Article to Podcast with FlexClip
One of the standout features of FlexClip is its powerful
TTS(text-to-speech)
tool. Here are 400 lifelike AI voice avatars available across 140 languages and diverse accents. With just a few clicks, you can convert any written text into natural-sounding human speech, saving you hours of recording and editing and ensuring that your podcasts have a consistent and professional audio quality.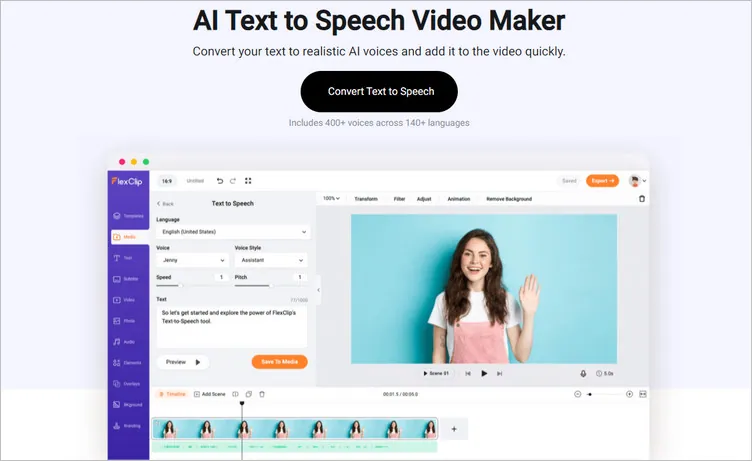 AI Text to Speech Tool for Converting Article to Podcast
Besides,
FlexClip's AI text-to-video
feature takes your podcast experience to a whole new level with stunning visuals. You can copy and paste the article or the article URL to FlexClip. Then, the system will immediately analyze your article, find the best photos, videos, and music, and then pull them together for a raw podcast video you can work on freely.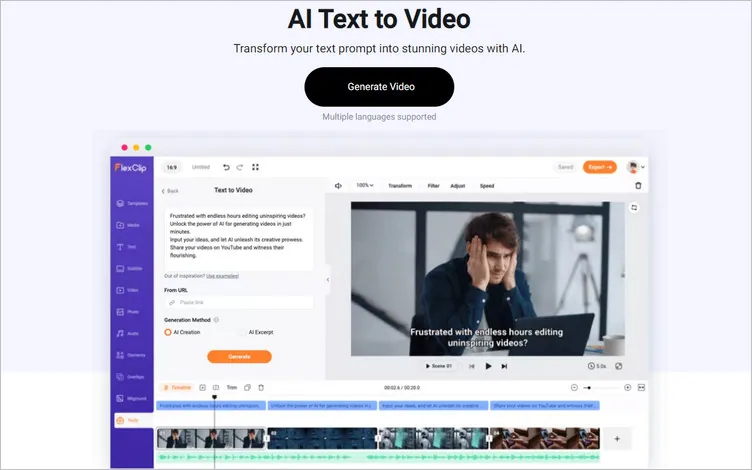 AI Text to Video Tool for Converting Article to Podcast
FlexClip's AI Walkthrough
FlexClip offers a user-friendly interface that requires no prior video editing experience. Its intuitive drag-and-drop functionality allows you to easily add your article, choose from various TTS voices, customize the visuals, and add background music and transitions.
It also offers a range of podcast video templates with styles and effects to ensure your final project is visually stunning and highly professional. You can use the designer-made and fully customizable video templates to customize your podcast video quickly. Simply drag and drop your video assets, and a scroll-stopping podcast video is done.
Music Radio Podcast Audio Trailer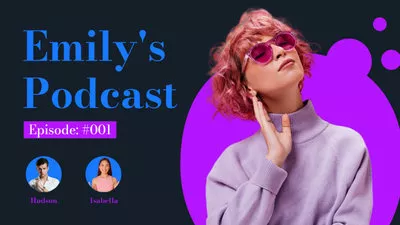 Movie Talk Show Podcast
How to Convert Articles into Podcasts with AI using FlexClip
As you can see, with FlexClip's intuitive interface and an extensive collection of audio and video editing tools powered by AI, whether you're a blogger looking to repurpose your written content, a marketer aiming to expand your reach, or simply someone searching for a hassle-free way to convert articles into engaging podcasts, you can bring your articles to life in an entirely new format.
Let's experience the power of TTS, AI text-to-video, and more strong features of FlexClip to revolutionize the way you transform your written content into captivating podcasts, including audio podcasts and even video podcasts.
Option 1: Turn the Article into an Audio Podcast with TTS
FlexClip can convert text to speech fast by using prebuilt neural voices, saving you time to make a great audio podcast from any written article. Click the Text to Speech button below and learn how to convert the article into an audio podcast with FlexClip's powerful TTS feature.
Step 2
Then, you should be in the tts panel; simply select the language and accent needed, and preview and select an ideal AI voice avatar for your podcast; then you can customize the voice style (such as friendly, chat, cheerful, hopeful, newscast, assistant, etc. ), voice speed, pitch.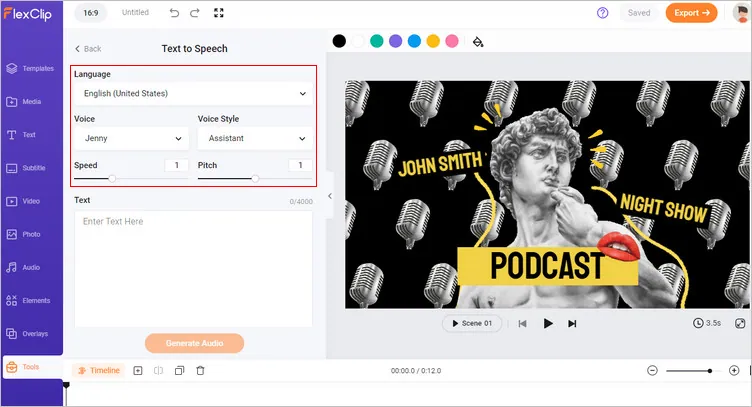 Article to Audio Podcast with TTS - Voice Setting
Step 3
Once done, copy and paste your article text into the text block; here, you can insert commas between words to add natural pauses and make AI voices sound more realistic.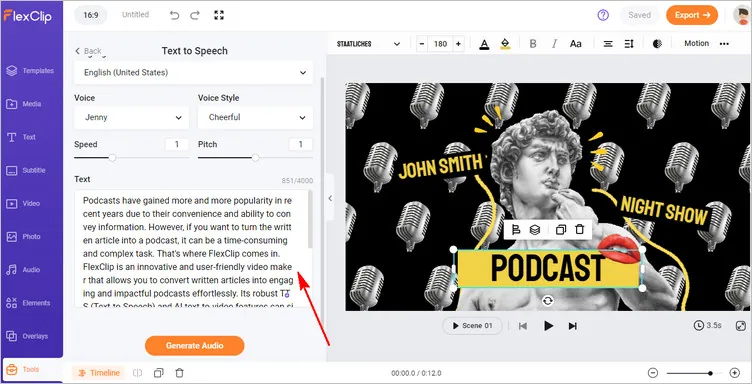 Article to Audio Podcast with TTS - Add Article Text
Step 4
After that, click the Generate Audio button to convert the article into an audio podcast. You can preview the audio track and download it as an MP3 file when finished. Or simply click the Save to Media button to add them to FlexClip's media library to make a video podcast.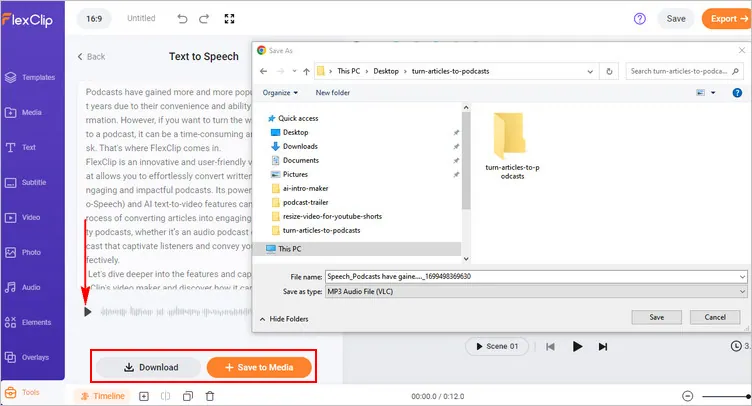 Article to Audio Podcast with TTS - Generate and Download
Option 2: Convert Your Articles to a Video Podcast with Text-to-Video Feature
Besides converting your article to an audio podcast, you can add more visuals from FlexClip or directly use its text-to-video tool to turn the article(be it an online blog or any written article) into a video podcast with subtitles and background music added. Now, click on the Text to Video button below and start turning the article into a video podcast:
Step 1
Go to Tools and select the Text to Video option. Copy the article text and paste it into the text block. Or, instead, you can copy the URL of the online blog below the text box and let FlexClip extract the content for you.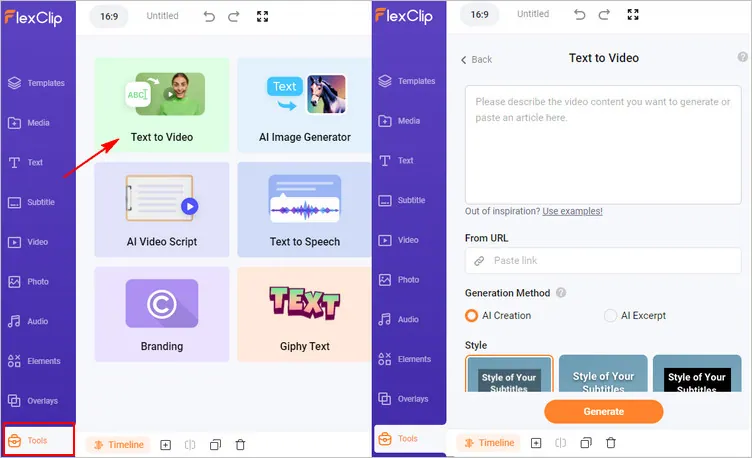 Article to Video Podcast - Add Your Article to the Text to Video Tool
Step 2
Scroll down the page; here are two generation methods offered, the AI Creation and AI Excerpt. AI Creation mode means analyzing the text you provided and creating a video based on the complete content, and the AI excerpt mode means extracting the main content of the article and creating a video podcast. In this case, we will go to the AI excerpt mode.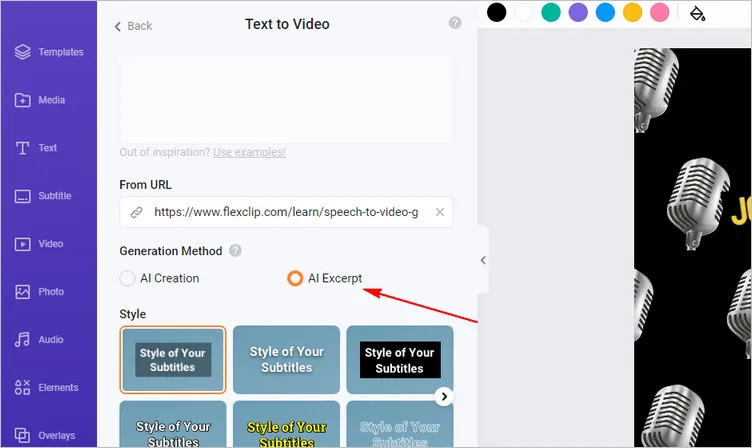 Article to Video Podcast - Select Generation Method
Step 3
Then, you can select the subtitle style for your podcast and click the Generate button to start the generation. FlexClip will soon analyze the text, pull up media resources that are most relevant, and compose a raw video in several seconds.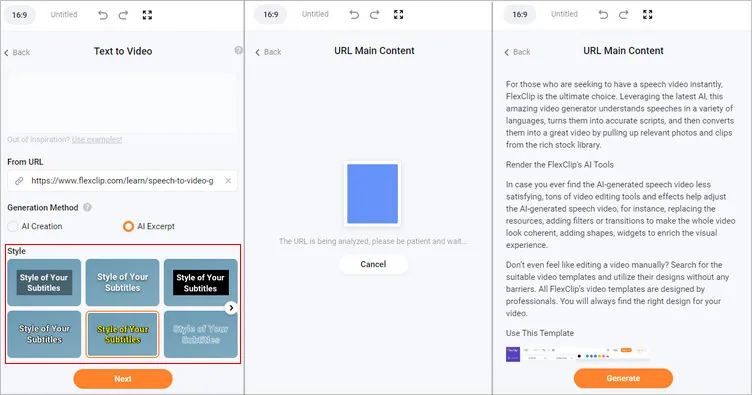 Article to Video Podcast - Generate Video with AI
Step 4
Add the audio track to the podcast, here you can directly use the audio material that you've generated in option 1, or follow the way to generate a new one according to your video, then click the + icon to add it to the video, then make any edit to sync your visuals to the audio, such as trim or split, and also add more footage to the video.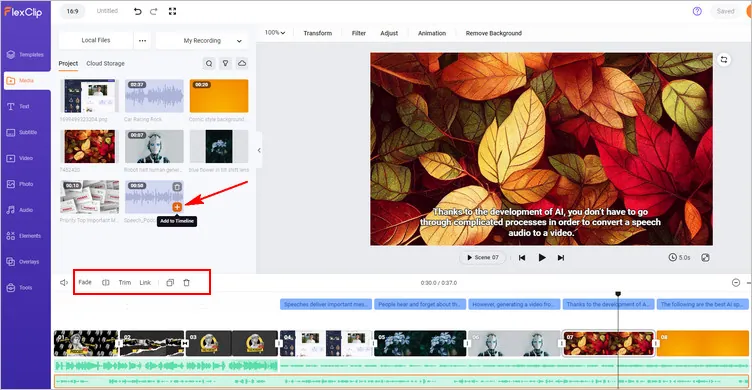 Article to Video Podcast - Add Podcast Audio
Step 5
After that, you can use FlexClip's extensive resources and powerful features to perfect your podcast video, such as adding transition or overlay effects, including an eye-catching
title card
, creating a custom
intro
/outro and unique
podcast cover
, etc.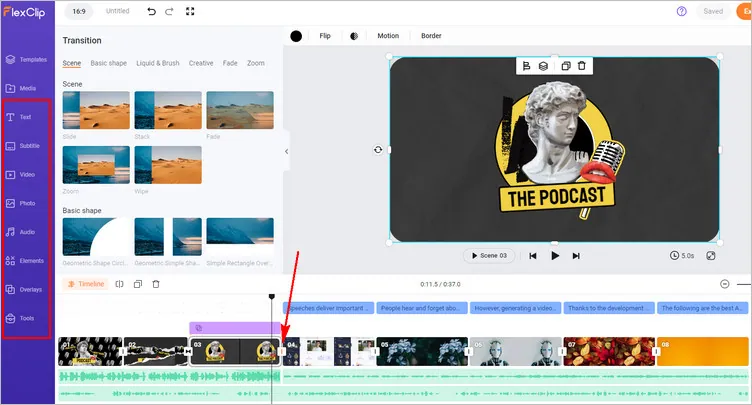 Article to Video Podcast - Edit the Video
Step 6
Now you have finished converting an article to a video. Download it to your desktop directly. FlexClip also provides you with numerous options to share your video. You can share the video to YouTube, TikTok, and Facebook directly or generate a short link to your video and then share.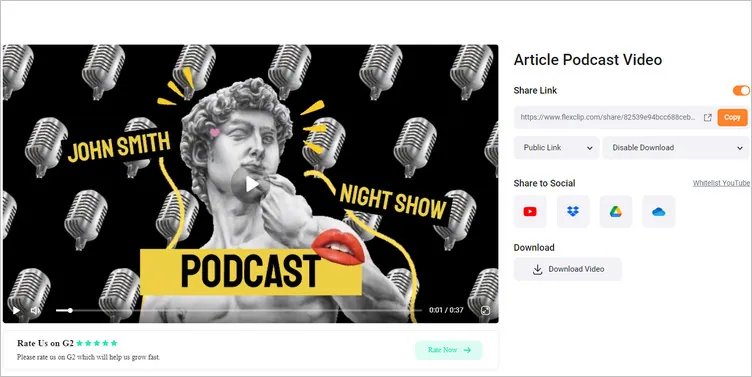 Article to Video Podcast - Download and Share
Final Words
Converting articles to podcasts is an exciting and effective way to repurpose your content, engage with your audience on a deeper level, and attract new listeners. With FlexClip's powerful article-to-podcast converter and following the steps we shared in the blog, you can successfully convert articles into captivating podcast episodes that showcase your expertise, build a loyal following, and contribute to your overall content marketing strategy. So, what are you waiting for? Just turn to FlexClip and explore the possibilities of turning your articles into powerful audio or video podcasts today!