Podcast becomes an indispensable part for commuters to kill time on their way to and from work. With the emergence of a huge variety of podcasts, the competition among them has become tougher. If your podcast wants to stand out, then you need a great cover to attract listeners' attention.
Why is podcast cover art so important? A podcast cover is the first thing that listeners will see when they search for podcast on their phones. Even though podcasts are an audio medium, you still need to create an engaging cover that'll make passersby want to stop and listen. It's a very important first impression for your podcast content. Some listeners would determine whether to listen to your podcast show with an eye on your podcast cover art. Therefore, a free and convenient podcast cover maker is needed!
Part 1 Best Online Podcast Cover Maker with AI Tools - FlexClip
FlexClip, with its versatile video or photo editing features, can be your first choice to make attractive podcast cover. It also integrates with a variety of AI tools to make podcast cover art creation easier than ever. For example, its AI Image Generator allows you to generate your own podcast cover according to your needs. Each time, FlexClip generates 2 photos at a time. If you are not satisfied with the results, you can always regenerate in one click.
And FlexClip also provides some beneficial features to help you in terms of podcast creation.
5 Best AI Podcast Generators to Level up Your Podcast Shows in a Snap
2 Best Ways to Convert Text to Podcast Using AI Text-to-Speech Online
The Strong Podcast Cover Creation Functions in FlexClip
Here, we'd like to talk about the requirements of podcast cover creation and how FlexClip helps you to fulfill these requirements.
Make Your Cover Full of Sense of Design - Star with Pre-made Templates
Your podcast cover's design style should reflect the show's tone and personality. But not everyone has a talent for design.
So with FlexClip's podcast cover maker, it offers many designer-made podcast cover templates, making the design process simple and enjoyable. You don't need an abundance of time and design experiences to make your podcast cover attractive.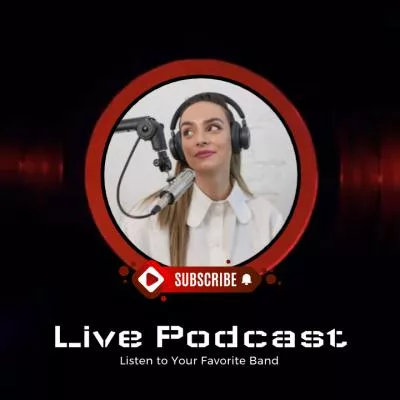 Pop Live Podcast Wave Youtube Intro Outro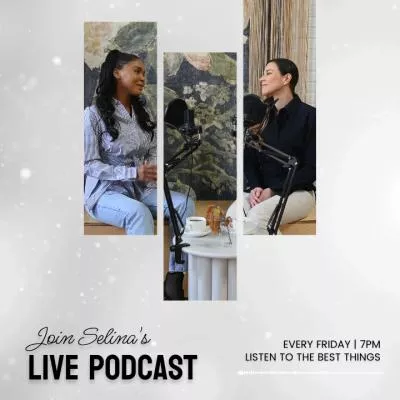 Bokeh Modern Style Music Podcast Live Streaming Intro Outro
Pick the Text Design for Your Cover Carefully - Make Use of Flexible Text Editor
Many podcast covers don't have too much space for the podcast title, tagline, and host's name. So you need to design the text in the cover carefully to ensure legibility. A very bold and uniquely designed font is used on the covers of many well-known podcasts.
FlexClip provides a very flexible text editor to meet all your needs! It provides hundreds of Chinese, English and other language fonts to satisfy your needs. And as you click the font title, it can be switched at any time. It allows you to do more edits on the text, such as adding bold or italics effect or adjusting the text color and more.
Choose the Right Color for Your Cover - Utilize the Easy Color Picker
The color is also quite important for designing a podcast cover, because the color temperature would influence the mood of viewers.
With FlexClip's pick a color function, you can not only use its present colors, but also to extract colors from where you want to suck colors. FlexClip provides diverse color choices. It's easy for you to change the background color to cater to the needs of different groups of people in FlexClip.
Make Your Cover Impressive with Elements - Extensive Elements Library is Ready to Help
Sometimes, without title text, the elements in the podcast cover can also be eye-catching to attract listeners' attention.
FlexClip provides rich royalty-free elements resources, which allow you to make distinctive podcast cover and express the podcast's tone, like adding border or exquisite graphics to your cover.
Add Your Memorable Logo in the Podcast Cover - Try the Powerful Branding Feature
Logo seems to be the identity of podcast. So if you hope listeners can tell the difference between you and other podcasts at a glance, logo is definitely needed!
To add logo to your podcast cover to make it more memorable, FlexClip's PiP effect can help you a lot. Just upload your logo and add it as layer to podcast cover. Then you can obtain a podcast cover with impressive logo. Alternatively, you can upload your logo using the Overlays function or add watermark to your podcast cover.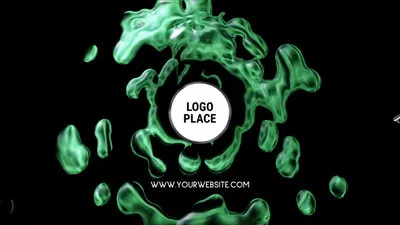 Green Liquid 3d Tech Business Logo Intro Outro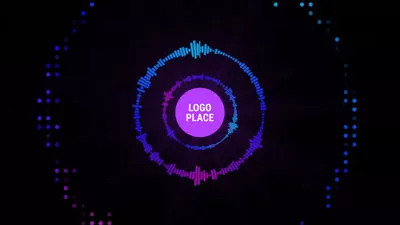 Technology Podcast Logo Intro
These above are FlexClip's strong editing functions to help you make a podcast cover.
Part 2 How to Make Podcast Cover in the Podcast Cover Art Maker - FlexClip
Now, don't you want to make a podcast cover with your own style from scratch in the FlexClip? The steps are listed below. Let's try.
Step 1 Upload or Generate Cover Image
You can choose a 1:1 image ratio and then begin your podcast cover creation.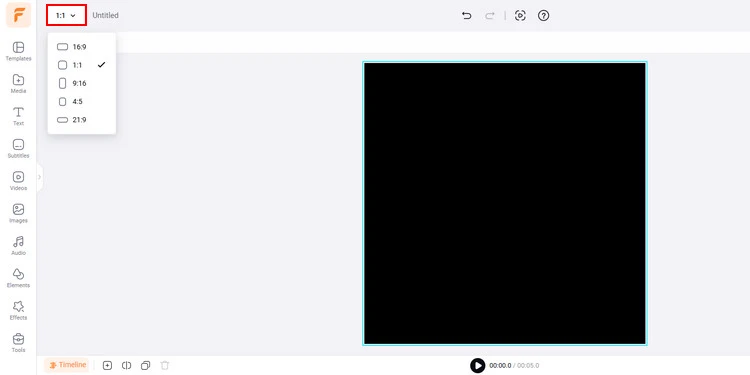 Choose Ratio
Tap the Media to upload your podcast cover images from your phone or computer, Google Drive, Google Photos, One Drive, or Dropbox to do more edits.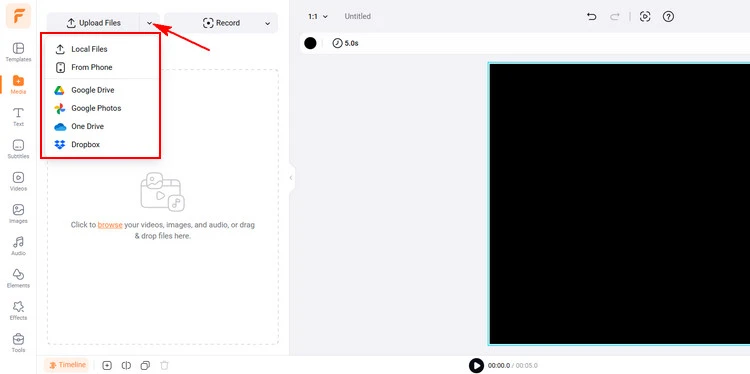 Upload Image
Alternatively, if you don't have a suitable image for your podcast cover, click Tools > AI Image Generator to type the description about the image and select the image style you want, then tap the Generate to generate your podcast cover image.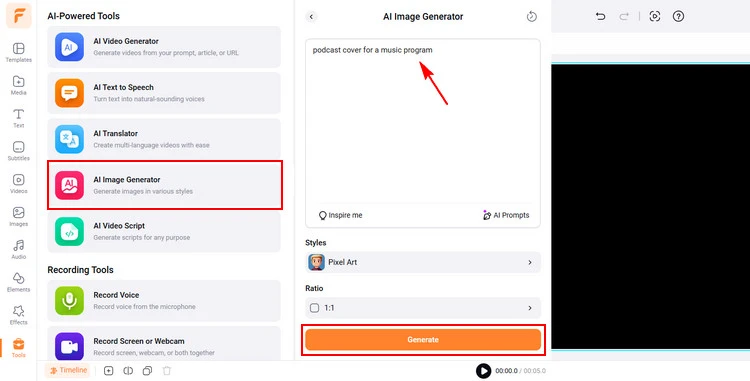 AI Image Generator
Step 2 Add Text on the Cover Image
Tap the Texts to choose a title text as you like. Then type your podcast titles, tagline, or host's name and you can customize them by changing fonts, adjusting text colors, and adding bold or italics effect.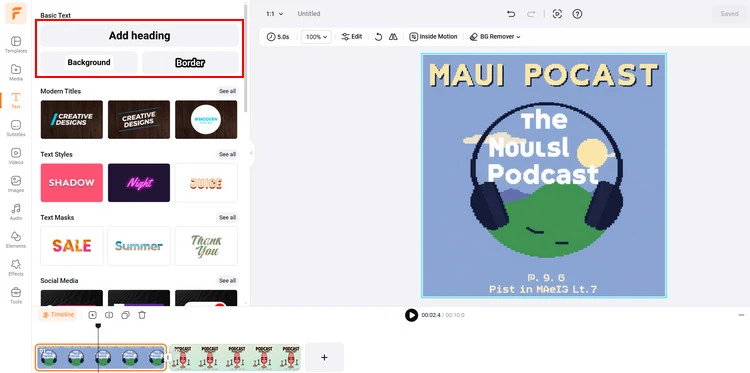 Adjust Text
Step 3 Adjust the Cover Image
When you gain a basic podcast cover image, you can do more edits to make it perfect. Tap the Elements to search for the graphics or icons you like and add them to the cover image to give a more engaging appearance.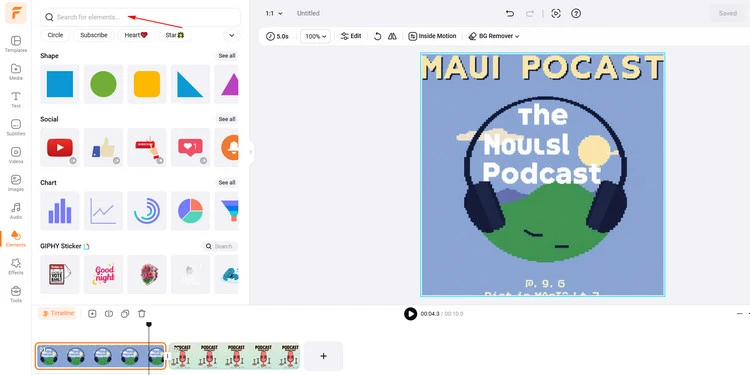 Add Elements
And if you're determined to make your podcast cover from scratch in FlexClip, you can first choose a great background color for your cover. Moreover, you can tap the Pick a Color to extract colors from everywhere to gain your favorite color.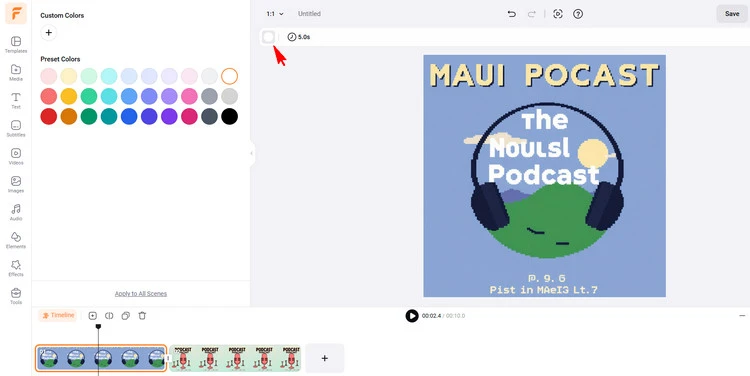 Change Background Color
Moreover, you can tap the Remove Background to remove the image from the unwanted background.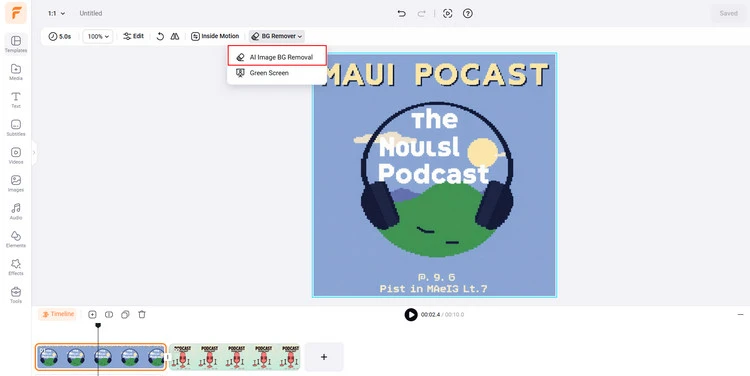 Remove Background
Step 4 Download the Podcast Cover Image
Tap the Export Frame to output your podcast cover image easily. Then you can apply this image anywhere.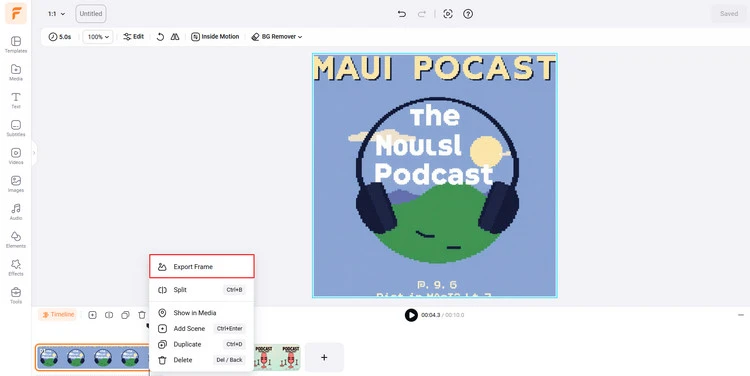 Download
Conclusion
Hope you can make your excellent podcast cover with FlexClip through this tutorial. FlexClip's strong features are waiting for you to explore!