The sparkle effect refers to the glittering and shining small flashes of light that can be added to a video or a photo. With sparkle effects like shining sparkles, twinkling stars, you can bring your videos and photos to life with an extra layer of glamour.
So, in this tutorial, we will walk you through 2 easy ways to add sparkle effects and sparkle sound effects to your videos and images both from a PC and smartphone. Then, you can make your video memes, product videos, YouTube shorts, Instagram feed, or Tiktok videos shine like never before.
Sparkle effect added to a lovely lady's smile
Here's What You Will Learn:
How to Add Sparkle Effect to Videos and Images Online
Instead of using pro-level software like Adobe premiere pro or After Effects, a more user-friendly tool you can use to easily and quickly add sparkle effect to your videos and photos is FlexClip, a free and feature-packed online video editor.
An easy-to-use online video editor—FlexClip
Click on " Local Files" to upload your video footage or photos to FlexClip's media library. Then, add it to the storyboard. If it is a video, you can trim the video length as well.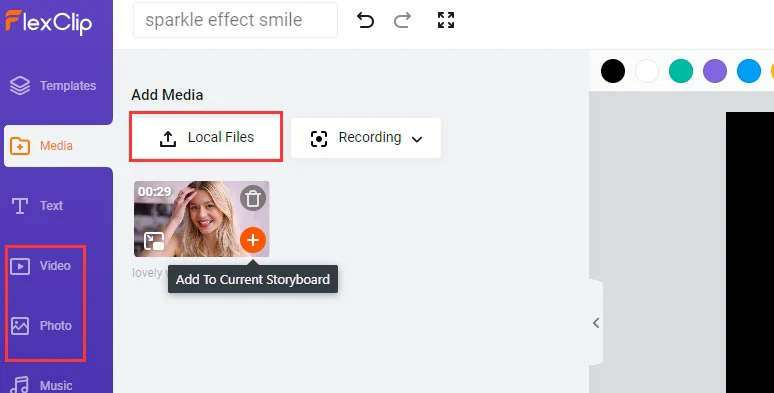 Upload video or image assets to FlexClip
Or you may check the "Video" and "Photo" tab on the left menu to pick a royalty-free video or photo to begin with.
Step 2
Add Shining Sparkles to the Video or Images
Go to the "Photo" tab > press "GIF" > enter keywords " sparkle transparent" > scroll down to select an ideal sparkle effect and add it to the video > drag and drop to adjust its size and position or rotate its angle> copy and paste many sparkle effect and place them around the subject properly.

Add sparkle effect to a video or image and adjust its size and angle
Step 3
Adjust the Duration of All Sparkle Effect
Left-click to drag a rectangle to select all sparkle effects > group them > click on the "Clock" icon and drag and drop to adjust its duration in the video or images. Then, you can preview the sparkle effect. If you are unhappy with it, you can ungroup them and make a detailed adjustment.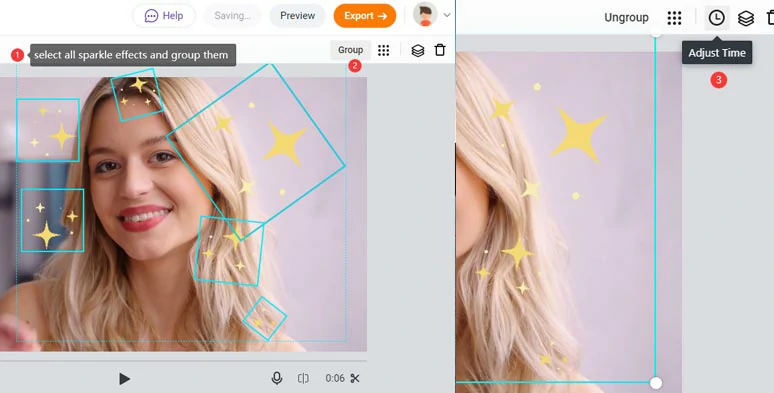 Group multiple sparkle effects and adjust their duration
Step 4
Add Sparkle Sound Effects
Apart from the visual effects, you may add sparkle sound effects to evoke the right emotions from the viewers. Just check the "Music" tab and enter keywords "sparkle" > add the "Magic Chimes on Wind" sound effects. Done.

Add sparkle sound effect to a video or an image
Step 5
Preview, Export, and Share
You can directly download the video or image as an MP4 or download it as a GIF. Meanwhile, FlexClip also offers you a clickable link for easy video sharing and embed code for your blogging.
Here is the resulting video with sparkle effect and sparkle sound effect:
The sparkling smile made by FlexCLip
How to Add Sparkle Effect to Videos and Images on Your Phone
Well, though you have a bunch of options as to sparkle effect mobile apps, such as Sparkle Effects Glitter Effect, KiraKira Sparkle Camera Effect, the best one we highly recommended is CapCut, a free and ultimate app for adding tons of sparkle effects to your videos and images and beyond.
Powerful CapCut app
Step 1
Launch CapCut and Upload Your Clips or Images
Tap "New Project" > select a video or image from your camera roll or photo gallery > click " Add". Then you may drag the slider to trim the video. It works the same for an image.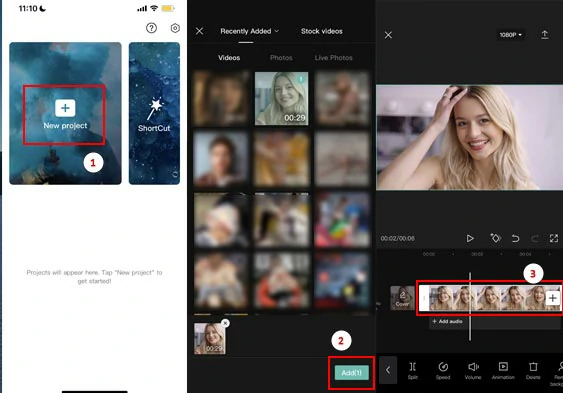 Add a video to CapCut and trim its duration
Step 2
Add Sparkle Effects
Tap the clip > choose "Effects" tab below > select "Video Effects" > tap " Bling" or "2022" tab > select from dozens of sparkle effects like "shining sparkles", "retro diamonds", " kirakira", "twinkle", "circling sparkles", etc.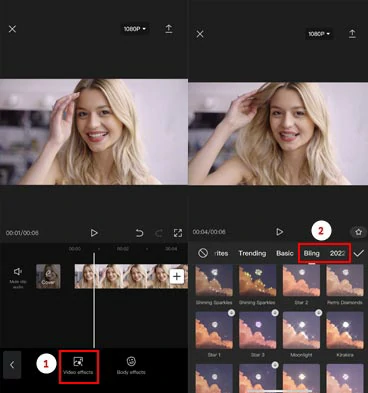 Find and select sparkle effect in CapCut
What is amazing is that CapCut allows you to adjust details of sparkle effects like the speed, filter, rotate of the sparkle.
Step 3
Adjust the Duration of the Sparkle Effect
Once you select a sparkle effect, you can drag the sparkle effect to decide its duration in the video. Done.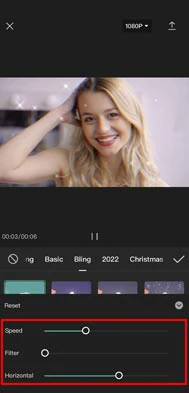 Customize the details of the sparkle effect
Then you can select the resolution, frame rate of the video and click the export button. The video file will be added to your album or you can directly share it to Whatsapp, Facebook, Instagram, etc.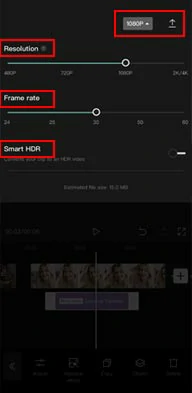 Export the video with sparkle effect from CapCut
Now, It's Your Move
So, that's how you can add sparkle effect to your videos and images both on PC or by your phone. Hopefully, you enjoy our tutorial. Now, start using FlexClip and CapCut to make your videos and images shine and get more likes on social media.