Snapchat ads are 3 to 180 secs interactive ads displayed through videos or images as users swipe up in Snapchat. If you are trying to tap into the market of millennials and Gen Z, advertising on Snapchat can be a far-sighted decision for your marketing campaign.
In this post, we will explain why Snapchat ads are money worth spending and walk you through how to easily create a compelling Snapchat video ad online and get it published on Snapchat ads manager, and offer 7 proven strategies for creating Snapchat ads.
Friday Flash Sale
Here's What You Will Learn:
Why Snapchat Ads Matters to Your Business
Though being less-known than Facebook, YouTube, and Instagram, TikTok worldwide, Snapchat offers small online businesses and retailers distinct advantages over other social apps. Here are 3 major reasons why you should use Snapchat ads to boost sales and branding.
1. Surging Active Users
Snapchat is a highly active and engaged social platform, effectively reaching younger or Gen Z users than Facebook, Instagram, etc. According to the statistics of Statista in Oct 2021:
Snapchat has 538M active users per day.
Users aged between 13-25 account for over 70% of the Snapchat users.
While female Snapchatters are much more than males.
In other words, if your businesses and services mainly target younger users and women like beauty products, shopping, health, electronic products, etc. using Snapchat ads would be a shortcut to reach this niche market, without going head-to-head with big brands on Facebook, Instagram, and YouTube, etc.
2. Better Return on Ad Spend
Here are some authentic success stories of Snapchat ads users from Snapchat's inspiration page.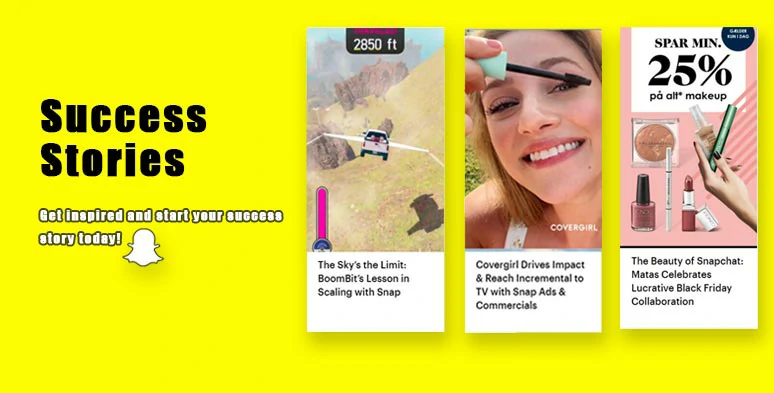 Success stories of Snapchat ads users
Apps: BoomBit, a mobile game developer, has successfully achieved 2.8x ROAS and 19% lower cost per install than other platforms' Skan campaigns.
Beauty: Covergirl strived to reach GenZ and Millennial women. With Snapchat ads, they managed to get 62% incremental reach to TV, 2x product awareness benchmark, and 3x brand favorability.
Retail: Matas, a beauty and personal care retailer in Denmark, accomplished 33.2% ROAS and 14x CRT compared with other platforms and lowered CPC by 73.7%.
3. Diverse Snaptchat Ads Types
Overall, there are 6 types of Snapchat ads, offering you flexible and meticulous targeting for accurate customers in a specific niche.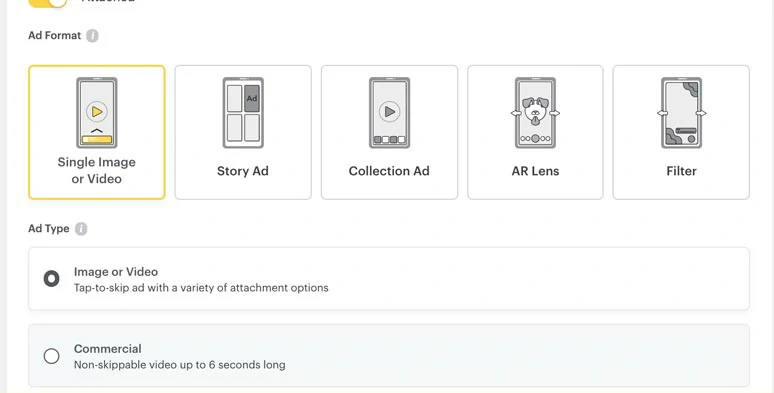 6 Types of Snapchat Ads
Single Image or Video Ads: You can use multiple images or video ads for your business purposes, such as driving viewers to visit your website, installing apps, watching a longer video, reading an article, etc. Single image or video ads will be full-screen ads on your mobile phone.
Product Catalog Ads: The product catalog ads of Snapchat are also known as collection ads where you can display a series of videos or images as a shopping catalog for Snapchat users.
AR Lens Ads: Snapchat's AR lens or augmented reality lens ads are evolutionary lens filter effects created by Snapchat. You can use an AR lens to place your business's logo or products as an animated character or object in reality. Pretty awesome!
Filter Ads: Filter ads are artistic overlays that appear after you take a snap or swipe left or right.
Commercials: This is a 6-secs to 3-min-long non-skipping ad as users swipe up or left and right.
Meanwhile, as you create your Snapchat ads in Snapchat's ads manager, you have up to hundreds of subcategories, like exact lifestyle, what kind of shoppers, etc. allowing you to accurately predefine the target audiences.
Snapchat Image and Video Ads Specifications
To upload images or videos to Snapchat ads manager as Snapchat ads, here are the essential ads specs you should know:
File Type: JPG, PNG, MP4, or MOV
Resolution: 1080px x 1920px
Length: 3-5 secs highly recommended, although the maximum can be 180 seconds
Attachments: Website, app, long-form video, or AR Lens
Besides, you are also expected to add captions for brand, headline, call-to-action as you edit the Snapchat ads manager:
Brand: Up to 25 characters with spaces, which will appear on the top right corner.
Headline: Up to 34 characters with spaces, which will appear on the top right corner.
How to Make a Compelling Snapchat Video Ads Online
Having eye-catching Snapchat video ads is essential to grab the eyes of Gen Z and boost CTR and branding. Here, we'd like to introduce you to a flexible online video maker--FlexClip, which can help you create studio-like Snapchat video ads in minutes using its designer-made Snapchat video ads templates and versatile video editing tools.
Versatile FlexClip online video maker for creating Snapchat video ads

Select a vertical (9:16) Snapchat video template
Step 2
Upload Your Video or Image Assets
After your video footage and images are uploaded to FlexClip, just drag and drop them to replace the original premade video and images. You may adjust the duration of videos and images by clicking the "clock" icon on the top right corner.

Upload videos and images to FlexClip and replace them with templates'
Step 3
Add Text Animations, Logo, or Other Elements
Enter the text for strong call-to-action words. You can customize the fonts, color scheme, style, motion, layer, etc., or upload your logo or add other funny emojis, shapes, and dynamic elements to make your Snapchat video ads truly second-to-none.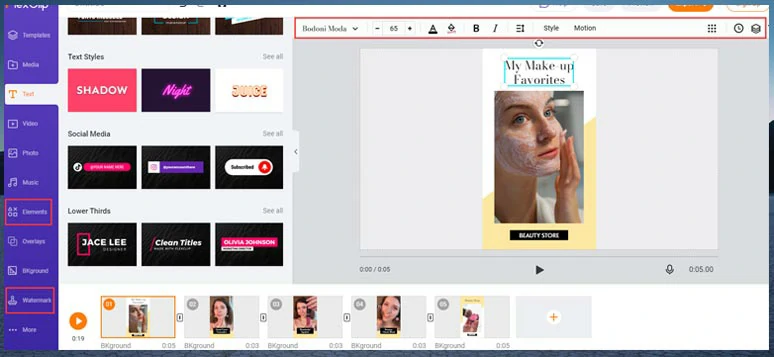 Add animated texts, logo, or other elements
Step 4
Add Royalty-free Music and Sound Effect
As long as you selected a video template, a piece of background music will be attached along with it. If you wanna a more suitable one, you can browse through FlexClip's music library and pick royalty-free music or SFX that matches your tone and brand.

Add fashionable music and SFX to Snapchat video ads
Step 5
Preview, Export, and Share
Done with the editing, you can preview it and then click the "Export" button to download the 1080P Snapchat video ad in MP4 to your local PC. or share the clickable link to your colleagues for feedback before you upload it to the Snapchat ads manager.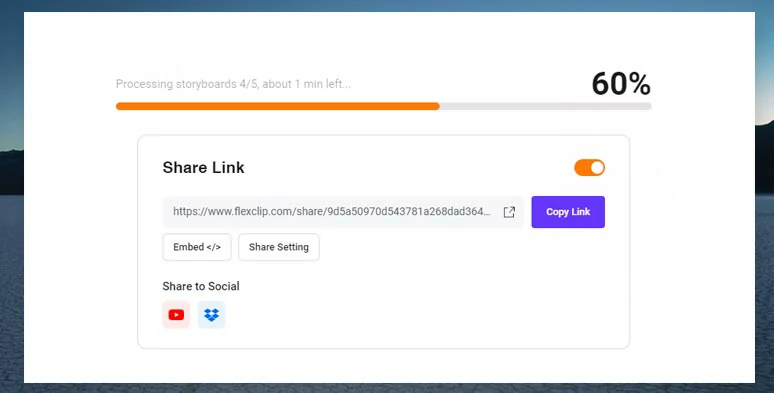 Download Snapchat video ads with a sharable link
How to Use Snapchat Ads Manager to Publish Ads
Now, you have created a Snapchat video ad, let's find out how to upload it to Snapchat and get it published through the Snapchat ads manager.
Step 1
Open ads.snapchat.com and Log into Your Account
Click the "Manage Ads" menu on the top right > scroll down to click "Create Ads"

Select "Create Ads" in Snapchat Ads Manager
Step 2
Select from the " Instant Create" or "Advanced Create"
In most cases, "Instant Create" will meet 90% of your needs, if you are not an ads expert. So, let's create "Instant Create" to create Snapchat ads.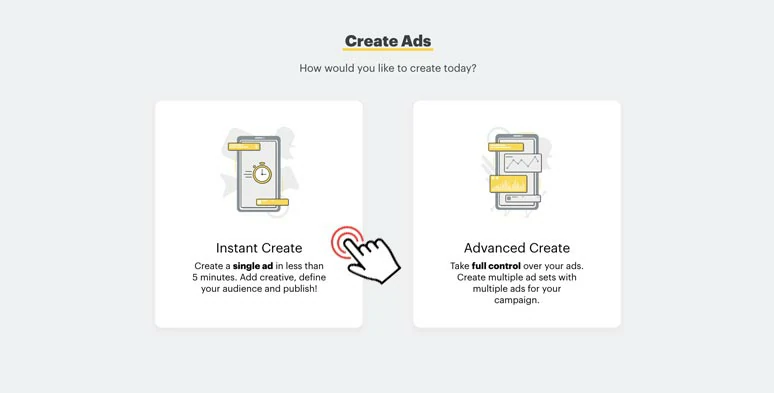 Select "Instate Create" to quickly create a Snapchat ad
Step 3
Select the Goal of Advertising
The latest version of Snapchat ads manager offers you 4 options: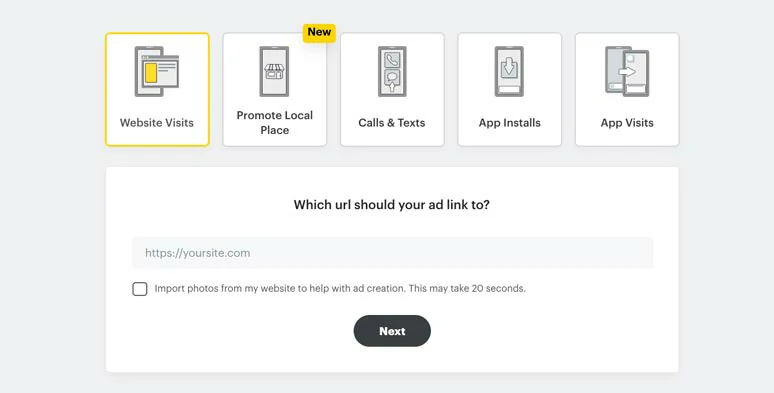 Select the objective of your Snapchat Ads
Website Visits: Drive Traffic to the Website for E-commerce, etc.
Promote Local Place: If you are running a brick-and-mortar store, you may use this new feature to attract more customers to visit your café, restaurants, etc.
Call & Texts: For salespersons or B2C companies who need to convert leads into sales by calls or text messages, as an online travel service, this one is an ideal choice.
App Installs: Viable for E-commerce, app service providers, etc.
App Visits: Re-engage customers who already installed your app to check the latest discount, promo, etc.
If you click website visits, you will be expected to enter your company's URL as well.
Enter the Brand Name (25 characters with space )
Fill the Headline (34 characters), which will appear on the top right corner of the Snapchat ads
Select "Call to Action" like "apply now ", "shop now", "sign up", "view", "order now", "Read", etc.
Upload a Snapchat video ad or a series of images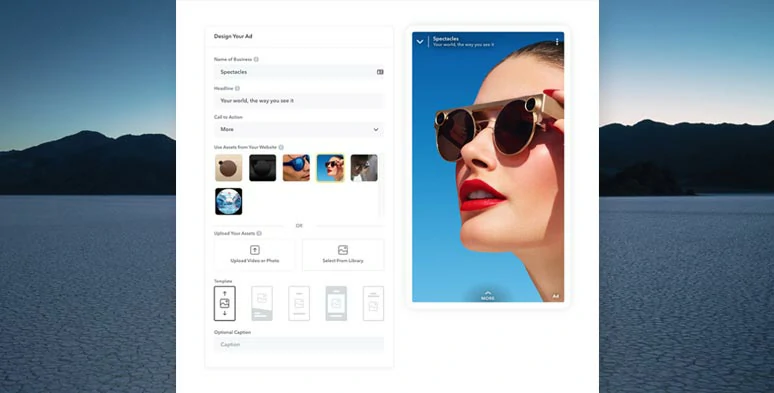 Design your Snapchat ads and upload videos or images
Step 5
Targeting, Budget, and Duration
Use "Predefine Audience" to select define what kind of people you are targeting like gamers, foodies, fashion& style gurus, online shoppers, etc.; devices (all, android, IOS), connection types ( all, cell, wifi) audiences use; then hit "Next".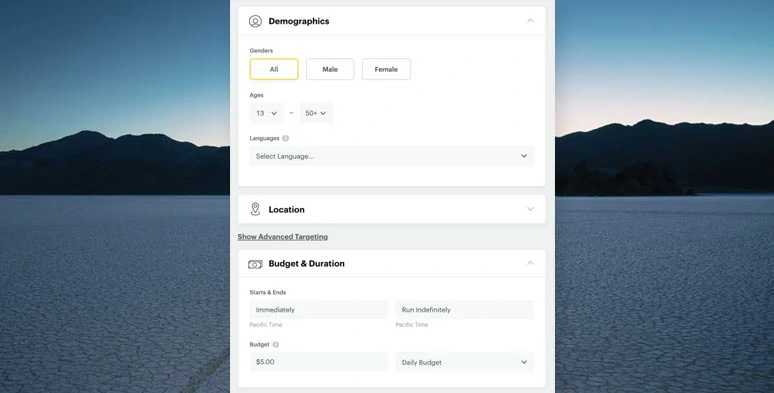 Set target audiences, demographics, location, etc.
Step 6
Publish Snapchat Video Ads
Preview your Snapchat ads and go through the detailed setup and estimated people, impressions, etc, your Snapchat ads can reach. If everything is alright, then, you can hit the "Publish Campaign" button.
7 Proven Strategies for Making Great Snapchat Video Ads
1. Clarify the Objective for Your Snapchat Video Ads
Before you create and launch your Snapchat ads campaign, make sure you know what the objective is: to drive more traffic to your website or have more app installers, or want users to select the latest product from a product catalog ads, etc.
2. Know Your Target Audience
Given the fact that the mainstream Snapchatters are Gen Z and millennials, it's advisable to do some research on what their interests are and how to align your business objectives with their pain points.
3. Use Strong Call-to-action Words
You certainly don't want target audiences to watch your ads and go somewhere else. You can use strong call-to-action words like "Check out our latest products and get free shipping for top 30 sales per day" to allure more customers to place the order.
4. Keep Your Ads Short and Sweet
Snapchat is a platform for chatting with friends and relaxing. So, keep your ads short, funny, entertaining to attract the eyeballs of younger generations. As Snapchat suggested that the first 2-3 secs are the sweet spot to establish your brand awareness.
5. Create UGC Video Content
It's preferable to use user-generated content like customers' testimonials to build trust with potential leads. Even Snapchat itself used this strategy in its landing page.
6. Try Using AR Lens Filters
The Augmented Reality lens is an original feature of Snapchat ads. You can create your brand's products or logo as animated objects for users to use.
7. Closely Monitor Snapchat Ads Insight
After you publish your Snapchat ads, you are expected to closely monitor the statistics of your ads and make adjustments or try different Snapchat ads like Story ads, Product catalog ads, or Filter Ads, to get the rest results.
Now, It's Your Move
Having discussed so much about planning, creating, and publishing Snapchat ads and some Snapchat ads strategies, we sincerely hope that you can find our tutorial helpful. So, start gathering your video assets and making scroll-stopping Snapchats video ads by FlexClip now.