Snapchat Spotlight is another entertainment platform designed to generate fun content directly on Snapchat. Snapchat Spotlight will always be the favourite place for those who wish to explore the fun part of social media. This is because of its ability and the ease at which it covers so many fun parts of our lives, ranging from comedy, fashion, lifestyle, etc. And you get these things from a random community of Snapchat users.
As interesting and easy as the Snapchat Spotlight can be, not everybody understands the workings. In most cases, they even compare it with TikTok. This is why we have developed a comprehensive detail about Snapchat Spotlight. That way, you will be able to have a better understanding of the platform, hence, make better use of it.
What is Snapchat Spotlight
As we mentioned earlier, Snapchat Spotlight is the best way to explore the world while on Snapchat. It helps you see the world from other people's perspectives, limited only to the Snapchat community. With this platform, you are bound to witness an explosion of fun snaps created by random people. To start to explore, all you need is to tap on the top of the screen to access the trending topics, sounds, and lenses.
Snapchat Spotlight, on many occasions, has been compared to TikTok. Although they serve similar purposes, there are visible differences. On the side of the Snapchat Spotlight platform, its short-form video feature is easier to use, unlike what is applicable on TikTok. TikTok has more of a Leading standalone video app for its short-form videos. As per how both communities influence content: while Snapchat Spotlight has no real community, the TikTok community is propelled by the remixed, shareable content.
How to Browse & Download Spotlight Videos
Step 1
Click on your profile moniker located in the top left of the Snapchat app.
Step 2
Under the "Spotlight and Snap Map," click the snap you wish to save.
Step 3
Click on the three dots located at the bottom right of the snap.
Step 4
Click on "Save Snap", and you are done.
How to Create a Snapchat Spotlight Video
Step 1
Open the Snapchat app (make sure it's the latest version).
Step 2
Put your camera into selfie mode using the toggle.
Step 3
You can turn the flash off or on by tapping the flash lighting bolt symbol located at the top of your screen.
Step 4
It's time to make your video. Get your phone in the right position; tap and hold the "Recording" button. Only release it when you are done recording your video.
Step 5
Click on the sending option. It is represented by an arrow located at the lower right of the screen.
Step 6
Click on the Spotlight options to submit your video. You are done.
How to Create Snapchat Spotlight
How to Level Up a Snapchat Spotlight Video
But be it as it may, there are tools out there that are specifically designed to level up Snapchat Spotlight Videos. One of such tools is FlexClip. FlexClip is an online video editing tool industry professionals use to produce the best video content. This tool is also designed with a special feature that helps Snapchat users level up their Spotlight Videos, augmenting their Snapchat spotlight views. It is embedded with innovative features like easy editing, rich Music (photo and video) elements resources, and it is free to use. And on a more interesting note, it offers you multiple ways to download and share. Click on the Create a Video button to get started!
Step 1
Click Media and upload your videos or photos. Click to use each of them on your storyboard.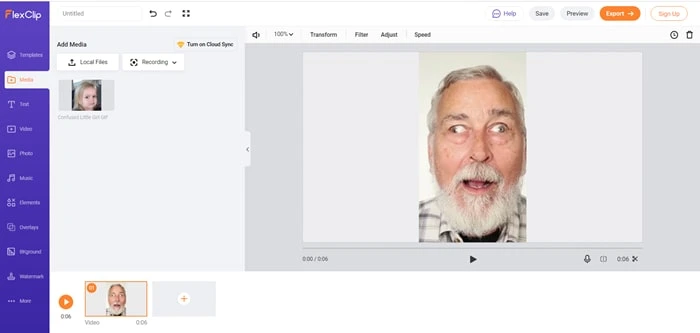 Upload Media Resources to FlexClip
Step 2
Click on the Text icon to add text to the video.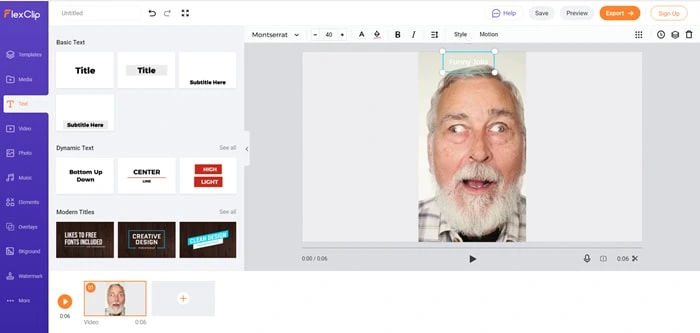 Add Text to Your Video
Step 3
Click Music, then upload any song of your choice. You can as well do a voice-over by clicking the Record button.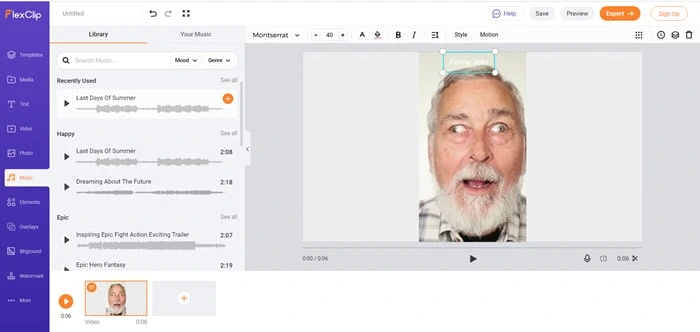 Add Music to Your Video
Step 4
Add special effects (it is optional). Some examples include
transitions
, adjusting the video speed,
add overlays
and filters.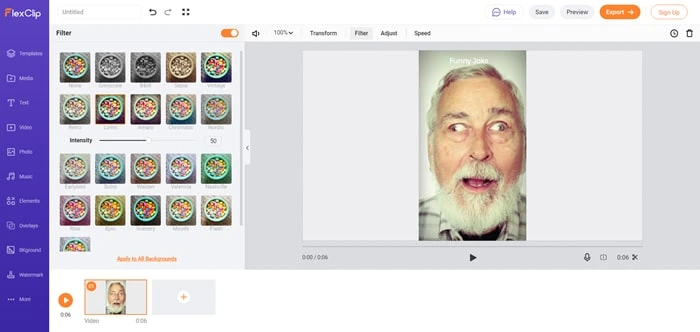 Make Further Adjustments to Video
Step 5
Click the Preview button to preview your video through the previews window. Then click Save to save to either download to your local storage or save directly to Dropbox.
How to Upload a Snapchat Spotlight Video
Before we get down to how to Upload a Snapchat Spotlight Video, it is important we list some of the important requirements for getting this done.
Requirements:
a.Your proposed snap must meet Snapchat's community guidelines and must be fit for consumption for an audience of age 13 or more.
b.All videos must be vertical, have sounds, and the aspect ratio must be at least between 3:4 and 9:16, while the minimum horizontal resolution should stand at 640px.
c.Any form of blurry or low-quality video, still images, and text-only videos are rejected.
d.Videos should not exceed 60 seconds duration.
e.Videos must not contain any form of product commercials.
f.It is recommended that you add #topic before submitting the snap. This will allow users to discover more content like yours and get more Snapchat spotlight views.
Although the Spotlight on Snapchat accepts videos shot with random cameras, it is recommended that you record your videos within the Snapchat app, which also has inbuilt Music and filters.
To Submit a Snapchat Spotlight Video
Step 1
Log into your Snapchat account.
Step 2
Click "Choose Video."
Step 3
Click on "'Post to Spotlight." And you are done.
How to Submit a Snap to Spotlight
How to Earn Money from Snapchat Spotlight
Not too many people know they can actually win prizes on Snapchat; well, the thing is that it is very possible, we will explain. To win some prizes on this platform, you have to look out for people, or companies do give away. This is very common considering the over 306 million active users. Again, it will interest you to know that the platform gives cash incentives of up to $1 million to their most engaging users. So, if you are that active on the Snapchat platform, there is a likely possibility you will be a beneficiary.
The Bottom Line
Finally, it is no doubt that Snapchat Spotlight has added so much fun to social media cyberspace as we know it. It is also wise to augment that fun using a tool like FlexClip that is specially designed to give your Snapchat spotlight a lift by making it stand out from other snaps. Not just for Spotlight in Snapchat, we also recommend you use FlexClip when making videos for TikTok, YouTube, Facebook and more. Remember to give it a try!