If you're one of the aspiring filmmakers who dream of becoming famous movie directors, or you just wish to create films that matter and help connect with people on a deeper level, it is essential for you to be aware of certain things. You must be aware of the fact that a script is the backbone of any film. But do you realize that the way that a film is created plays a vital role as well? This is where a shot list kicks in and helps you make a proper plan as to how a movie is supposed to be filmed.
What's a Shot List?
A video shot list can be defined as a detailed list of every camera shot that is to be captured in any specific scene during the production of a video.
A shot list is created by the cinematographer and the director during the preproduction stage and outlines the precise specifics of every single shot. These specifics may include the type of camera to be used, the size of the shot, and the type of the shot.
With all the information present in a shot list, the assistant director and the cinematographer will have a better understanding of how to capture the shot to tell the story in a better way.
What to Include in a Shot List?
Every director may have his own take regarding the creation of a shot list. However, all the shot lists contain roughly the same information, which is listed down below.
Brief description of the shot
List of equipment required
Camera angle and movement
Names of the actors in the shot
Sound to be included in the shot
How to Create a Shot List?
A spreadsheet is an efficient way to create a shot list as it helps you stay organized and rearrange the details of what is required in the shot without going through any hassle. A shot list made on a spreadsheet would be easy to read and understand by the crew and will help them comprehend in a better manner what they are supposed to do.
Here are the four steps that you would be required to follow for the creation of a shot list.
Step 1
Choose any scene from the script of your video and open a new spreadsheet. The ten elements that are to be included (and are listed above) would serve to be the columns, and the details of each individual shot would be written in a separate row.
Step 2
Do a breakdown of the scenes included in an individual shot and then use your knowledge to fill in the columns on the spreadsheet.
Step 3
Every shot is to be given a unique number starting with 1 for the first shot, and every part of the scene is to be assigned its own shot.
Step 4
Make rough sketches of the decided shot list to have a better visualization of how it would come to life. If it doesn't seem right, tweak it as per your needs.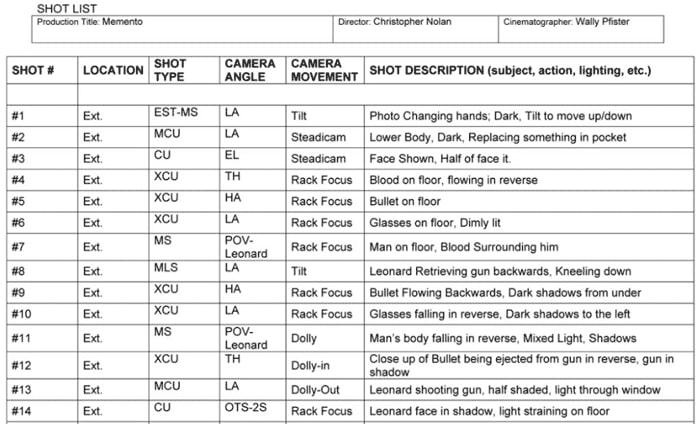 Credit by: Pinterest
Capture Videos Beyond the Shot List
A shot list gives you a better idea of how to go about the things in any shot and helps you stay organized. Not just that, it also helps you invest time where it counts and boosts the team confidence as well. However, it also forces you to make choices in some instances. While some individuals may see this as a good thing, it's not encouraged by others.
Hence, if you are an extra creative person who is filled with hundreds of ideas about any particular scene in a shot, don't rely entirely on the video shot list. Go above and beyond your imagination and shoot extra scenes, who knows, you might end up with a great shot!
Bonus Tip: Video Editing Creation Ultimate Solution
Video editing is a challenging task for numerous people, and the prime reason behind it is the complexity of the editing software. Finding a software that has a user-friendly and intuitive design is undoubtedly a challenging job.
FlexClip happens to be a free and an extremely powerful tool that you can use for editing different types of shots. Not only does it offer rich effects, but it also has a variety of fonts and media resources that serve to be of great help during the editing process.
Editor Interface of FlexClip
The Bottom Line
There is no doubt in admitting that you would be able to take your video editing game to a whole new level with properly organized and professional shot lists. Along with that, if you use editing software's like FlexClip with plenty of features to edit several types of videos like sports videos, slideshows, and social media videos, you will surely stand out from the rest!