Today's digital world is majestically ruled by the amazing photographs captured on the go. But whether we use our smartphones to capture those moments or high-end cameras there's always some room for pre-editing needs. A lot of time we realize that our perfectly taken shot has some people photo bombing our picture or the electric wires and poles at the background doesn't give an appealing look.
Therefore the need to have a professional a photo editor at hand to change the background in HD quickly is a blessing everyone wishes to be bestowed with. Luckily, we have numerous options of an online photo editor to change the background of our pictures. But are all worth your time and effort we don't think so.
Here are our top picks of the day for the best photo background editor online, that can bring remarkable essence to your pictures by swapping those boring backgrounds with the splendid scenarios of your choice.
Best Photo Background Editors Online You Don't Want to Miss
Best Photo Background Editors Online You Don't Want to Miss
As the craze for perfect shots rage higher, we have some really cool photo background change apps listed below for you. Let's peek into the fun part below:
1. FlexClip - Best for free coolest background resources
The top best online editor for background upgrade is none other than the famous photo editor FlexClip. This online image background editor is so incredible that you will be amazed with it's background library and ease of use it has to offer. When we uploaded our picture and selected the new background it changed in just seconds.
And for results they were highly satisfactory. Plus you can change the background manually as well or restore the parts that have been removed accidentally. The major merits of using this editor is:
It uses deep AI to remove the picture's background.
Let's manually restore the parts removed accidentally.
Amazing free background resources.
Price: Free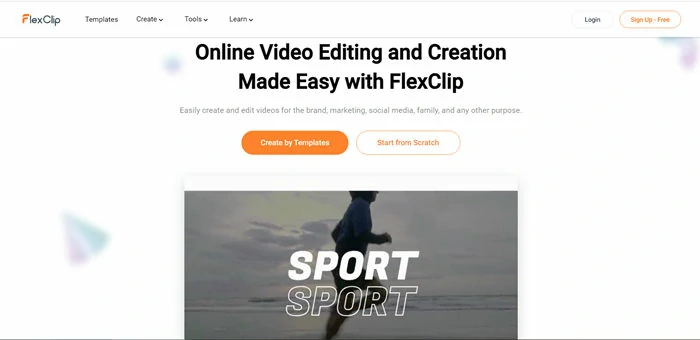 Best Photo Background Editors Online - FlexClip
2. Pixlr - Best free image editor for picture transformation
When you need an online editor for quick touch-ups on your pictures Pixlr has no comparison. This browser-based platform works equally well on desktops, iPhones, and androids as well. It is AI technology that detects the background and removes it automatically.
For its other complicated features, you can learn through their helpful tutorials and guides and master the editor in no time.
Major Features include:
Remove background with an AI-powered with just one click.
Offers advanced exiting tools to conduct complex edits as well.
Works on layers, objects, and custom brush sizes.
Gives pre-sized templates for different social media platforms.
Price: Free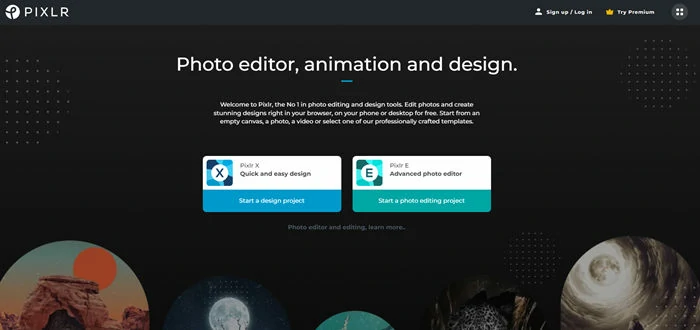 Best Photo Background Editors Online - Pixlr
3. Fotor - Best for beginners, social media influencers and marketers
The smooth understandable interface of Fotor feels welcoming and gives confidence even to the amateurs to create great pictures on the go. Its fast mechanism and great results make advanced editing tasks a piece of cake. From applying filters, to sprinkling impressive effects it is a complete powerhouse of editing features.
With a little investment in its Pro version, you get access to amazing features worth every penny. But the software may not be suitable for extraordinary results as compared to our other suggestions.
Major Features include:
100+ exclusive effects, 30+ photo frames, 300+ custom stickers.
Adding text, and processing batch for Scenes, Effects, and Borders.
Allowing adjusting exposure, brightness, contrast, white balance red-eye correction, etc.
Price: Free, ($4.99 per month for Pro)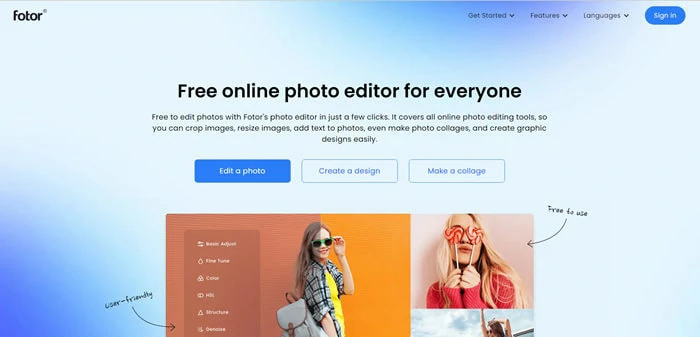 Best Photo Background Editors Online - Fotor
4. Remove.bg - Best one purpose editor
Remove.bg is a Vienna–based company that strives to make Visual Artificial Intelligence technology accessible to everyone. Its tool is primarily built to make the usual photo editing workflows faster and simpler to any individual.
This single-purpose website uses advanced AI to remove the background mechanically and transfer a PNG of your subject with a clear background.
Major Features include:
Digital retouching and photo enhancement
Price: Sign up for free, Monthly subscription (40 images $ 5.99 0.15 / image)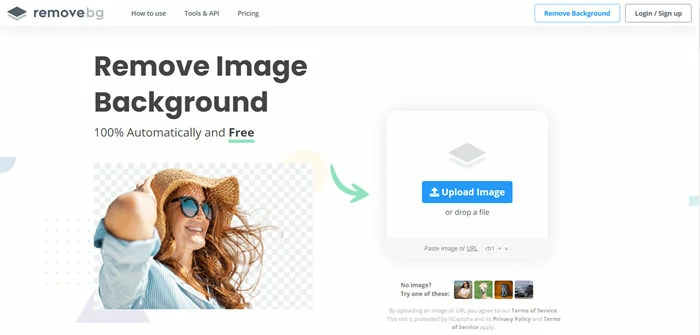 Best Photo Background Editors Online - Remove.bg
5. PhotoScissors - Simplest photo editor
PhotoScissors is a Background Remover with AI power. With trained deep neural networks on million images to teach them how to automatically extract objects and clear the background PhotoScissors lets you crop out a person in one go.
Major Features Include:
Removes background precisely
Supports popular graphic formats (PNG and JPG)
Let's you prepare products for online stores
Creates isolated images with colored or transparent backgrounds
Price: Free, Paid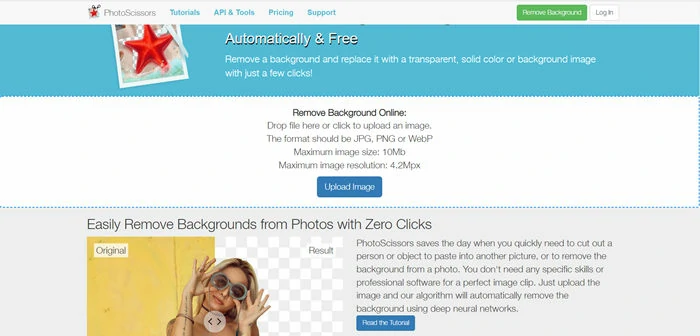 Best Photo Background Editors Online - PhotoScissors
6. Apowersoft Background Eraser - Popular among smartphone users
With it's extensive array of features, Apowersoft is a user friendly platform that is found in almost all lists for best photo background editor online. The reason for it's widespread popularity is it's multiple options for swapping the background of your pictures manually and automatically both.
Major Features:
Simple to swap background
Tools to touch up AI results
Built-in background options for e-commerce sites
Price: Free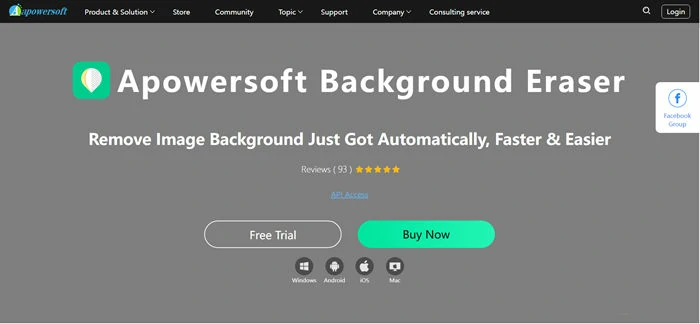 Best Photo Background Editors Online - Apowersoft Background Eraser
7. Adobe Creative Cloud Express - Packed with high end features
Adobe Creative Cloud Express earlier known as Adobe Spark has been the trendsetter in the editing world. With this tool making stylish graphic content that is the epitome of creativity is a job done in a snap. It is not only your reliable partner to fit pictures but you can also twig your videos and documents in it.
Major Features
7100,000 templates and assets
Offer numerous filters,
GIFs
, and animations
Blend your photos with creative textures
Straighten images with perspective correction
Highlights the subject to create a clean transparent background
Price: Free, $9.99 monthly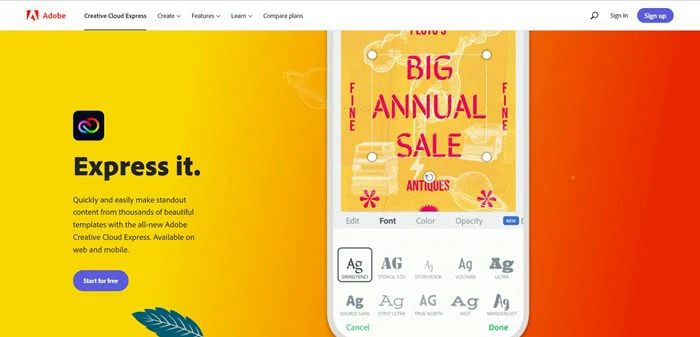 Best Photo Background Editors Online - Adobe Creative Cloud Express
8. Removal.ai - Most Professional Background remover
Removal.ai allows removing the backgrounds professionally with a single click. It uses artificial intelligence to separate the main object from its background resulting in neat, clear & smooth cutout edges. With advancements daily, the software is getting better and better. Let's you make cool designs and impressive results.
Major Features
Can process over 1000 in ages
Presets to fit in different marketplaces
Price: Free, Paid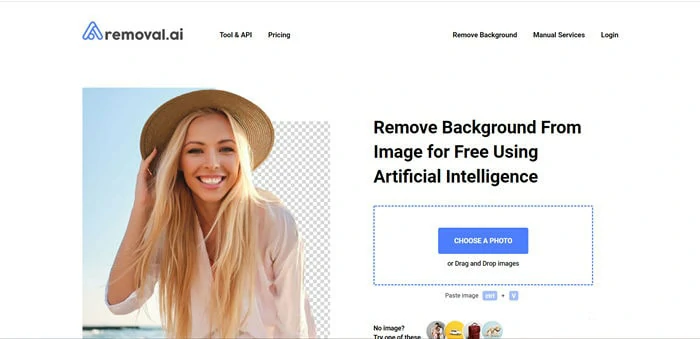 Best Photo Background Editors Online - Removal.ai
9. GIFGIT - Best Feature rich online editor
This online image editor provides you with a comprehensive set of tools to enhance your images, add labels, draw, crop, apply filters and effects, make color adjustments and much more. Simply upload, edit then download the finished image.
An online image editor works like a regular desktop application and provides all if not most of the same image editing functionality. They range in complexity, from basic with features like what you'd find in Microsoft Paint to more advanced like GIMP or Photoshop. They're sometimes better to use for specific tasks like making a collage where they provide wizard-like interfaces to do such tasks quickly.
Major Features
Layers and Layer Masks (Non-Destructive Editing)
Browser-based editing (No software download)
Basic and advanced features
Simple interface, powerful editor
Price: Free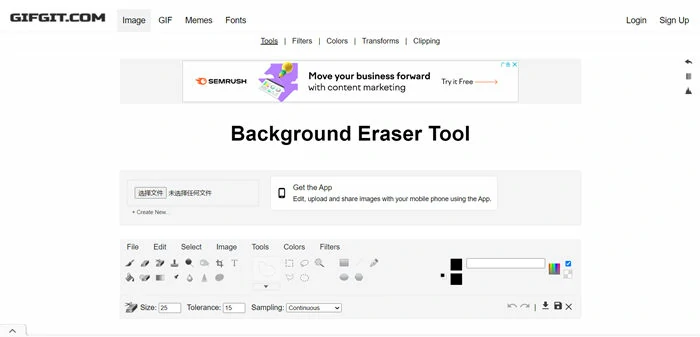 Best Photo Background Editors Online - GIFGIT
10. Picsart - All in one photo and video editor
Picsart is the community of over 150 million creator's around the world. With its powerful tool, it lets the creator brings their imagination to life. From professional-level collages to designs,stickers, background remover, and amazing features it is a platform of pure magic.
It gives all the features that you need to give your content a personal flair and make it stand out.
Major Features
Millions of curated images
Trending filters and photo effects
Blur backgrounds with AI-powered smart selection tool
Price: Free, Paid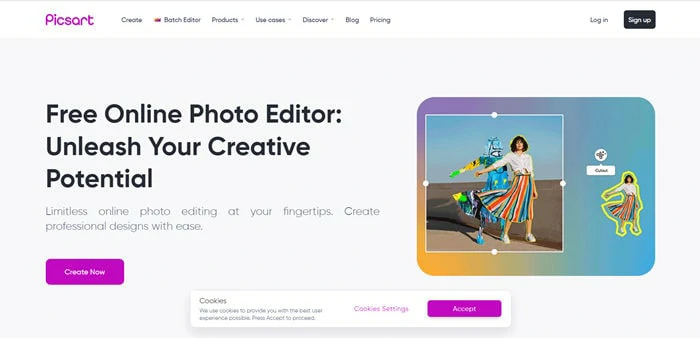 Best Photo Background Editors Online - Picsart
The Bottom Line
Are you amazed after discovering such unique and robust photo editors to swap your backgrounds as easily as swishing a magic wand? Well, the editors listed above have their unique features to offer which you can pick according to your need. For our personal preference, we loved FlexClip the most due to the simplicity of the tool and the high-quality results it has to offer. Try out our suggestions and let your content shine the brightest.