A Lower Third is a graphic overlay used in taking up the title-safe lower section of a video. It is used for displaying the viewer's comments and questions during a stream session. This is often used in the media industry, especially by news presenters, news reporters, etc., to explain further, give more description of the content they are showing to the public on the TV. While some Lower third OBS are textual, others come in an animated form, but in all, they serve one purpose: to provide extra contextual description to video footage.
The Open Broadcaster Software is an open-source, free, and cross-platform deployed while creating a lower third feature. Although there are many ways, techniques, tools to add lower thirds, using the OBS has proven to be much better. This is because it provides animated lower thirds with a dockable control panel which all users can directly add to OBS studio and apply to their videos with ease.
Many tools may offer you the opportunity to use the lower third feature, but sometimes, most of them are just too complicated: too complex to handle. Below, we have listed a guide you should stick to if you wish to come up with a perfect OBS lower third.
How to Set Up An Animated Lower Third in OBS Studio
Step 1
Download the OBS tool from the OBS platform. Here, click the upper-right download button to download the file.
Step 2
Go into the OBS tool, select View, Docks, Custom Browser Docks. A blank black browser will appear; name it, then save.
Step 3
Go to Tools, Scripts, click the "+" sign in the lower left-hand corner and fund your hotkeys where you had saved it.
Step 4
Click the "+" in the lower "Sources" area, select browser, and name it. A rectangular dialogue box will appear, check the "local file" section, and click the "Browser" button.
Step 5
In the "Local file" field, click the "Browse" button to pick the OBS tool from wherever it resides in your system storage. When you find it, click on the file, and click open to insert the page on the dashboard. Adjust the width and length, check "Shutdown Source when not Visible", and click "Ok".
Step 6
A blank big red box will appear on your screen. Go to the "Main Settings," you will find four different lower thirds, with each of them having a little switch above it. Turn on the specific lower thirds you wish to use.
To use any lower thirds, you must first turn on the button on the Main Settings.
Step 7
Click the "+" sign to see the extra parameters on each of the four displayed parameters. Pick your preferred lower thirds, and click on the settings to adjust the appearance.
Step 8
Set the Global Time to set the transition time; you will have to choose the Theme and the Custom Font from the same section.
Step 9
When you must have chosen your preferred lower thirds, go ahead and adjust the settings the way you want them to appear. E.g. the font, background colour, upload logo, drop shadow, etc. (they are all self-explanatory). And you are done.
When uploading the graphics for your logo, make sure you select a graphic that resides in the lower third within the OBS installation file. This is because the script might not recognize the graphics should they come from somewhere else.
How To Set Up an Animated Lower Third in OBS Studio
What's a Better Way to Add Lower Thirds to Any Video
Even with the simplified guide on setting up an OBS lower third (as explained above), it still looks a bit complex. Well, that's an OBS tool for you: it can never get any simpler. But what if we'd told you that there is yet another less technical way to do this without going through all the stressful methods.
This is where we would like to introduce FlexClip: the easiest way to add a lower third feature to any video. It is designed with the most appealing lower third templates, is very easy to use, and no downloads or installation is needed. Below, we have listed some simple steps you can follow to add a fine, clear lower third on your video. Click on the Create a Video button and follow.
Step 1
Click "Media." Click on "Upload File" to import and upload your video.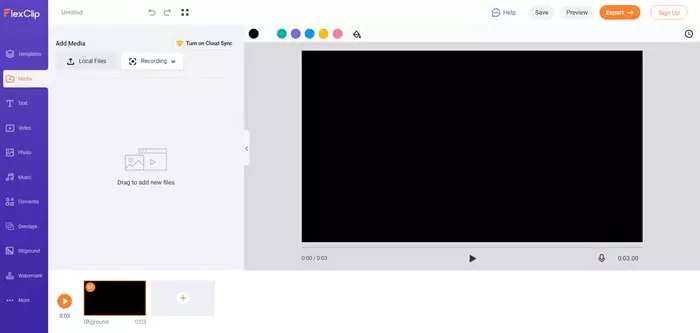 Upload Media Resources to FlexClip
Step 2
Select "Text" to select your preferred textual character, as well as the effect you need to apply to the text.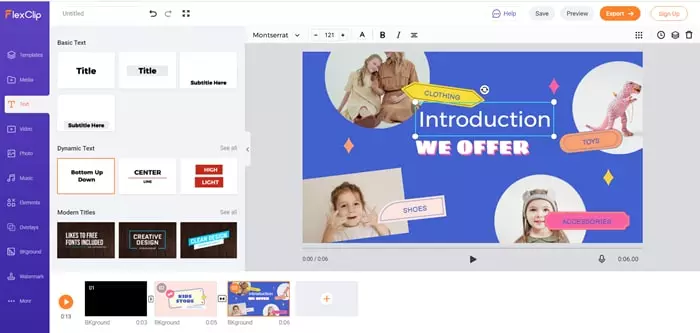 Add Text to Your Video
Step 3
Click on "Lower Third" to your font, colour, size, placement, and animation.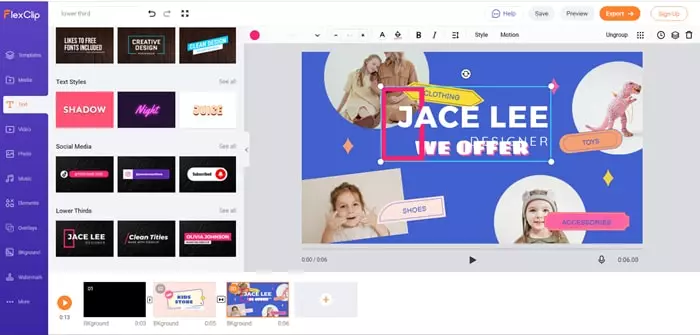 Add Lower Third to Your Video
Step 4
Once you are done adjusting the text, colour, etc., drag the lower third and drop it on the side of the video you want it. Click "Save," and you are done.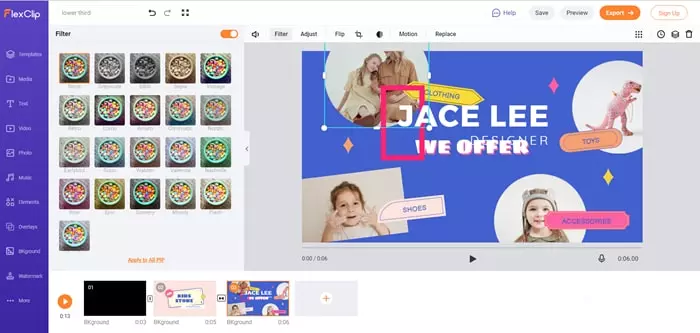 Add Filter to Adjust Video
You can also choose to add filters, emoji, and personal logos if you wish.
The Bottom Line
The animated lower thirds OBS method may be suitable, but not too many people can handle it, obviously because of its complexity. But the emergence of FlexClip has eradicated those excuses; it has made lower third integration much easier than it used to, allowing every video content creator to come up with awesome videos. It is also worthy to note that FlexClip can also be used to perform general video and image editing – as in YouTube, Instagram, and Facebook video editing. It is also a great tool for creating GIFs, collage, etc. So, when next you think of embedding and animated lower thirds, try FlexClip.