A music reaction video is a popular video that records how you react to music when listening to it.
So, whether you are a music artist or a music lover, creating a music reaction video for your YouTube channel is a great way to share your thoughts on a new piece of music, engage more viewers, and even make money out of it.
In this tutorial, we will offer you actionable strategies to easily make a YouTube music reaction video online and on your phone. So, let's get into it now.
Here is what you will learn:
How to Prepare and Shoot Music Reaction Videos
So, to create a quality YouTube music reaction video, you need to prepare the followings: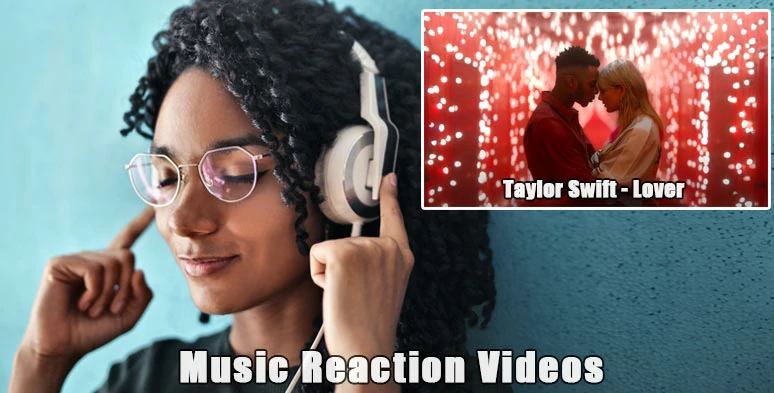 Create great music reaction videos for YouTube.
A camera to record your reaction. Any external webcam, camera, or even an extra iPhone that is capable of recording 1080P/30FPS videos (Full HD) will do. It helps record your facial expressions or body language when listening to the music. Besides, place your camera slightly above your forehead to get the best posture for recording.
Original music video
. You can google and find many free tools and sources to get the original music video. Later, you will be adding it as a
picture-in-picture
to your music reaction video.
Headphones and external mic. Headphones and an external mic not only enhance a better auditory experience but more importantly avoid interference with your verbal reviews.
A voice recorder
. If you are using iPhone, the free Voice Memos can help you record crisp clear voiceovers. While many free apps found on Android and online will also do the trick.
Check 5 best online voice recorders
.
Composition. Preferably, position yourself at one-third of the frame and leave the rest negative space to add the music video later in video editing.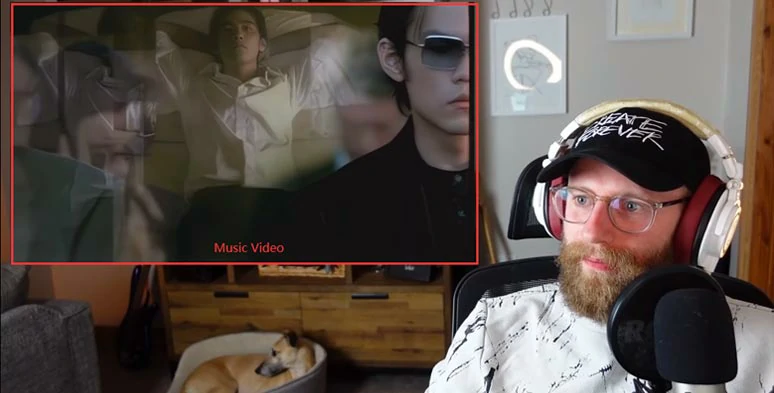 Properly position the music video and you in the frame.
Lighting. For indoor shooting, get an affordable LED ring light for consistent and even lighting to light up your face. You may also add decorative light bulb lamps to illuminate the background. Make it subtle, my friend.
How to Create Music Reaction Videos by FlexClip Online
After you get all the footage and audio files, it's time to edit them into a compelling music reaction video. An easy-to-use and versatile tool you can use is FlexClip. It's a feature-rich in-browser video editor. No software download and experience is needed.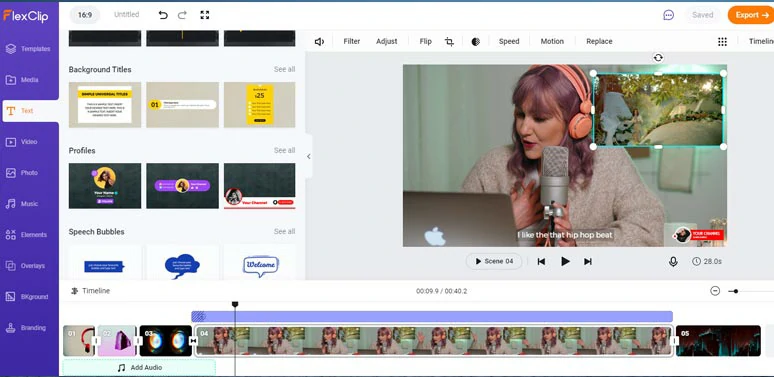 Create quality music reaction videos by FlexClip online.
With FlexClip, you can:
Easily use designer-made and fully-customizable
YouTube music video templates
to customize trending music reaction videos, including music intros and outros.
Music Equipment Intro
Youtube Music Acoustic Channel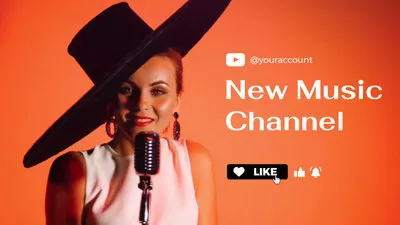 Youtube New Music Channel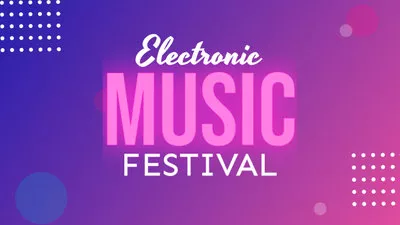 Music Festival Promo
Use the built-in
screen recorder
to record your reaction when listening to a YouTube video and video recordings will be automatically added to the timeline for editing.
Use the in-browser webcam recorder to directly record your reaction to music.

Use pip feature to display original music video.
Add stylish text animations, dynamic elements, and video transitions to enhance the videos.
Freely access royalty-free music, and sound effects to add rhythm and mood to your video.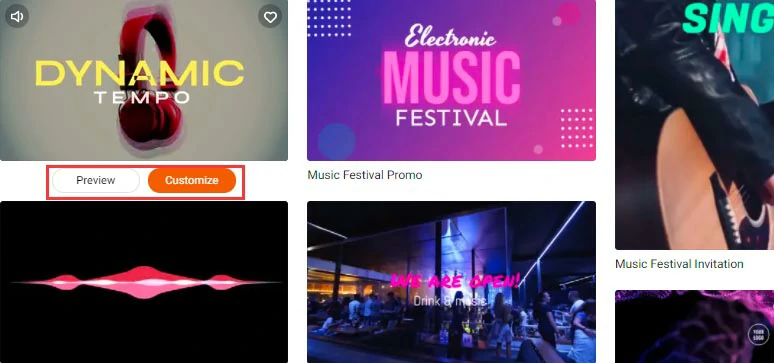 Select a music video template to work with.
Step 2
Upload the original music video and pre-recorded music reaction video and audio files to FlexClip. If you haven't recorded your reaction, you may also use FlexClip's built-in screen recorder and your webcam to record it.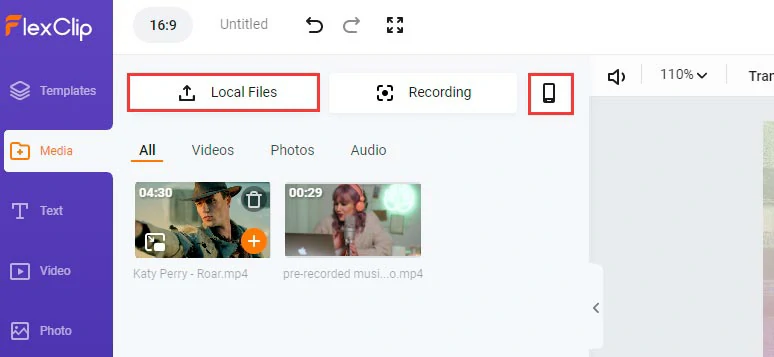 Upload your pre-recorded reaction video and the original music video to FlexClip.
Step 3
Replace video elements and do the rough cuts: Drag and drop your music reaction video to replace the default video background. You may also drag the slider inward to trim the video duration or use the split tool to cut off and remove unwanted video movements or pre-made clips.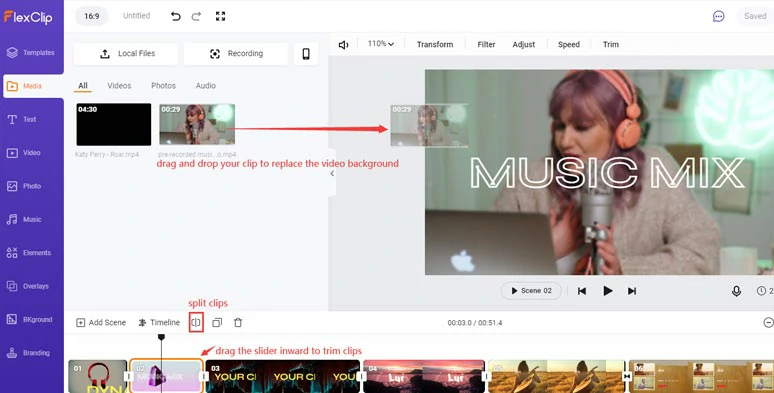 Drag and drop to replace default video background with yours and do rough cuts.
Step 4
Add original music video as a video overlay: Click the picture-in-picture icon to add the original music video over your reaction video. Then drag its slider to sync with your video review. You may customize its style as well.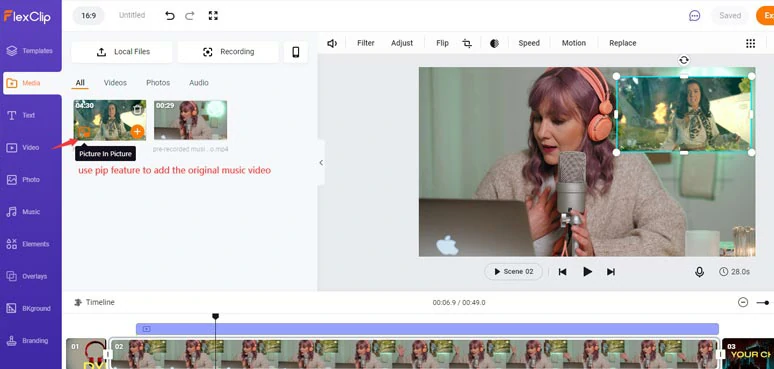 Use the pip feature to add the original music video for your reviews.
Step 5
Customize text animations: Enter new text in the video and customize the fonts, color schemes, motions, position, styles, and layer. You can also click the Text tab and browse more text animations for your use.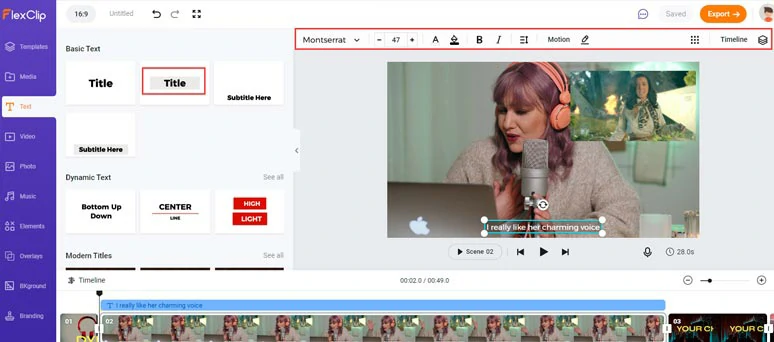 Customize text animations for subtitles, titles, etc.
Step 6
Add free music and sound effect and other video effects: You can add overlay video transition between two clips or click the Elements Tab to add call-to-action subscribe buttons, other decorative shapes, etc.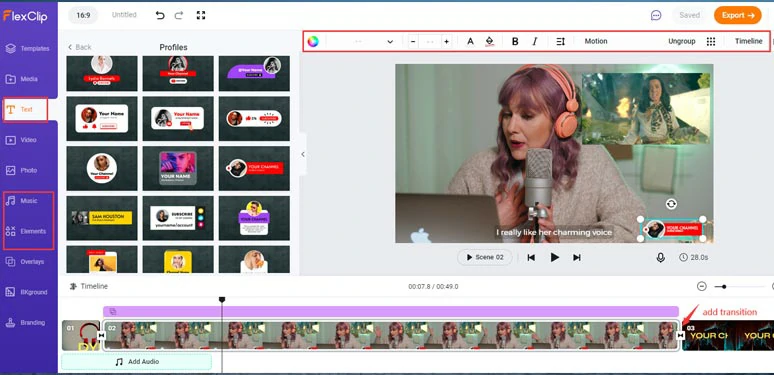 Add free BGM, sound effects, subscribe button, and other video effects.
Step 7
Preview and share: Click the Export button to download the video to your local PC or directly share it on your YouTube channel, or save it to Google Drive, or Dropbox. You may also get a clickable link and embed code for your blog.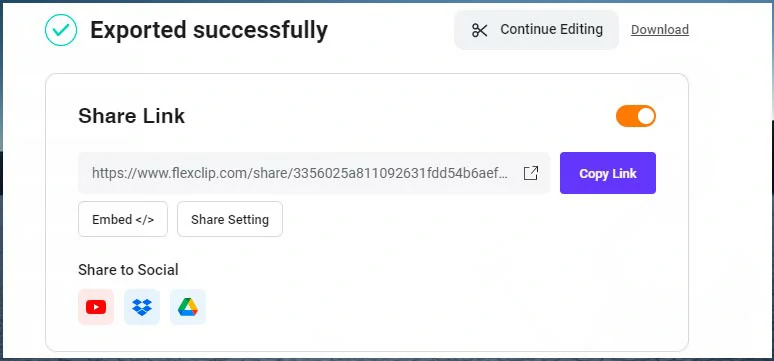 Multiple ways for sharing your music reaction videos.
How to Make Music Reaction Videos by CapCut on Your Phone (iPhone/Android)
If you've recorded your reaction video by iPhone or Android, another free and flexible way to create a quality music reaction video is by CapCut, a powerful and free app available to both iPhone and Android users.
Step 1
Use another phone or camera to film how you react to the music/song.
Step 2
Download the music video online to your camera roll/photo gallery.
Step 3
Click the New Project to import your reaction video to CapCut as the video background.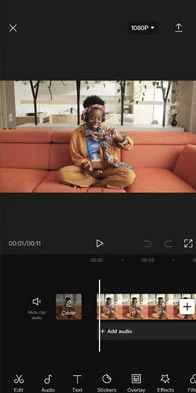 Import your music reaction video to the CapCut.
Step 4
Tap Overlay > add Overlay, this allows you to add the music video as a picture-in-picture video overlay your reaction video > use your fingers to pinch/unpinch the music video and position it properly.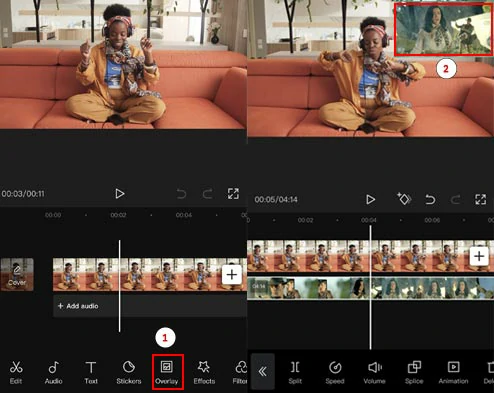 Add the original music video as a video overlay to your reaction video.
Step 5
Sync the reaction video with the original music video: long-press the video overlay and move it to the right place when you start to react to the video. Done.
Step 6
Set the resolution and FPS of the video and tap the Export button to download the video to your camera roll/photo gallery.
Now, It's Your Move
So, hopefully, you can use the tutorial and tools recommended to create an engaging music reaction video to share your great taste in music and engage with viewers. If you find this tutorial helpful, don't forget to share it on Facebook and Twitter with friends and leave your comments and tag us. Looking forward to hearing your feedback.