This is a 101 class about video masking and a recommendation post of the best mask video editor. Let's dive in and boost your creativity.
Top Mask Video Editors You Must Try
What's Video Masking
Video masking is a video editing technique widely used to create all sorts of videos, like video ads, slideshows, or movies. The masks can be in different shapes, for example, circle, square, star, heart, letter. Some advanced video editors even use customized masks on videos. Their purposes are hiding, or revealing certain parts of a video.
There are two types of video masking. The first is static masking. This kind of mask doesn't move throughout the entire duration of the video clip. The second is dynamic masking. It changes the position, size, shape, or transparency over time.
Video masking opens up numerous possibilities for video editors. You can remove unwanted objects from the video, isolate a particular area of the frame, track the movement of an object in a video.
Masking Video Examples
Travel Journal Slide
Pink Cute Heart Friend Happy Birthday Message Slideshow
Top 5 Mask Video Editors You Must Try
Here are 5 mask video editors offering you unique features and functions. Whether you are a professional editor or a beginner, you can always achieve remarkable results with them. Pick one to get started.
FlexClip - Online Video Masking Tool with Rich Resources
Price: Free to download watermarked videos. Subscription price starts from $9.99 per month
Supported OS: Windows/Mac/Linux
For those who are seeking an intuitive and beginner-friendly mask video editor, FlexClip is the best to go! It offers a clean and simple interface without compromising on offering rich features and mask resources. No matter how you want to hide or reveal your photos or videos, you will find a perfect mask. It is also extremely easy to apply them to your video. Drag and drop it to the video clip, and you are done with masking!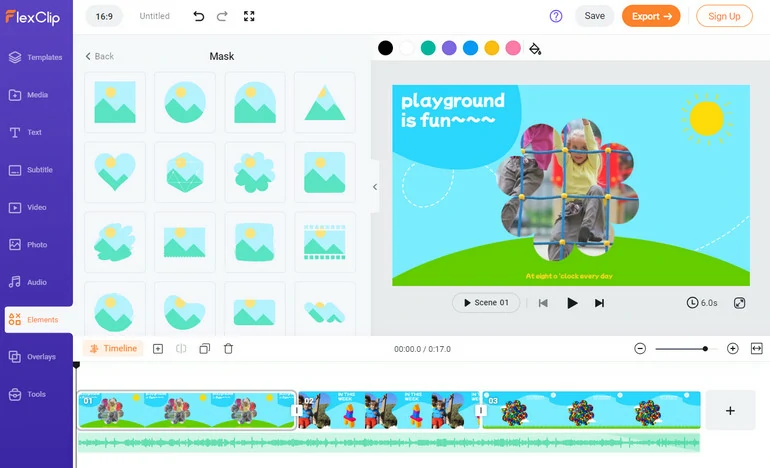 FlexClip Video Masking Overview
Why not save your time and start with FlexClip's free video templates? All FlexClip's video templates are designed by professional designers. Pick a video template with masks, replace the resources, and your video is ready.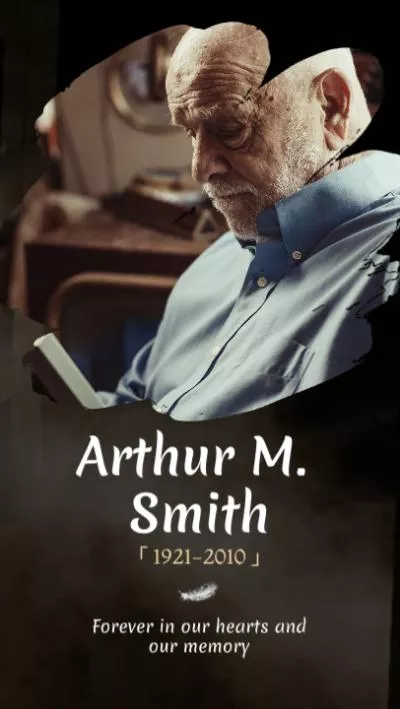 Memorial Slideshow
Home Appliances Ad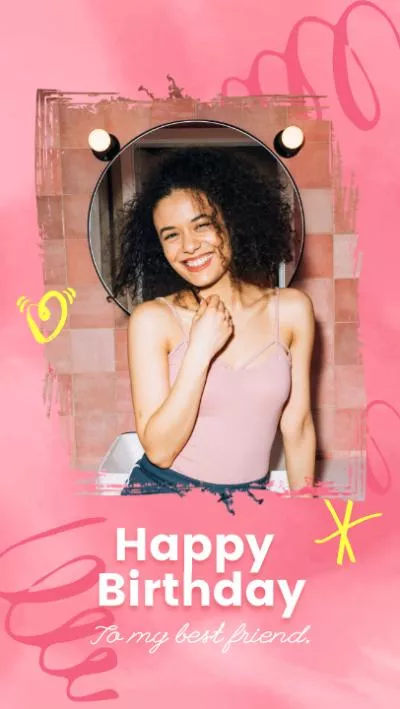 Birthday Slideshow Video
Reasons for Recommendation:
Rich masking resources help realize all your ideas.
5000+ well-designed video templates ready to be used.
One-click share to social media platforms, cloud services.
Flixier - Video Masks to Blur Anything on Your Video
Price: Free to create 10 minute of watermarked low-resolution video. Subscription price starts from $14 per month
Supported OS: Windows/Mac/Linux
Blur or pixelate anything on your video with Flixier! No downloads, installations, or video editing experience is required. Drag and drop a filter mask, adjust its size, opacity, position, now you have removed an object from a video! If it is a moving object, Flixier also provides the keyframe tool to track the movement.
Besides blurring and pixelate, here at Flixier, you can use other shapes and masks like greyscale, inverted to give your video a completely new look.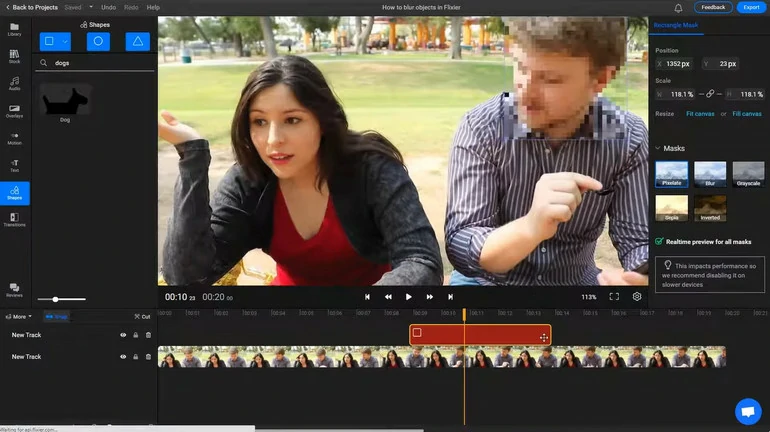 Mask Video Editor - Flixier
Advantages:
Easy keyframing feature to use.
5 different mask presets to give your video brand new look.
Downsides:
The editing sometimes freezes or corrupts.
Short of more useful media resources like music.
CapCut - Mask Video Editor for Creating TikTok Videos
Price: Free with limited video masks and features, and the output is watermarked. Subscription starts from $9.99 per month
Supported OS: iOS/Android/Mac/Windows
CapCut is a video editor specially designed for creating TikTok videos. All popular songs, effects, masks, fonts on TikTok can be found here. Moreover, you can find some well-edited video templates with masks. If you use them, you are very likely to get lots of views and likes on TikTok. Yet, CapCut can also be used to make videos in other aspect ratios, which makes it a perfect solution to create videos for all social media platforms.
Even though premium templates, features and masks are behind the paywall, you can use video masks incorporating Chroma Key, Key Framing, Green Screen to achieve some stunning results.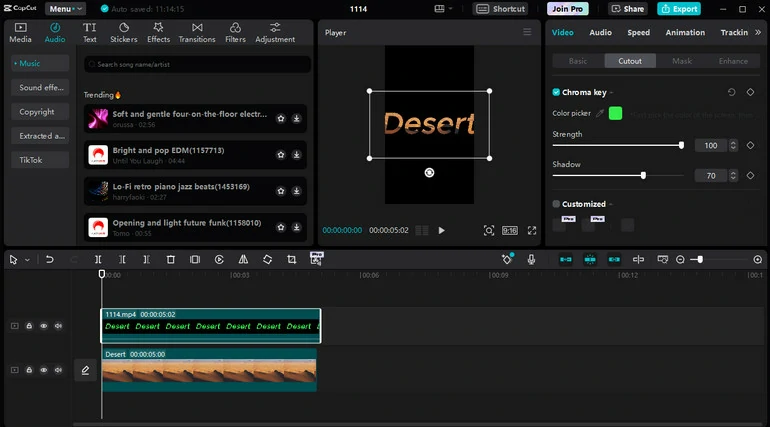 CapCut Mask Video Editor
Reasons for Recommendation
Access to all popular songs, effects, masks on TikTok to help make your video outstanding.
Popular video templates with masking.
Chroma Key, Key Framing, Green Screen features incorporating masks to achieve outstanding results.
Downsides
Some features are behind the paywall. You can't even try it before paying.
You can't directly share the video to other social platforms like Instagram, YouTube.
Adobe Premiere Pro - Mask Video Editor for Professionals
Price: Starts from $29.99 per month
Supported OS: Windows/Mac
Adobe Premiere Pro is a video editor for professionals with a wide range of editing tools. When it comes to video masks, it allows you to create custom masks, and make professional video edits based on masks like motion tracking, blending multiple videos. The possibilities are endless. TV series, reality shows are created with Adobe Premiere Pro.
Adobe Premiere Pro sounds amazing. However, we don't recommend beginners trying it. It might be too hard to master, even with numerous tutorials on YouTube.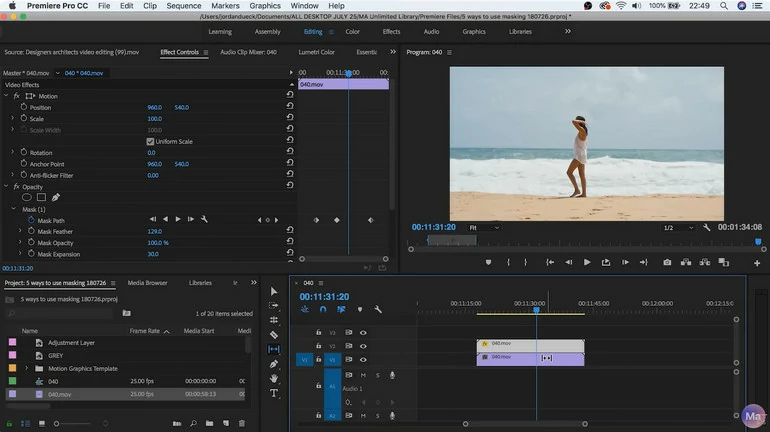 Adobe Premiere Pro Mask Video Editor
Advantages:
Allow you to custom video masks.
Video masking incorporating other features like green screen, rotoscope, keyframing to bring endless possibilities.
The Downsides:
Hard to operate. It is only for the professionals.
Quite expensive to get Premiere Pro.
Wondershare Filmora - Easy Motion Tracking with Video Masks
Price: $29.99 for the first quarter, then $20.99 per month
Supported OS: Windows/Mac/Android/iOS
If you need to use video masks but don't want to go through the complicated process, Filmora is perfect. It provides you lots of masking presets, and easy green screen, Chroma Key to make all cool stuff. Filmora saves you from the trouble of creating masks by yourself. Meanwhile, it makes applying Chroma Key, green screen so much easier. Basically, all you need to do is clicking a few times.
We must say the price for the first quarter is fair, but the coming automatic subscription price is expensive. It can't achieve as many effects as Adobe Premiere Pro does, and their prices are quite close.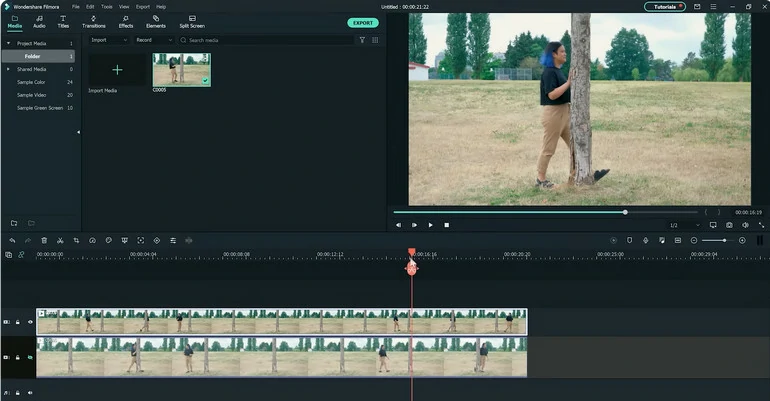 Wondershare Filmora Mask Video Editor
Advantages:
Lots of video masking presets ready to be used.
Easy to use advanced video editing tools like Chroma Key, Green Screen.
The Downsides:
Filmora is expensive considering its features.
The Bottom Line
In conclusion, when it comes to video masking tools, FlexClip, Flixier, CapCut, Adobe After Effects, and Filmora are among the best options available. Each tool offers unique features and functionalities, catering to various skill levels and budgets. If you find this post helpful, do share it with others.
At last, we strongly suggest you embrace the power of AI while creating videos. FlexClip is now fully integrated with AI to make video editing faster than ever. It writes nice scripts, generates images from prompts, generates videos from scripts, or even does natural voiceover! Remember to give it a try!
FlexClip AI Tools Overview