The scribble effect refers to an animation effect that emulates hasty and careless hand-drawn lines, shapes, or even images. Creating scribble effects can add a personal flair and dynamic vibes to your videos and work especially well for music and dance videos, etc.
So, in this tutorial, we will walk you through how to easily make an animated scribble effect for your music video online and in Adobe Premiere Pro. Let's dive into it now!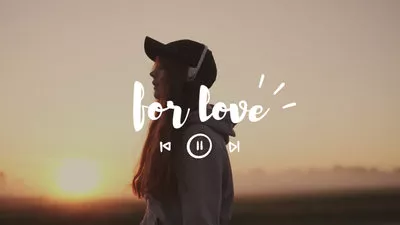 For Love Lyric Video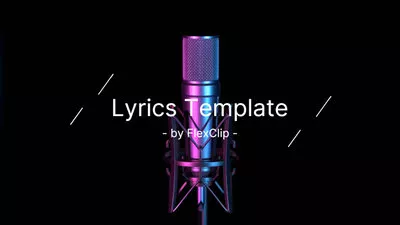 Pop Lyrics Template
Here's What You Will Learn:
Also, read how to make the sparkle effect in the video.
How to Easily Make Scribble Effect in Videos by FlexClip Online
Well, speaking of creating the scribble effect, you would probably think of using Adobe After Effects. Indeed, it's the most professional tool to make sophisticated scribble animations. However, the steep learning curve and the complex process make AE not the cup of tea for many who are new to video editing.
So, a great workaround to easily create a scribble effect is to use FlexClip online video maker. With FlexClip, you can select from tons of ready-made animated scribble animations like animated lines, pencil-drawn music note symbols, shapes, images, and drag and drop these scribble effects to add unique styles to your music videos, etc.
Easily make animated scribble effects for your music video by FlexClip online.
Now, join me to make scribble effects to your music videos from scratch.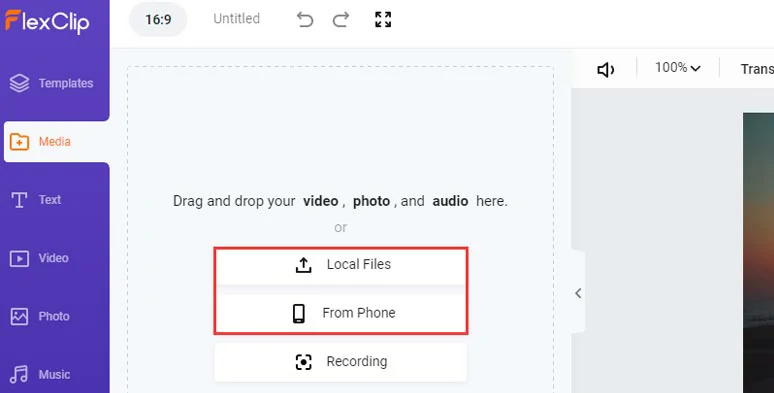 Upload your video assets to FlexClip.
Step 2
Click the plus sign to add your clips to the timeline. You can trim or split them for the video moments needed or drag and hold to adjust their order on the timeline.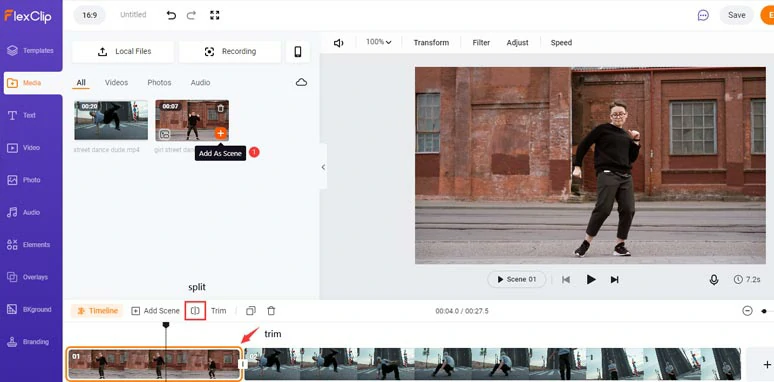 Add clips to the timeline and trim or split clips.
Step 3
Add scribble effects to the music video.
Click Photo tab > GIF > type in "line sticker", "star stickers", etc. in the search bar > scroll down to find the animated scribble effect needed and add them to your music video. You can adjust the size, and position of the scribble animation or trim its duration.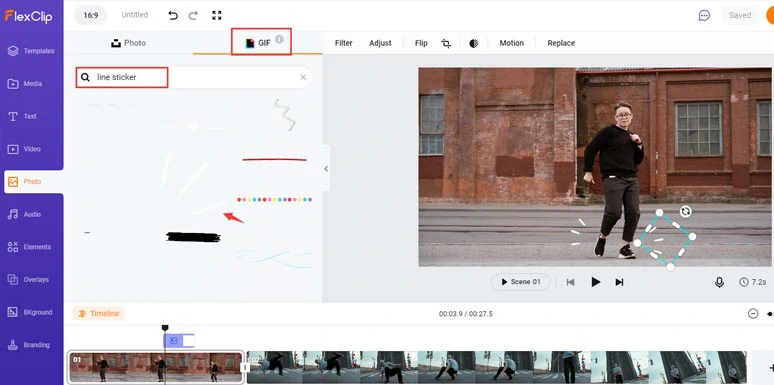 Add animated scribble effects to your dance video.
Step 4
Add animated titles for lyrics or transitions. (optional)
Click the Text tab > add a pre-made title like the lower third, profile, minimal or callout titles, etc.> customize the text, its font, color, text styles and animations, and duration. You can also add trending transitions like liquid transitions to connect two scenes.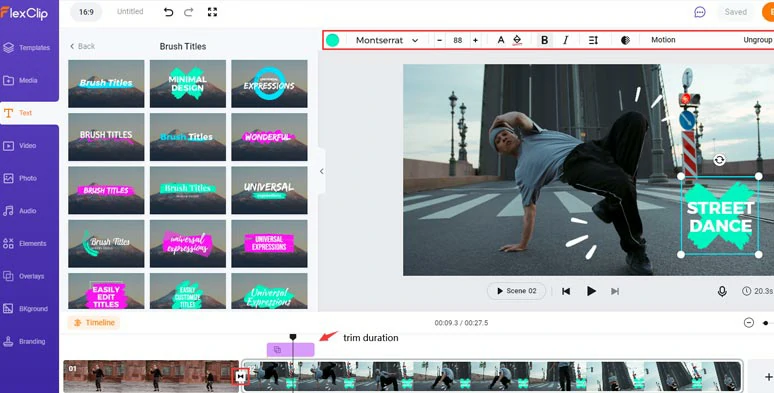 Add text animations, scribble effects, and transitions to the dance video.
Bonus: Add royalty-free music and scribble sound effects to videos.
If you are making scribble effect to dance or sport video, you may find thousands of royalty-free music in the Audio tab to fit the vibes of your videos. Besides, you can even find scribble sound effects to make a realistic scribble animation.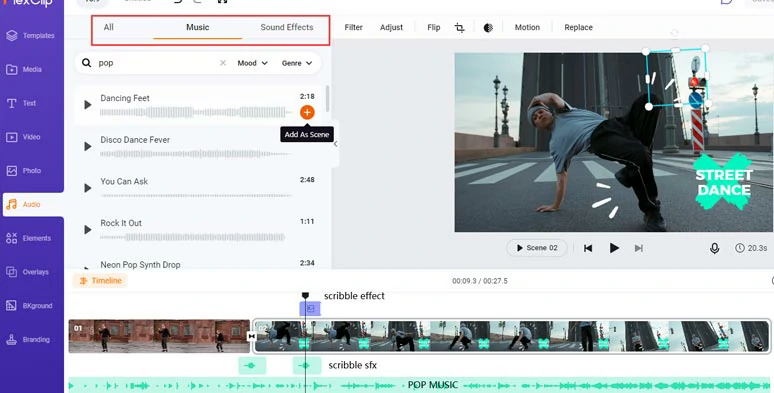 Add pop music and scribble sound effects for scribble animation in the dance video.
Step 5
Preview and share.
Done with the editing. You can download the music video with scribble animation to your PC or directly share it to YouTube, Dropbox, or Google Drive; a click link and an embed code are also available for other repurposing.
Alternatively, if you don't have the time to create animated scribble effects from scratch in your music or dance videos, you can simply pick a designer-made and fully-customizable music video template with scribble effects. You can customize them into yours just by dragging and dropping.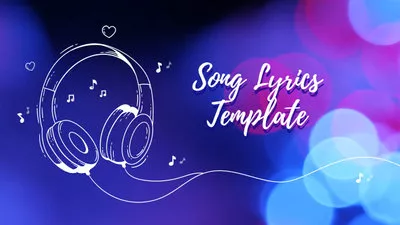 Bokeh Song Lyrics Template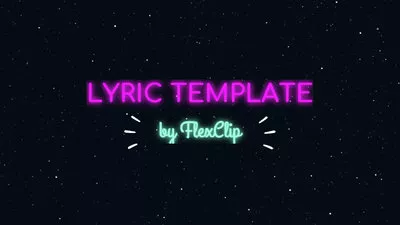 Lucky Day Song Lyric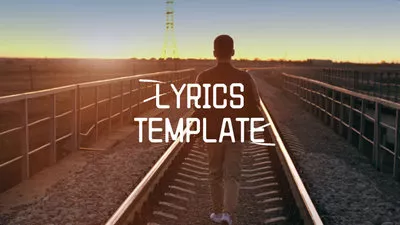 Splash Element Lyric
Purple Lyrics Template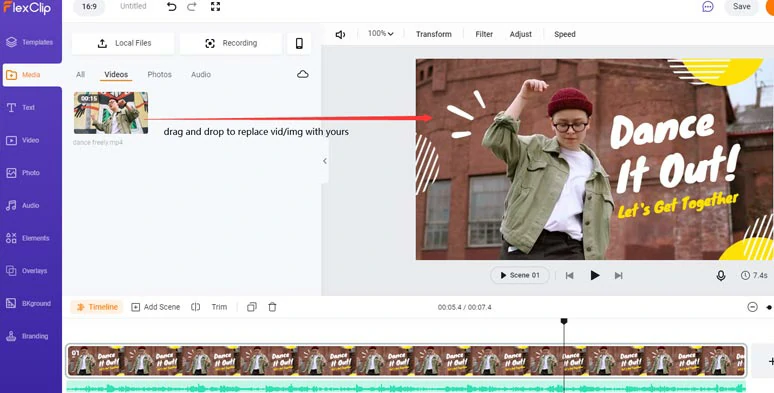 Drag and drop to replace the dance video with yours.
How to Create Scribble Effect in Videos by Premiere Pro
If you are used to editing videos with Adobe Premiere Pro, you can also use it to make cool scribble effect animation for your music video, even if you are not that skillful in manipulating animations. Also, read how to create a typewriter effect in PR.
Make animated scribble effects for music videos using Premiere Pro.
Step 1
Draw the lines of the scribble effect in PR.
Import the clip to the timeline > select the Pen tool > Rectangle Tool > create three individual lines in the video > position the three lines to your liking > move the playhead and drag the scribble effect layer to where you wanna it to show up and shorten its duration.
Step 2
Add rough edges to the three lines.
Go to the Effects Panel > search for "roughen edges" in the search bar > drag this effect to the graphic layer. Then irregular curves will be added to the three lines created before. Then head to Effect Controls > Roughen Edges > Border > increase its value. So the irregular curves will become more pronounced.
Step 3
Add a circle effect to the three lines.
With the graphic layer selected, go back to Effects Panel > search for circle effect > drag this effect to the graphic layer > go to Effect Controls > Circle > Blending Mode > hit the drop-down menu and select Stencil Alpha > go back to Center and select it. Then select the start and end point for the scribble effect in the video and add two keyframes to reveal the scribble effect.
Step 4
Invert the circle effect.
Go to the Effects Panel > find and drag the Circle Effect to the graphic layer again > go back to Effects Controls > position the new keyframe right between the previously created two keyframes > Blending Mode > select Stencil Alpha > check Invert Circle > set Radius and two keyframes to make the scribble effects disappear. > right-click the graphic layer > select Nest, which will put all the effects in one graphic layer.
Step 5
Adjust the position, direction, and duration of the scribble effects in the Effect Controls. Or duplicate a scribble effect in different parts of the video.
Now, It's Your Move
So, hopefully, this tutorial can help you easily make great animated scribble effects for your music video or dance video, etc. If you find this post helpful, do share it on your Facebook or Twitter and leave your comments to us. See you there!