Want to merge the rest clips after removing unwanted parts? Wish to join the short clips together into a big file? To do this, you may need to know how to merge videos.
This article covers 5 video mergers and shows you how to merge videos in Windows 10. You can pick your favorite one to combine videos quickly, and let's go straight to it!
There are some stunning video templates: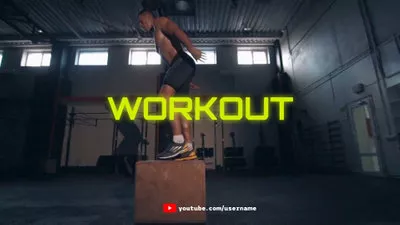 Fitness Video for YouTube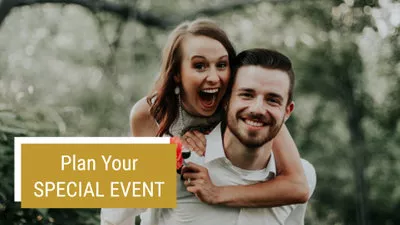 Wedding Videos
Can't Miss: Top Free Audio and Video Mergers Online/Offline You Can't Miss>
The Best Way to Merge Videos in Windows 10
FlexClip allows you to merge multiple videos in Windows 10 without quality loss and editing skill requirements to combine your clips.. The process of combining videos works smoothly: upload your footage, drag them to the timeline and export the video as you like.
Besides, it has everything you need to create remarkable videos: transitions, voiceover, special effects and additional editing tools, letting you make professional-looking videos in seconds. Follow the steps below and know how to use FlexClip to merge videos in Windows 10.
Quick Tutorial on How to Create Videos Online with FlexClip
How to Combine Videos in Windows 10 with FlexClip:
Step 1: Upload Your Footage
FlexClip offers three workarounds to get media files: import from local files, transfer videos from your phone via QR code, or instantly shoot one by recording. Pick your favorite way and import clips.
Import Videos to FlexClip
Step 2: Customize the Clips
Drag clips to the timeline and arrange the sequence to match your needs. To make the video more seamless, you can add transitions between two scenes.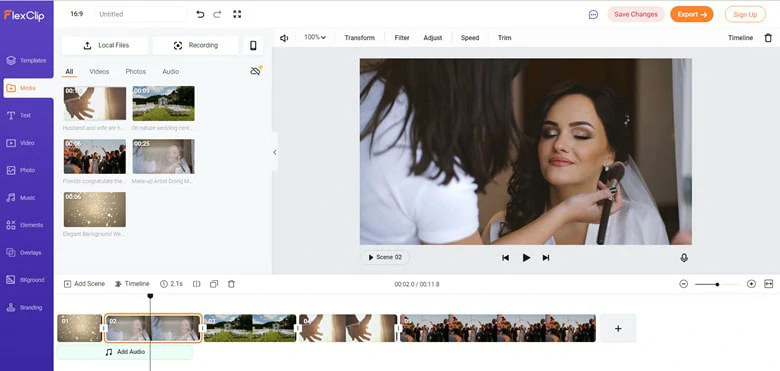 Customize the Clips
Step 3: Export the Video
When you finish editing, click on the Export button to choose the video resolution and the storage place of your video.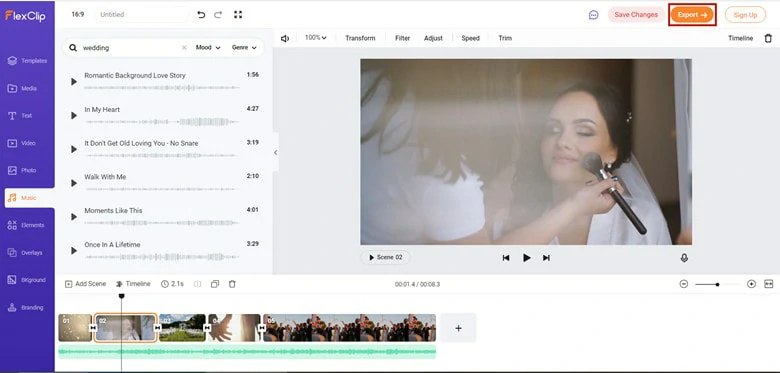 Export the Video to Your Device
Features:
Large yet free media stock.
Animate,
crop
and trim videos.
Thousands of stylish templates.
Additional AI-powered tools like text-to-speech, auto subtitle and text-to-video features to simplify your work.
Drawbacks:
The maximum video duration is 30 mins.
Not compatible with AVI and MKV files.
The In-born Option to Merge Videos in Windows 10
If you're using Windows 10, you must be familiar with the Photos app. In most cases, it acts as a tool to gather and browser photos. However, there are many more things you can do with the Photos app for video editing.
The editor in Photos isn't credible, but it can handle some light editing like cropping, filtering, and merging videos if you don't want to look further. Let's check out how it works to combine videos.
How to Merge Videos in Windows 10 with Photos App
Step 1: Open Photos and Import Videos
Evoke the Photos app and start a new project by clicking the New Video Project with the music option in the top menu. Next, go to the folder and add the files you want to compile together.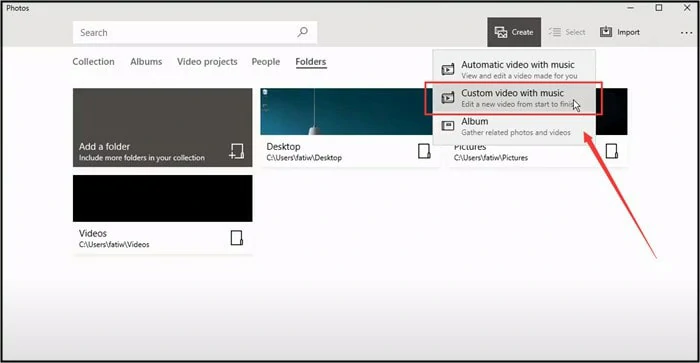 Import Videos to the Photos App
Step 2: Arrange the Sequence and Make Adjustments
Drag and drop the clips to the correct order. Use the Enhance tool to fine-tune your videos if desired.
Step 3: Finish and Export
When finishing editing, it's time to export videos. Tap the Export Video icon and select the quality of your video.
Features:
Support a wide range of video formats.
Add text, music and
motion
to the video.
Already installed on all Windows 10 devices.
Drawbacks:
Lack of advanced editing features.
It's prone to not working as it should.
No media resources or templates to refer.
An In-built App to Combine Videos into One in Windows 10
Windows Media Player is another benefit for Windows users to play videos back and edit videos. It's a pity that you won't be able to use this program for combining or merging videos alone. Fortunately, with the help of the Windows Media Joiner, putting videos together for free becomes available on Windows-based computers. Follow the steps to merge videos with this tool.
Steps to Combine Videos with Windows Media Player:
Step 1: Download Windows Media Joiner and Create a New Project
Download Windows Media Joiner and complete the installation. After that, select the Add File option in the File menu to import the videos files you want to combine.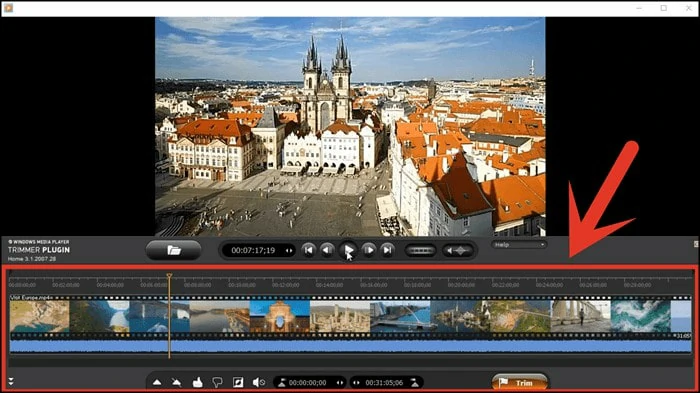 Merge the Video with Windows Media Joiner
Step 2: Name the Project and Combine Videos
Give your project a name to make it easier to find and press the Combine button to initiate the merging process.
Step 3: Save and Preview
Wait for the outcome to be saved on your computer. Once the Windows Media Joiner has connected to your videos, you're able to open the video in Windows Media Player to preview it.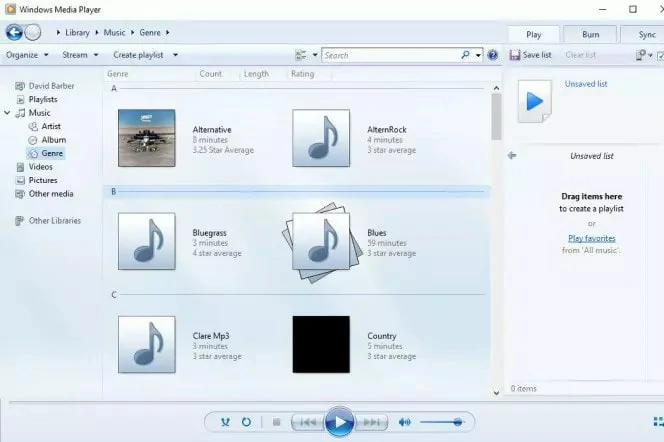 Watch the Video with Windows Media Player
Features:
Sleek and intuitive interface.
A solid and widely-used media player.
It supports some popular video formats.
It's available for all windows-based computers.
Drawbacks:
Unable to edit videos with ease.
Windows Media Joiner must download at first.
A Popular Program to Combine Videos in Windows 10
VLC Media Player is an open-source media player and editor that has the ability to convert and collate videos. It's regarded as the shortcut to add two video files, or more short files, into one video thanks to its flexibility. You can use VLC to merge videos and play them back in the same app.
But aware that only files in the same video format can be combined together in VLC. That's to say, if you want to mix an MP4 file with a MOV file, you should convert in advance or look around to apply other tools.
Steps on How to Merge Videos in VLC:
Step 1: Download and Install VLC
Download and Install VLC Media Player on your Windows 10 devices.
Step 2: Add Files and Convert Them
Open VLC Media Player, navigate the Open Multiple Files section and select the files you want to merge. Now tap the Convert/Save button and click on the Convert option from the drop-down menu.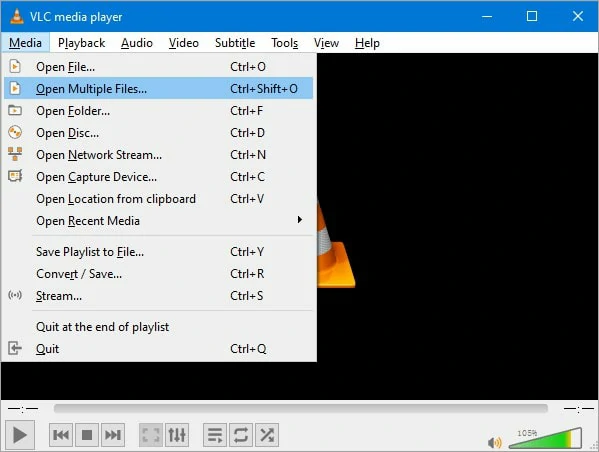 Open Multiple Files in VLC
Step 3: Save the Video
Press Browse to set a location for saving files. Once you've completed the process, you will find the blended video in the storage path.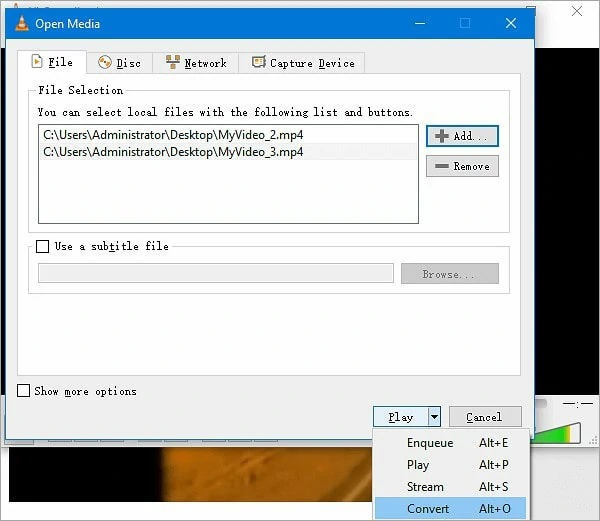 Make Editing to Save the Combined Video
Features:
It's a media player and editor.
Merging videos in a matter of minutes.
Many editing features and functionalities
Drawbacks:
The interface design is outdated.
It requires download and installation.
A Comprehensive Application to Merge Videos in Windows 10
Shotcut is an incredible Windows editing software that gives your full control over editing. With the help of Shotcut, merging videos is like a breeze as it empowers you to combine videos in minutes and polish videos by adding transitions, overlays and more.
Although it's a free tool, it comes with many premium features. Therefore, the learning curve is a bit steeper for beginners.
Steps to Combine Videos with Shotcut:
Step 1: Download Shotcut to Your Device
Make sure that Shotcut is running on your Windows 10 device. If not, download it first.
Step 2: Import Video Files
Hover over to File > Open Files and select the video file you want to add. Then drag it to the timeline. To add one more video, repeat the process until you import all the files.
Note: The edge of the second video you're adding should line up with the first clip.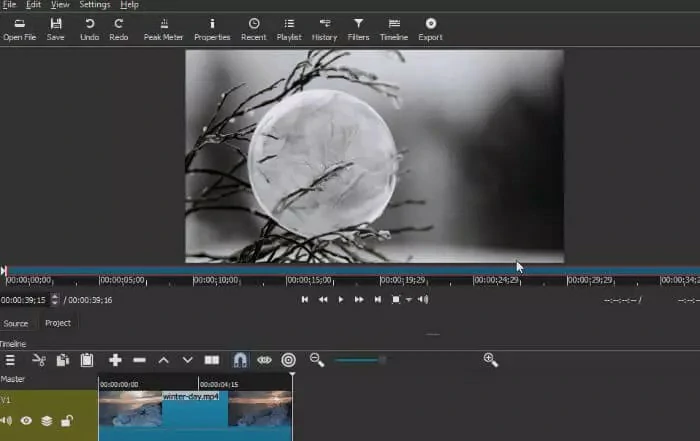 Import Video Files to Shotcut
Step 3: Merge and Save
You can tweak the file settings like video resolution, frame rate, and aspect ratio in the File panel. To save the file, click on the Export File button.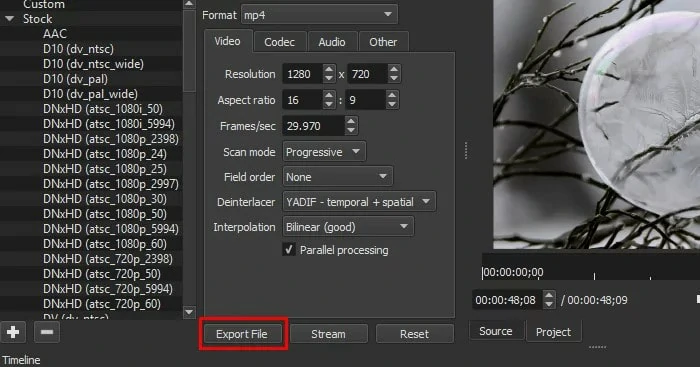 Export the Merged Video in Shotcut
Features:
High quality export support.
It provides advanced editing features.
Drawbacks:
No export presets for devices.
The user interface is complex.
The transitions options is limited.
The Bottom Line
Merging videos in Windows 10 is easy with the proper editor. This tutorial covers 5 free applications to help you combine videos with great ease on your Windows 10 devices. Given the functionality and user-friendliness factors, we strongly recommend you try FlexClip. Make your decision and start to merge videos now!