Have you ever stunk by the school project of making a news report video? Or are you asked to create a news report video in your work? That's what we talk about here. No matter what your purposes are for creating a news report video, you will need a news report video maker to complete the post-production process. Here we've compiled a list of three free ways to make a news report video on Mac, mobile phone and online. Let's dive into it right now!
Free and Trending News Report Video Templates: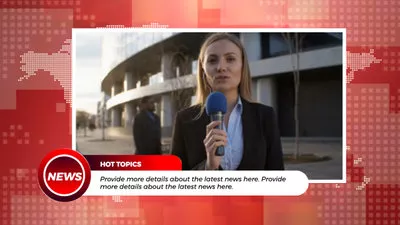 News Report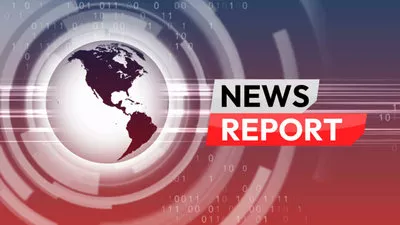 Hot News Report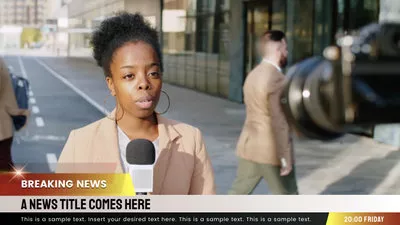 News Report Live Show Intro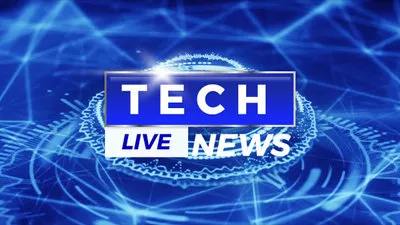 Tech Trends News Report
Part One: AI Painting Generator from Text
Also interested in: How to Create Realistic News Tickers in Your Video>>
How to Make a News Report Video for School Online Free
Need to create a news report video for a school project? Or eager to boost your business service with a news report video? Well, FlexClip is what you need to make professional-looking news report videos even without a green screen!
From news story writing to real-time news report video making, this powerful news video maker will offer you the quickest yet the most accurate solution to achieve your goal in minutes. Besides, you can access its extensive news report video templates, pre-made news tickers and multiple news backgrounds to get inspiration. Let's explore its features in detail.
News Report Video Maker Online - FlexClip
Whether you're a beginner or a seasoned who needs to create a news report video, a ready-made
news report template
is the fastest way to make a professional-looking news video. Here FlexClip has 300+ news video templates with crafted intros, appealing title, professional news tickers, smooth transitions, awesome backgrounds and music for you to rely on. They're all free to use and easy to edit!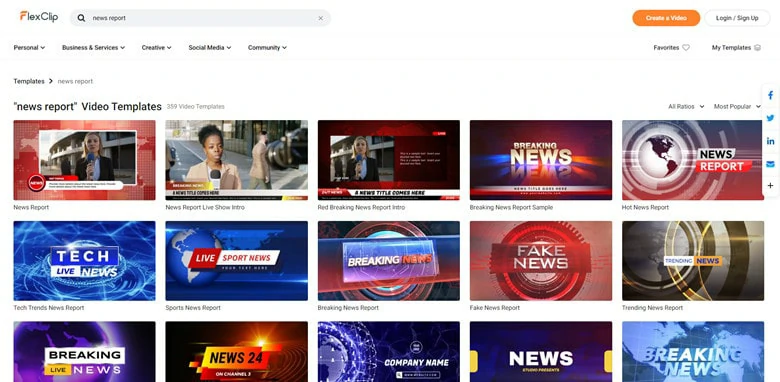 News Report Video Templates in FlexClip
Searching for virtual news backgrounds and intros like CNN or BBC will not trouble you anymore! Just access FlexClip's inbuilt media stock and millions of royalty-free media resources will be handy. You can use keywords like news report to find the video backgrounds you like quickly and then use it to get an eye-catching news video right away.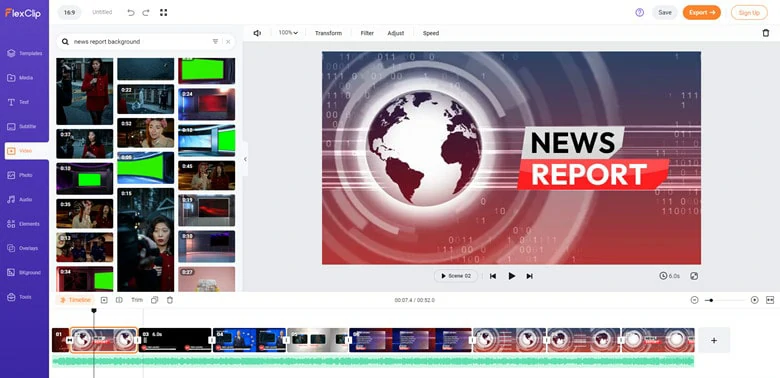 News Report Video Backgrounds in FlexClip
Multiple news title layouts, appealing new sticker designs and channel icons are available, helping you perfectly emphasize key information. Moreover, you can animate the
news title
with special effects like fading, bouncing, flipping, etc to bring your titles to life.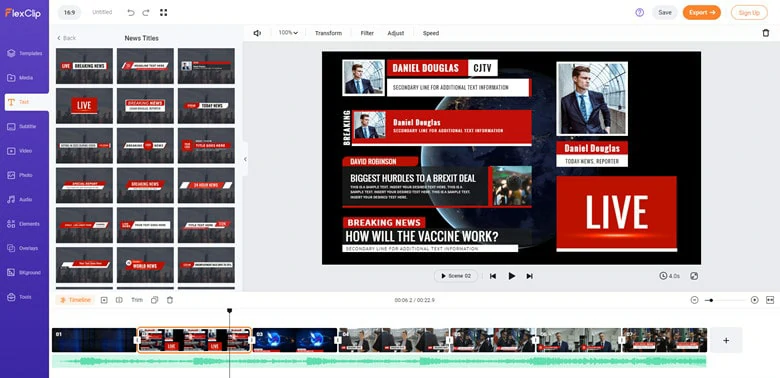 News Report Video Title Layouts in FlexClip
Picture-in-picture
is here to give your news report a different look, a technique usually used in broadcasts with a witness or interviewing scene. By doing so, you will have two or more live videos on the screen that convey more messages simultaneously.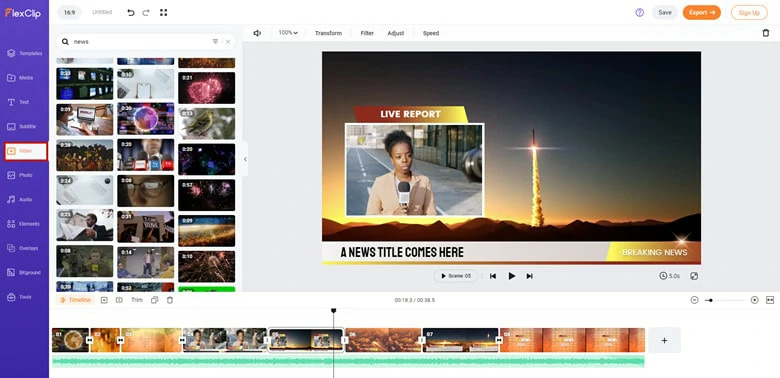 News Report Video Picture-in-picture Effect in FlexClip
A full set of AI tools to simplify your process. For example, you can use the
AI video script generator
to create an executable guideline for your video shooting and all you need is to tell the AI machine what your news report video talks about. Aside from the script generator, there is a
text-to-speech
feature that assists you in generating human-like voices, which is quite useful if you're afraid to speak or create news reports in a foreign language.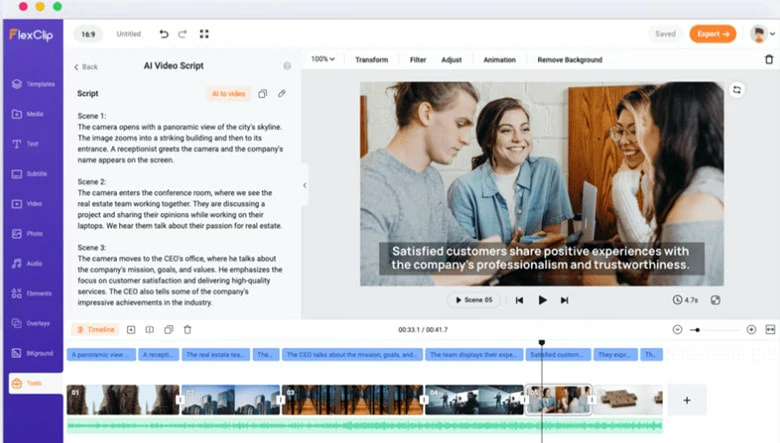 AI Tools to Help You Easily Generate News Report Videos
The
team collaboration
feature will greatly improve your work efficiency if you're in a group. All the team members can create and edit projects as needed. Meanwhile, all the changes will be updated in real-time, which saves you time and energy in communication.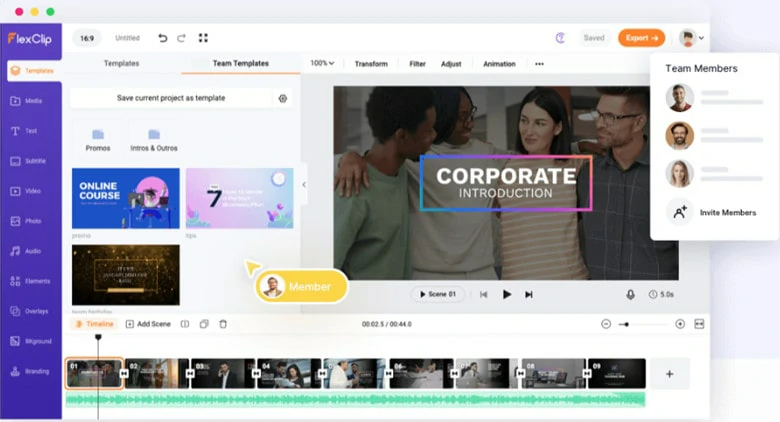 Use Team Collaboration Feature to Create a News Report Video in FlexClip
When you end editing, you can rely on the direct sharing path to upload the amazing news report video to social media platforms like YouTube and TikTok or download the video in high quality to your computer.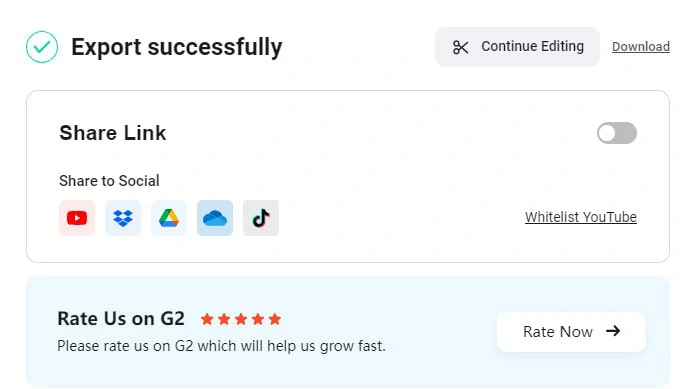 Share the Edited News Report Video
How to Make a News Report Video Using FlexClip
Step 1
Visit FlexClip's news report template page and select the one that fits your theme and style. Then tap on the Customize icon to enter the editor page.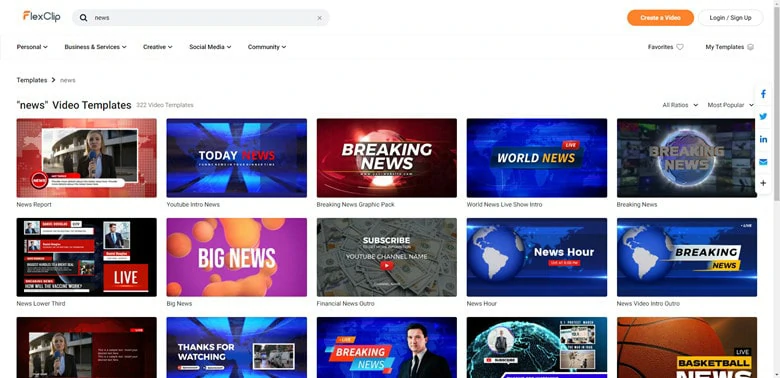 Choose the News Report You Like in FlexClip
Step 2
Under the Media panel, import the recorded videos, sound effects or other media resources you will use in your news report video.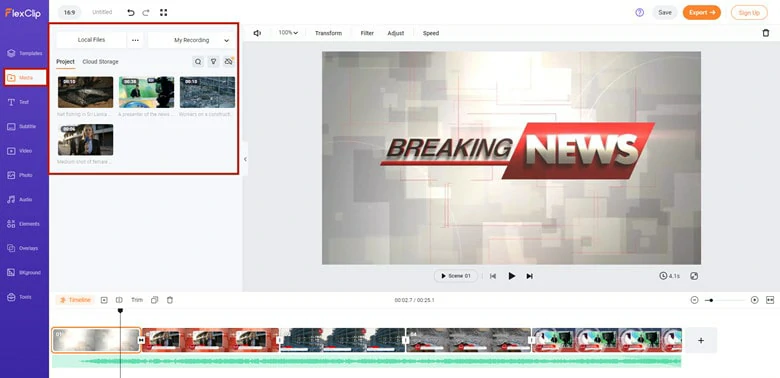 Import the Recorded News Video to FlexClip
Alternatively, if you don't have any footage for a news report video, just browse through FlexClip's extensive news media stock and find the clips that match your needs.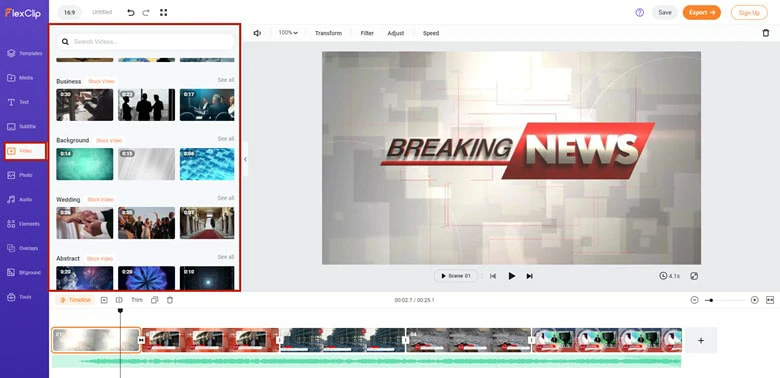 News Media Resources in FlexClip
Step 3
Drag and drop the clip to replace the pre-made news report elements. Then you can trim and split the video.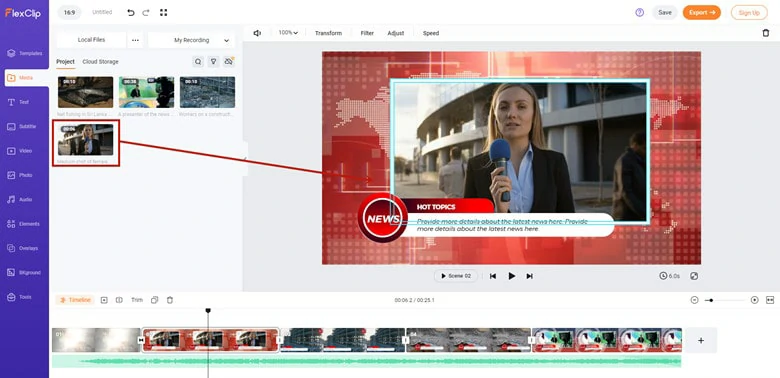 Add Your News Clip to FlexClip
Here you can set the animation effect for the clip to determine how it's revealed, with controls over its duration, direction and etc.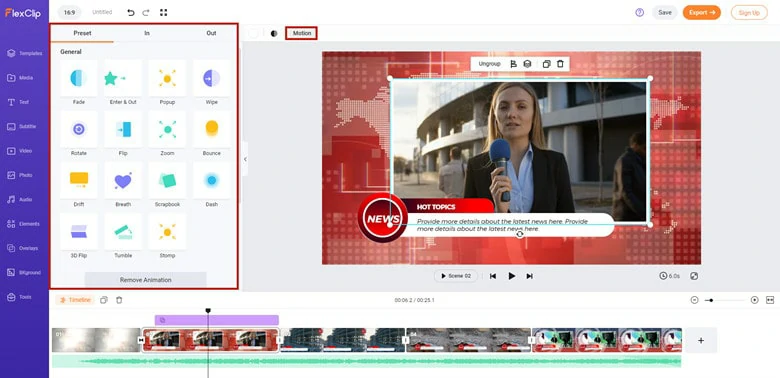 Set Animation of Your News Clip
Step 4
Move to the Media panel and use another video or image to create the picture-in-picture effect. Simply tap on the Add as Layer and adjust the clip to make it appear as the way you want.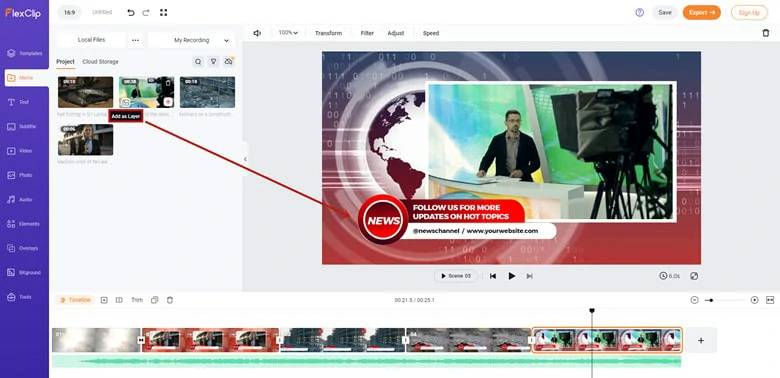 Use Another News Clip to Create Picture-in-Picture Effect
Step 5
Now it's time to add text and news ticker. By default, the news report template will include these elements. If you don't like the default settings, you can change the font,
animation effects
even the news ticker design as you want.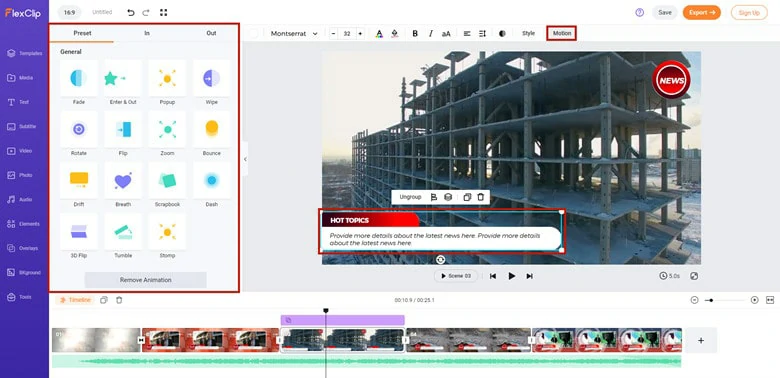 Add News Ticker to Your News Report Video
To get more news title layouts, hover over to Text section and scroll down to find the News Titles tap, from there you can see various pre-made title designs you can use.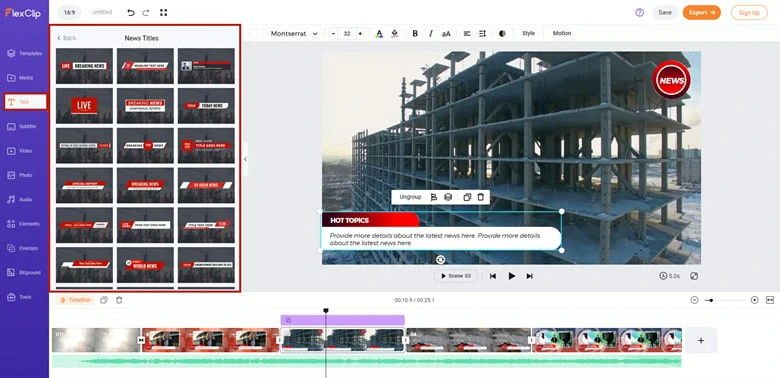 Get More News Title Layouts in FlexClip
Step 6
To generate a concise news report, shift to the AI video script generator for help. For example, let's say write me a news report about Internet fraud for job seeker. Once you hit the Generate icon, the AI machine will automatically give the result.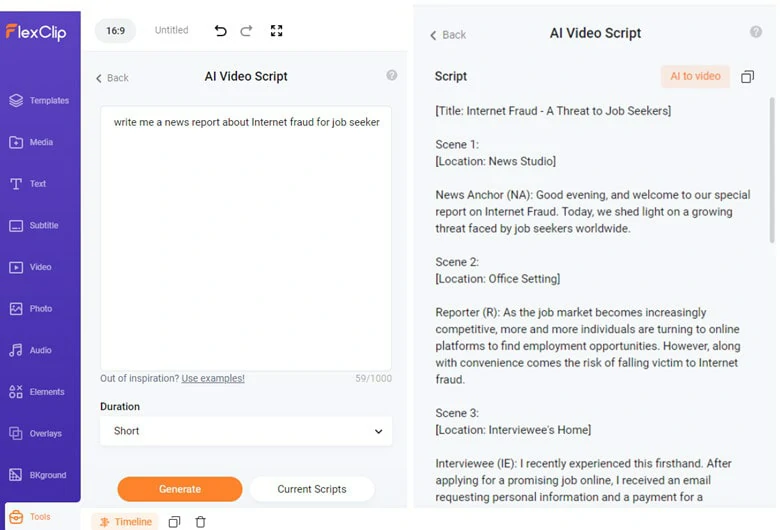 Use AI Video Script to Generate a Concise News
If you don't like the current video script, you can head back and let the AI machine regenerate one for you.
Step 7
Here you can use the text-to-speech feature to turn your script into realistic human voices sounding like the news reporter. To do this, move to Tools > Text-to-speech> select language, voice, style and speed for the voice > paste the script in the dialogue box and hit on Generate Audio button. After that, choose the Save to Media option and go to the Media panel again to add your generated voices.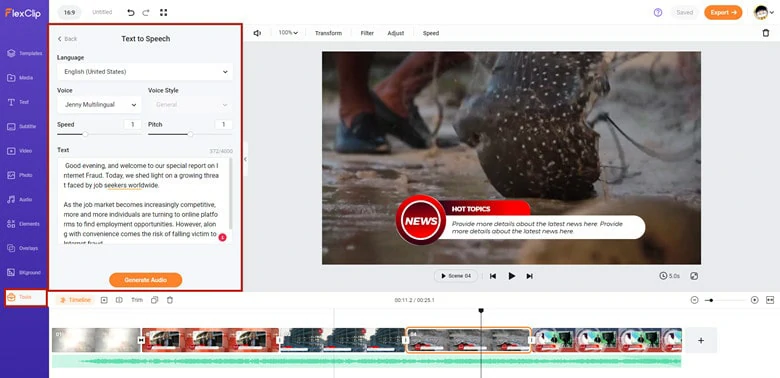 Enable Text-to-speech Feature in FlexClip
Step 8
Preview and check if everything goes well. When you're satisfied with this news report video, tap on Export icon to share across social media or download it to your local drive.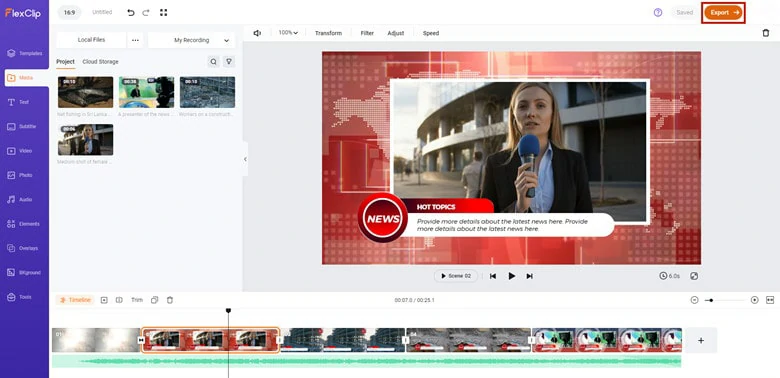 Preview and Export the News Report Video
If you don't want a news report template and would like to start from scratch, the process is similar to the steps we given above.
How to Create a News Report Video on iMovie
For Mac users who want to create a news report video, iMovie is the trustworthy video editor they can rely on to make post-production edits. As an inborn video editing software, it not only offers basic tools like trimming but also includes green screen, split screen and picture-in-picture features, which are often used in creating professional news videos.
However, the drawback of this new video maker is the lack of media resources stock, which means that you have to download new backgrounds, news tickers, channel icons and intro to enrich your videos. To be honest, the searching and downloading process is time-consuming.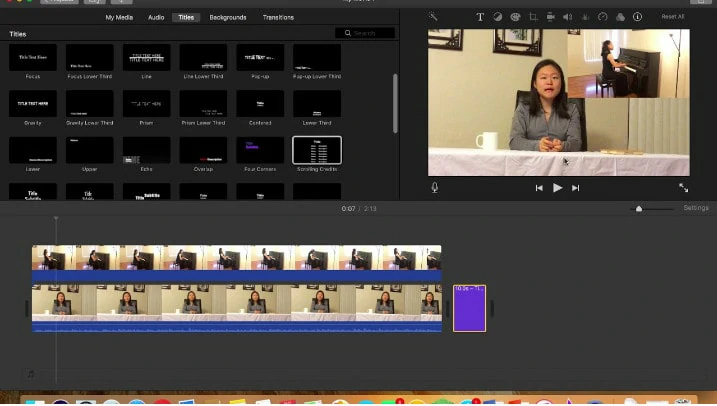 News Report Video Maker for Mac - iMovie
How to Make a News Report Video on iMovie
With all the resources at hand, let's take a look at how to use them to make a stunning news report video.
Step 1
Open your iMovie on Mac and tap on the Movie option under the Create New panel.
Step 2
Import the videos, images, backgrounds and other necessary resources from your local.
Step 3
Firstly, add the basic video to the timeline, which usually looks like you're sitting in the studio. Then drag the second video above the basic video layer to create shots. Here you need to change the Cutaway to Picture in Picture option to make them appear simultaneously.
Step 4
Resize and crop the second video to focus on the subject. If both video includes audio, you can use the Detach audio feature to extract soundtrack from the second video or decrease the volume.
Step 5
To add news titles, move to the Titles toolbar and select the preset you like and begin to type in your news. After that, pair the news report video with background music to perfect it.
Step 6
Export the video and save it on your computer for future use.
How to Create a News Report using iMovie
How to Make News Report Videos for School Projects in CapCut
If you haven't heard CapCut, you must live under the rock! Developed by Byte Dance, it's an all-in-one video editor for millions of TikTok fans to craft videos on mobile phones. It supports a variety of editing features from common techniques to advanced tools like chroma key, curve speed and more to satisfy your different video editing needs. For people who want to create a news report video on your mobile phone, CapCut is a good option for you to have a try.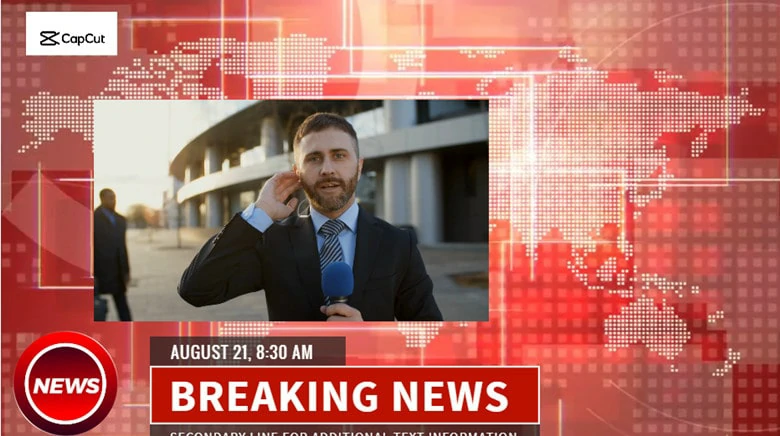 News Report Video Maker for Mobile Phone - CapCut
Step 1
Download CapCut from your app store and complete the installation process.
Step 2
Tap on New Project and then add the clips you will use to create a news report video. For videos shot with an outdoor environment, use the Remove Background feature to delete the original background.
Step 3
Move to Canvas > Background to import the news studio background. Just move your fingers on the screen and the video will integrate into the background immediately. Crop and adjust the video to make it look more natural.
Step 4
Then create a news intro for your report video. If you already have one, just upload it. Or you can add a background and move to Titles > News to pair it with a news title to make a professional-looking news intro. Don't forget to add transitions and news intro audio for a smooth flow.
Step 5
To make the news report video more engaging, add pictures related to your topic to convey more messages. To do so, tap on Overlay to import the wanted images and once it's loaded, resize the image and place it in the correct position.
Step 6
At the end part, a news ticker or credits is an essential part of your news report video. The creation process is the same as the news intro.
Step 7
Once you finish edits, tap on the Export icon to save your edited news report video.
How to Make a News Report Video in CapCut
The Bottom Line
In this blog, we've taken you through three free ways to make a news report video on Mac, mobile phone and online. For a quick and easy solution, a news report video maker called FlexClip with templates and resources is your better option. Now it's your turn.