Each iOS update comes with new features. The newest iOS 13 finally enables users to edit videos like a photo with tons of options. The main video editing options are:
Here in this article, we will show you how to edit videos on iOS 13 in detail. Please note that video editing features are available on all iPhone iPad in iOS 13. Give these video editing tools a try.
Also Read: 8 Best Video Background Music Resources >
Video Option on iOS 13
The video option only allows you to cut the video and mute the audio.
Video cutting means cutting one part of the video and leaving the other part for editing. You can't cut the video into several parts and make other edits individually.
The video edits are not saved in the original clip. A copied file is created and all your edits are stored there. Edits can be synchronized on all your iOS devices.
Adjust Option on iOS 13
In the Adjust part, you can get nearly every tool you have for photos, like tweaking color, contrast and even latest fade-able magic wand tool, vignette tool, black-point adjustment and more. Several changes are made on iOS 13 in order to simplify the process of making greater changes.
Filters Option on iOS 13
You can use any filters for photos to edit videos. Nothing new. However, you can use slide to fade the effect, which can give your video a completely new look.
Crop Option on iOS 13
The crop tool in iOS 13 allows you to cut the redundant part of the video and save the best part. What's even better, iOS 13 enables you to rotate the video and skew the video to straighten a horizon line.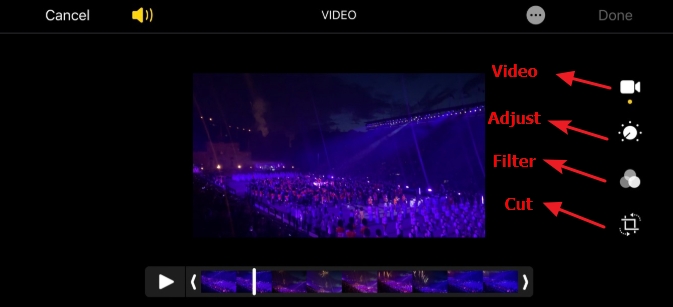 Image Board: iOS 13 Edit Options
After known the iOS 13 edit options, here are suggested steps to make edits on iOS 13.
First, cut unnecessary part of the video, whether you are just cutting the beginning part of the video or cutting frames to make the video smaller. As for adding filters and tweaking colors, we suggest you only make one of the two changes. Then, you are free to use other tools on Adjustment section, like magic wand, black-point adjustment.
To Sum Up
All in all, iOS 13 provides basic and easy-to-use editing tools. Yet, other advanced features, like video joiner, voice-over are not available. Making a professional video with iOS 13 is not practical. It is suggested that you only use it to make minor edits.
FlexClip helps you edit videos professionally. You can make edits as you wish, like joining videos together, adding texts, adding music, doing voice-over, adding watermarks. Numerous videos, photos, music resources are here waiting to polish your video. Free, high-quality, no experience required.