You will never know how important the subtitles are until you're watching movies in a crowded area or enjoying a blockbuster in different languages. Just imagine you're struggling to find a foreign movie and download it to your PC, then it's time to enjoy. But it's so devastating and rueful to find your downloaded video without subtitles.
So is there any way to add subtitles for your downloaded video? You're in the right place. Here we're listing three ways about how to add subtitles to your downloaded video easily. Let's take a look right now!
Free and Customizable Video Templates with Subtitles for You: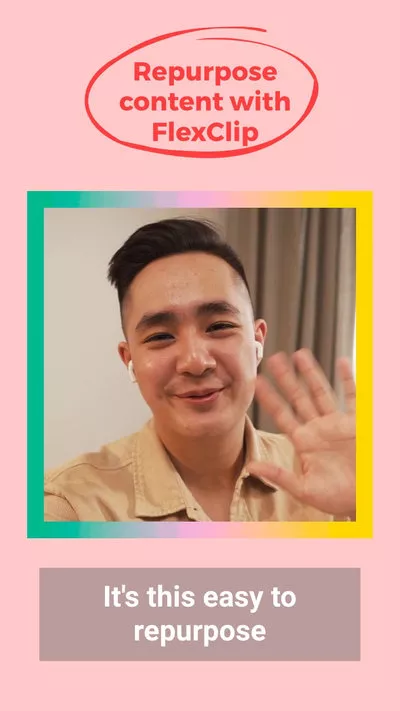 Repurpose Tutorial With Subtitle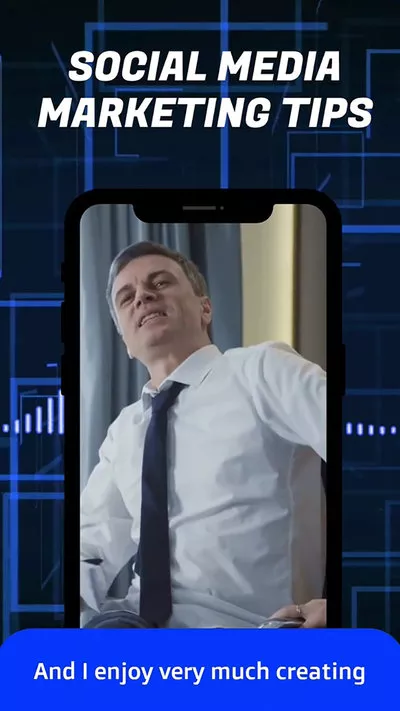 Speak Video Template Social Media Tips Subtitle
Repurposing Content Template Video Tips Subtitle
Learn More: 4 Best Ways to Add Subtitles to Video on Windows 10>
Part 1. Best Subtitle Tool to Add Subtitles to Downloaded Videos Permanently
FlexClip is the best subtitle tool to add subtitles to your downloaded videos in minutes. With a one-click operation, you can link the subtitle file to your videos. While if you can't find an existing subtitle file for your downloaded video, there is FlexClip's auto subtitle generator to automatically generate subtitles from your video without any quality loss in seconds. After the transcription process, you can download the generated subtitles to local as a file.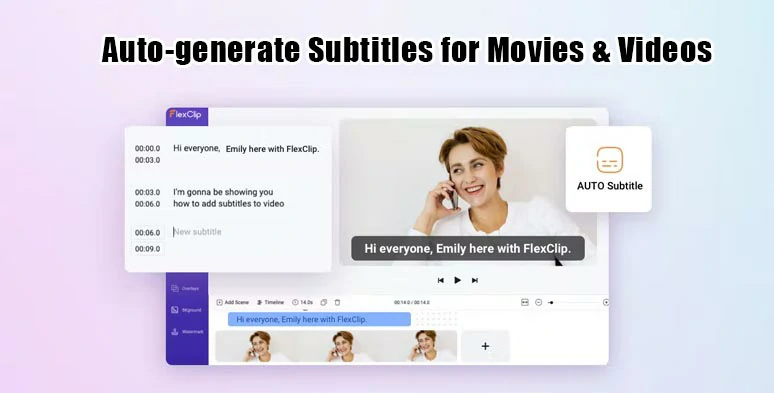 Add Subtitles to Your Downloaded Videos with FlexClip
Key Features of Online Subtitle Tool FlexClip
The auto-subtitle feature supports 140+ languages with various accents and an accuracy rate up to 90%.
Able to add subtitle files to video in multiple formats, including SRT, VTT, SSA, ASS, SUB and more.
Various text styles, animations and font to personalize your videos with subtitle.
Easily extract subtitles from your video without any quality compromise.
Multiple download and sharing methods to export the edited video with subtitles.
Solution 1: How to Permanently Embed Subtitle File to Downloaded Video in Seconds
To link your subtitle file to video permanently, follow the step below.
Step 1
Upload the Video for Subtitles
Go to https://www.flexclip.com and navigate to Media panel, then import the video you want to add subtitles here. Once it's loaded, add the video to the timeline.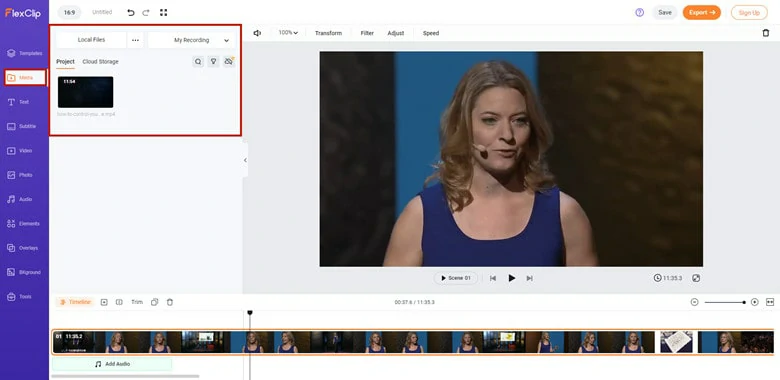 Add the Video to FlexClip You Want to Subtitle
Step 2
Load the Subtitle File
Move to Subtitle panel and choose Upload Subtitle File to combine the subtitle file with video.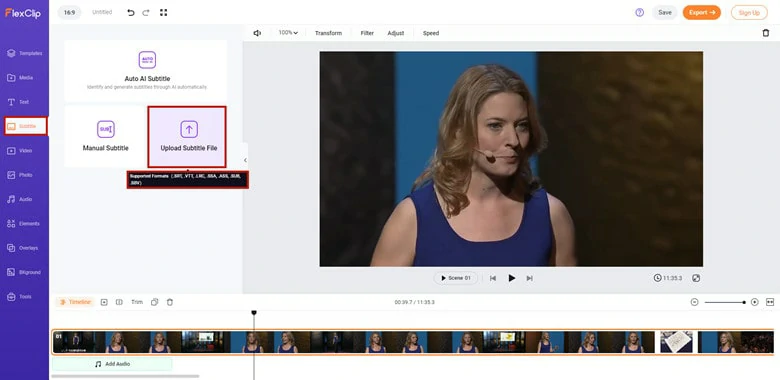 Load the Subtitle File to FlexClip
Step 3
Adjust the Settings
FlexClip allows you to adjust settings like font size, style, color, and position. If the subtitles are not perfectly synced with the video, you may need to manually adjust the timing. Once you're done, download the subtitled video to local or save it to your cloud storage.
Adjust the Subtitle Settings
Solution 2: How to Automatically Add Subtitles to Downloaded Video
Sometimes you may get a broken subtitle file or unable to find an existing subtitle file for your video. Under such circumstances, you have to rely on yourself. To release yourself from the nightmare, FlexClip provides the auto-subtitle for help.
Step 1
Upload your downloaded video to FlexClip and apply it to the timeline.
Step 2
Move to Subtitle at the left panel of your screen and click on the Auto AI Subtitle icon to generate a caption from your downloaded video. Here you'll be navigated to select language with different accents and the process content(audio, scene or both).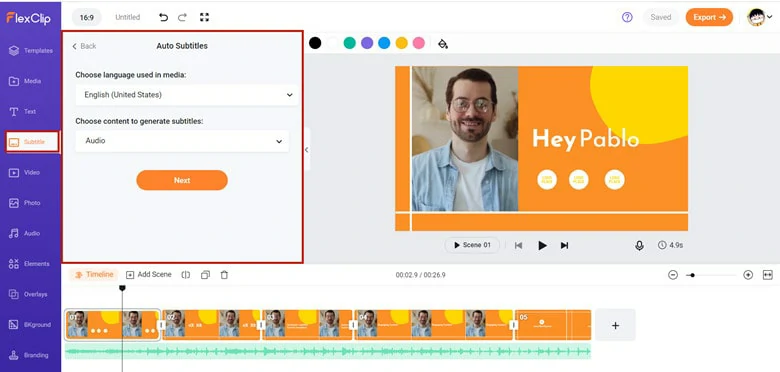 Find Subtitles Icon and Make Settings
Step 3
After that, a new interface will pop up, requiring you to determine the subtitle style and layout. When it's over, tap Generate Subtitles icon to launch the process.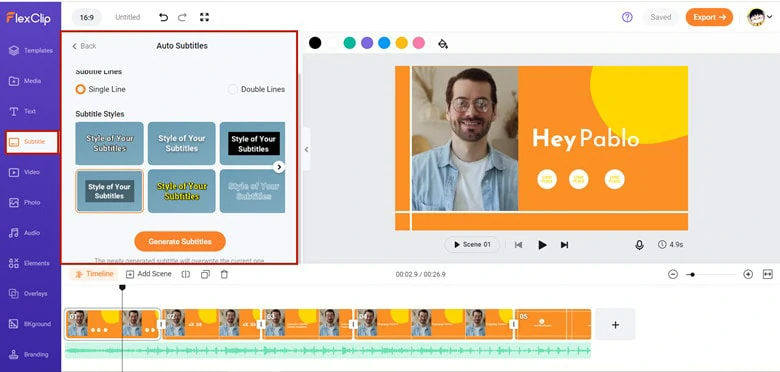 Choose Text Style and Launch Process
Step 4
Now you can go through the subtitles to see if there are any misspellings or use the tool to merge or split the subtitle if it needs some adjustments.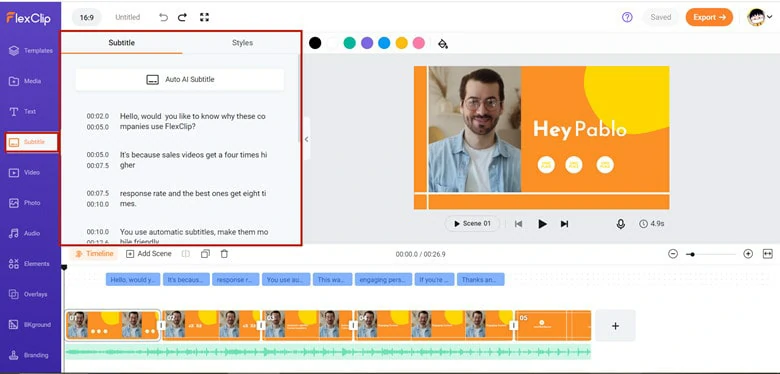 Check and Edit the Subtitles of Your Downloaded Video
Step 5
Now you can choose to keep edits by adding animation,
GIFs
or export your downloaded video with permanent subtitles to your PC.
Part 2. How to Add Subtitles to A Downloaded Video Using VLC
VLC is one of the most popular media players compatible with almost all the video formats. Moreover, it also allows you to add subtitle to your video when watching movies with this tool. Before getting started, please make sure you have the latest version of VLC on your computer. If not, go to the official website and download it.
Step 1
VLC would normally play a subtitle if it's located in the same file as the respective video. Therefore, you need to use some online resource tools to import subtitles of your movie. Just browse for the title and subtitle file or even
SRT
.
Step 2
Once you've got the subtitle file, save it to the same file of the respective video. What's more, ensure that both files share the same name as VLC can't work with different files.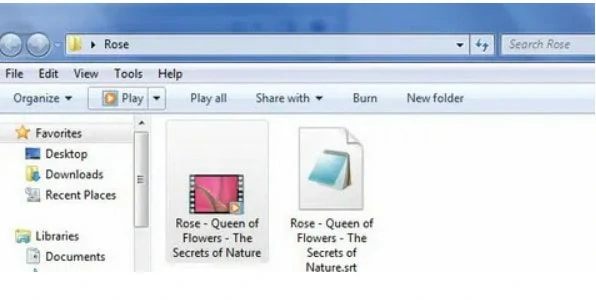 Save the Video and Subtitle File to the Same Place
Step 3
Load the video of interest to play with VLC. You can also do this by opening VLC on your computer and import the video from your PC.
Step 4
Still unavailable for subtitle? No worries. It's time to add subtitle file. Hit Subtitle panel > Add Subtitle File > use the file explorer to find the intended file > select it. Now the subtitle appears at the bottom of your screen.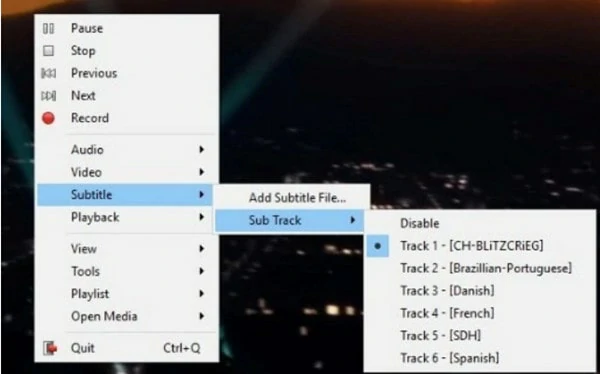 Add Subtitle File to Your Video
Remember the program would not add the subtitle file to the video, which means you will always have to keep the subtitle file if you need to view them. Besides, if you're not watching a movie that can easily download its subtitle files, it's necessary for you to manually create a subtitle file using Notepad or other tools.
Part 3. How to Add Subtitles to a Downloaded Video on Android
MX Player is a powerful video and music player with advanced hardware acceleration and subtitle supports. Moreover, it offers the online subtitles feature which means you can easily find the subtitle if you're watching a video. Although it contains numerous ads, this free subtitle tool is still good to have a try.
Step 1
Download MX Player from your Google Store and install it to your mobile.
Step 2
Open MX Player and play the video you wish to add subtitles.
Step 3
Now, tap on the "player" icon at the top-right corner and then click on "Online subtitles". Here you'll see a long list of subtitles for your movie and you can tick the checkbox and tap on "Download".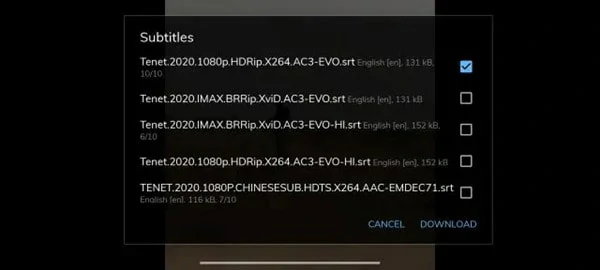 Download Online Subtitles for Your Movie
Step 4
And here the subtitle will be applied to your video automatically and feel free to enjoy yourself.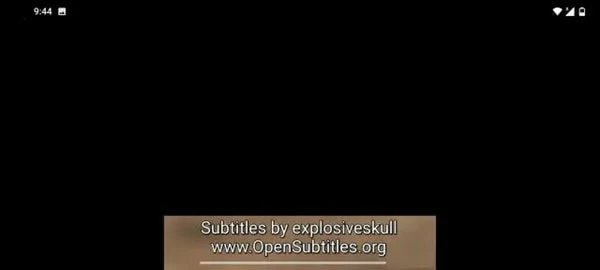 Watch the Downloaded Video with Subtitles
FAQs
1. How to Add Subtitles in TeraBox
TheraBox a cloud disk for users to backup photos and videos online. Meanwhile, it also acts as a tool to plat videos online. If you'd like to add subtitles to video in TeraBox, open the video and find the file that shares the same name of your video. After that, subtitles will automatically load to your video on TeraBox.
Note that a downloaded subtitle file is a prerequisite to use this way. If you can't find an existing subtitle file, download this video on computer and use FlexClip's auto subtitle generator to permanently link subtitles to your videos.
2. How to Find Subtitles for a Video?
Here are some websites where you can find subtitles for videos:
1. OpenSubtitles.org: It is one of the largest subtitle databases that offer subtitles for movies, TV shows, and videos in various languages.
2. Subscene.com: This website provides subtitles for movies and TV shows in multiple languages. You can search for specific subtitles or browse their extensive collection.
3. YIFY Subtitles: Specifically dedicated to subtitles for YIFY movie releases, this site has a vast collection of subtitles in multiple languages.
4. Podnapisi.net: This website specializes in TV show subtitles and offers a wide range of subtitle options for various shows and episodes.
5. SubtitleSeeker: It is a comprehensive subtitle search engine that allows you to find subtitles for movies and TV shows by searching through multiple subtitle websites.
If none of these websites are workable for you, try to use FlexClip's subtitle generator to automatically extract subtitles from your movie video.
3. How to Use Downloaded Subtitles?
With a downloaded subtitles file at hand, you can follow the steps to use it correctly. Rename the subtitle file to ensure that the subtitle file has the same name as the video file and then start playing the video to load the renamed subtitles. If necessary, manually adjust manually adjust the timing to sync it with the video.
The Bottom Line
If you want to add subtitles to a video without downloading any software, you can turn to an online subtitle editor like FlexClip for help.