Statistics shows that 69% of people watch videos with the sound off in public places and 80% of people are more likely to watch an entire video when captions are available. Want to add subtitles for better view experience? Looking for ways to add subtitles to videos for free? This post lists 5 best ways to add subtitles on Windows 10 for free. Now let's look at this guide now!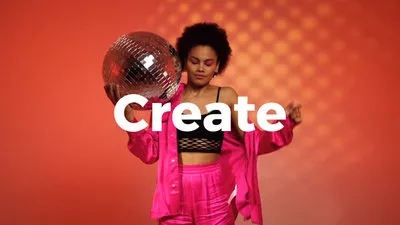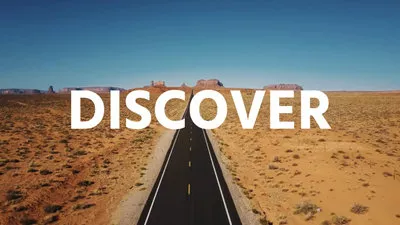 Can't Miss: How to Add an SRT File to a Video>
5 Best Ways to Add Subtitles to Video on Windows 10
Part 1. Using All-in-one Tool to Add Subtitles to Videos on Windows 10
Supposing you're making videos in different themes like family slideshow videos, YouTube tutorial or movie-like videos, using an all-in-one online video editor will give you more flexibility in workarounds and animation effects.
FlexClip, an easy-to-use and powerful video editor, offers multiple solutions for adding subtitles to videos: manually adding one, auto subtitle generator and uploading a SRT file. Besides, it has loads of editable text styles and eye-catching animation designs that you can use in your subtitle videos. Moreover, it offers hundreds of professional-looking video templates with stunning subtitle designs to help you create high-quality videos in clicks.
No matter what types of videos you want to add subtitles, harness FlexClip's subtitle tools and you can get the satisfying results in seconds, regardless of your editing experience. Let's see how it works right now!
1) Manually Add Subtitles to Short Videos
Step 1
Upload Your Footage to FlexClip Video Editor
Click on Create a Video icon to upload your clips and add them to the timeline.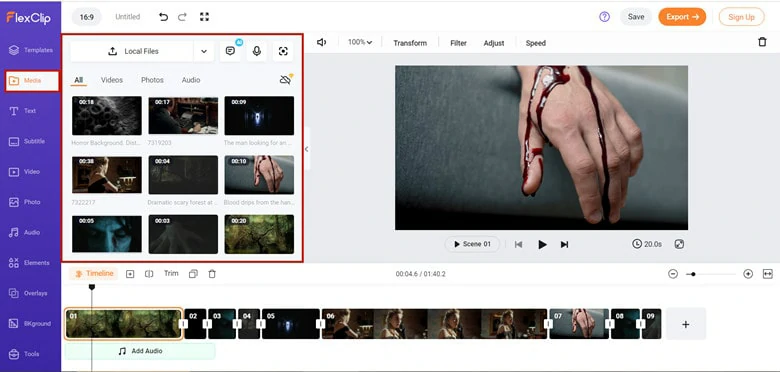 Upload Clips to FlexClip
Step 2
Manually Add Subtitles to Your Short Video
Hit on Subtitle icon and choose the Manual Subtitle option. Then type in the subtitles word by word and set the right times. Continue typing until all the subtitles are covered.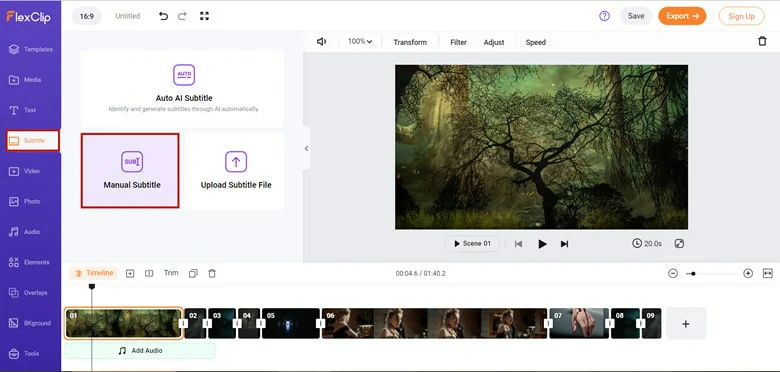 Add Your Subtitles to Video Manually
After checking the edited video, you can export the video with subtitles as an MP4 video or share the perfect creation to your YouTube channel with one click.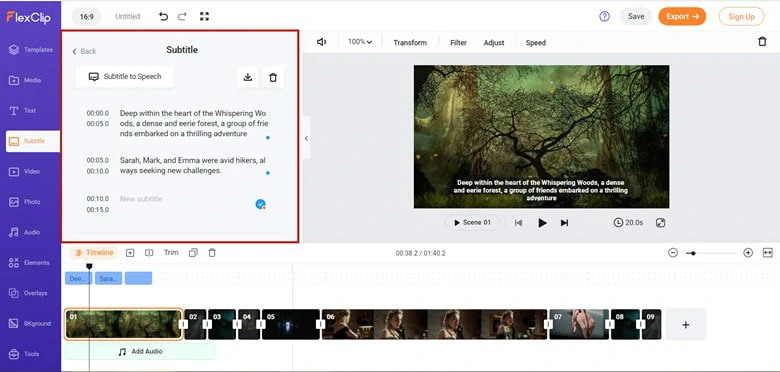 Check the Manually Added Subtitles and Make Edits
2) Automatically Generate Subtitles for Your Movies on Windows 10 Using FlexClip
What if you want to sync subtitles of movies in Windows 10? Or you're tired of manual subtitle adding. Congratulations! Here is the auto-subtitle feature for help. FlexClip includes an AI technology subtitle generator that extracts subtitles from videos in 180+ languages with different accents. Moreover, the whole process is in seconds and the accurate rate is up to 99%. After you get the results, you can modify the subtitles by changing font, color, align and more.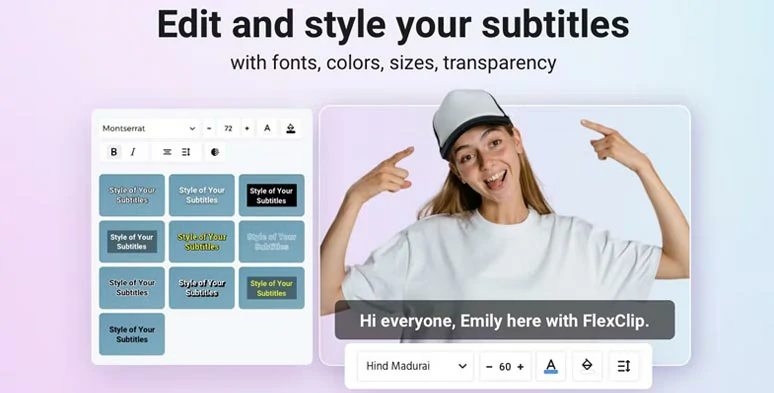 Add Your Subtitles to Video Automatically
Step 1
Upload your movies or mp4 videos form your computer and apply them to the timeline.
Step 2
Move to the Subtitle panel and select the Auto AI Subtitle, then make settings of the subtitle language and style. After that, click the Generate Subtitles button to launch the process.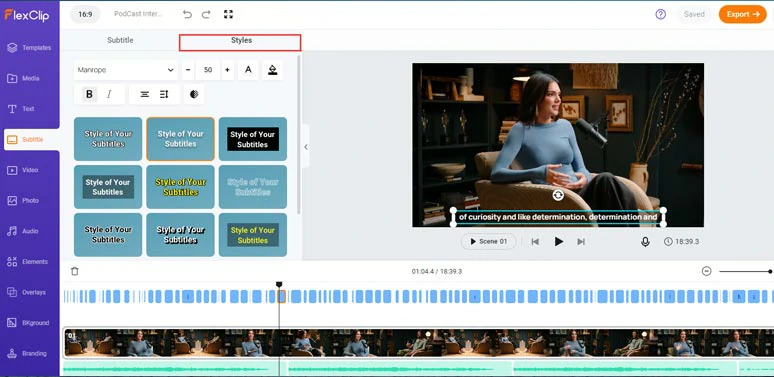 Make Configurations of the Auto-subtitle Feature
Step 3
Now you've got the subtitle result. Manually check if there are some misspellings and customize the style as you like.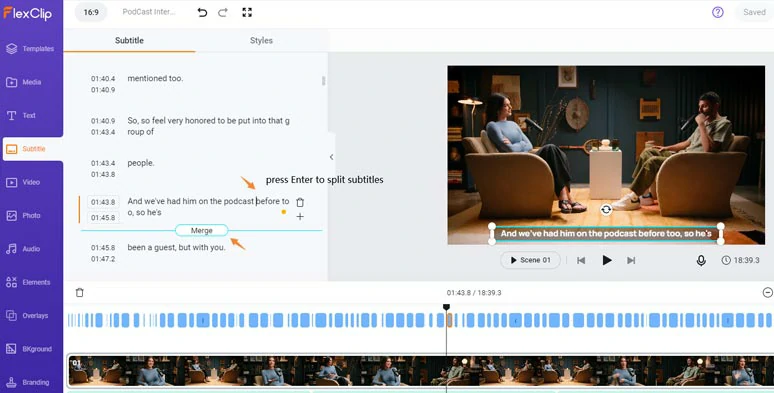 Check and Edit the Subtitle Result
Here you have permanently added subtitles to your videos on Windows 10 now!
3) Combine Your SRT File to Videos on Windows 10
Finding an existing SRT file for your movies or episodes is easy. But how to combine it with your footage will be challenging for most people. Fortunately, you can use FlexClip's video editor to combine the subtitle files with your videos on Windows 10. Let's check it right now!
Step 1
Drag and drop the video you want to add a SRT file to FlexClip and add it to the timeline.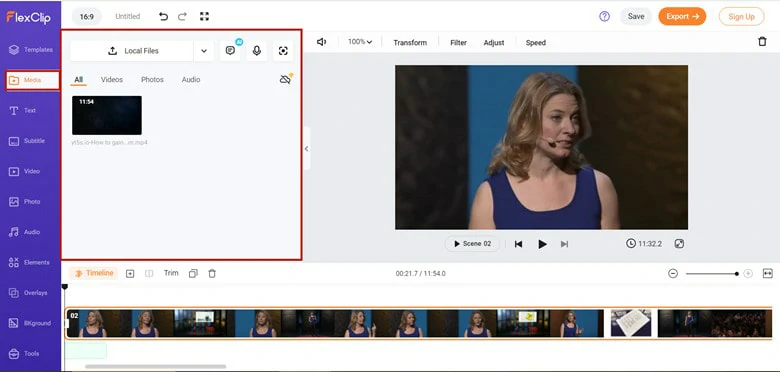 Add the Desired Video to FlexClip
Step 2
Go to Subtitle tab and select Upload Subtitle File option to import your SRT file. Besides SRT format, FlexClip also supports formats in VTT, LRC, SSA, ASS, SUB and SBV.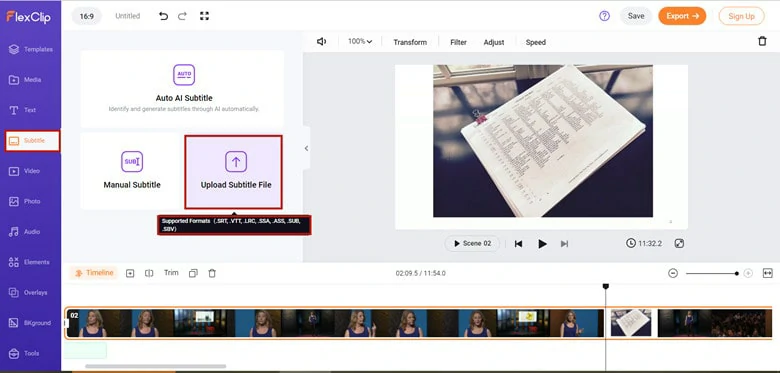 Import Your Existing Subtitle File to FlexClip
Step 3
Now it's magic time. Subtitles appear on the bottom of your video with the right timestamp. Here you can change the subtitle's style, font, color and alignment as you like. When it's over, export the video with subtitles to your computer.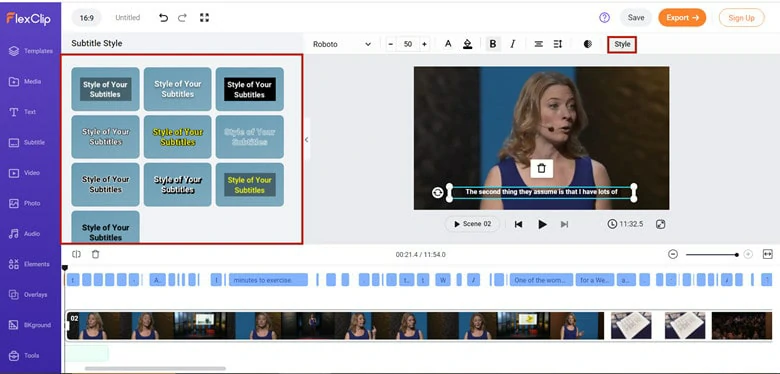 Make Changes and Export the Edited Video with Subtitles
Part 2. How to Add Subtitles on Windows 10 Using Clipchamp
Clipchamp, a new video editor Miscroft acquired in 2021, is a bonus for video enthusiastic to create videos on Windows 10/11. Like Miscroft's former free video editors, Clipchamp has a wide range of basic editing features, such as adding features, effects, transitions and more. As for generating subtitles, the auto-caption tool is what you can rely on, which uses AI technology to extract a transcript from your video. It can identify 140+ languages in different accents and finally generate subtitle transcript with timings. To use this auto-caption feature, follow the steps below.
Step 1
Download Clipchamp from your Microsoft Store and complete the installation process. After that, open Clipchamp on your computer running Windows 10.
Step 2
Import the wanted video to Clipchamp and add it to the timeline.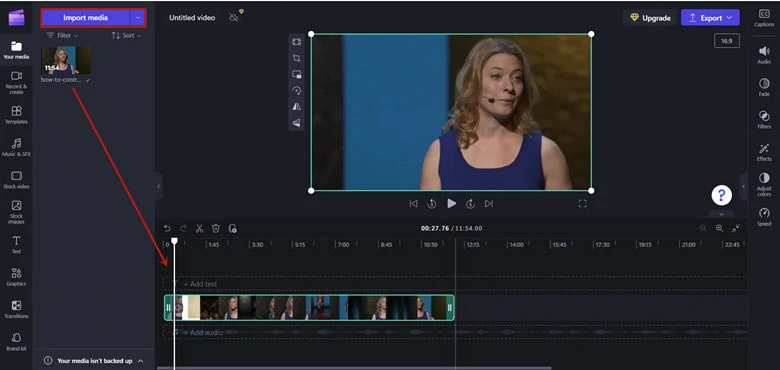 Load the Video You Want to Edit
Step 3
Click on the captions tab on the property panel and choose the auto-captions option from the drop-down menu.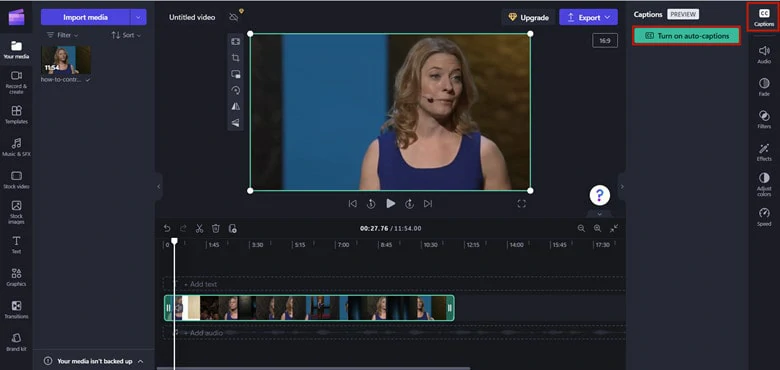 Apply the Auto Captions Feature
Step 4
A caption language detection window will pop up where you can select the language used in your video and also check the box to filter any profanity and offensive language.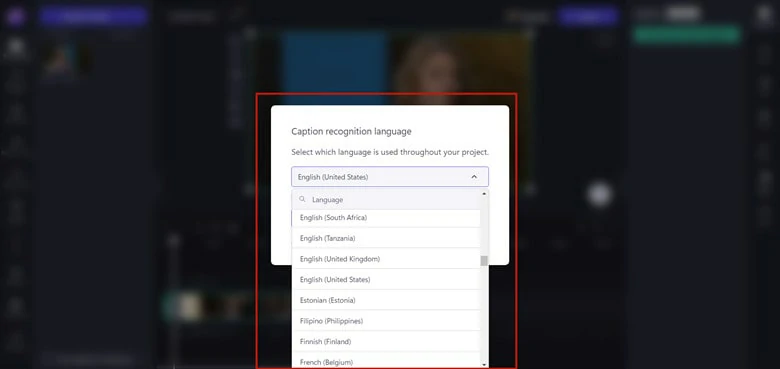 Make Settings of the Auto Caption Process
Step 5
Tap on turn on auto-captions button to launch the process. Then you will return to the the editor, and your captions will begin to generate. You can check the the progress of your auto-captions in the captions tab.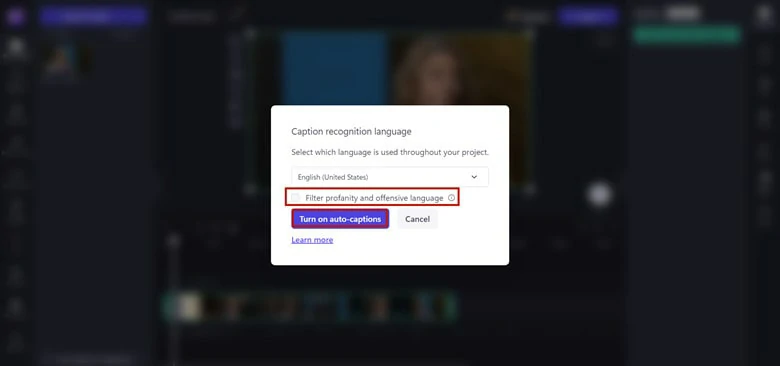 Create Captions for Your Video
Step 6
Now you can preview the auto-captions on your screen and also check the generated transcript to see if there are misspelled or incorrect words in your video. Next, customize your subtitle by changing font, color and alignment. When finish edits, tap on Export icon to save videos or directly download the transcript as a SRT file.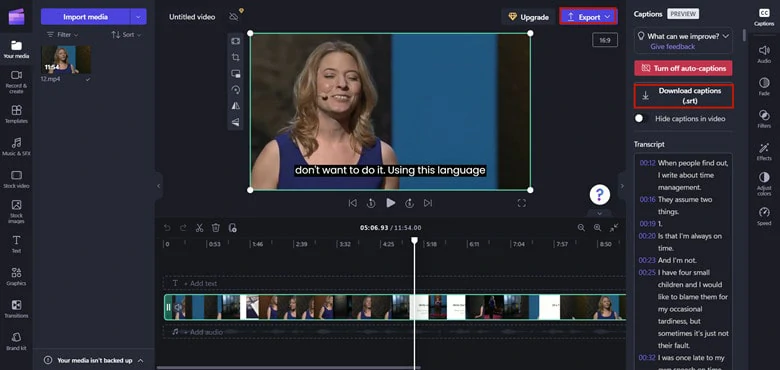 Download the Video with Subtitles to Computer
Though Clipchamp is an in-built option for Windows 10 users to add subtitles to videos, the functions are so limited like you can't directly add SRT file to your video. Moreover, the time it takes to generate transcript may drive you crazy as it's much longer than other editors like FlexClip. So, if you prefer a versatile yet high-quality option, you'd better look around.
Part 3. How to Add Subtitle in Windows Video Maker
The default Windows Video Maker doesn't offer a feature to add subtitles to your videos. But it's still possible to achieve this goal using a function called Title Overlay, and let's follow the steps to see how to add subtitles in microsoft video editor..
Open Windows Video Maker on your computer and import the video to which you want to add subtitles. Your videos will be visible in the collection folder.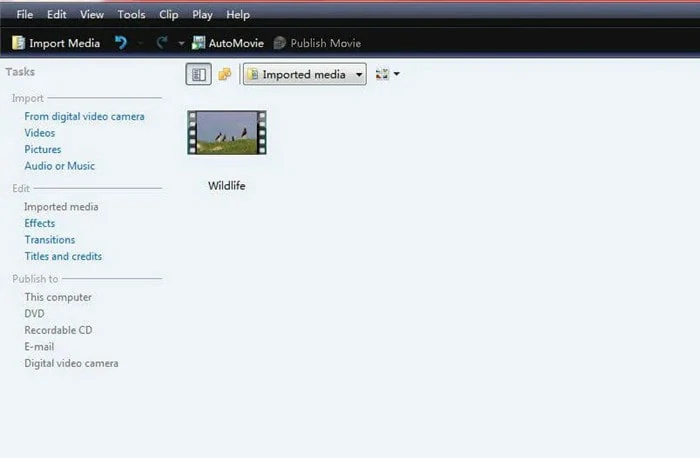 Import Video to Windows Movie Maker
Step 2
Change the View Mode to Timeline
Turn the window view to timeline so that you can adjust the position and check the timing of your subtitles. Click on the View tab on the menu bar and confirm that Timeline is selected on the menu options.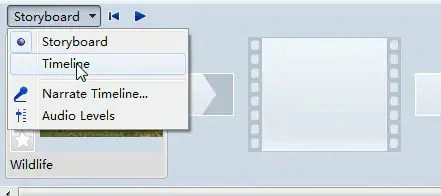 Change the View Mode to Timeline
Step 3
Drag the Video to the Timeline
Here you'll find three editing timelines that run horizontally across at the bottom. From top to bottom, they're Video, Audio and Title Overlay parts accordingly. Here you need to tap the video file in the Collections folder and drag it into the editing timeline labeled "Video."
Step 4
Apply the Video Overlay
Click the Titles and Transitions button located on the left side of the window. Then choose Title on the selected clip option.
When you are asked to enter the text for the title, input the subtitles you want to add to the video into the field.
Then click on the option Change the title animation, and find the Subtitle overlay.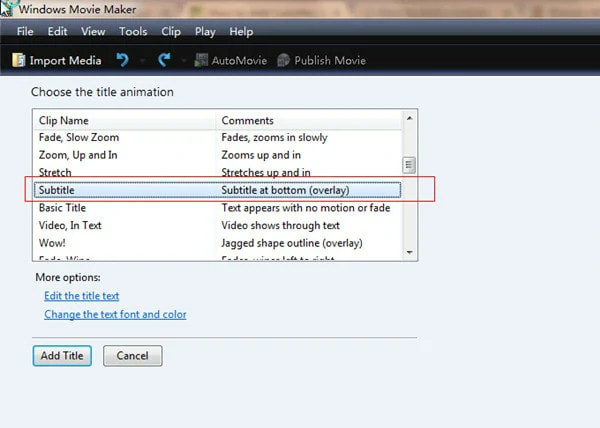 Apply the Subtitle Overlay
Step 5
Edit the Subtitles as You Like
If you want to change the font, size or color of the subtitles, click on Change the text font and color option to edit as you like. Besides, adjusting the text position is easy as you only need to drag and drop it to the right position.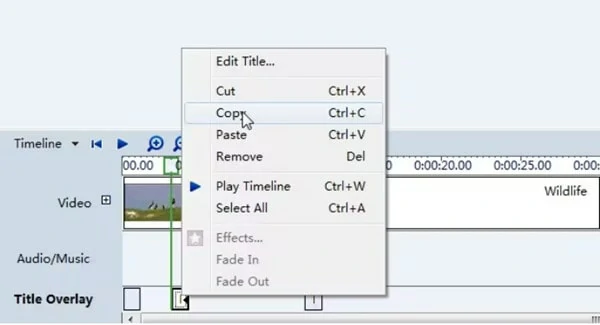 Edit the Subtitles as You Like
After finishing editing the project, you can save the movie file on your computer as a Movie Maker Project or export it as a Windows Media Video along with the subtitles you added.
Part 4. Use the Add the File Option in the Movies & TV App
Microsoft Movies & TV brings you the latest HD movies and TV shows on your Windows 10 device. If you're watching a foreign language video, this application offers an option that allows you to add a subtitle file like SRT file to the currently opened video to help you understand video better. Let's see how to add SRT subtitle file to your video using this application.
Step 1
Open and play the video you want to edit.
Step 2
click the "Show menu for subtitles" button and select "Choose a subtitle".
Step 3
Add the SRT subtitle file you want to use. Once added, Movies & TV app will display the subtitles accordingly as it plays the video.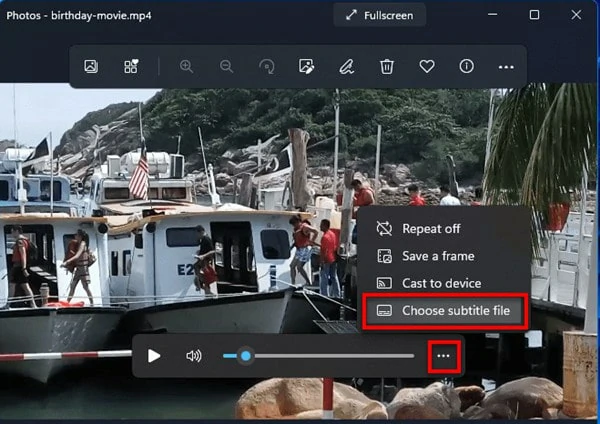 Add Subtitles to Video Using Movies & TV App
Part 5. How to Add Subtitles to Video on Windows 10 Using VLC
For those who love listening to music and watching videos on their computer, VLC is arguably the most popular option as it's compatible with all types of video and audio files.
Besides media playing, VLC is also a good tool to add subtitles when you already have an SRT file. Follow this guide to learn how to add subtitles to videos on Windows 10 using VLC.
Step 1
Download VLC app to your desktop and finish installation.
Step 2
Open and play the video you want to add subtitles.
Step 3
Click Subtitles and choose Add Subtitle File option, then insert your subtitle file.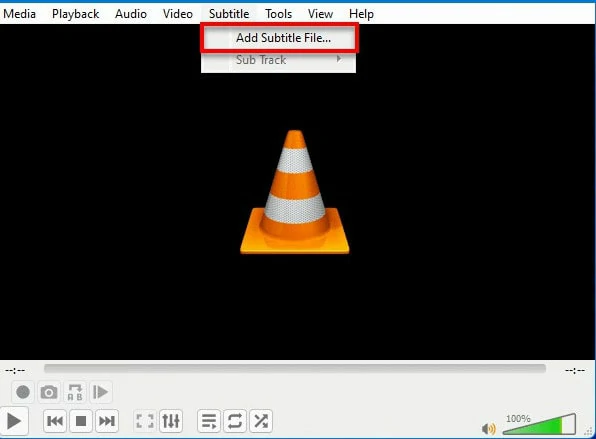 Add Subtitles Files to VLC
However, with this method, the subtitles track is only visible while watching this video as it's not embedded into the video permanently.
If you want to add subtitles to a movie with VLC permanently, do as follows.
Step 1
Open the Media > Stream option and hit the Add button to select your video.
Step 2
Now it's time to add subtitles. Check Use a subtitle file box and click Browse, then find your SRT file. Once you add this file, click Stream and then Next.
Step 3
Decide the folder you want to save this video with subtitles. Select File > Add and in the new window, click Browse and type the name for your video. Remember to end the filename with ".mp4" or another extension name.
Step 4
Click the Activate Transcoding box, hit the Wrench icon and open the Subtitles tab. After that, check the boxes Subtitles and Overlay subtitles on the video. Click Save and then Next. In the new window, click Stream.
Congratulations! Once the processing is done, you'll find the video with subtitles in the selective folder.
Add Subtitles to a Movie with VLC Permanently
Final Words
That's all the ways to add subtitles to video on Windows 10 for free. To manually add text, you can try FlexClip and Windows Movie Maker. While adding a subtitle file, VLC and Movies & TV App will help you. Now it's your turn to add text to the video to complete your video.