Halloween is around the corner! Want to freak people out in your Zoom meeting? Why not use a spooky but fun Halloween Zoom background to spice up your Zoom meeting?
From eerie forest and haunted house to scary skull and strange pumpkin carvings, all of them will turn your regular Zoom background into a Halloween-festival backdrop. Ready to have a try? You've come to the right place. Here we'll take you through several trending Halloween Zoom background types and also an online tool to create Halloween backgrounds for Zoom in minutes. Let's dive in it right now!
Can't Miss: How to Blur Background in Zoom on Computer & Mobile >
Part 1. 5 Best Halloween Video Background Ideas to Spice up Your Zoom Meetings
Zoom accepts video backgrounds in the 16:9 widescreen aspect ratio with a maximum size of 5GB. Need some ideas for your Halloween Zoom video backgrounds? Get inspired from 5 popular trending Halloween video types below.
1.Cute Halloween Video Background with Pumpkin
What perfects the Halloween festive? Bingo! It's carving jack-o-lanterns, donning costumes and horrible makeup. For a cute Halloween meeting background, Pumpkin is the most essential elements for you.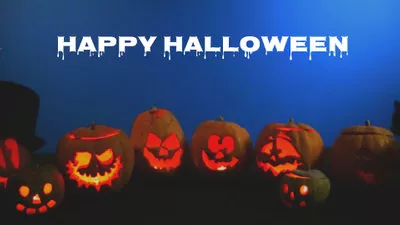 To edit this template for yourself, add your logo and design your text so that it pushes the festivities to a new climax when you use it as a Zoom meeting background.
2.Scary Halloween Video Background
Use this scary Halloween video template to make people's fresh creep! It includes a weird skull, a quirky clown and scary candle that helps you spice up your meeting to celebrate this Halloween festival.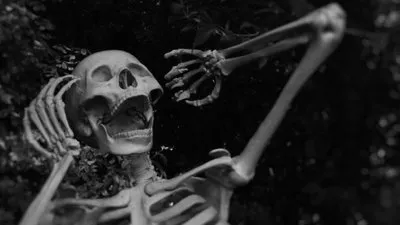 To customize this catchy template, tweak your text and add some Halloween stickers to level up this video.
3.Haunted House Halloween Video Background
This template is ideal for you if you want your Zoom background to be extremely spooky and horrible.. This uncanny video template is not distracting and all you need to do is edit the logo and add related information.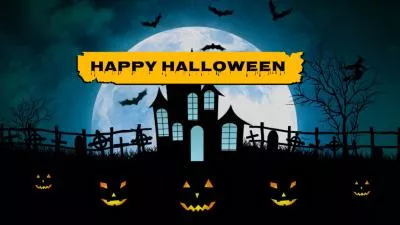 4.Animated Halloween Video Background
If you're looking for an animated Zoom video background, this video is for you. Elements like skull, treats, bats and more - make a quirky background for you that you can use in your Zoom meetings.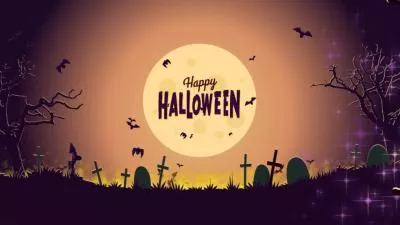 To personalize this template, you can add your logo, change the text and replace the background music with your favorite song. All the projects can be done in minutes!
5. Topography-style Halloween Video Background
This festive season is filled with fear and scare, use this creepy Halloween video template to add a scary vibe to your Zoom causal meetings now! It's stylish and editable and even a rookie can get stunning Zoom backgrounds in minutes.
Part 2. A Stunning Tool to Create Spooky Zoom Backgrounds
To create spooky Zoom backgrounds, you'll need a video editor to blend animated stickers, scary video clips and weird text styles to your Zoom background video. Here FlexClip is recommended as the easiest solution to create a spooky Zoom video background online for free.
Browsing through FlexClip's template library, 50+ ready-made Halloween video presets are available that you can directly use as a Zoom meeting background without any adjustments.
For people who want to start from scratch, millions of Halloween videos, scary photos, creepy stickers and horrible soundtrack are within reach that guarantee a smooth creation process to make high-quality Zoom video background with all the media resources they need.
Part 3. How to Create Zoom Video Background Free in 3 Minutes
Let's take a look at how to create spooky Halloween video background with the steps below.
Step 1
Enter the
FlexClip's editor page
and import your Halloween footage. If you don't have one, use a ready-made Halloween video template or search from FlexClip's stock library to get started.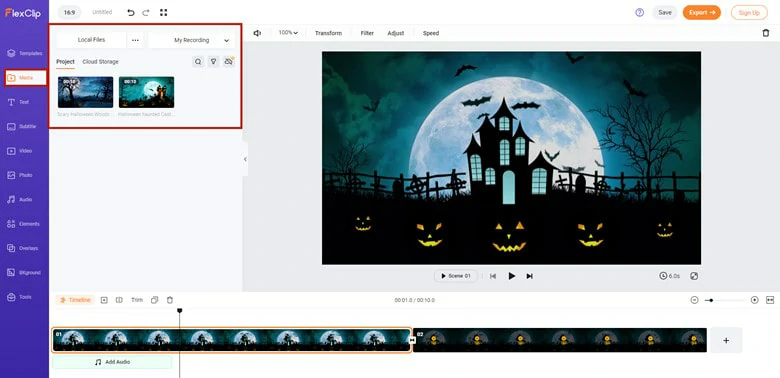 Upload Media Resources to FlexClip
Step 2
Drag your video to the timeline and add Halloween elements. Place your video to timeline, then head on to the Elements section and add Halloween items like scary stickers, GIFs and
emojis
to highlight the horrifying atmosphere. Moreover, don't forget to add Happy Halloween wishes with eye-catching text.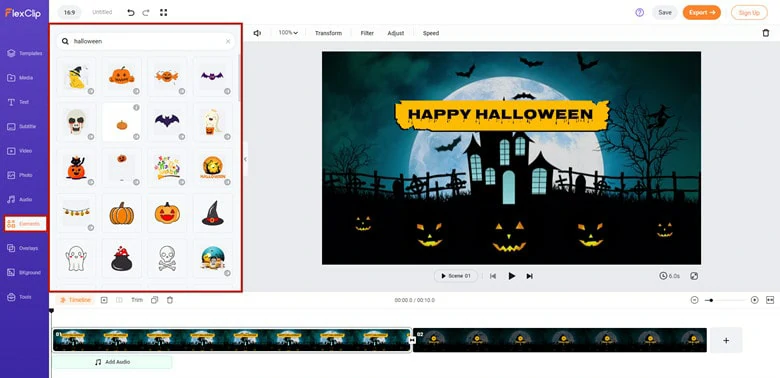 Add Halloween Items to Your Video
Step 3
(Optional)Now perfect your Halloween video with horrible background music and sound effects. Under the Audio panel, search for soundtrack that will make your Halloween video fearsome.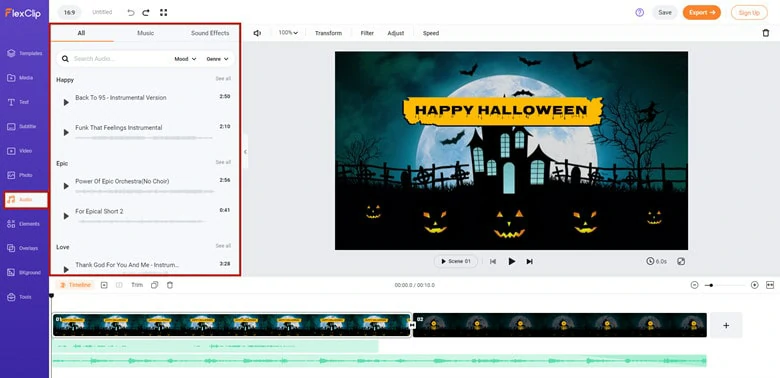 Add Fearsome Soundtrack to Halloween Video
Step 4
Once you finish editing, hit the Export icon to save your Halloween Zoom video background in an MP4 format.
Beside making Halloween video meeting backgrounds, FlexClip can do more for you:
Extract a frame from video or use AI image generator to get Zoom photo backgrounds.
Automatically extract the minutes of meeting fom Zoom audio call recordings for the absent to read and check.
Loads of editing features like trimming out unwanted parts or applying a mosaic to protect Zoom meeting attendees' identity are available.
Part 4. Frequently Asked Questions About Zoom Background
1.How to Upload a Video as My Zoom Background?
Zoom allows you to upload your video background on your desktop and mobile.
On the desktop app, navigate to Preferences in the settings menu. On the left side menu, go to Background & Filters. Then hit the Virtual Backgrounds > plus (+) icon and choose and upload your desired video.
For a mobile user, sign in to the Zoom app > Tap More at your meeting page > choose Background and Effects > Tap + to upload a new video background. One thing to remember: Zoom mobile users can upload video backgrounds only when they're holding a meeting.
2.How Long Should the Halloween Zoom Video Background Be?
While Zoom does not specify a length requirement, most video backgrounds are suggested to be no longer than 30 seconds in case to avoid distracting Zoom calling and uploading a large size.
3.Can I Use a GIF as My Halloween Zoom Background?
It's a pity that Zoom doesn't allow users to use GIFs as backgrounds. However, it accepts video backgrounds and GIFs can be converted to mp4 format which is compatible with Zoom. If you want to use a GIF as your Zoom background, try FlexClip's free online video converter for help.
4.What is a Green Screen in Zoom?
A green background allows the virtual background to work properly when replacing your background with it. If you're using a green screen for your Zoom meetings, avoid wearing the same color as the virtual background and use  a very bright and distinct color to make it easier to distinguish youself in the foreground from the bright background.
Final Words
That's all for how to create a spooky Halloween Zoom background online for free. In addition to Halloween videos, FlexClip is also helpful to edit Zoom recordings easily. Now it's your turn to have a try!