The GIF may look like soundless videos, but they are completely different. The GIF, abbreviation for Graphic interchange format, is a collection of static images strung together. Those images will be manipulated to rotate quickly between each other, creating the appearance of movement.
Even though GIFs are widely spread in social media platforms, adding so much fun to our communication, GIFs have its own shortcomings, for example, GIFs are usually large in size; All video sharing platforms do not really support them.
No matter why you want to convert GIFs to videos, the good news is there are loads of easy-to-use GIF to video converters online! A good choice makes the GIF to video process easy and simple. Here are the top free GIF to video converters. Start browsing and pick the best one to help out!
How to Create a TikTok Slideshow that Gets Likes >
Free GIF to Video Converters Online
Free GIF to Video Converters Application (iPhone & Android)
Free GIF to Video Converters Online
1. ezGIF
As its name suggests, ezGIF is a tool kit that can help you edit GIFs easily, including converting GIFs to videos. Upload any GIF from your computer or paste any GIFs URL, and convert. Besides normal MP4 format, you can also convert your GIFs to WebM and MOV with ezGIF.
The output video will contain no watermark. However, please keep in mind the max GIF size you can upload to ezGIF GIF converter is 35MB.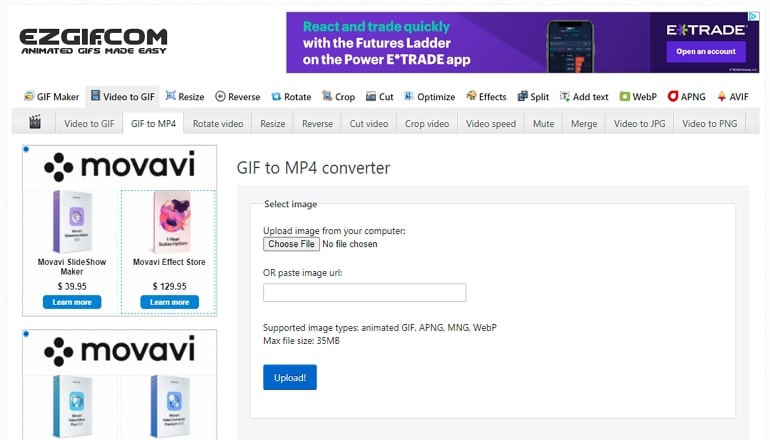 Best GIF to Video Converter - EZGIF
2. CloudConvert
CloudConvert specializes in file conversion. With it, you can easily convert GIFs to AVI, FLV, MKV, MOV, MP4, WebM, WMV. What's better, CloudConvert can help you edit your GIFs, like trimming, adding subtitles. While converting GIFs to videos, you can choose resolution, and aspect ratio.
The first 25 conversions per day is completely free. It is a good choice for one-time users.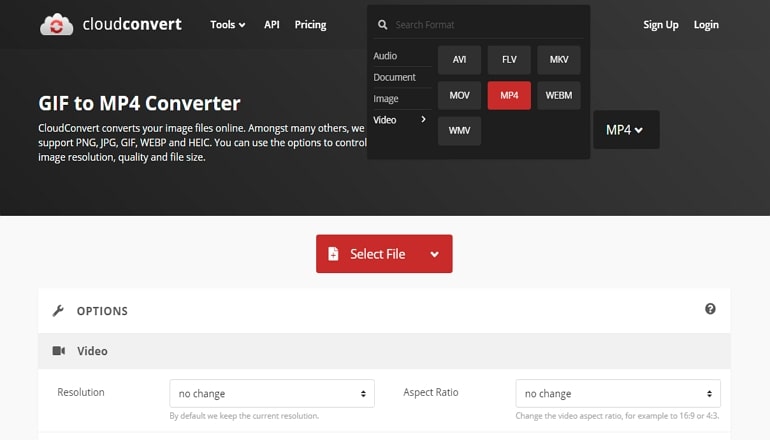 Best GIF to Video Converter - CloudConvert
3. Convertio
With Convertio, you can convert GIFs to basically all video formats. Besides MP4, MOV, M4V, AVI, FLV, some less used video formats are also supported, like WMV, OGV, MKV, VOB. Fast conversion, 100MB maximum file size, everything is perfect.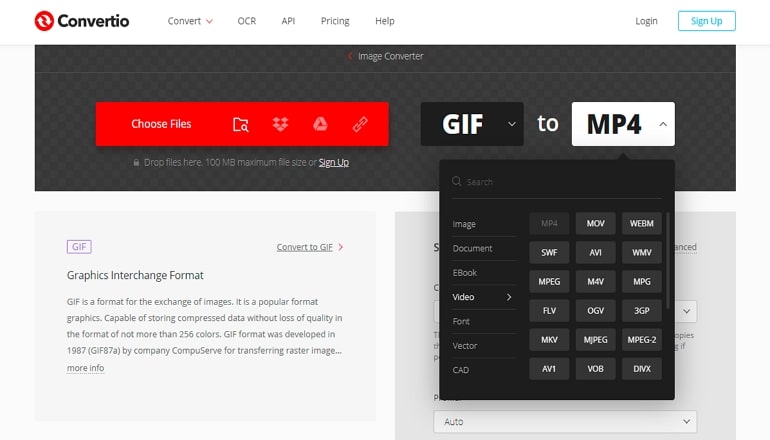 Best GIF to Video Converter - Convertio
4. Zamzar
Even though Zamzar can convert GIFs to images, documents, Zamzar converts GIFs to only MP4 videos. The maximum GIF size is 50MB, and you can only convert 2 files per day. Easy and effective. Zamzar provides 24*7 support to solve all problems during conversion.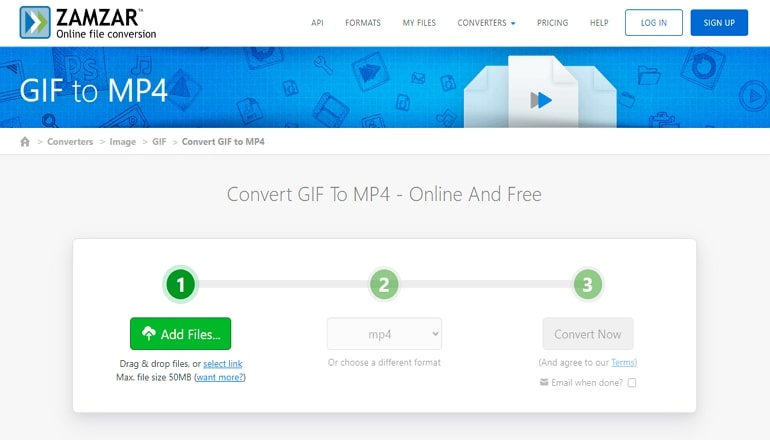 Best GIF to Video Converter - Zamzar
5. online-convert
Online-convert is another powerful GIF converter. It converts GIFs to MP4, WebM, WMV, MOV, AVI videos. Before conversion, you can make some settings about frame rate, aspect ratio and more.
It is a completely free GIF converter. There is no subscription plans or limits on file size.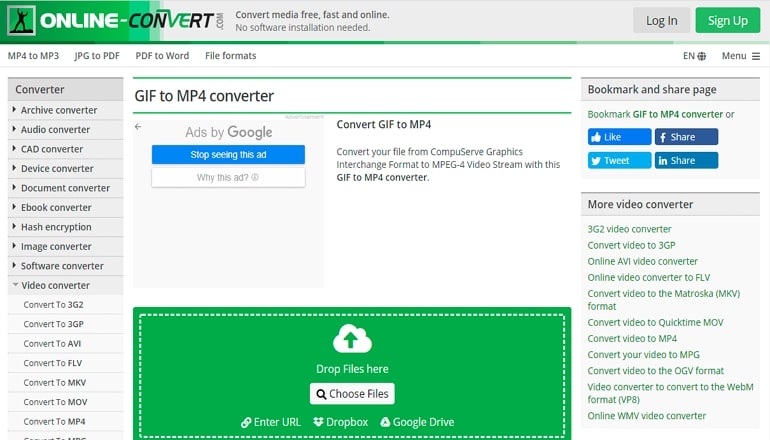 Best GIF to Video Converter - Online Convert
Free GIF to Video Converters Application (iPhone & Android)
1. GIF to Video (Android)
Find an interesting GIF on Reddit, GIPHY, Tenor or have one on your phone already? Convert them to video and share via Instagram, WhatsApp, TikTok, and other social networks with GIF to Video application.
GIF to Video is a good app. The only problem is that you can only convert one GIF to a video at a time. After that, you get ads.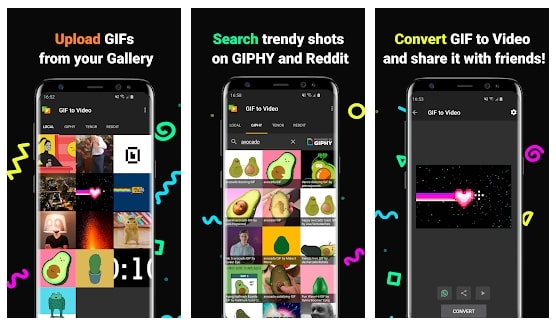 Best GIF to Video Converter - GIF to Video
2. GIF Cracker (iOS)
GIF Cracker is a GIF to video application available on App Store. With this application, you can easily convert animated GIFs to videos and photos. Before starting the conversion, you can apply some effects or filters to the GIF. The ads may delay a few seconds, but overall, the conversion process won't take long.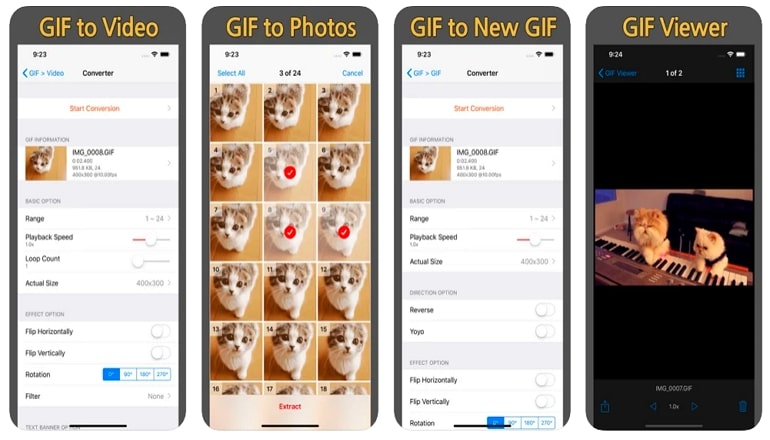 Best GIF to Video Converter - GIF Cracker