A trailer, also called coming soon video, is a short extract from a film or video game that is used to advertise it. Although there are various ways of marketing games, a good trailer is the most effective one that helps the new game stand out from the crowds. How can we make a good game trailer? A powerful game trailer maker is necessary. However, among all the game trailer makers, some of them are hard to use for beginners and have few features or resources.
Hence, this article shares the best game trailer maker with an intuitive interface and various features, which is perfect for both beginners and experts. In addition, it also offers some tips about how to make an eye-catching game trailer. keep reading and find out how to make an attractive game trailer.
Also Read: How to Make an Excellent YouTube Channel Trailer for New Viewers >
Part 1: Best game trailer maker online: FlexClip
FlexClip is an easy-to-use game trailer maker online, enabling you to create a captivating game trailer in minutes. With FlexClip, you can make a game trailer based on pre-made game trailer templates or start from scratch. It offers powerful editing tools, such as trimming, splitting, merging, adjusting video speed, etc. Meanwhile, you can introduce the game to viewers via voice-overs.
In addition, rich resources are available as well, including cool text animation, filters, pre-made game outro, game background music, etc. This all-in-one game trailer maker can meet any of your needs. Click the "Create a Video" button to get started now!
Part 2: How to make a game trailer with FlexClip
Step 1
Upload your video clips and add them to the media section.
Step 2
Choose an export aspect ratio. Go to "More" and select the aspect ratio you need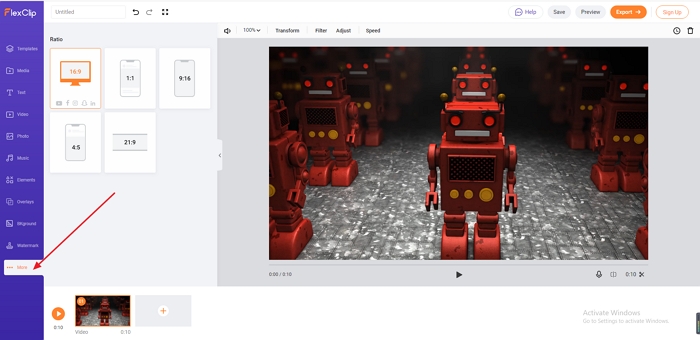 How to make a game trailer with FlexClip - Step 2
Step 3
Edit the trailer. You can combine your video clips with a pre-made game trailer, outro video. Or add cool text animations, filters, etc.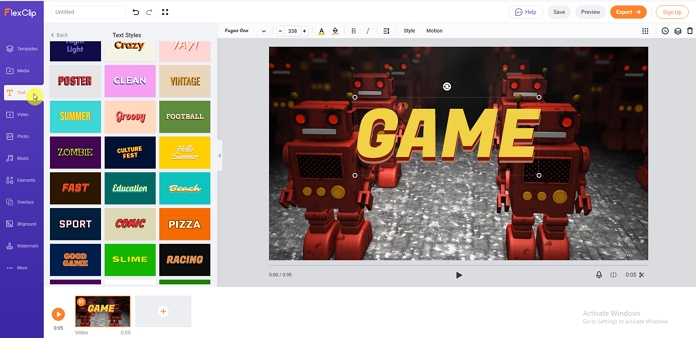 How to make a game trailer with FlexClip - Step 3
Step 4
Add background music. Navigate to " Music" and search for " game." If you want to add voice-overs, click the "Microphone" button to start recording.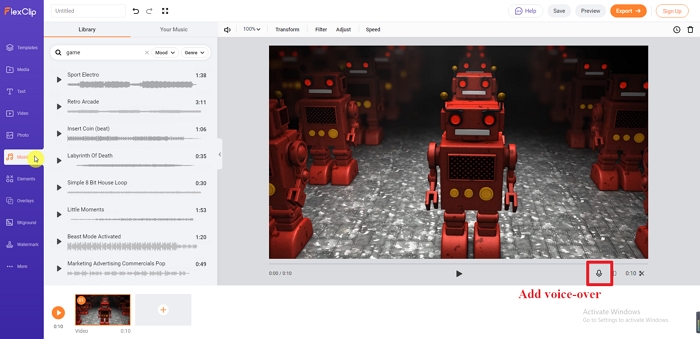 How to make a game trailer with FlexClip - Step 4
Step 5
Preview and export.
Part 3: What makes a good game trailer?
Make the trailer readable.
Supposing that you are watching a video that you can't understand, what will you do next? I guess that you are more likely to click off the video. It is true of the viewers who watch your game trailer. So, please make the game trailer as readable as possible. If some ideas of the game are difficult to illustrate via the scene, you can add a voice-over track, or text to help the viewers understand.
Add an attractive opening
Creating a game trailer is similar to making a presentation of work. If you want to attract the audience instantly, you should start your game trailer with an eye-catching opening, such as a joke, intense action, fight, explosion, etc. So, don't forget to add an attractive opening, before you introduce the game.
As for a game trailer, the background music is important as well. Different music styles can create different atmospheres. For instance, if you want to create a sense of intensity, high-tempo music is more suitable than soft background music. By the way, when you add background music to the game trailer, please make sure the soundtrack synchronizes the action.
Bottom line
That is all about the best game trailer maker and tips about how to make a good game trailer. As you can see, it is so easy to make a game trailer with FlexClip. Give it a try for free!