Distorted audio is a form of audio that is produced when any form of deformation is present in the waveform output of the audio compared to its input. The output waveform and the sound of distorted audio differ from their input waveform and sound. In both recording and playback, distortion can occur at several points in the audio signal chain.
There are multiple reasons why distortion occurs, and different audios can be distorted due to various reasons. The most common cause of distortion is clipping. Clipping happens when an audio component's power supply voltage is insufficient to properly handle the signal. The other causes of distortion include an overloaded microphone or sound system, an overworked or overheated instrument that inputs a very hot signal in the sound system, using speakers to produce louder volume than they can handle, and the use of faulty equipment.
There are multiple ways to remove distortion from audios and multiple software that you can use to fix distorted audios. This article contains guidelines on how to fix distorted audio in Premiere Pro, Audacity, and GarageBand, and even includes a tactic on how to fix distorted audio in a video using FlexClip. Continue reading this article to find the easiest method according to your preference.
Can't Miss: How To Remove/Reduce Background Noise>
Best Ways to Fix Distorted Audio
How to Fix Distorted Audio in Premiere Pro
Premiere Pro provides a very simple and quick-to-follow method to fix distorted audios by just following these simple steps. Here's how:
Step 1
Open the Adobe Premiere Pro app and input the sound file that you want to edit.
Step 2
From the toolbar, click on the "Edit Clip in Adobe Audition" option.
Step 3
Further click on the "Diagnostics" tab from the toolbar and then, from the options displayed under the "Effects" tab, click on the "DeClipper".
Step 4
Click on "Presets" and select the option "Restore".
Step 5
Then, go to the "tolerance" setting and adjust it to around 10%.
Step 6
Then click on "Scan", once the scanning is complete, click on "Repair all".
Step 7
Save the repaired file and enjoy your distortion-free audio.
How to Fix BAD & LOW Audio in Premiere Pro
How to Fix Distorted Audio in Audacity
Audacity is music and sound software that most people are familiar with. You can use Audacity to simply fix distorted audio using these steps:
Step 1
Head over to view and select "Show Clipping". This shall allow you to see the distortion in the audio in red.
Step 2
Next, go to the "Effects" menu and select 'Clip fix'. Set the 'Threshold of Clipping (%)' to 96 and the 'Reduce amplitude to allow for restored peaks (dB)' to -10.00. Click on 'OK' and you shall see an immediate difference in the clippings in your audio.
Step 3
Head over to the 'Effect' tab again and if you know how to use the compressor, go for it. If you are a beginner, stick to the 'Amplify' effect. This shall make the audio a little more audible.
Step 4
Using an envelope, remove any remaining clippings. And voila, your distortions and clippings are removed.
How To Fix Audio Clipping In Audacity
How to Fix Distorted Audio in GarageBand
Another software that you can use to remove distortion from audio is GarageBand on an Apple device. It is a fairly simple method that anyone with the application can use. Here are the steps to follow:
Step 1
Open the GarageBand app, and load your audio file into the system. Wait for it to upload and then select the track you want to remove distortion from.
Step 2
On the lower right portion of the screen, you will find a blue circle with a small "I" symbol in it. Click on that "i".
Step 3
Two tabs will then be displayed on the top right side of the screen, click on the "Real Instrument" tab.
Step 4
Then, click on the "Edit" tab. A series of effects options will be displayed, click on the "Distortion" effect.
Step 5
A drop-down menu will appear, click on the "None" option, and Voila! Any distortion from your audio will be removed.
Garageband Noisy Recording Fix [macOS] Noise Gate Tutorial
Bonus Tip: How to Remove Distorted Audio in Video
To any editor's luck, while some distorted audios may be redeemable, not all are. In case of such irredeemable distorted audio, it is best to remove them from the video. While iPhone users may be blessed in this area, having the option to mute the videos very easily through iMovie or the photos application itself, other phones might not be able to share the same convenience.
For those who are recipients of iPhone videos and desire to remove the sound from them, FlexClip is the way to go. It is an incredible, online tool that can be used to remove audio in one simple click. Unlike other tools, it permits free to download and does not compromise the quality of the video. Not to add, users, can also add new background music, do voiceovers and make more edits to enhance their videos even further.
Here is a step-by-step guide to help you get started with muting videos on FlexClip.
Step 1
Open FlexClip if it is not already open.
Step 2
Head over to the "Media" tab and upload the video you want to edit and apply it to the timeline.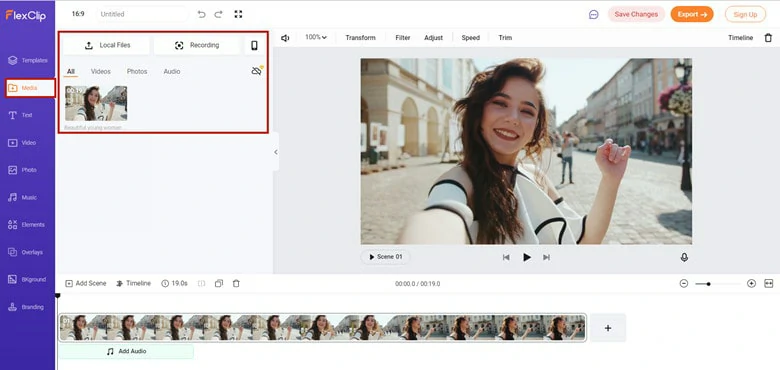 Upload Media Resources to FlexClip
Step 3
Click on the audio icon above the video and turn down the volume of the video, all the way to zero, or just simply click on the mute button which shall also do the same job.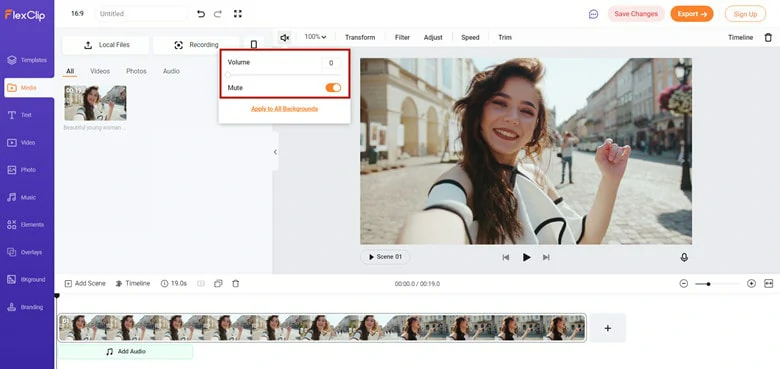 Mute the Audio in Your Video
Step 4
Remember, if you have added more than one clip, you need to apply changes across all storyboards by clicking on 'Apply to All Backgrounds'.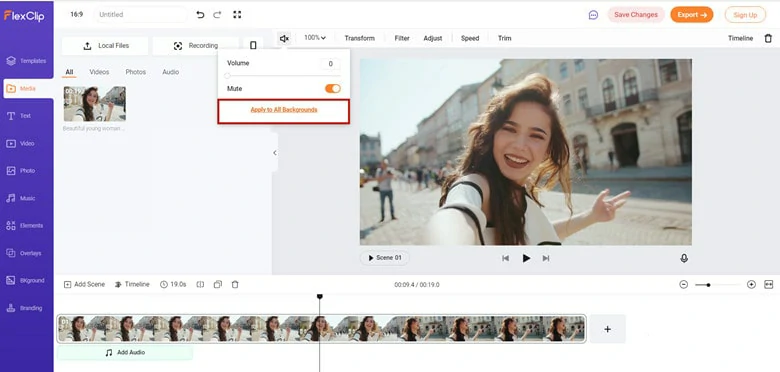 Enable the Setting to All Background
Step 5
This concludes the removal of audio from any video using FlexClip.
The Bottom Line
Distorted audio can be a real pain to many editors since many times they are beyond saving and need to be replaced with a new one which is not only time-consuming but also inefficient. Therefore, audio should be repaired wherever possible. Given above were just a few approaches through which you can learn how to remove distortion from audios so that you can choose one that best suits you. Please like this post and share it with all your creativity aficionados to help them learn a thing or two about fixing and removing distorted audios from their desired videos.