The iMovie is a video editing tool specifically designed for iOS, Mac OS and iPad OS. Launched in 1999, it has become one of the most used video editing tools globally, with millions of recorded downloads worldwide. In June 2021, the App received a facelift after it was re-launched with better features and functionality, including a better video compressing function.
Talk of video compression, there are reasons why people choose the iMovie over hundreds of video compressing tools out there. First, the idea to compress video with iMovie comes with relief, and it is imperative to say that iMovie reduce file size and at a very fast rate. Considering its newly improved 2021 version, the iMovie compression tool is incredibly fast, and because we live in a world where people love speed, the iMovie video compress tool should definitely have an edge. Again, the iMovie allows you to import videos in just one click, unlike what you see on other tools, where their procedures appear tedious.
There are quite a few more reasons why people choose to compress videos with iMovie, but this article is more focused on helping you understand how you can compress your videos with ease using the iMovie app. Read on.
How to Compress Videos with iMovie
To get on with this, please follow the steps below:
Step 1
Check the original size of your video (this is optional)
Right-click on your video icon to pull up the menu.
Click the "Get Info." A window is expected to pop up. There is where you see the video size, alongside a couple of other information.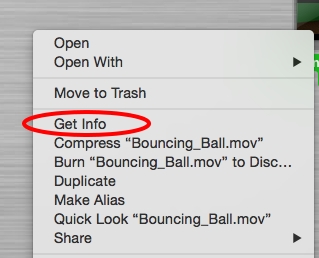 Image Board: Compress Videos with iMovie - Step 1
Step 2
Set up your iMovie App
Lookup for the 'Projects' menu, and click the '+' button located at the upper left corner.
Click on the 'Movie' option.
Select a theme or just click "No Theme."
Select the proposed video name.
Setting up your iMovie App might be slightly different depending on the App version in use.
Click on the video once, and click "Import All."
Drag from anywhere on your video strip until a yellow box emerges.
Keep adjusting the size of the box till it completely covers the entire video section (as you wish).
Drag the video section you have selected into the big grey area located at the bottom of your window.
At the menu bar, click File, Share icon, then the video file.
Image Board:Compress Videos with iMovie - Step 4-1
On the menu, select the type of settings you want, e.g., Lower Resolution and Quality or higher Resolution and Quality.
Image Board:Compress Videos with iMovie - Step 4-2
Name the compressed video.
Select your storage location, and click "Save."
Step 5
Locate your file where you saved it
This stage is to confirm that the video is really compressed.
An Alternative Way to Help You Compress Videos
Like we have previously mentioned, the iMovie is specifically designed for Apple devices. In essence, this is to say that even while iMovie reduces file size, it is not compatible with PC. So, PC users will have to seek an alternative, and that's where FlexClip's online compression tool comes in. For relevance, FlexClip is the world's foremost video editor carefully developed to help video content creators create and edit all sorts of videos: Instagram videos, animations, video with text, and of course, video compressor.
Image Board:An Alternative Way to Help You Compress Videos
When you find yourself in a situation where you can't find a PC version of iMovie, we will strongly recommend you use FlexClip. FlexClip comes with no device limitation: compatible in all devices, can easily control the output size, very effective, and whole lot more reason why you should try it out.
Bottom Line
Space is everything as far as your device is concerned, and when you find a tool like the iMovie video compressing tool, you should leverage every part of it for the sake of your device space. Looking for how to reduce iMovie file size will matter less when you find a perfect alternative, especially for PC users. This set of people has never had it so good until now, considering what a tool like FlexClip can offer. Also note, that FlexClip offers services like trimmer, converter, splitter, and many more. And don't forget to share this article if you find it interesting.