Christmas is around the corner! Do you have any ideas for celebrating the special day? Actually, making a Christmas slideshow is a good way to send your warm wishes to your families, friends, or customers. However, if you are a beginner, you may find that it is a time-consuming and daunting task. No worry! In this post, we share some Christmas slideshow ideas and an easy-to-use tool to help you make an eye-catching Christmas slideshow within minutes. Check out and say "Merry Christmas" to your loved ones.
Also Read: Happy New Year Video Templates Free Download for New Year Wishes & More >
Part 1: Best Free Online Christmas Slideshow Maker
When it comes to making the Christmas slideshow, one challenge for us is to find the right Christmas slidshow maker, which can help us save a great deal of time, effort, and money!
Here, we highly recommend you use FlexClip, a powerful slideshow maker has gained a large amount of popularity among people. Below are the main reasons why you should choose FlexClip.
First, it is a free and easy-to-use tool. No download is required. Even if you are a newbie, you can make a Christmas slideshow with great ease. Second, you can enjoy dozens of Christmas slideshow templates, royalty-free Christmas music, text animations, stunning effects, and more. Third, when you finish the project, you can export your Christmas slideshow to save on your device or directly share the project on YouTube using its social-share feature.
Can't wait for trying FlexClip out? Quickly get started by clicking the "Get Started Now" button below:
Part 2: Christmas Slideshow Ideas & Free Templates
For those of us who lack of Christmas slideshow ideas, there are many great slideshow ideas from FlexClip to inspire you! Check out the great Christmas slidehsow ideas and free templates below now.
Christmas Slideshow Idea: Christmas Wishes with Name Slideshow
Extend warm Christmas wishes to your families and friends using the pre-made Christmas slideshow templates. Write down the words that you want to say to them. It is so easy and quick.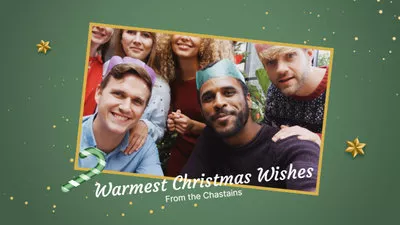 Green Christmas Slide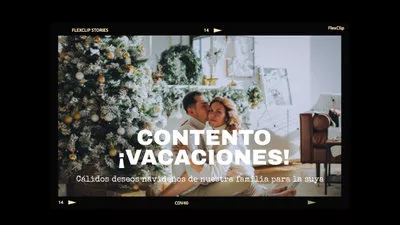 Spanish Christmas Wishes
Christmas Slideshow Idea: Christmas Photos Collage Slides
To cherish all precious moments of Christmas, you can create a cool Christmas photos collage slideshow! You can simply replace the text and photos in the free template below to make your own one!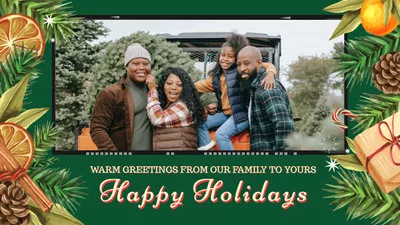 Christmas Greeting Photo Collage Video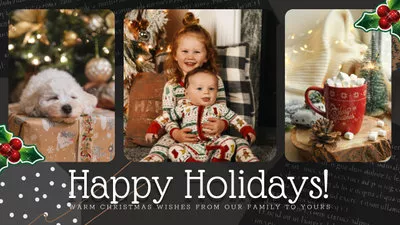 Happy New Year Warm Slideshow
Christmas Slideshow Idea: Christmas Party Slides
Christmas gives us the opportunity to spend time with our loved ones. You make a Christmas party slides to share the happy memories and precious moments on the Christmas party using the pre-made slideshow templates.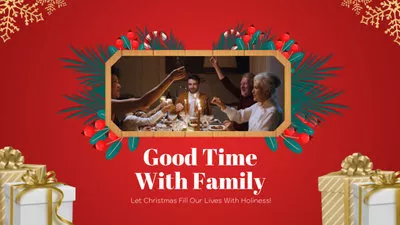 Christmas Family Time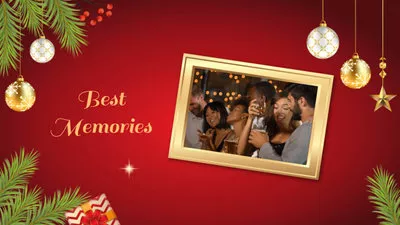 Red Gold Framed Christmas Slideshow
Christmas Slideshow Idea: Christmas Greeting Card
It is high time to create a greeting card to convey thanks and express your feelings to your friends, colleagues, and customers. Easily make your own Christmas greeting card with the templates.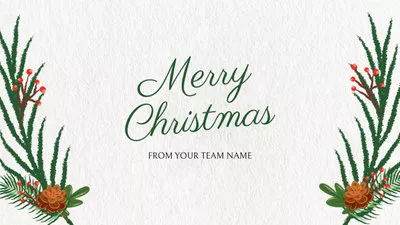 Merry Christmas Greeting Card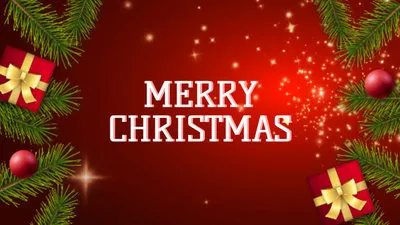 Merry Christmas Message
Christmas Slideshow Idea: Christmas Ad Slideshow
Not only can we use a Christmas slideshow to send warm wishes, but also we can use it to promote business. With the ready-made promo templates, you can easily create a Christmas advertising slideshow to promote your brand. Have a try!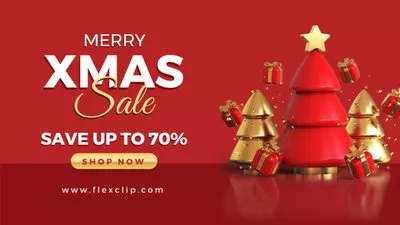 Merry Christmas Menu Restaurant Promo Ad Sale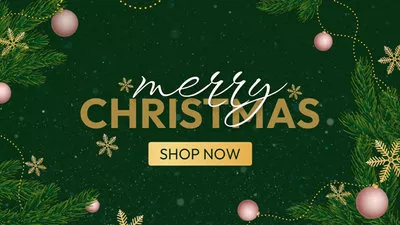 Merry Christmas Sale Day
Part 3: How to Make a Christmas Slideshow with Free Templates
Get inspired and ready to make your own Christmas slideshow using the free templates? Let's get the ball rolling.
Step 1 Start with a Free Christmas Slideshow Template
Simply turn to FlexClip editor, go to the Templates section and scroll down to pick one video template you like or you can search the proper templates by keywords, and then apply it to the Timeline.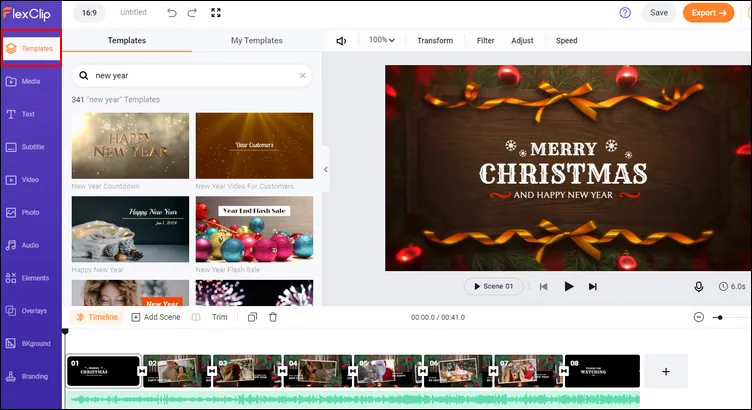 Make a Christmas Slideshow - Get Started
Step 2 Personalize the Template to Make it Your Own
Once you pick the template or scene you like and add it to the timeline, you can personalize your Christmas slideshow in lots of ways here.
Upload your own photos or clips to the Media section and drag them to the canvas to replace the default imagery in the templates, or you can simply pick some proper Christmas clips or photos from FlexClip's extensive video and photo library and add them to your Christmas slideshow directly.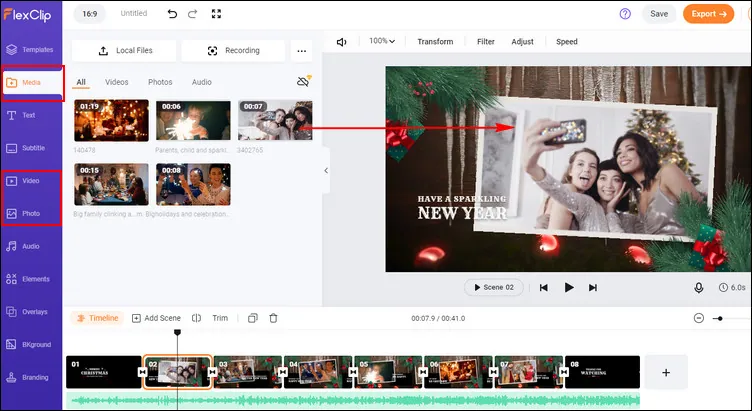 Make a Christmas Slideshow - Replace
Double-click the text box to enter your Christmas slideshow message and then modify the font and color, or you can go to the Text in the sidebar to add multiple animated texts in your slideshow.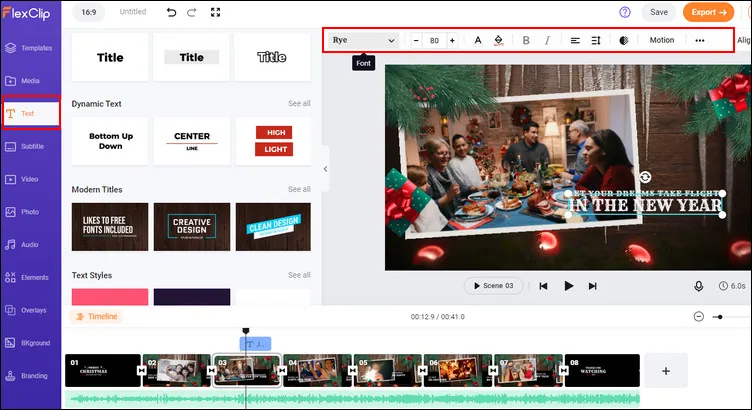 Make a Christmas Slideshow - Change Text
And also, you can change the audio track, add more sound effects or voice-overs, adjust the video background, and more until it fits your need.
Step 3 Make More Edits to Level up the Christmas Slideshow
With extensive animated elements and stunning effects for you to choose from at FlexClip, it's pretty easy for you to add extra personality to your Christmas slideshow and make them far more appealing.
Add animated stickers from its abundant Elements library or apply some emoji stickers and creative animated elements in one click. You can also go to the Overlay section to add some beautiful overlay effects, like snow overlay, heart overlay, and more. If you're make a Christmas slidshow for business use, it's important to upload your logo to brand the video. Also, you can make pip effects, and use transitions and motions to make the Christmas slideshow more attractive.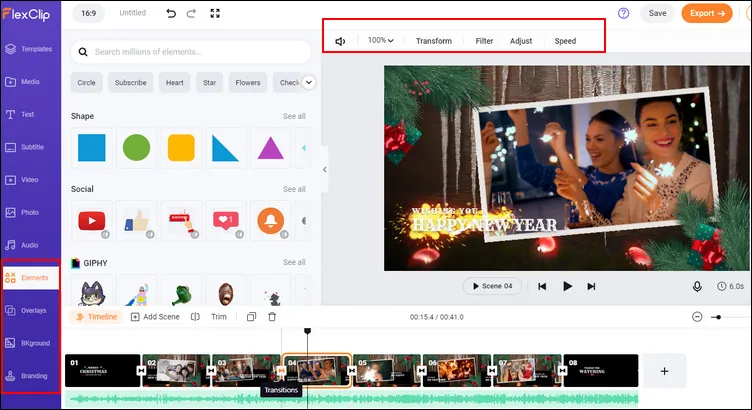 Make a Christmas Slideshow - More Edits
Wow! You've got your Christmas slideshow ready! Just preview and download it, or you can directly share your Merry Christmas slideshow to YouTube and TikTok using the social share feature in the download page.
Final Words
In fact, making a Christmas slideshow is not that difficult as we think as long as we find the right tool. As for beginners, FlexClip can be a nice choice due to its simplicity of operation and availability. Now, it's high time to create a warm Christmas slideshow and share it on social platforms!