There are many situations when you want to join different audio clips. You might make a YouTube playlist or create a stereo audio for your music festival. No matter what situation you're, with the right tool at hand, it's easy to merge two and more audio files into one. Considering you needs, here we directly list 3 best audio mergers online for you to join soundtrack with ease. Check it right now!
# 1 The Best Tool to Merge Songs Online for Free
Whether you're making a YouTube playlist or TikTok mashup, an audio merger is what you need to merge songs precisely. Among various audio mergers online, FlexClip stands out for its user-friendly interface and feature-rich tools.
To combine your songs, you only need to upload your video and audio clips, add them to the timeline, and directly share them to social media without downloading. No video/audio quality loss will occur. Anyone, even the beginners, can make a stunning music video in clicks.
Feature Highlights of FlexClip:
Unlimited number of audio overlapping without quality loss.
Edit your soundtrack by trimming, cutting or adding fade effects.
Millions of royalty-free audio tracks and sound effects.
Support instant sharing to YouTube and TikTok.
How to Merge Songs Online Using FlexClip
Step 1
Go to FlexClip and upload your footage and audio files from your PC, phone, Google Drive, One Drive or Dropbox.
Step 2
Add your footage to the timeline and use the trimmer/splitter tool to make raw edits if you only need some parts.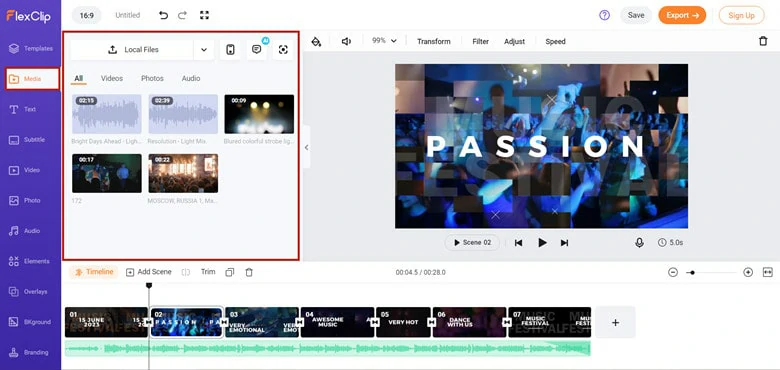 Add Audio and Footage to Timeline and Make Raw Edits
Step 3
Drag the slider to sync your video and audio. To avoid abrupt arrival or end of
sound effects
, you can use fade in/out effect to make a smooth transition.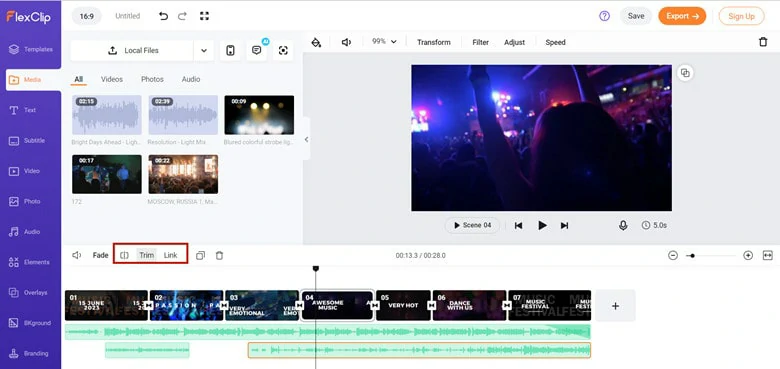 Sync Your Audio with Video
Step 4
When it's OK, tap on the Export icon to locally save your combined audio or directly share it to YouTube, TikTok, One Drive and Dropbox with one click.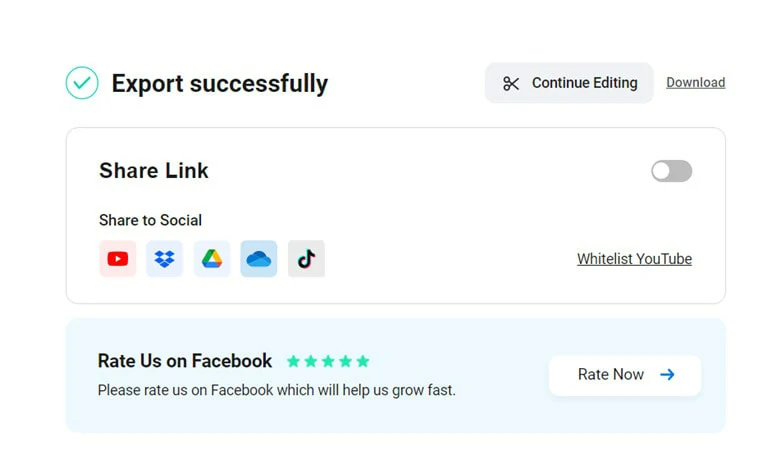 Export the Video and Share
Bonus Tips
: Only need the merged audio file?
FlexClip's video to audio converter
is here for help. It helps you extract audio from video and save it in MP3 format without quality loss. It's totally free and fast efficient!
#2 A Handy Audio Merger Online to Combine Audio
Happyscribe is a web-based tool to help users conduct transcription and subtitle creation effortlessly. Apart from these features, it includes loads of tool extensions like voice to text converter, SRT subtitle generator and also audio joiner. Its audio joiner tool will take the audio files you upload and merge them in the order that you specify.
Note: Currently you can only use this tool to combine audio clips in MP3, WAV and OGG format.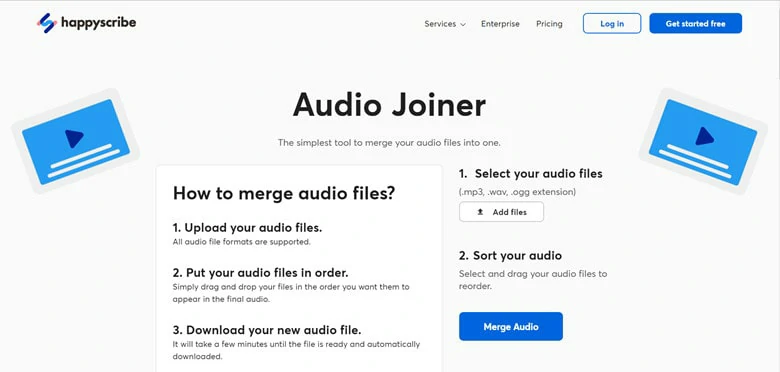 A Handy Audio Merger Online to Combine Audio - Happyscribe
How to Merge Audio Online Using Happyscribe's Audio Joiner
Step 1
Upload all your audio files to Happyscribe.
Step 2
Simply drag and drop your files in the order you want them to appear in the final audio.
Step 3
When finishing edits, download your new audio file.
# 3 An Audio Edit Tool to Merge MP3 Files Online
Audio Joiner is a free online application designed to join multiple audio files into one only. Its intuitive interface allows you to combine tracks with the crossfade feature and interval adjustment. Thanks to its high compatibility with over 300+ audio format, you can easily convert them to MP3 for for quicker and easier operation.

An Audio Edit Tool to Merge MP3 Files Online - Audio Joiner
How to Combine Audio Files Using Audio Joiner
Step 1
Upload audio files to Audio Joiner.
Step 2
Here you'll be prompted to trim audio files, enable fade in/out effect, set the start/end time and select the crossfade effect.
Step 3
Choose the desired audio format and join your audio clips. After that, download the result to your computer.
FAQs on Combining Audio Files
Can I combine audio files offline?
Yes, there are many audio mergers like Audacity to combine audio files and merge them into one on your computer.
How to join two mp3 files with Windows Command Prompt?
It's said that you can combine two mp3 audio files using Windows Command Prompt. Simply follow the step below to learn how to make it.
A.Open the Windows menu and choose Command Prompt in the pop-up interface.
In the new interface, enter cd c:\ followed by the directory. This is to enter the file folder where your audio will be saved to and you can change the save path according to your actual needs.
C.Type the command copy /b *.mp3 c:\combined.mp3 > Press Enter. This is to copy the audio files that have the file extension of *.mp3 under the file folder you've entered. Also, you can personalize the output file names as you like.
D.Now you can find the merged MP3 audio in the local C: disk.