TikTok has ushered a new area of the mashup world. Many starters who remix DJ, dance, and live videos greatly emerged. It's a new trend and a feasible trick for getting traffic. If you want to be part of this group, you need to know how to create a TikTok mashup. This post tells you all about TikTok mashup and explore it to know more.
Free and Customizable TikTok Videos for You: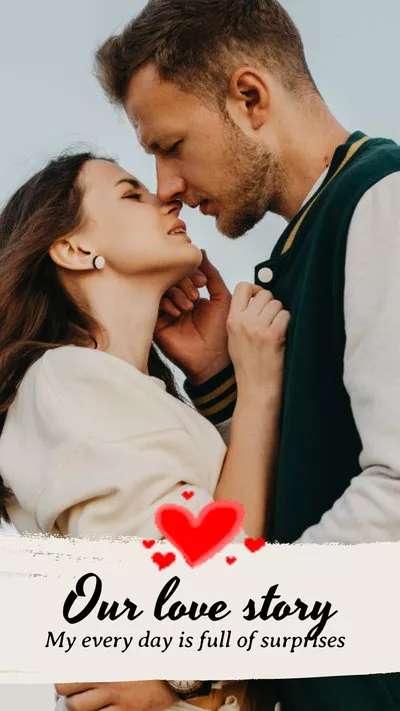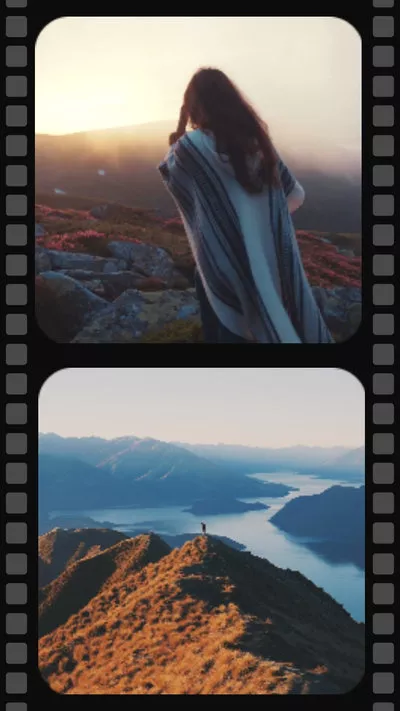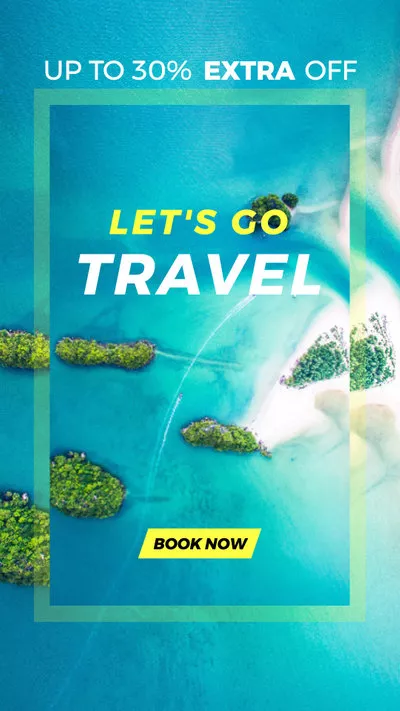 Can't Miss: How to Tik Tok & How to Make a Tik Tok Video>
Part 1. What Is TikTok Mashup?
A TikTok mashup is a video made with the popular app TikTok. It combines the remixes of trending songs, movie clips and popular dance videos to create a new one. Among these types, the audio version of the mashups is the most popular one.
They're usually 15 seconds with a wide range of musicians and DJs soundtracks. Moreover, mashups are not restricted to a single genre so they're fantastic for combining two of your favorite tunes to show your personality.
Part 2. Powerful Video Editor to Create a TikTok Mashup Video Online
To create an engaging TikTok mashup video, all you need is this powerful video editor FlexClip. Firstly, you can upload your TikTok video from your PC and mobile phone with a QR code. Besides, it has a suite of editing tools and resources to smooth your mashup videos. Finally, it supports multiple video ratio aspects with different resolutions.
Part3. How to Make a TikTok Mashup Video
Let's go straight to learn how to make a mashup TikTok video. Follow the steps below to know more.
Step 1
Save Audio Files from TikTok
Open the TikTok app and go to the bottom of the screen under 'Discover'.  Next, tap any music you want to use in your mashup from the Search panel. At least 10 tracks should be included in your mashup video. So, don't waste time watching videos as they won't show up in your mashup videos.
Click on the share icon on your screen and a pop-up window will appear. Tap the Save video menu to store this video in your photo collection. Repeat the process for the remaining videos, ensuring that your mashup video has at least 10 tracks.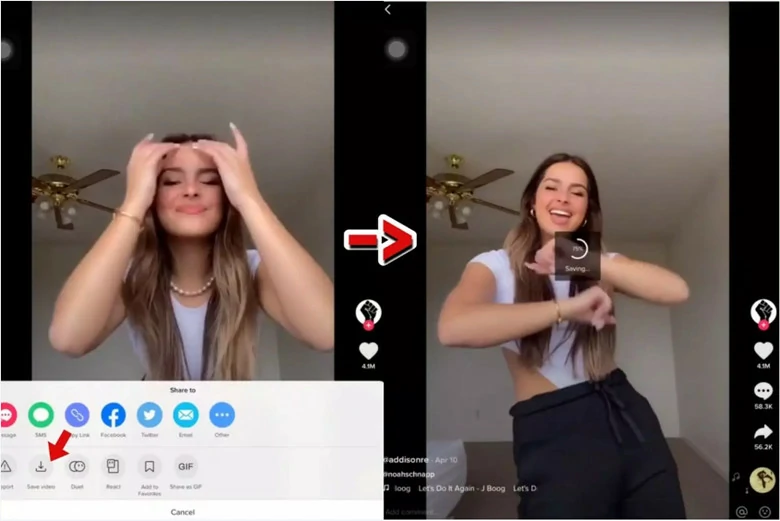 Save Videos from TikTok
Step 2
Combine Your Video Clips Using FlexClip
Navigate to FlexClip and scan the QR code to upload all your TikTok clips. Hover over the top menu, change the video aspect ratio to 9:16, and add all your clips to the timeline.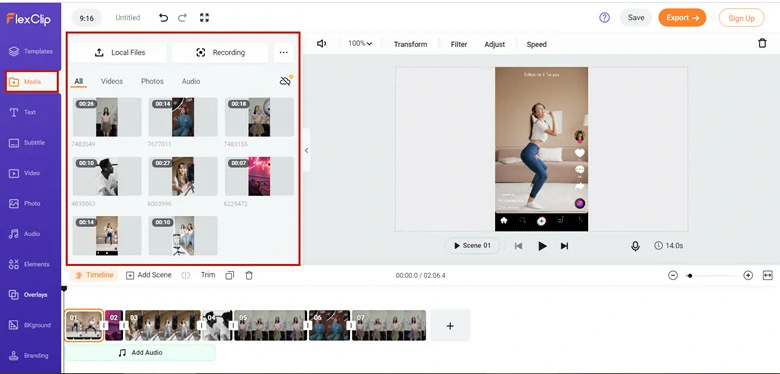 Combine Your TikTok Clips Using FlexClip
Step 3
Add Background to Your Mashup Video
Select a static image from the Photo section and use the picture-in-picture effect to cover the whole frame. If you prefer a video background, head to the Video panel to find a perfect one. Moreover, you can also use your media resources.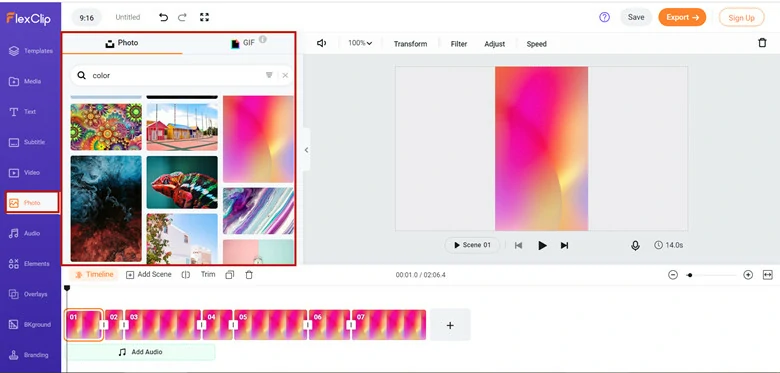 Add Background to Your TikTok Mashup Video
Step 4
Add more Edits to Mashup Videos
Perfect your TikTok mashup videos with beating notes and dynamic text. Type the title of the song and the artist's name in case your fans want to listen to this song further.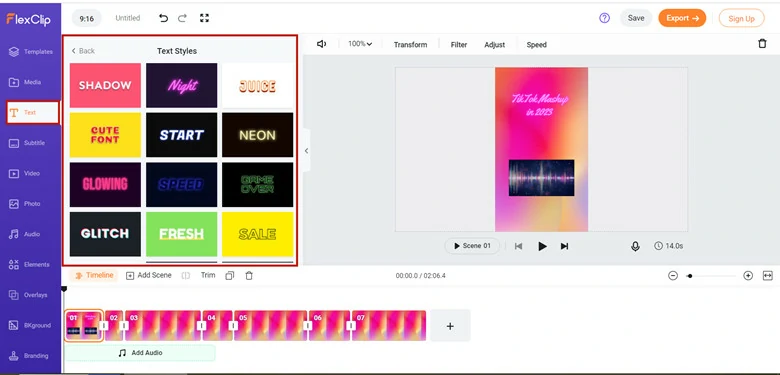 Perfect Your TikTok Mashup Video
When you end edits, click on the Export icon to save your TikTok mashup video in 480p, 720p and 1080p.
FAQ
1.Why I Can't Upload My TikTok Mashup?
Check your copyright infringement rules if it failed to upload TikTok mashup. You may get reported by the authors of the original audio because TikTok prohibits users from posting other's songs.
Make sure you have all the necessary permits, clearances, or authorization from the owner before you upload your mashup videos to TikTok. 
2. Can I Upload TikTok Mashup to YouTube?
Of course you can! Many YouTubers have created TikTok-related video to gain more views. Searching from YouTube, mashup videos always range from dance videos to TikTok viral songs.
Keep in mind many TikTok employ copyrighted music, which may lead to a copyright strike if it appears on your channel. Therefore, you'd better check the copyright issue before uploading mashup videos.
3. Is It Possible to Make a Dance Mashup on TikTok?
You certainly can. Dance videos are pretty popular on TikTok and many people attempt to master TikTok dance and reproduce their favorite TikTok via a mashup video. Just like the questions before, the copyright issue is the one that needs your concern.
The Bottom Line
That's all for how to create a TikTok mashup and all the things you need to care. Browse through your videos to know exactly how people in your niche are utilizing the platform and start to make your mashup video with FlexClip right now!