Can you add 2 songs to TikTok?
How do I add multiple songs on the TikTok app?
- Questions from Quora
See other creators using two songs or sounds in their Tiktok videos and try to add more than one song or multiple sounds to your TikTok video to set yourself apart from the other content creators out?
However, The current TikTok version doesn't offer an option for users to add multiple music tracks to their video directly using the app itself.
Yet, fortunately, here some some workarounds you can follow to add multiple sounds or more than one song in your TikTok!
How to Add Two Songs or Multiple Sounds in TikTok:
Can't Miss: 3 Best Ways to Upload a Sound or Music to TikTok >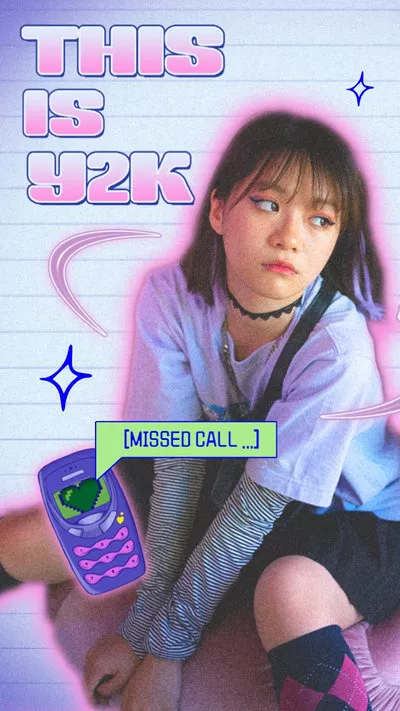 New Trends Y2k Idol Albums
Simple Tiktok Outro
Dynamic Rhythm Outfit Idea Tiktok
How to Add Two Songs or Multiple Sounds in TikTok Videos?
As you know, TikTok does not have a direct feature for adding multiple songs. So, you can not add two songs or sounds directly into your TikTok video from the app itself. Here, we'll introduce 2 workarounds to help you add multiple songs or sounds to TikTok videos to produce catchy and engaging content.
Method 1 Add Multiple Songs & Sounds to TikTok Video with FlexClip
To begin, we'll start with the easiest option that you can follow to add multiple songs or sounds to your TikTok video is using a third-party TikTok video editor, like FlexClip.
FlexClip allows you to put multiple songs and sound effects and make personalized adjustments of rearranging audio sequences, volume level, splitting the audios, etc. Once done your editing, you can upload the video to TikTok with multiple songs or sounds directly.
Now, follow the steps below to add 2 songs or multiple sounds to your TikTok video.
Step 1
Click the Get Started Now button above to access the FlexClip editor and pick the TikTok preferred ratio of 9:16, and then upload your TikTok video footage and the music files or audio tracks from your computer or phone.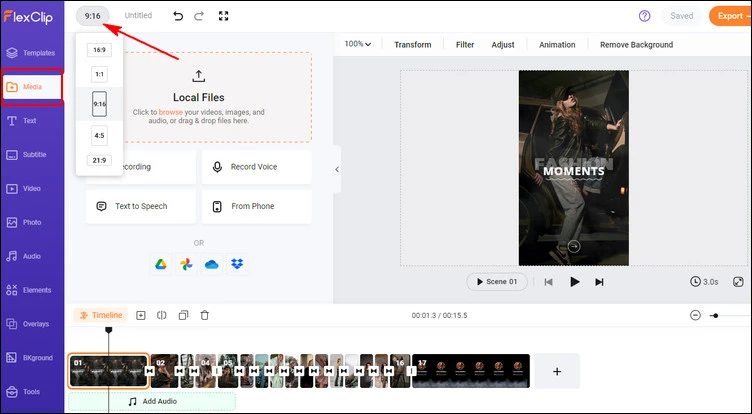 Add Multiple Sounds to TikTok with FlexClip - Upload
Step 2
Drag all your audio and video files to the Timeline area. The best thing about FlexClip is you can add as many sounds as you want to your videos. Then arrange the sequence to create a continuous flow of music for the video.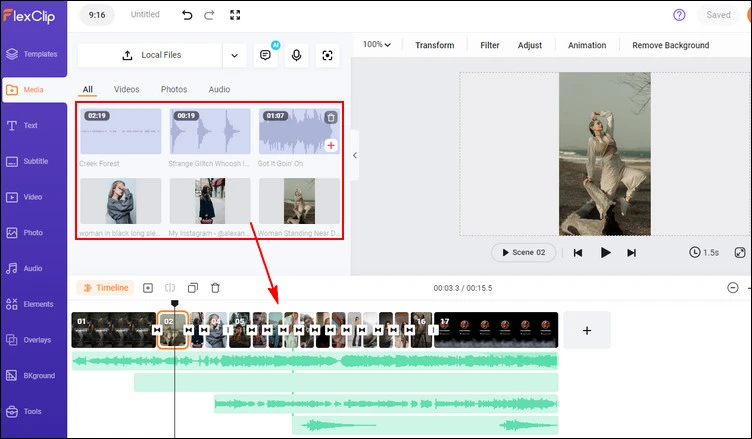 Add Multiple Sounds to TikTok with FlexClip - Add
Step 3
Now, you can make edits to adjust the music or sound track. Drag the audio layer bar from the end to any point and from where you want the music to start. Adjust the volume of your songs to the appropriate level. Split the unwanted parts and apply the fade in/out effect. (Besides uploading your own songs, you can also find great music and sound effects from FlexClip's extensive Audio library.)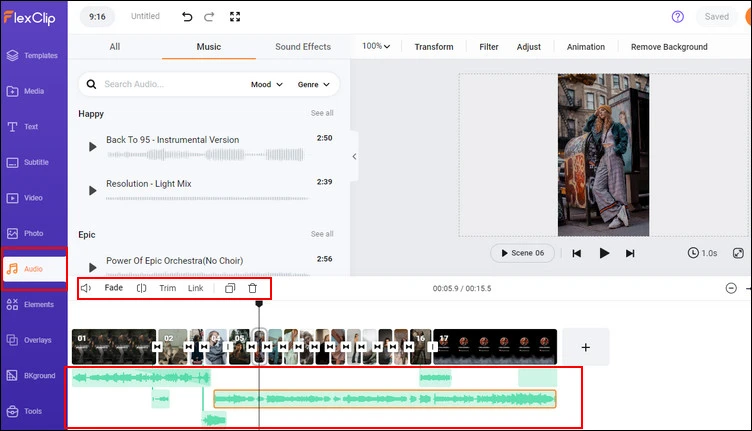 Add Multiple Sounds to TikTok with FlexClip - Edit
Step 4
(Optional) You can also add extra elements to the video on FlexClip. Animation effects,
texts
,
transitions
, to create cool effects for more eye-catching effects.
Step 5
Once done the editing, you can preview the final effects and click the Export button, then you can save your TikTok video on your computer or upload it to TikTok with multiple songs in one click using the social-share feature of FlexClip.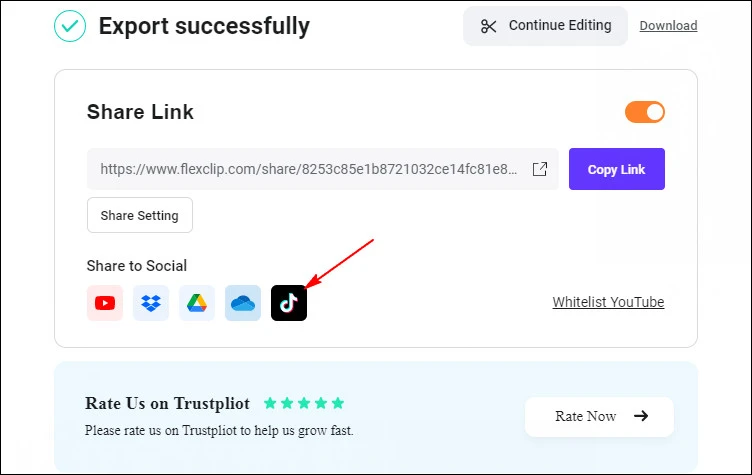 Add Multiple Sounds to TikTok with FlexClip - Share
Method 2: Add Two Songs on TikTok by Multi-uploading
Although TikTok doesn't offer a a native function to add more than one song at a time, you can still use the application to add multiple songs to one TikTok video with some tricks and extra steps, which could be a bit complicated than the method one. So, if you insist on adding two songs to your video within the app, just check the step by step process of doing this.
Step 1: Record or Upload Your Video
On the main screen of the app click on the + sign. Here you can either record a new video or upload a video from your phone's storage by clicking on the Upload option. Trim or adjust your uploaded video then tap Next in the upper right corner.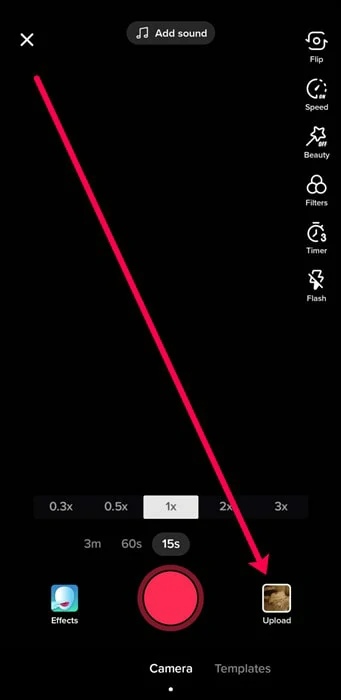 Record or Upload Your Video
Step 2: Add sound to the video
Now for adding sound, click on the Sounds option in the lower-left corner and select your preferred sound from the library. Then go back to the original screen by tapping anywhere on the screen. Click on the red Next button.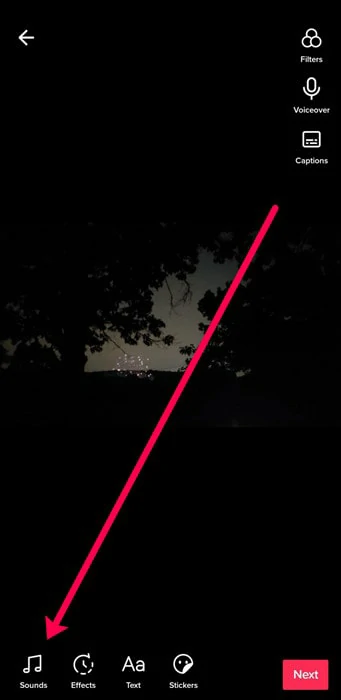 Add Sound to Video
Step 3: Post the video privately
Keep the Save to Device option ON on your device. Click on Select Only Me by tapping on Who can watch this video option. Post the video but for now, it will only be viewable to you.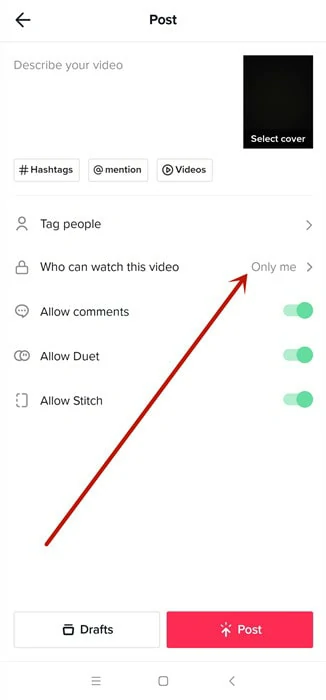 Post the Video Privately
Step 4: Adding the second sound
For the next step, you will have to upload the previous video again. Add another sound this time and upload your new video with multiple sounds this time. Both the music sounds will play at the same time but we can trim and adjust them to create the perfect fusion of both the sounds in the same video.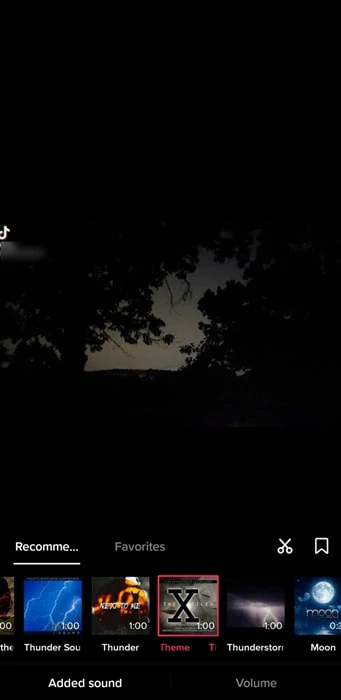 Add the Second Sound
Step 5: Adjusting the two Sounds
Click on the scissor icon in the Sounds menu and slide the adjuster where you want your second song to start from. Then click on Volume and adjust the volume of both the sounds. Now two sound effects have been added to your video upload them and enjoy the limelight that awaits you.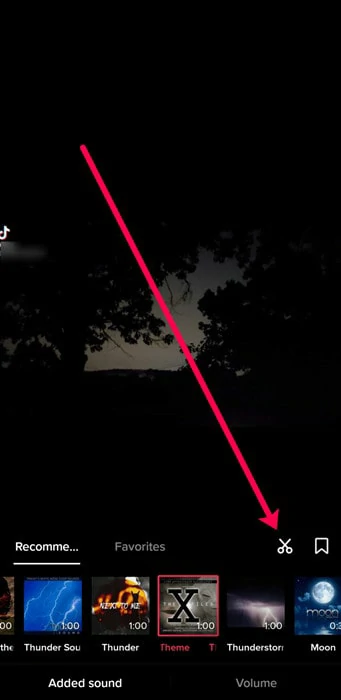 Adjust the Two Sounds
Final Words
TikTok is the ideal platform to showcase your talent and creativity and reach a bigger audience. Adding more than one song to the video makes the audience feel more interested and engaged. After learning how to add two sounds on TikTok you have unlocked a new and better opportunity to create unique engaging content. Share it with your friends and let them also learn about the amazing software FlexClip is.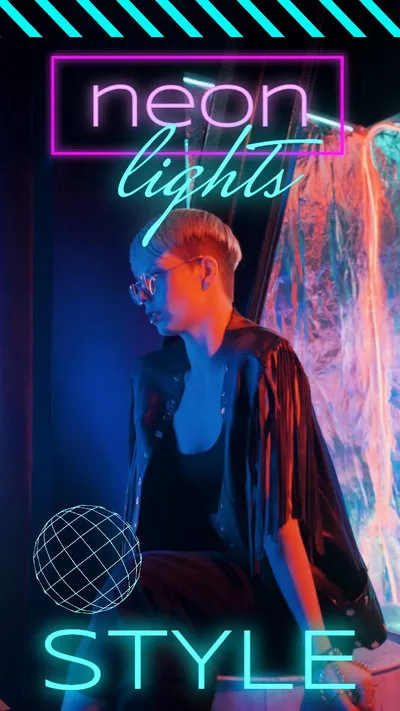 Tiktok Neon Fashion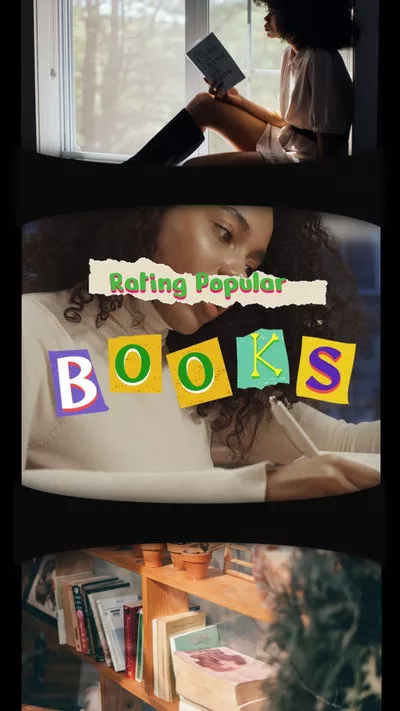 Rating Popular Books Tiktok Video
Tiktok New Sports Brand Ad