VLC is an open-source and cross-platform media player. Since its release in 2001, it has been trusted by millions of users thanks to the compatibility with almost all media formats & video/audio codecs on practically all platforms.
There are many features of VLC besides the ability to play audio & video and recording screen in your desired format happens to be one of them. If you're seeking ways to record screen, here's how to make screen capture with VLC.
How to Use VLC Record Screen
To perform desktop screen recording with VLC, we have to use the "Capture Device" feature and make some configurations. Follow the step-by-step to know the straightforward process.
Step 1
Download and install VLC on your computer.
Step 2
Open the VLC Media Player, find Media button on the top left menu bar, click it, then choose Open Capture Device or Convert/Save in the drop-down list.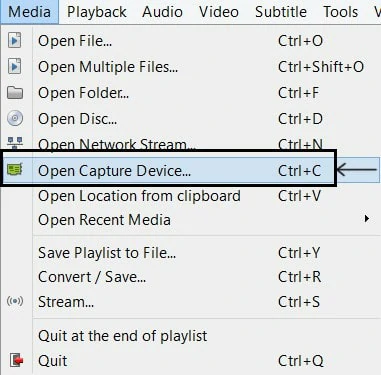 Choose Open Capture Device Option
Step 3
A new interface pops up where you can make configurations on screen recording. Select the "Capture Device" tab, set "Desktop" as the capture mode, and then adjust the frame rate to your desired one. Note that a higher frame rate usually means smoother video continuity but it requires greater computing power and resources of your laptop or desktop.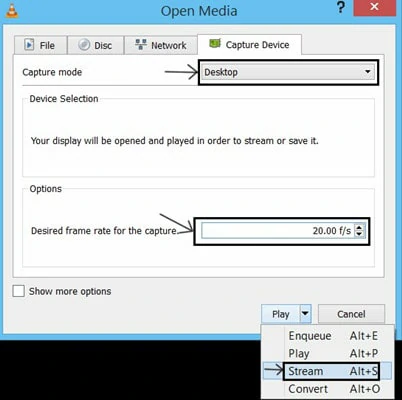 Make Some Configurations
After setting up everything, click on the arrow icon of the Play button to check Stream.
Step 4
Then the Source window appears. You don't need to change anything in Source so just leave it alone. Now you'll be prompted to the New Destination where it requires you to select the location of your recording file and give it a name.

Edit Video Format in Profile
Now under the Profile section, you choose the video format and container. The default H264 video format with MP3 audio is a great choice if you don't have additional requirements.
Step 5
With everything settled down, click on "Stream" to start recording immediately. When it's time to end recording, press the Stop button on the main screen.

Stream the Screen Recording
You will know that the recording is in progress as the timer increments.
Problems of VLC Screen Recording
It's simple to record screen with VLC but you may find that VLC doesn't capture audio while screen recording. Additionally, as a media player, VLC has various limits on screen recording as follows:
It doesn't support recording part of your screen.
It lacks
trimming
, cutting and basic editing tools.
While VLC is capable of recording screen videos, it may not be the best screen recorder available. For one thing, it has limited features to support recording the screen. For another, a video editing function is not provided. Therefore, many users are looking for alternatives to record screen with audio or webcam.
The Best Alternative of VLC to Record Screen
For general recording tasks, FlexClip is one of the notable and reliable screen recorders you can choose. It offers a broad spectrum of screen recording options and video editing tools that can be used even by novice video editors.
This online screen recorder allows you to capture screen, webcam, system audio and microphone sound at the same time. Besides, it also comes with stylish templates and a powerful video editor to polish your raw videos effortlessly.
Steps to Record Screen with FlexClip
Step 1
Go to FlexClip online screen recorder and tap the "Start Recording" icon.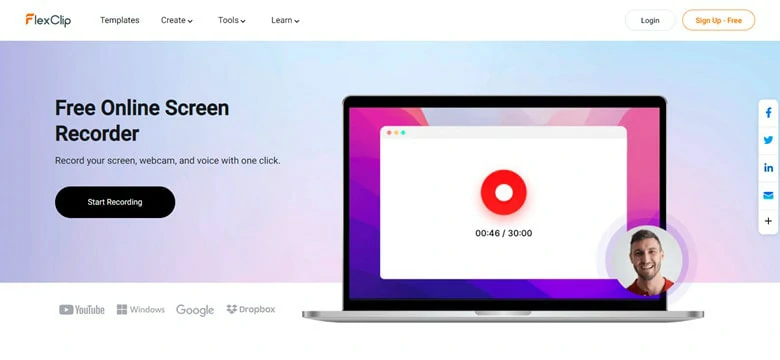 Go to FlexClip's Screen Recorder
Step 2
Choose a recording mode and make recording settings on audio input.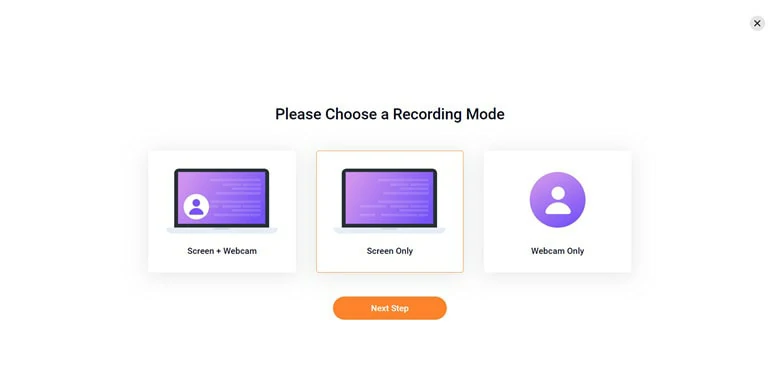 Choose a Recording Mode
Step 3
Select the entire screen or a specific window you want to capture, then click Share to launch recording.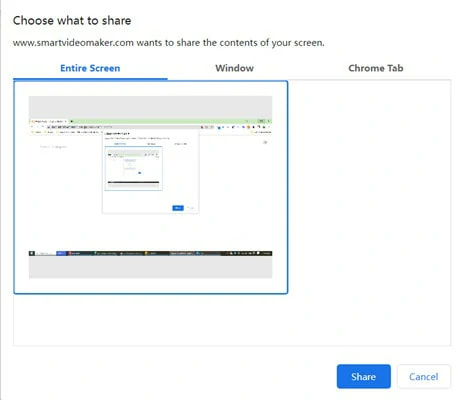 Select the Window for Recording
Step 4
Click the stop icon once you are done and the recorded video will show up on the screen. You can add the video to library and use the editing tool to make some edits like
transitions
, filters,
text
, music, etc.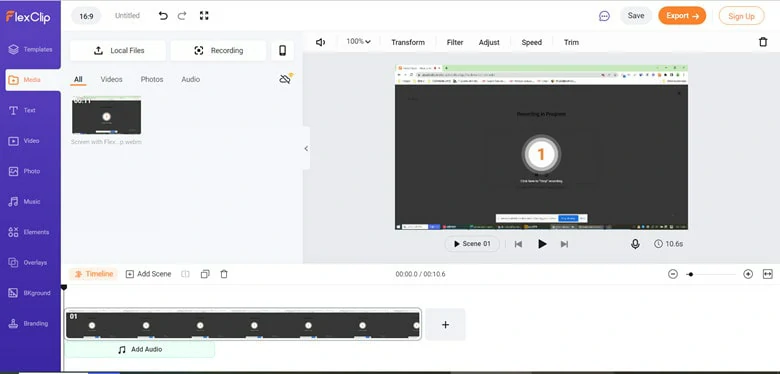 Make Edits to the Recorded Video
Step 5
Export the video to your computer or directly share it to YouTube right away.
The Bottom Line
Now you must have a clear mind of how to record screen with VLC Media Player. If you just need basic screen recording, VLC will be enough. But if you want to record screen with audio or make your video more attractive, give FlexClip a try!