Briefs: Losing your precious video files (on PC or smartphone) is a disaster! Today, we've rounded up the best strategies to restore deleted videos and missing videos. Whether you accidentally free up video file space or find a video broken, this article has collected the best video recovery strategies for you.
Caution! When you lose video files, NEVER grab a random video recovery software/app that you don't know! Many people and instances tell us that those ways will ruin your video files forever. SO NEVER MAKE THE SAME ERROR! [Reasons are put in later paragraphs.]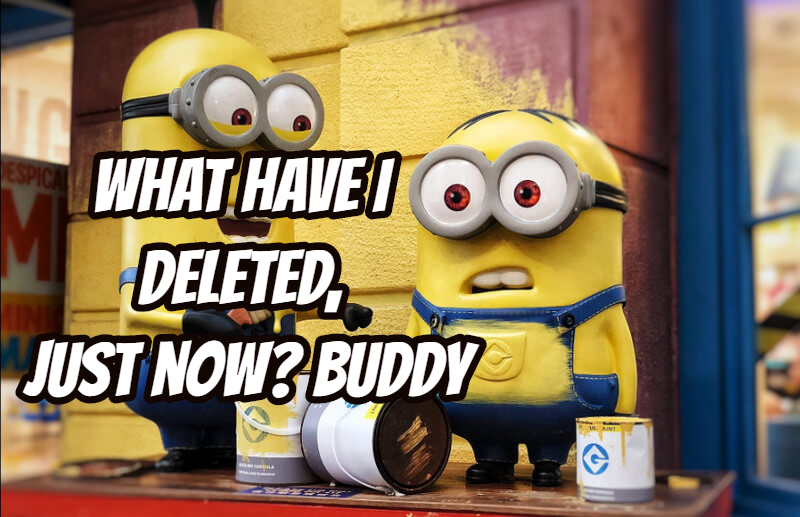 Image: Troubles caused by deleting video accidentally.
Part 1 - 100%-Safe Video Recovery Strategy
In this part, we pack up those safe and easy recovery strategies in different cases. If you find the way to implement one of the strategies below, then you can definitely recover your deleted video.
But if your situation doesn't fit any cases in part 1, then you may move to part 2 and try those irreversible software-restoring methods.
#1.Platform Video Recovery Strategy
If your losing video is saved on a third-party platform, your best choice is restoring it from the platform. Contact the support if you fail to find the way.
Next, we find you the way for Facebook video recovery, along with YouTube video recovery:
How to recover video from Facebook?
How to restore video from YouTube?
#2.Android & iOS Video Recovery Strategy - Gallery Recycle Bin
For Android & iOS users, if you accidentally remove a video file, then you can retrieve deleted videos from "Recently deleted" bin within days or months.
For Android phone, try "Gallery" > "Recently deleted".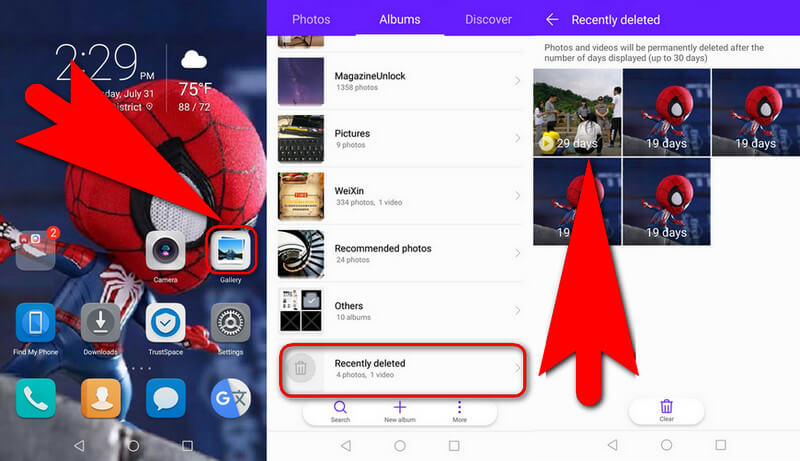 Image: Restore your deleted video files in Android.
#3.PC Video Recovery Strategy – Recycle Bin & PC Backup
For those video files deleted from computer, they will be archived and moved to recycle bin. If you haven't emptied recycle bin, or run any PC clean software on it, then you shall check your recycle. Your video file must be lying there, and a right-click will restore it to its previous folder.
If your recycle bin is empty, then you can check computer backups. If you have a backup when your losing video exists, then consider restoring your computer to that time point and find back your deleted video. - Do make a backup of your present computer before running PC restoration, so that you can restore to current PC.
Part 2 - Popular 4 Strategies for Video Recovery [Renowned Video Recovery Software]
What if solutions above aren't viable in your case? Now that you can't use secure approaches in part 1, those adventurous video recovery applications are worth a shot.
Before giving a try, we are responsible to warn you:
Warning

a.They may fail to find your losing video.
b.If the recovery software fails to restore it, then you'll have a small chance to recover deleted files. Because such commands perform re-arrangement of the current disk data, and PC free space will no longer be the same.
Note: When you run the command of "Empty recycle bin", the computer won't throw files out for real. Instead, PC marks the storage of the deleted file (a section of hard disk) as "empty for use", and randomizes its memory.
#1.Disk Drill Clever Files
URL:https://www.cleverfiles.com/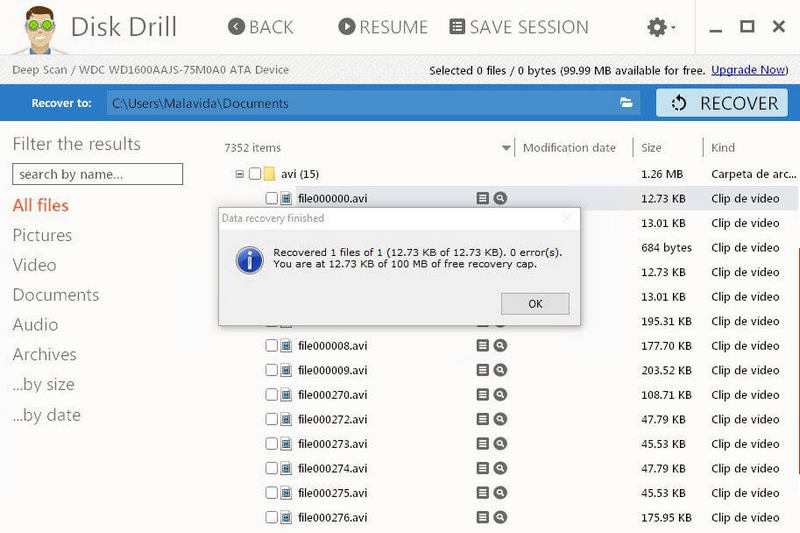 Image: Use Disk Drill to find deleted video files.
Disk Drill - the software for recovery of deleted information for Windows, allows you to quickly and efficiently recover lost data from virtually any media: hard drive, external hard drive, cameras, camcorders, audio and video players, cell phones, memory cards of any type, USB flash drives.
#2.Recuva Free
URL:http://www.ccleaner.com/recuva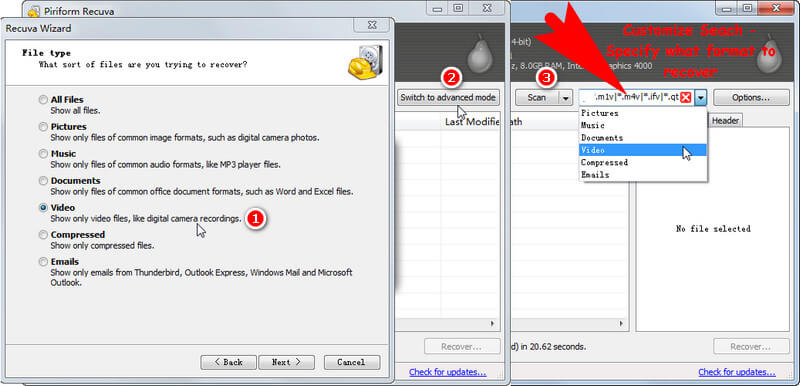 Image: Use Recuva free to restore deleted video files.
Recuva brand is acquired by CCleaner, which is a branch of British software company - Piriform Ltd. Recuva has been doing data recovery for years with a big reputation.
Recuva Free is feature-limited. (It has a Professional version.) In Recuva Free, you can choose what video files to recover.
Due to our test result, Recuva Free will retrieve some of previous video files deleted, but it can't find back all of them.
#3.Recoverit Free
URL:https://recoverit.wondershare.com/data-recovery-free.html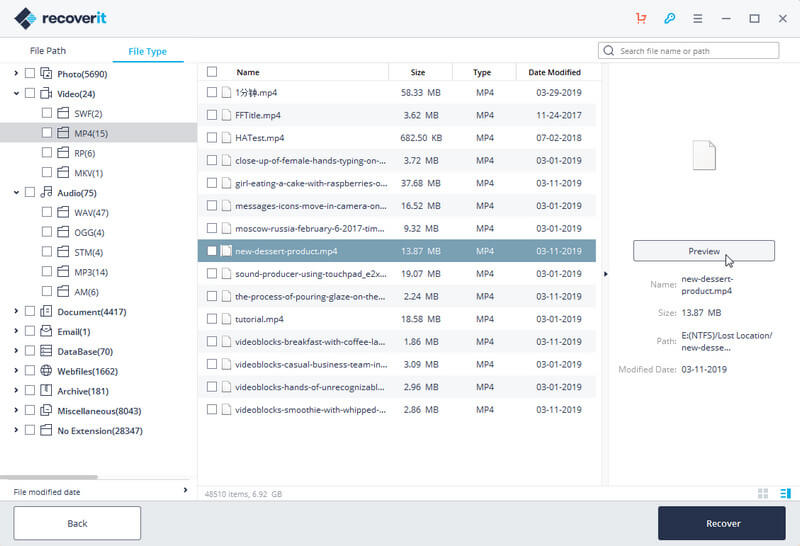 Image: Recoverit free video recovery software.
Recoverit Free is a new video recovery software. It's capable of recovering video files along with all other kinds of files. A unique highlight of Recoverit Free is that it enables you to preview deleted video before restoring it.
It's less a function of recovering files that are emptying from recycle bin. While, Recoverit Free will help you find back more video files deleted by keystroke of "Shift" + "Delete" than many mainstream video recovery software.
#4.UndeleteMyFiles
URL:Official Link 1; Softonic Download Link 2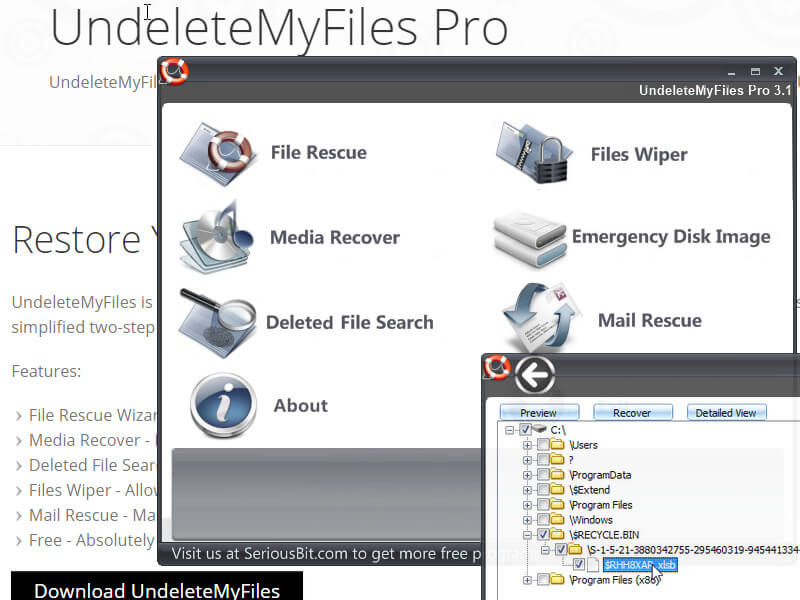 Image: UndeleteMyFiles video recovery software.
UndeletedMyFiles only scans deleted files drive by drive, and it's able to recover some of deleted video files. However, you are not allowed to customize a search. Such as, specify where to search or what format to recover. Also note, you won't be able to preview deleted video files if they were deleted in the recycle bin.
Part 3 - Any Ways to Make a Video with Automatic Save & No Need to Recover?
Plan to make a video now? 2 live-long methods will ensure your video saved:
case a Plan to make some commercial videos or video ads? If you prefer Pro royalty-free videos to shoot footage of yours, then FlexClip video editor (with 1,000,000+ videos & pictures) is perfect to search, make and save your video editing.
Image: FlexClip generates Pro videos for you with auto save.
- As long as you create a video in FlexClip, only with its extensive resources, FlexClip will automatically save it for future modifications and downloads. No need to backup manually.
case b For film creation or making a video with your own footage, you can back up your video via cloud services (i.e., One Drive, Google Drive,…) Exclusively for Premiere Pro users, Adobe Cloud is designed for backup.