Are you tired of spending hours to perfect your videos? Need somewhere to get inspiration for your next video? It's time to apply a video editor with template for help! Not only do these tools save you time but they also give your video a coherent and stylish look. Here we've listed ten best video editors with templates for computer, mobile and online users. Keep scrolling to explore it more!
Free and Professional-looking Templates for You:
Family Memories Slideshow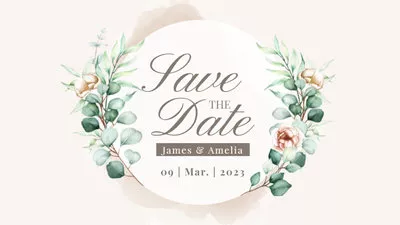 Wedding Save The Date Slideshow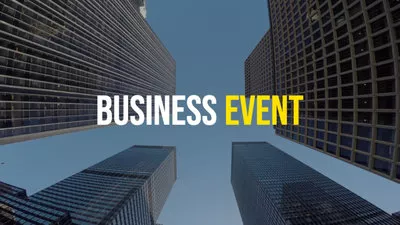 Business Conference Promo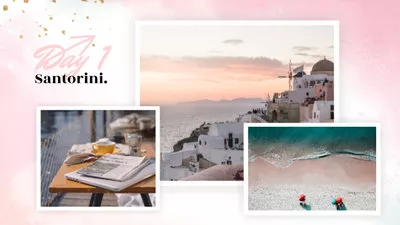 Travel Memory Collage
Part 1: Benefits of Using a Video Template
Using a video template can benefit us a lot and below are some examples.
Easy to use: Templates make it easy to produce professional-looking videos in minutes, regardless of your editing experience.
Fast and efficient: If you need to create videos quickly or need some inspiration, templates will lend you hand.
Various options: Templates help you create videos in different styles in minutes with ready-made elements.
Part 2: 3 Best Online Video Editor with Templates
#1 FlexClip
FlexClip is an all-in-one video editor with templates to create awesome, engaging videos and content in minutes, regardless of your video editing experience. With an easy-to-use interface and various editing features, your creation process will be a breeze.
Offering 4000+ designer-made templates, this video editor fits all your theme needs ranging from business, family, love, music and more. Additionally, you can determine what sound effects, music, voiceovers, animations, and other dramatic features to include. All these templates are customizable and free for you!
Moreover, you can access millions of royalty-free videos, photos, and soundtracks to take your video to the next level. Advanced tools like AI subtitle generators, text-to-speech features are available. After editing, you can directly share videos to YouTube and TikTok in clicks.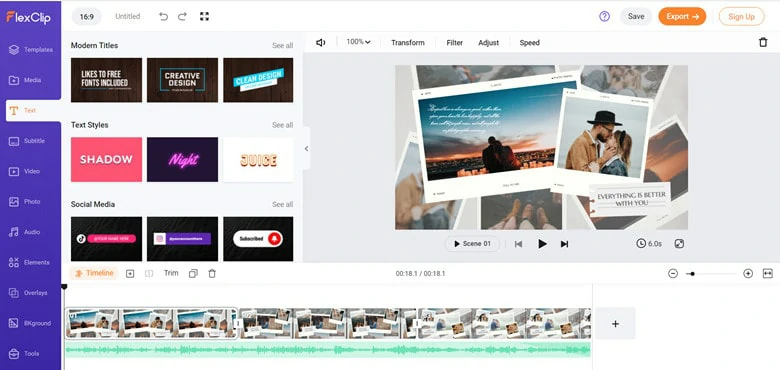 Video Editor with Template Online - FlexClip
Key Features of FlexClip
4000+ Professional-looking templates for you.
Millions of royalty-free videos, images and music tracks.
AI tools to automatically generate subtitles and Siri-like voices.
Offer a full set of editing features like
transitions
, trimmer and merger.
Eye-catching overlays, text effects and animated elements are here.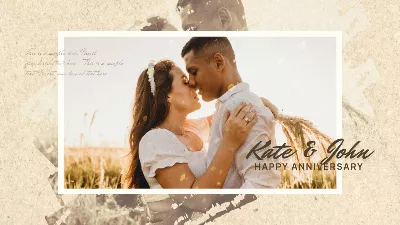 Love Romantic Wedding Anniversary Memory Floral Slideshow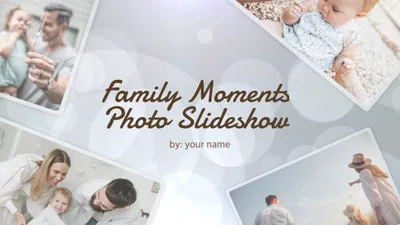 Family Moment Collage Slideshow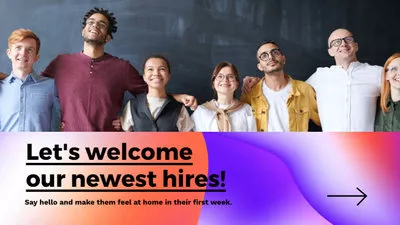 Professional Gradient New Employees Video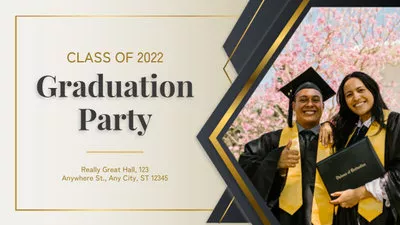 Party For Graduates
#2 Canva
Canva reigns supreme as the most versatile tool for editing photos and videos. As a video editor with templates, it helps you create designs from templates, photos, fonts and more. Thanks to its multi-user capabilities under the Canva Pro subscription, you and up to five team members can access 100GB of cloud storage if want to collaborate on videos.
Additionally, Canva offers various features to ensure you have full control over customization. Doodles, notes and shapes can all be reached with your fingers. Need to identify your brand easily via videos? Here are brand kits feature for you. Directly add your watermark, font and brand material to your video in clicks.
Video Editor with Template Online - Canva
Key Features of Canva
Millions of poster and video templates.
Support team collaboration feature.
A library of free stock photos, icons, and fonts.
You can change the whole color pallet.
Image background remover and text-to-photo tools are available.
Cons:
No audio tools are available.
Free templates are limited and you need to subscribe to get more template options.
#3 Veed
Veed falls on our list since it's easy to use and feature-rich. Firstly, its template category varies from business to personal uses, including podcast, promo, hiring & onboarding. With the help of these templates, you can create professional-grade videos with a consistent look and feel. To make your videos more engaging, you can use live collaboration, images& stickers and annotations to add some interesting elements to your video.
Looking for ways to add subtitles automatically? Here is Veed's speech to subtitles transcription, allowing you to create accurate subtitles in minutes. After adding subtitles, Veed enables subtitling edits: encoding and changing the text style. Aside from the auto subtitle function, basic editing tools and media resources are all available.
Video Editor with Template Online - Veed
Key Features of Veed
Hundreds of different theme templates.
Perfect your video with filters, effects and popular music.
Go live or record a video podcast.
Directly share videos on social media.
Able to use AI-based tools like auto-subtitle, background remover and noises removal.
Cons:
The loading speed is very slow.
Text styles and ready-made templates are limited.
Part 3: 3 Best Video Makers with Template for Windows and Mac
Here are 3 best video makers with templates for desktop users. Let's take a look at the list right now!
#1 PowerDirector 365 Business
PowerDirector is a perfect video editor for those who want to get started with a stunning template. Simply select a template from categories spanning across various niches, including business promo, social media and love-related videos, then personalize the text, logo, visuals and sound to ensure the messages portray your brand image. After that, save your videos and share your videos with friends.
PowerDirector offers stunning templates and 8,000,000+ stock library provided by Shutterstock and iStock, letting you create hours of content without filming a thing. Additionally, advanced editing tools and effects are ready to polish the videos to the next level.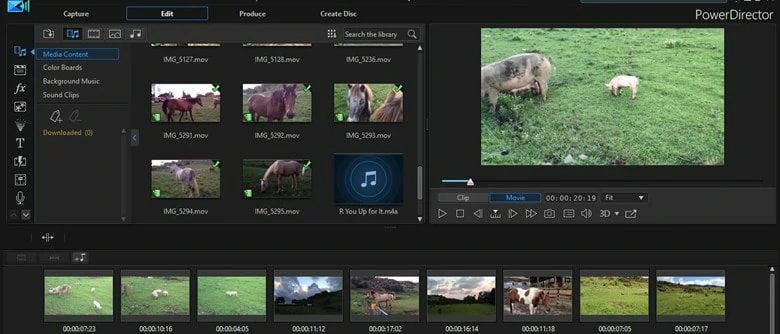 Video Editor with Template for Desktop - PowerDirector 365 Business
Key Features of PowerDirector
Templates are readily available.
Transitions and effects to give you more options for video editing.
Support for many file types and the ability to upload to social media.
Text animations, video transitions, color grading in couple of clicks.
This tool makes video editing very easy because of its user-friendly interface.
Cons:
Lack as many advanced features as some other video editing software.
PowerDirector can be slow to render videos, especially if you're working with large files.
#2 MotionArray
Motion Array is a membership-based website that focuses on delivering high-quality After Effects templates, stock music and cool transitions. This tool allows you to easily enhance the capabilities for your videos and capture your audience's attention with unique effects and transitions. If you're a paid Motion Array membership, you can access amazing Premiere Pro plugins.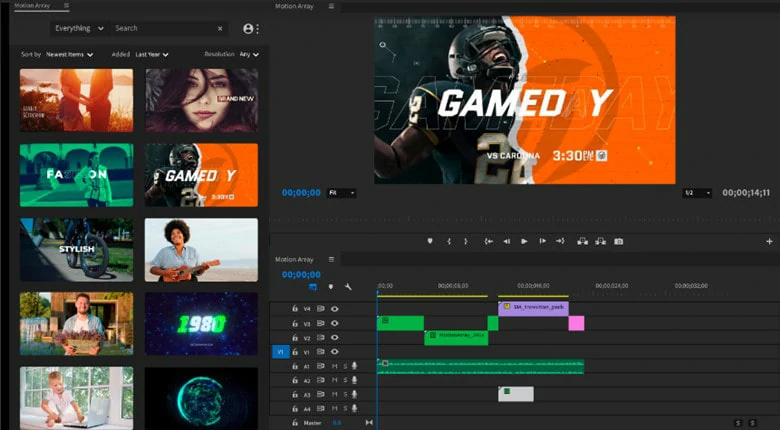 Video Editor with Template for Desktop - MotionArray
Key Features of Motion Array
Wide variety of digital assets.
User-friendly interface and unlimited downloads.
Portfolio Website Builder and other useful tools.
Royalty-free high-quality video, audio, photos.
Access to templates from After Effects, Premiere Pro, Motion Graphics and more.
Cons:
Only Adobe Premiere Pro plugins available.
Limited templates library than competitors.
# 3 Adobe Express
Just as its name suggests, this video editor with templates is designed by the top-notch Adobe company. With Adobe Express, users can access to a library of fluid templates and many assets to create professional-quality designs. Thanks to its powerful conversion function, you can avoid the situation when your video editor fails to accept the desired footage. If you want to refine the videos, useful editing tools will lend you a hand.
Video Editor with Template for Desktop - Adobe Express
Key Features of Adobe Express
Beautiful templates and many stock assets.
Useful file conversion capabilities.
Powerful and useful image and video editing features.
Professional-looking marketing material for new user.
Effects, filters, textures, and overlays are available.
Cons:
The laggy problem may drive your crazy.
Templates are limited for you to choose from.
Part 4: 4 Best Video Editing Apps with Templates
Need video editing apps with templates to create videos on mobile? Here are 4 answers for you. Let's dive in!
#1 KineMaster
KineMaster is a full-featured video editor program with thousands of trending video templates. Whether you're going to create an educational video, a tutorial or other video types, KineMaster will satisfy you with a professional-looking template. Moreover, you can share your videos as templates and millions of KineMaster users will use them to create their videos. With tons of editing features and functions, you can add as many videos, images, text and layers as many as you want.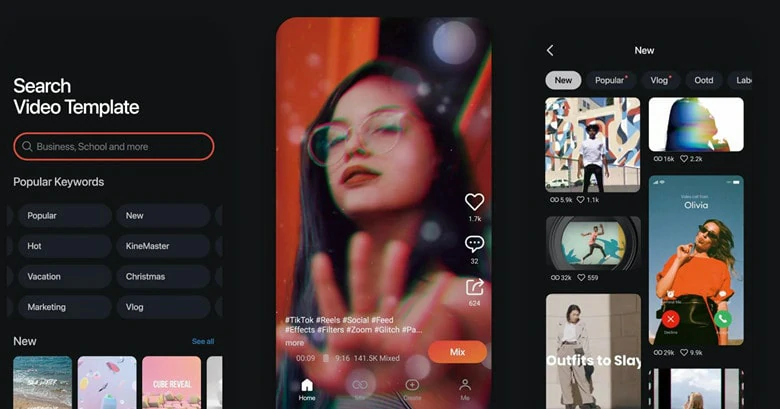 Video Editor with Template for Mobile - KineMaster
Key Features of KineMaster
Popular templates cover a variety of options.
Intuitive interface for beginners to master.
Extensive default effects like blurring and mosaic.
Split, trim, and other editing functions.
Voice changer, sound effects, background music tracks, and voiceover recording.
Cons:
No built-in media library.
Watermarks and ads appear on your screen.
#2 Promeo
Promeo makes it easy to create incredible videos without effort. 10000+ optimized templates are all editable using text, effects, vivid colors and a complete library of premium stock media. In addition to extensive templates, the app also offers various video editing tools such as cutting, separating, and combining clips and the option to insert text, music, and other elements into the videos. No editing skills are required to master this application.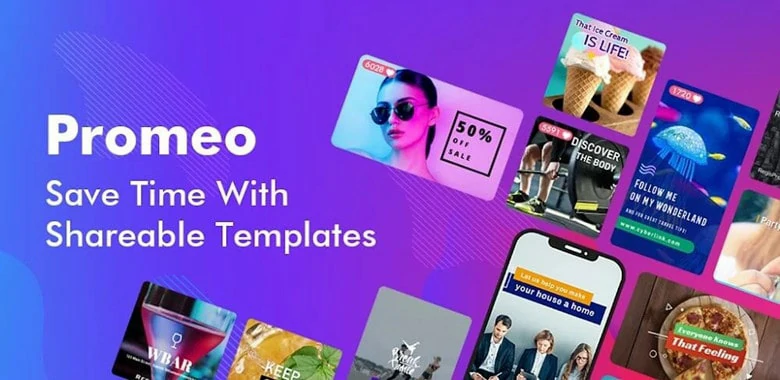 Video Editor with Template for Mobile - Promeo
Key Features of Promeo
Up to 1000+ templates are available.
Unlimited access to videos, photos and music.
Access 100+ different fonts to customize your creative output.
Easily add animated stickers to your favorite templates.
Use the color palette to change the color of your graphics.
Cons:
You may meet some unknown malfunctions.
There is no way to change the default portrait mode to landscape.
#3 LumaFusion
LumaFusion is undoubtedly the most iOS video editor app with a template, bringing various features that easily take your video to the next level. One of the gorgeous functions is the app's collection of templates, which permits users to create a professional-grade with a fluid look effortlessly. Aside from various templates, LumaFusion includes handy editing tools like trimming, splitting and merging.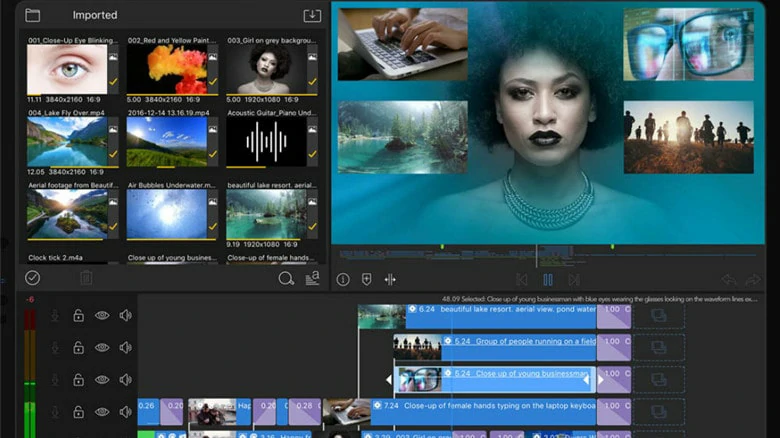 Video Editor with Template for Mobile - LumaFusion
Key Features of LumaFusion
Uncluttered and customizable interface.
A wide collection of stunning templates.
Support up to 6 layers of video and audio.
Able to import and use custom fonts.
Powerful and adjustable image stabilizer.
Cons:
Difficult with large projects.
#4 VivaVideo
VivaVideo is an excellent option for those who like to create videos using templates and stickers. The interface of this video editor with template is extremely simple, user-friendly and up to the mark. When you run this application, there are editing options of audio, file conversion, slideshow and mixer. Moreover, you can add exciting effects, filters, stickers, and Fx without any hassle. All the edits can be done with a drag-and-drop operation.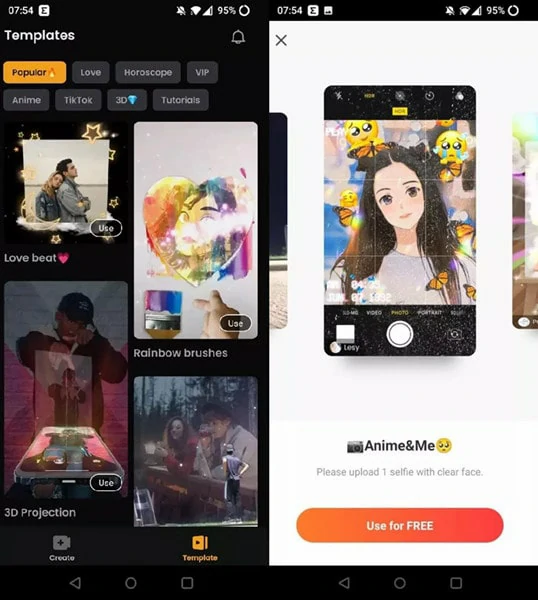 Video Editor with Template for Mobile - VivaVideo
Key Features of VivaVideo
The interface is user-friendly.
A full set stock of music and sound effects.
You can add filters and stickers with one tap only.
Dozens of templates available according to different occasions.
Support multiple layers or tracks of videos and music in the timeline.
Cons:
Watermarks and ads are everywhere.
You cannot edit GIF files in this video editor.
The Bottom Line
Templates help us quickly create awesome videos with a cohesive look and style. Here are 10 best video editors with templates for computers, mobile and online. By the way, if you need a flexible video editor without editing skills requirements or download, don't forget to give FlexClip a try!