Twitch is the world's leading live-streaming platform for gamers and influencers. It launched in 2011 and since then, has garnered millions of users, with a total of 3.8 million unique broadcasters as of February 2020.
The platform is targeted at gamers of all ages and other lifestyle casters that supports building communities around a shared and streamable interest.
So how does it work?
Twitch streamers "broadcast" their gameplay or activity by sharing their screen with fans and subscribers who can hear and watch them live. There are both free and paid versions of Twitch, with paid options that remove ads and give users access to more robust social, streaming, and storage features.
Twitch gives gamers and influencers the ability to stream their activity and let others watch in real-time. This is a great way to build and nurture your community. Streams can last anywhere from a minute to eight hours and beyond. You can find a stream by browsing various categories, including specific games. If you find a streamer you like, you can follow their channel and get activity updates and notifications.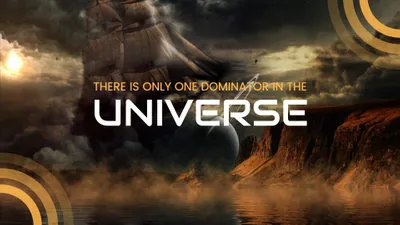 New Game Trailer
Advantages of a Twitch Channel Trailer
On average, Twitch gets more than 15 million daily active users. That's a lot!
So in order to stand out from the crowd, having quality and eye-catching Twitch Channel Trailers is essential. A Channel trailer is a new and more creative replacement for your offline screen. Most streamers aren't online 24 hours a day. So, during those offline hours, your shop front still needs to be in great condition in order to attract more viewers and make previous ones come back to your channel.
Here are the advantages of having a good channel trailer:
Opportunity to introduce new viewers to your brand.
You get to introduce new viewers to what your content is all about.
Ability to tell people about your schedule so they can find you when you do go live.
Showcase some of your best clips from recent streams.
You can direct people to your other channels where they can find your content.
Twitch Channel Trailer Ideas
With that said, we've rounded up some ideas and inspiration for your Twitch Channel Trailer.
Show off the excellent video content you created before.
People have an attention span shorter than that of a goldfish. This is why getting their attention in the first few seconds they land on your channel is crucial. Create a channel trailer that showcases excellent videos content you've created before.
Make edited highlights and clips from your content to give them an overall vibe of your broadcasts. Ensure that your video trailer doesn't exceed three minutes in order to keep your viewer's attention.
Record an interview so that people would know you.
Ask a friend or family member to help you out with this by being the interviewer (they don't need to be seen in the video). An interview is a great opportunity to showcase the very best of you. Choose questions and answer in a way that would pique your viewers' interest. This is also a great opportunity for your viewers to see your personality.
At the end of the interview, you can lead them to your other channels like YouTube, Twitter, or Facebook. Your goal should be to move this new member of your community across to your other channels to watch videos, talk to you directly or find out more about you as a creator.
Interest people with something special that your competitors don't have.
With so many users on Twitch, it can be difficult to stand out. This is why taking a few extra steps to create a good trailer will set your channel apart.
Highlight your special skills, hobbies, or talents that you think would be interesting to your viewers. People will notice that your trailer is different, and you are more likely to get a reaction.
Another great addition or idea for your channel trailer is involving your viewers. Twitch is a platform to build a community and to engage with others. You can try adding your favorite channels, giving a shoutout to loyal viewers of your community, or giving a genuine message to your viewers.
How to Create a Twitch Channel Trailer
Now, let's dive into the how-tos. Here's a step-by-step guide to creating your Twitch channel trailer.
Step 1
Add clips to the Media section and apply them to the storyboard.
The first step is to choose which clips you want to include in your trailer. Remember that your trailer should only be a few minutes long. So take the time to carefully choose which video clips are interesting enough to add to your trailer.
Here's a quick how-to guide to download your Twitch clips:
Go to your Channel Dashboard, then to Content on the dropdown menu, then click Clips.
Select Clips on My Channel on the right, then click the Views button to sort by most viewed.
Click on the clip you want, and click on save as highlight.
You can edit the length, title, category, and more here and then publish it as a highlight. Once you've published the clip as a highlight it will need to process.
Once you've published the clip as a highlight it will need to process.
Once your clip is done processing, save it and go to the video producer.
Find the highlight, in this case, it is second on our list. Click the 3 dots next to the highlight, and click download
Once you've downloaded your most popular clips, upload them to the media section of your editing tool. Then, add them to your storyboard. Add these video clips according to how you want them to be seen in your timeline.
Now that you have your selected clips, the next step is to add audio. There is a lot of free downloadable music online that you can use. Additionally, you can also add your own audio from your previous streaming videos or recorded interviews. This will all depend on the type of trailer you want to create.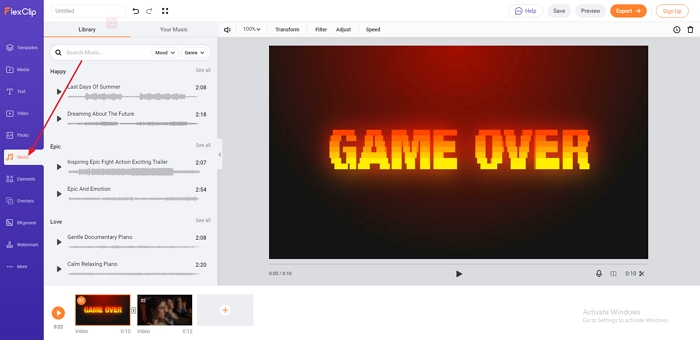 How to Create a Twitch Channel Trailer - Step 2
You can add text on the screen in order to emphasize something in the video, whether that be the video's title, subtitles during your interview, or a call to action.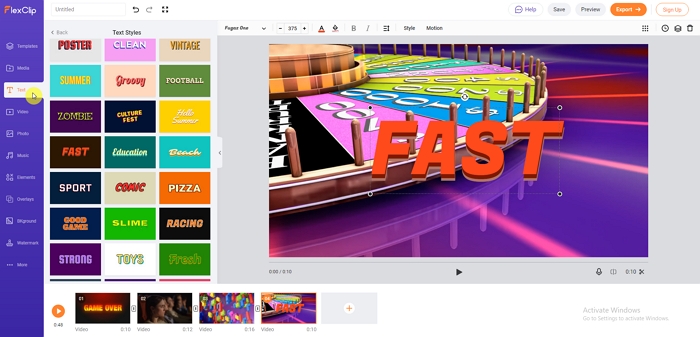 How to Create a Twitch Channel Trailer - Step 3
There are lots of ways to make your trailer video eye-catching and most of the time, it can be executed through editing. Add edits to your video like transitions, video speed, color, and contrast adjustments.
Additionally, it's always good to add a call to action at the end of your trailer. A "Call to Action" on Twitch is a request for a follow.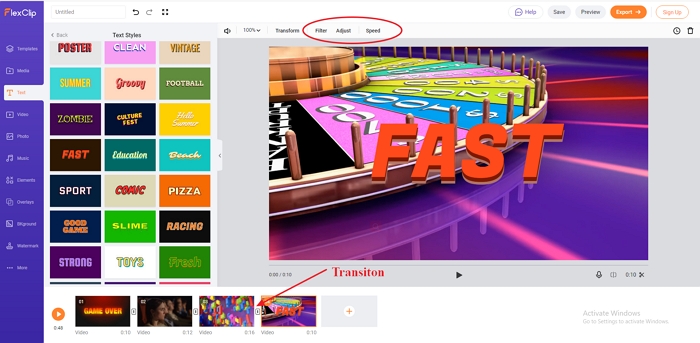 How to Create a Twitch Channel Trailer - Step 4
Step 5
The last step is to download your video file once you find everything good to go. Then share it on your Twitch channel and social media channels.
In Conclusion:
Remember that there's no "perfect" channel trailer. What's important is putting something up that you and your community will enjoy because it will attract other like-minded members to your stream.
FlexClip is a great online tool to help you get started in creating your Twitch Channel Trailers. And did we mention it's totally free? Aside from Twitch Channel trailers, you can also use FlexClip to create YouTube, TikTok, and Facebook videos.
So don't underestimate the impact of videos on your online accounts and create your own customized channel trailer in no time with FlexClip.