Summary: An awesome Twitter video ad gives you the best chance to reach your target audience and introduce them to your brand. This blog will tell you the top three things you should know about Twitter video ads.
With its 330 million monthly active users, Twitter becomes one of the most marketing tools for a company. Marketers use Twitter ads to increase website visits, improve brand awareness, grow traffic followers, and boost Tweet engagement. You may see a lot of Twitter ads, but what kind of them attracts your most attention? Statistics indicate that Twitter users tend to click on an ad featuring video content than anything else. Want to know more about Twitter video ads? Let's move on.
Top 1. Why Do You Create Twitter Video Ads?
Top 2. How to Make a Twitter Ad Video with FlexClip?
Top 3. What Are the Best Practices for Twitter Video Ads?
You May Like: FlexClip Ad Maker: Create Video Ad With FlexClip Easy & Fast
Twitter offers different kinds of ads, including Promoted Tweets, Promoted Accounts, and Promoted Trends. However, the very best Twitter ads are those that contain videos. Twitter ads with video can improve your brand awareness. According to research, Twitter videos potentially increase purchase intent by 34% and enhance positive brand sentiment by 14%. Also, they cut the advertising cost of Twitter engagement. Twitter users admit that video ads have increased ad recall rates by 194%. Twitter video ads are worth even more than you think. Below are some statistics for your reference:
62% year-over-year increase in daily video views on Twitter.
82% of Twitter users watch videos on the platform.
41% of users feel Twitter is a great place to discover videos.
55% of users spent time on social media watching branded video ads.
43% of users like or follow that brand after they are viewing a video ad on social media.
76% of users visit a company's website after watching one of their video ads on social media.
41% of users say that they've bought a product or service after watching a video ad on social media.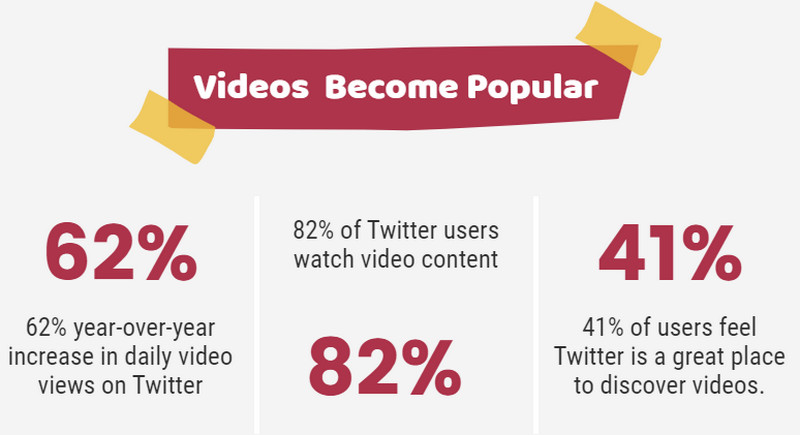 Image Board: Statistics - Videos Become Popular
With the rising trends of social media like Twitter, Twitter promotion is the perfect way to boost your business. As people pay more time on videos that are interesting but short, you can make your brand more memorable with an eye-catching and impressive video ad. Since video ads on Twitter are so important, it is wise to pay much attention to your ad video making. FlexClip, a Twitter ad video maker, is always ready to help. It covers a wide range of Twitter ad video templates for you to choose from. What you should do is choose a template, customize it, and download it. No professional skills needed! Here are the steps you can follow:
Step 1. Choose the proper template and click "Customize."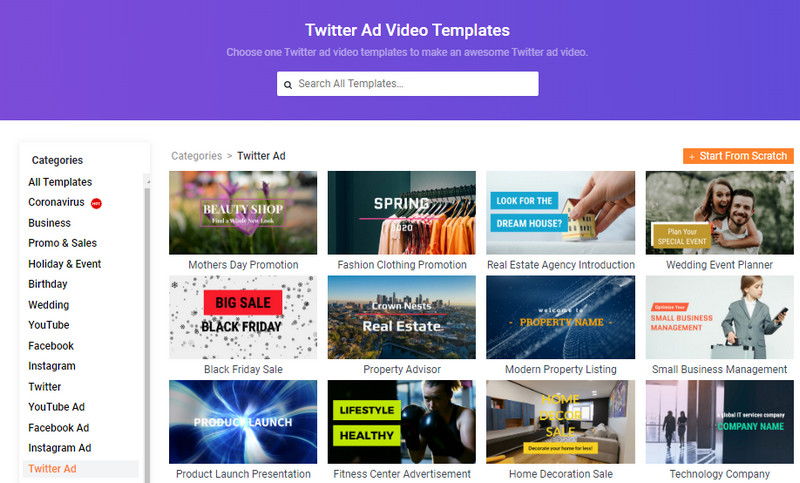 Image Board: How to Make a Twitter Ad Video with FlexClip - Step 1
Step 2. Add stock or local media/add text/add music/add effects.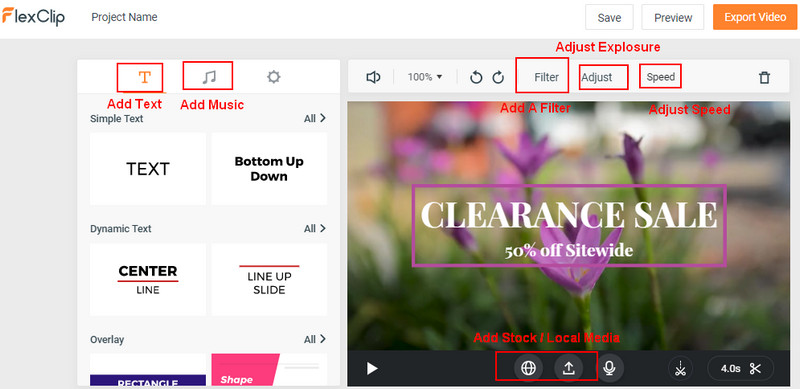 Image Board: How to Make a Twitter Ad Video with FlexClip - Step 2
Step 3. Preview and download your project.
Image Board: How to Make a Twitter Ad Video with FlexClip - Step 3
Tips

1. How to upload an ad video to the Twitter platform
Log into your Twitter Ads account, click Media tabs > Upload Media select your ad video file from your computer and upload it.
2. Twitter ad video specifications
File size: max 1GB
File types: MP4 or MOV
Recommended length: 15 seconds or less. Max: 2 minutes 20 seconds
Resolution: 1920 × 1200
Ratio size: 16:9 or 1:1 (square)
1. Communicate with users through video ads.
Choose what to promote and tell users why they should view your video. Make sure your video ads are relevant, valuable, and compelling.
2. Keep your video ads short.
Research shows that users are more engaged in the first 6 seconds. They lose interest in your video content if it goes on too long. So, you'd better keep your video ad short and convey your message within the first 15 seconds.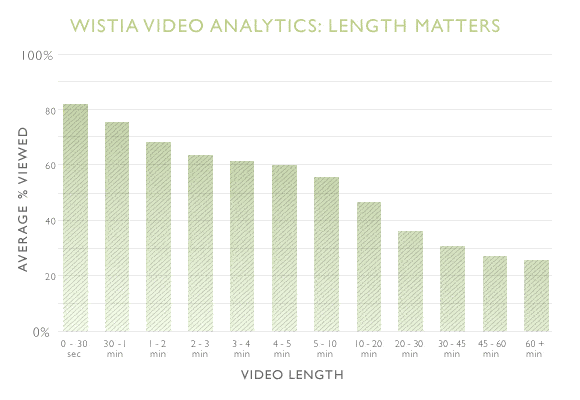 Image Board: Twitter Video Ads Video Length
3. Make sure your video ads are mobile-friendly.
Nearly 90% of Twitter video views happen on mobile devices. To make your video ads mobile-friendly, you'd better pay much attention to captions and ratio size.
4. Use different video types.
Here are some videos that perform well on Twitter: explainer videos, how-to videos, storytelling videos, comedic, but relevant videos, and infographic style videos. Use multiple videos in your campaigns and test which one performs best.
5. Make text-based videos.
You need to make sure your video ads are text-based since they auto-play without sound on Twitter. Add text to your video and make sure your video messaging is clear without the audio. Please refer to FlexClip Video Text Editor to get some ideas on how to add text to your video.
6. Add compelling CTAs.
CTA means call to action in marketing. CTAs appear in various places of an ad video to tell your audience what to do next. Please note that CTAs should be compelling, convincing, and easy to do.
The Bottom Line
As you have a clear clue of Twitter video ads, you can create one for your business now. Twitter allows you to choose between two types of video ad campaigns: in-stream video views and promoted video views. By the way, to make an eye-catching ad video on Twitter, we strongly recommend FlexClip, which is powerful but simple to use. Look no further than FlexClip where you can find more ad video templates for YouTube, Facebook, and Instagram. Go and have a try!