This is a rule of YouTube video production: creating a YouTube is 30% filming plus 70% editing. Proper edits will level up your work, help boost views and comments, wins more subscription. However, anyone will tell you that video editing can't be done without a great YouTube video editing editor.
Here in this post, we will show you the best 8 video editing tools for YouTube on Windows and Mac. Some of them are software, while others are online video editing tools. Check this list out and decide what's the best YouTube video editor for you.
Also Read: How to Make A Good YouTube Video >
Intro/Outro Templates You Might Need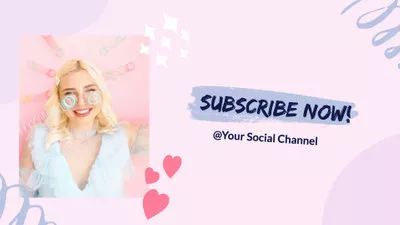 Fashionista Youtube Outro
Before going further, there are some things you need to consider. Different answers may lead you to different YouTube video editors.
* Are you experienced in video editing?
* What kind of video you want to create?
* What edits you need to make? Only simple edits or complicated edits?
* How much you are gonna invest on YouTube video editing?
Generally speaking, online YouTube video editors are more affordable options and better for those who don't have much editing experience, while the YouTube video editing software are for professionals or those who create videos frequently.
Best YouTube Video Editors Online
Best YouTube Video Editor Software
Best YouTube Video Editors Online
Top YouTube Video Editor Recommendation - FlexClip
We rank FlexClip as number 1 on the list of the best video editor for YouTube because it is hundreds of presets such as video trimmer, music cutter, elements, transitions, speed changer to give your YouTube video a professional look. If you are new to video editing, you can quickly start with any personal or business video templates. As for the professionals, its editing features are enough to realize all ideas. The best of all, FlexClip's YouTube video editor adds no watermark to your work.
Price: 0 ~ 15.99/Month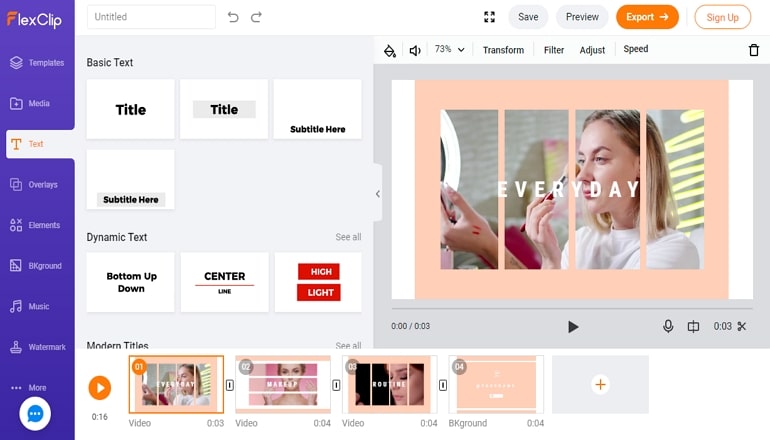 Best Video Editor for YouTube - FlexClip
ClipChamp
ClipChamp goes to the second on the list of the best video editor for YouTube. It outstands because of its special features like recording directly from the webcam. However, free account holders can only make three videos per month, and each video can't be longer than 5 minutes each.
Pros:
1. You can upload your own videos or record directly from your webcam, which can be convenient for vloggers.
2. You can use its online tools to make all basic edits, like trim, crop, rotate, flip or adjust the colors.
3. You can one-click to share the video you made to YouTube.
Cons:
1. It is not completely free to use ClipChamp. Free account holders can only create three videos per month and the video made with ClipChamp should be less than 5 minutes at length.
2. It would be a little bit slow to export the video.
Price: 0~ $19/Month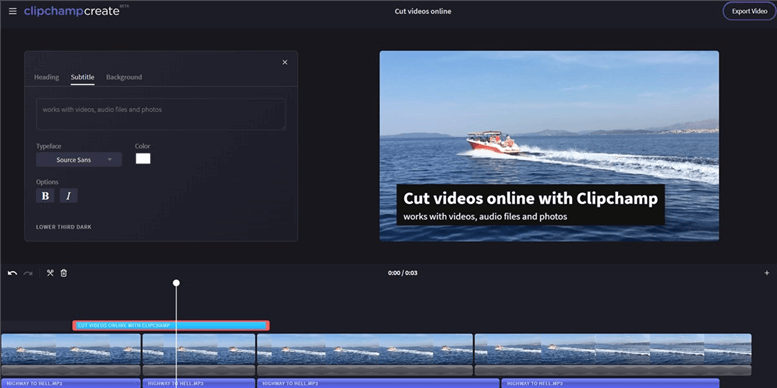 Best Video Editor for YouTube - ClipChamp
Movie Maker Online
As its name suggests, it is also a web-based YouTube video editor. At the first glimpse of Movie Maker Online interface, you might feel confused. The main page of Movie Maker Online contains ads and the editing bites can be hard to find. But if free and varies of online elements are what you need most, Movie Maker Online is worth trying.
Pros:
1. Movie Maker Online is linked to archives of royalty-free stock images and music you can use to jazz up with your video.
2. You can even apply some great filters and effects to the YouTube video.
3. It is completely free to use Movie Maker Online.
Cons:
1. The interface contains too many ads. You can easily click on one advertisement by mistake.
2. Before applying videos or photos from its library, you need to check the full license details.
3. It might take you some time to figure out where the editing buttons are.
Price: Free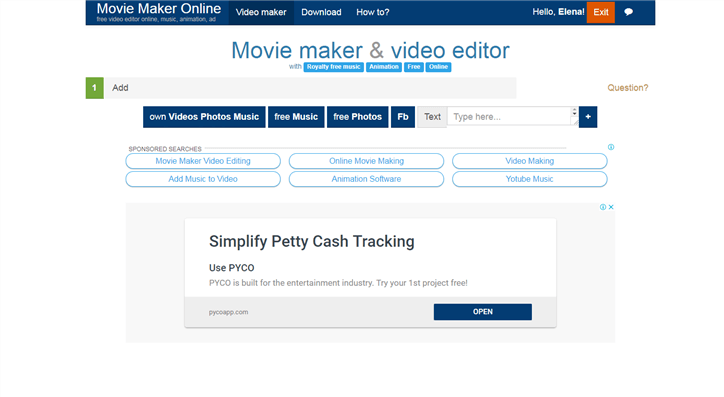 Best Free Video Editor for YouTube - Movie Maker Online
RecordCast
As its name suggests, RecordCast is more a recording tool than a video editor. However, if you want to create a tutorial video for YouTube, don't miss it! RecordCast helps record your screen and webcam simultaneously. Even though it doesn't have much video editing tools, RecordCast meets your basic editing needs with its trimming, cutting, overlay, transition and more. Give it a try!
Pros:
1. Enables you to record screen and webcam.
2. No download or register required.
3. Easy timeline video editing mode.
Cons:
1. Limited recording time.
2. Limited editing features.
Price: 0 - $3.99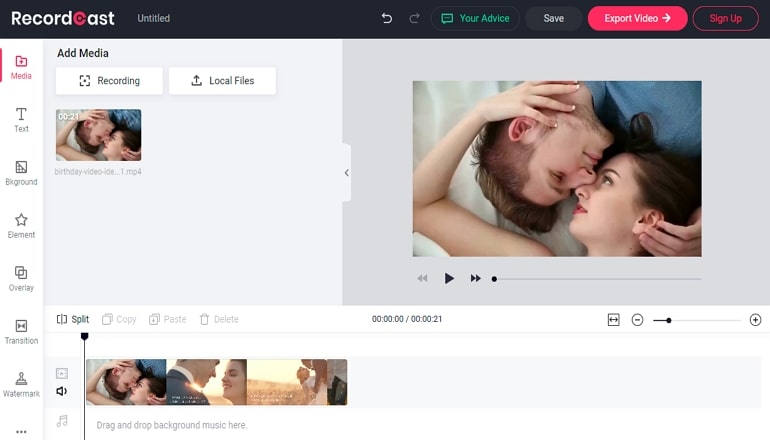 Best Free Video Editor for YouTube - RecordCast
Animaker
Feel like creating some animations for your YouTube channel? Then try animaker! Animaker is a great video editor that makes cool edits. Besides that, Animaker provides you with numerous animated figures to create interesting animations, which most video editors for YouTube don't have.
Pros:
1. Interesting figures to create animation.
2. Supports team collaboration.
3. Rich video resources.
Cons:
1. Limited video editing tools.
Price: 0 - $48/month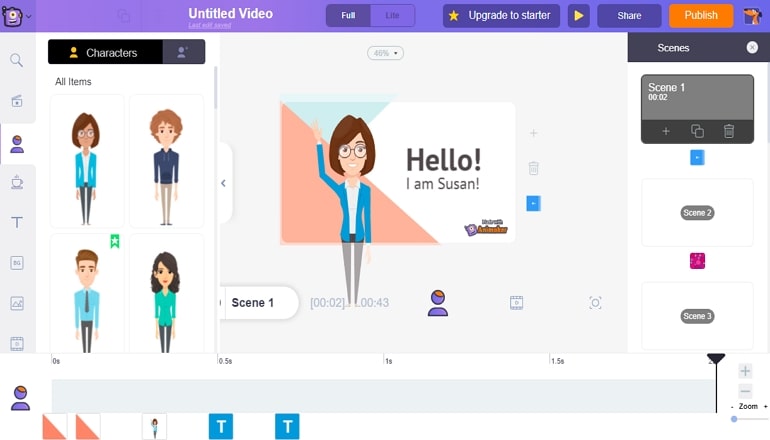 Best Free Video Editor for YouTube - Animaker
Best YouTube Video Editor Software
iMovie
With iMovie for iOS and macOS, editing a video can't be easier. Choose your clips, add titles, music, effects, you have now created a stunning video. iMovie, as the official Apple supported video editing software, is equipped with 10+ creative video filters that can add your videos a cinematic touch and sound & sound effect that can make a movie sounds as good as it looks. Moreover, iMovie supports making 4K-resolution videos.
Pros:
1. iMovie supports making 4K resolution videos.
2. iMovie has extra special effects, like change speed, split-screen effects.
3. Due to Apple integrity feature, you can stop at one iOS device and start video editing on another one.
Cons:
1.iMovie works best on Mac. For Windows users, you have to pay $14.99 to use it.
2. It can be sort of confusing to use iMovie for beginners.
Price: Free on Mac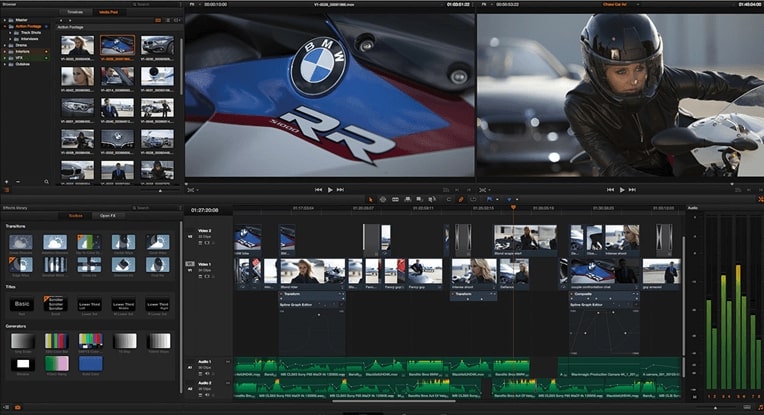 Best Free Video Editor for YouTube - iMovie
Final Cut Pro X
Final Cut pro allows you to work on complicated projects and work with larger frame sizes, higher frame rates, higher resolution and more effects. It is said to be the upgraded iMovie. Please do search for some instructions before using this YouTube video software because it can be quite complicated to use.
Pros:
1. Support 4K videos.
2. High-quality built-in resources/templates.
3. Professional lighting and color correction.
4. More advanced video editing features and functions.
Cons:
1. Only available on Mac.
2. No save function.
3. Hard to catch on.
Price: Price: $299.00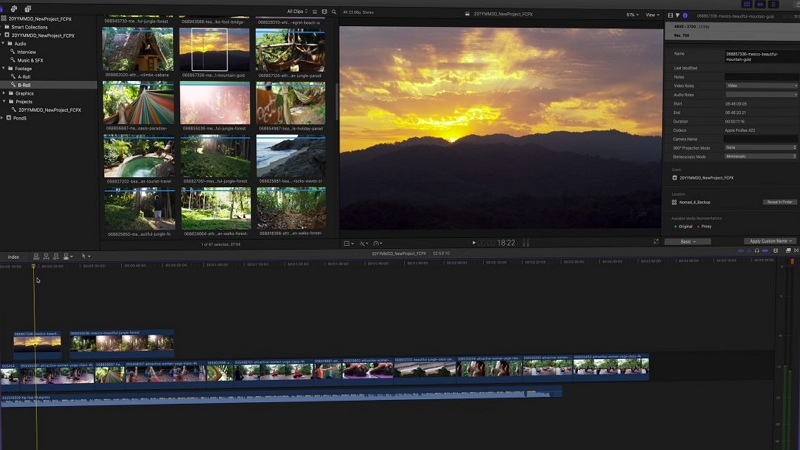 Best Free Video Editor for YouTube - Final Cut Pro X
Premiere Rush
Premiere Rush is designed as a cross-platform, multiple device video editing software aimed at social media content creators looking to process all kinds of video clips quickly and then upload them to their favorite social network, including YouTube. The app is currently available on iOS, Windows, and Mac. This software will soon support Android. In a word, it is the best combination of powerful and easy-to-use.
Pros:
1. Support multiple devices.
2. Powerful editing features and easy-to-use.
Cons:
1. Premiere Rush processes video quite slowly.
Price: start from $9.99/month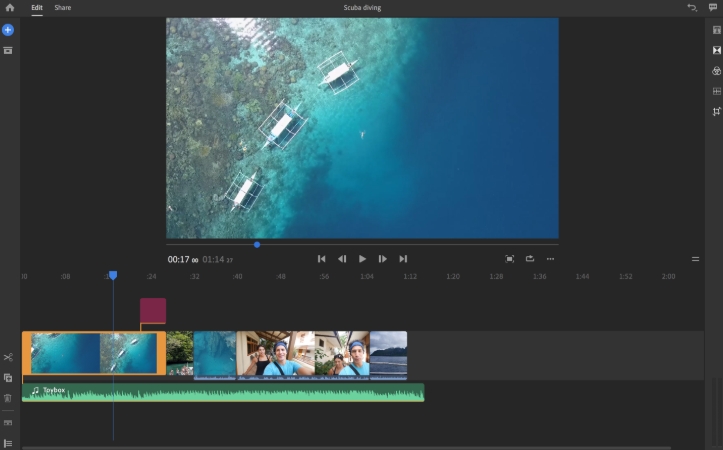 Best Free Video Editor for YouTube - Premiere Rush
The Bottom Line
That's all for the best video editors for YouTube. What do you think of above recommend free video editing software for YouTube? Let us know. We'd appreciate it if you kindly share this blog with others.