As the world is evolving, we comprehend, the entertainment industry is captivating a large amount of the population with its unique and innovative ideas. Likewise, the most trending app for this generation has to be TikTok, which is enjoyed by all age groups. On the contrary, people are fascinated by making and sharing memes for a good laugh, especially in the pandemic. Therefore, the fusion of both TikTok and memes has to be everyone's favorite. Now the question that arose is how can we create a GIF from a TikTok video which can be used to engage our audience.
1. How can we Save a TikTok Video as a GIF?
Do you ever wonder how much time is consumed in screen recording the entire Tiktok video, getting it adjusted on the website when you can easily save your time and circulate it while binge eating your favorite snack by saving a TikTok video as GIF? There are several steps which instantly convert the TikTok video as a GIF, which are as follow:
Step 1
First, locate the video on TikTok that you would like to convert to a GIF and engage with your audience by sharing it or saving it for the sake of yourself or to remind you of some incident that it reflects.
Step 2
Next, on the right side of the screen, tap on the "share" icon.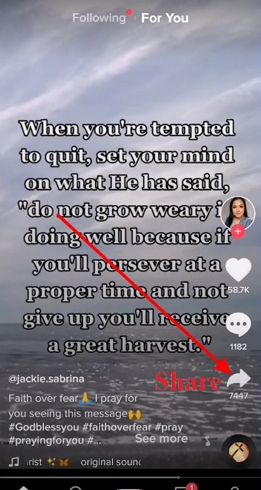 Save a TikTok Video as a GIF - Step 2
Step 3
Then, proceeding to the bottom of the page, you need to select "Share as GIF."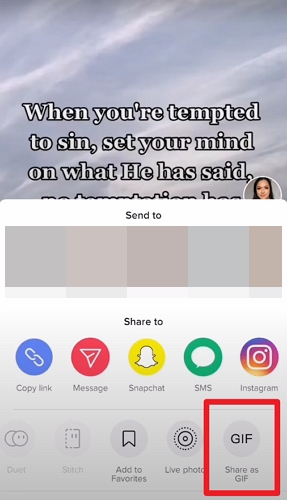 Save a TikTok Video as a GIF - Step 3
Step 4
Subsequently, the TikTok video will be converted to a GIF instantaneously, without consuming your time or making you bite your nails out of stress.
Step 5
Then you may send it by message (SMS), WhatsApp, or press "Other" to send it to another social media network such as Instagram, Snapchat, Facebook, etc. You can also save the GIF to your device's picture gallery by choosing "Save Image."
2. How Can We Save Part of a TikTok Video as a GIF?
At times, we are stuck on a particular part of the video, which we cannot let go of; instead, we want to preserve it and share it as a form of entertainment instead of the entire video. Since now you are aware of how to save a TikTok video as GIF, now you should know how we can save a particular part of the video as a GIF. Here are the details of it in order:
Step 1
You need to first attain the video on Tiktok, which you need to trim into a specific part. After analyzing the video, you need to download it on your phone's device and later transfer it to your computer, where you can edit it entirely.
Step 2
To access FlexClip's editing window, which is the best online video editor for beginners. Here, click the Edit a Video button, and add the clips you want to edit.
Step 3
Trim your video by dragging it into the Media area. Depending on your requirements, you can trim, divide,
rotate
, or rearrange your video snippets. You can even make as many adjustments as you want.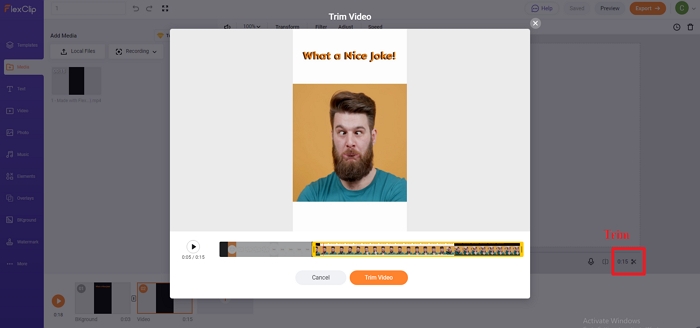 Save Part of a TikTok Video as a GIF - Step 3
Step 4
Once you are done editing your favorite part or the particular clip of your choice, you can download the video as a GIF.

Save Part of a TikTok Video as a GIF - Step 4
The Bottom Line
As we all know how fun GIFS can be and how they save our time while producing enormous amounts of them using Flexclip. This video editing program allows you to create stunning videos quickly. FlexClip editor is all about seamless production, with numerous video themes, dynamic patterns, and an extensive stock footage library making your life easier than ever. The best part about Flexclip is, it costs you nothing and is extremely easy to use, and provides you with top-quality resolution, which you would not want to miss for the world.