As the latest trend of video marketing, interactive shoppable videos revolutionize the way customers shop online and create unprecedented opportunities for small businesses to boost sales through compelling video ads.
In this post, we will walk you through what a shoppable video is and why it's worth making one, and offer you actional strategies to make a compelling shoppable video that sells.
Here is what you will learn:
What Is a Shoppable Video
Simply put, a shoppable video is an interactive video for sales. The viewers can view the products on display and click/tap the hotspots with clickable links to visit your online shops for details about the products and directly make the purchase.
Here is a classic example of IKEA shoppable videos. Notice the yellow clickable hotspots that get viewers linked to IKEA's shopping page for sheets, pillows, etc.
A sample of IKEA shoppable video.
Why Create a Shoppable Video
Here comes the question when you have the ads on Google or Facebook, why make a fuss to create an interactive shoppable video? Well, the reasons are so obvious as follows:
1. Higher Conversion Rate
Compared with traditional search engine marketing and social media ads, interactive shoppable videos can easily grasp target customers' attention and keep them engaged.
Again, based on the research from Wyzowl, interactive shoppable videos boost viewing time by 47% and increase purchase intent by 9 times with a conversion rate of around 11%, which is much higher than the average 3.48% conversion rate of Google ads.
2. Reduce the Sales Funnel
Unlike the traditional video ads where viewers watch the video and swipe away, an interactive shoppable video reduces shoppers' journey in making the purchase. They view products, follow links to explore, and shop directly.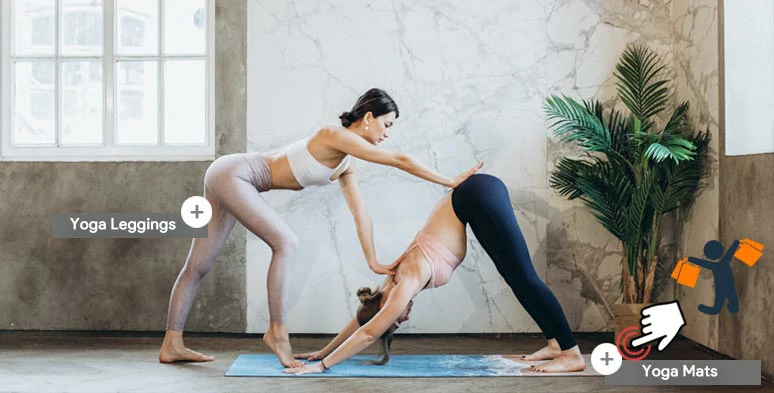 Shoppers watch a shoppable video and directly buy the product.
With fun storylines and vivid displays of products, shoppable videos promise a one-stop and immersive shopping experience, completely under shoppers' control. According to the research by CISCO, 72% of the shoppers would be likely to view a shoppable video and go ahead with a purchase.
3. Easily-made & Affordable to Small Businesses
For small businesses and companies, you won't need to break the bank to hire a professional camera crew to create a shoppable video. With affordable gear, even an iPhone, thoughtful preparations, and teamwork, you can create a compelling shoppable video and use free social media like Instagram, TikTok, Amazon, etc. to add product links to the video. Check how to make a makeup video by iPhone.
How to Prepare, Film, and Edit a Shoppable Video
Having figured out the basics of a shoppable video, now please walk with us to find out the real-world and actionable strategies to prepare, film, and edit a shoppable video from scratch.
1. Prepare a Shoppable Video
Plan the storyline. Incorporating an interesting story into your shoppable video is a strategic and popular way to create an engaging shoppable video. So, plan a story and settings where your products can address target customers' pain points and infuse them with a sense of humor.
A great case in point is the IKEA Bedroom Habits shoppable video, where the video begins with two men's fight for a good sleep and ends up buying quality bedding and furniture from IKEA. Pretty hilarious and straight-to-the-point.
IKEA's funny bedroom habits shoppable video
Decide scenes, places, action, and audio
. Use a storyboard to note down the scene, places, and action you need to shoot, including scripts of characters and third-person's voiceovers for the shoppable video.
Check the 5 best online voice recorders
.
Products & quality images. Sort out the products you need to display in the shoppable video and prepare the quality images that can show the color, texture, and material of your products, which later may be used in video editing or adding the hotspot links into the video.
2. Film a Shoppable Video
Duration of each scene. Since the primary goal of a shoppable video is to show your products in the real world, so you may combine long take with close-up shots to give viewers enough time to see your products. Keep 1-2 products displayed in each scene(3-5 secs), and avoid overload viewers with too much information.
Camera movements. Properly use a pan, zoom in/out to show the overall looks, and close-up shots of your products. While tracking shots are commonly used to give the dynamics of the videos, for example, move your camera alongside a model wearing your jacket.
Check how Gogglesoc uses different camera movements to showcase her latest range of eyewear accessories in her shoppable video, even if it has no obvious storyline.
Gogglesoc shoppable video example
Shoot from multiple perspectives. Normally, for one scene you need to shoot at least 3 times at different distances to tell the story and show your products from different perspectives. Besides, combine foreground, middle ground, and background to add depth to your video.
Gear you need
. Any smartphone, mirrorless/DSLR camera, capable of filming 1080P/30FPS video can be used to film a shoppable video. Mount your iPhone or camera on a 6 Axis gimbal stabilizer to shoot stable footage. Consistent and stable LED lights for indoor shooting. Portable lavalier mic for audio recording. Also, read
the 9 best hacks to make a cinematic video
.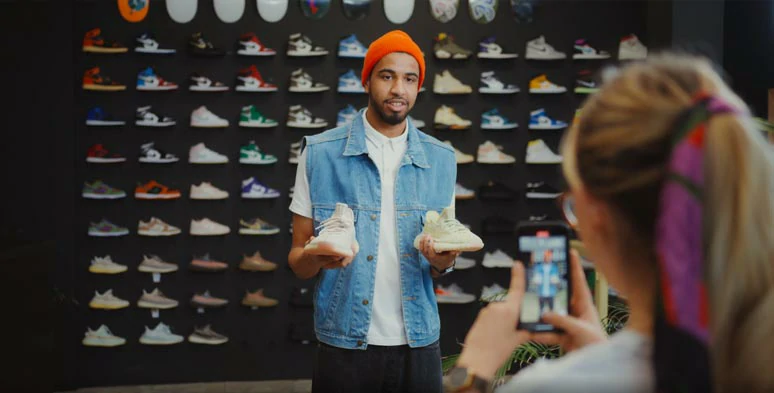 Film a shoppable video with an iPhone.
Bonus: Team up with Instagram, TikTok, and YouTube Influencers
If you have an extra budget, another win-win solution is to find and sponsor an Instagram, TikTok, or YouTube influencer in your niche and work with them to create an engaging shoppable video.
3. How to Edit a Shoppable Video
After you've had all the footage you need, now it's time to come to your PC and edit them into a captivating shoppable video. If are at a loss about where to start for the video editing, a great tool you can use is FlexClip, an easy-to-use, and feature-packed online video maker. No software download and experience is needed.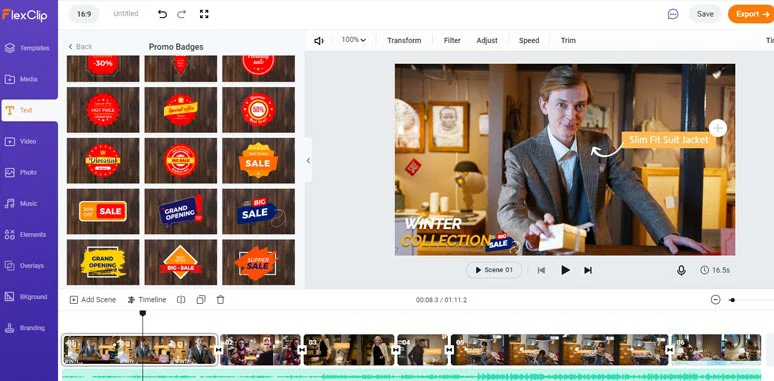 Edit a compelling shoppable video by FlexClip online
With FlexClip, you can:
Select from tons of designer-made and fully-customizable
sales video templates
and drag and drop your footage/images to customize your shoppable videos in a breeze.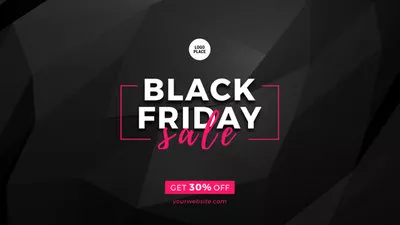 Black Friday Shoes Sale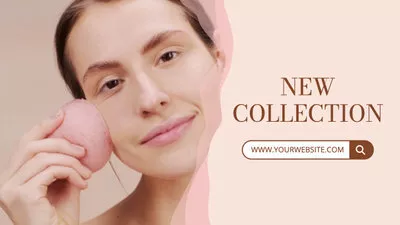 Cosmetics New Collection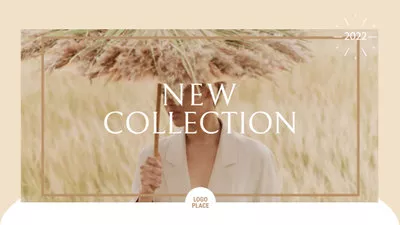 Apparel Ad
Use thousands of royalty-free music and sound effects to bring your shoppable video to life and avoid copyright issues.
Trim, split, and merge clips/images/audio/GIFs on an intuitive timeline with tons of video and image features such as picture-in-picture, overlay transitions,
image background remover
, text animations, crop mask, speed control (0.2x-8x), dynamic call-to-action elements, etc. to get your creative juices flowing.
Enjoy simultaneous cloud sync to avoid project loss; ease of sharing to social media and friends and no laggy in your browser.
Step 1
Select a sales video template, preview it and click the Customize button.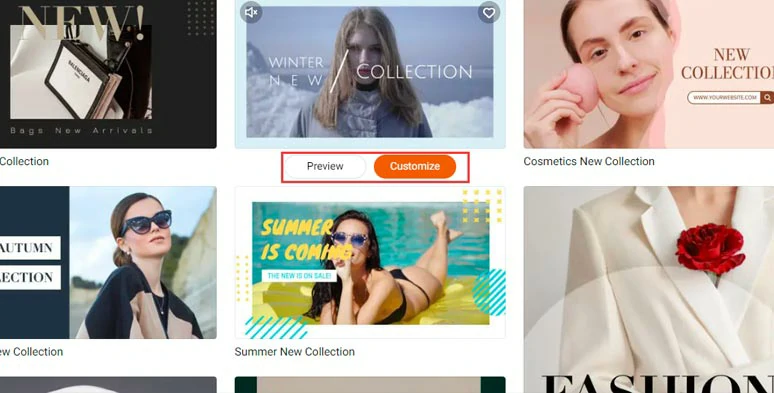 Select a sales video template
Step 2
Upload your footage, images, and audio files to FlexClip from your PC or phone.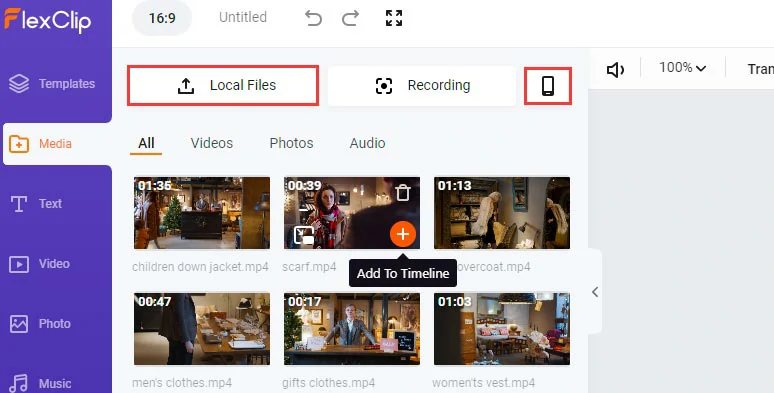 Upload your clips and images to FlexClip.
Step 3
Drag and drop your clips or images to replace the default images/video backgrounds. Then add other clips or images onto the timeline, drag the slider to trim them or split them, and adjust their order for the rough cuts.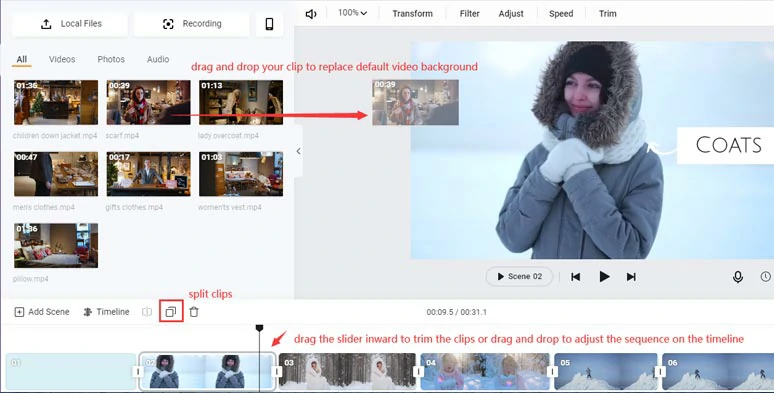 Drag and drop to replace the video background and trim or split clips for the rough cut.
Step 4
Add animated texts and hotspot icons: Customize the text, text fonts, styles, colors, styles, layer, opacity, etc. You can even click the Element tab and type in "Plus Button" and add a fake hotspot icon to the product item. Then, you can group them and position them properly for your product.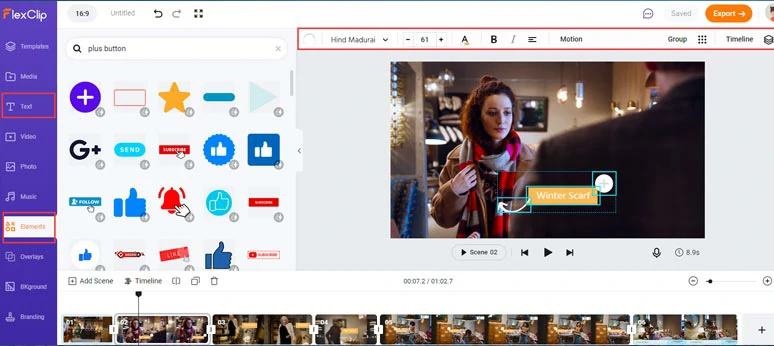 Add texts and a fake hotspot icon for the product display.
Step 5
Add B-roll to display product: Add a clip/image as a picture-in-picture for product display and use a crop mask to add styles to it. Background remover can help you create a clear-cut image.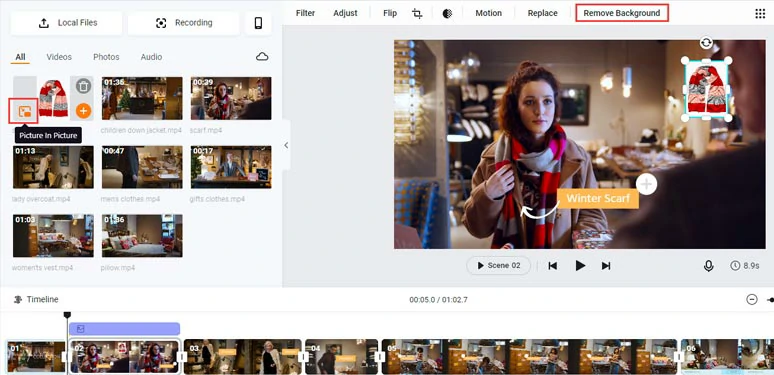 Use picture-in-picture to add a product's image or video for display.
Step 6
Make more edits: Click the Text tab to add more text animations, add dynamic elements to spice up your shoppable videos, or add video transitions. Don't forget to go to the Music tab and add multiple layers of BGM or sound effects to make your video come alive. You may also add audio descriptions as well.
Add video transitions and free BGM, etc.
Step 7
Preview and share: Done with the editing. You can directly download the video to your PC or use the clickable link to share it with your colleagues for feedback and reedit it. You may also save it to your Google Drive or DropBox, etc.
Bonus: Best Platforms to Host Your Shoppable Videos
Well, the final step is to find an ideal platform to add the product links to your hard-made shoppable videos. Here we have some recommendations for you. Choose one that aligns with your budget, target customers, marketing strategies, and brand image.
Instagram, TikTok, and Amazon. These 3 platforms are completely free and are ideal for those who want to add product links to your shoppable videos at zero cost. All you need is to upload your shoppable video to IG or Tiktok or Amazon creator hub and add a product link to the product featured in your shoppable video. Besides, Facebook ads can also embed product links to your video, yet it comes at a price.
Vixy and Hihaho. These are two viable options for the mid-range interactive platforms. They offer you video editors to edit branching for shoppable videos with a storyline. So, shoppers can click the hotspots, buy products and advance the story in their way.
WIREWAX and HapYak. If you have a decent budget, go for these two interactive shoppable platforms where you can add dynamic hotspots linked to your products in the video and enjoy more advanced video editing tools for creating any video into an interactive video.
However, if you just started expanding your business, think about having your own online web store first with an intuitive and feature-rich online store builder like Hostinger, then learn to improve your selling strategy following this article.
Now, It's Your Move
So, can't wait to create your first shoppable video and have it published on IG or TikTok to boost sales. Take your time to experiment with the FlexClip video editor and other platforms to make it happen. If you find this tutorial helpful, don't forget to share it with your friends on Facebook or Twitter and leave your comments for us. Looking forward to seeing your sales skyrocket.