Memes are more than quickly-consumed photos, GIFs, or videos that make you laugh. When used tactically, memes can be a great marketing means to help you connect with the target audience, build brand awareness, boost sales, and even tap into a new market.
If you are new to marketing meme, in this post, we will walk you through what meme marketing is and offer successful examples of marketing memes by different brands and actionable strategies for you to select and create memes to market your brands on social media.
Here is what you will learn:
What Is Marketing Meme?
Marketing meme or meme marketing is the latest marketing trend that uses funny and relatable memes ( images, GIFs, or videos) to stay connected with the target audience to promote your brand, products, and services.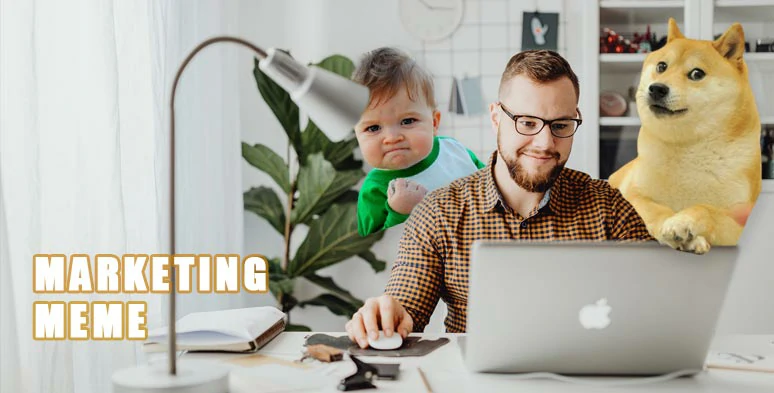 Marketing meme: the latest marketing trend for brands.
Why marketing meme works for businesses is that nowadays memes have become a hugely popular language used on the web. People love seeing and sharing any viral memes that are fun and relatable. Check the 6 best free video meme makers.
For digital marketers and content creators, you can make most of the people's love for a trending meme and align it with your brand's image for promo and sales. Read on to find out how big and small brands apply meme marketing to their sales process and brand promotion.
5 Success Stories of Marketing Memes by Brands
Whether you are running a big brand or a brick-to-mortar store, to connect with the target audience, you need to listen to their needs and communicate in their languages. While the funny memes people use daily offer you a huge opportunity to build your brand awareness at zero cost.
Here are some of the successful examples of how marketing memes work for different brands:
1. Netflix
As one of the hottest online platforms for movies and TV series, Netflix offers you a textbook example of how to use memes for marketing on its Instagram account.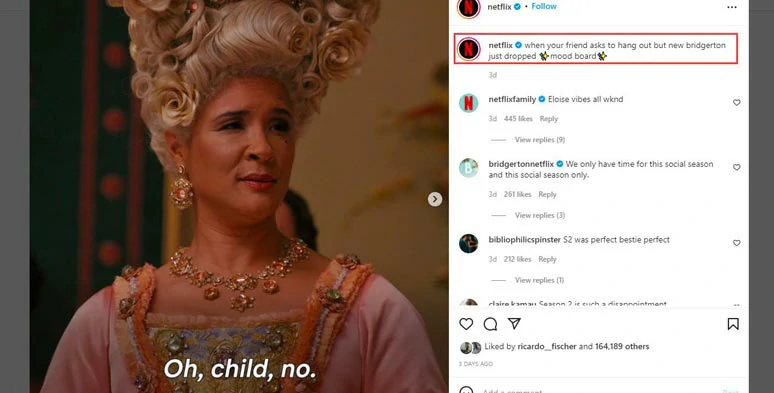 Netflix markets her brand with memes from a screenshot of his Bridgerton.
Instead of finding trending meme templates, Netflix frequently interacts with followers with memes made straight out of the screenshots and clips of the hotly-discussed movies and TV shows on Netflix.
In this photo meme above, Netflix used a screenshot of the Emmy-nominated drama Bridgerton and poked fun at a scenario when a new Bridgerton episode is released, people are in no mood to hang out with friends. You barely see any visible ads placement in this marketing meme, yet it is so funny and resonates with the binge-watchers.
2. Tinder India
Tinder is a US online dating app and its Indian branch applied the popular "Distracted Boyfriend Meme" and came up with a creative twist on Tinder's billboard to promote the company's new brand campaign "Adulting Can Wait".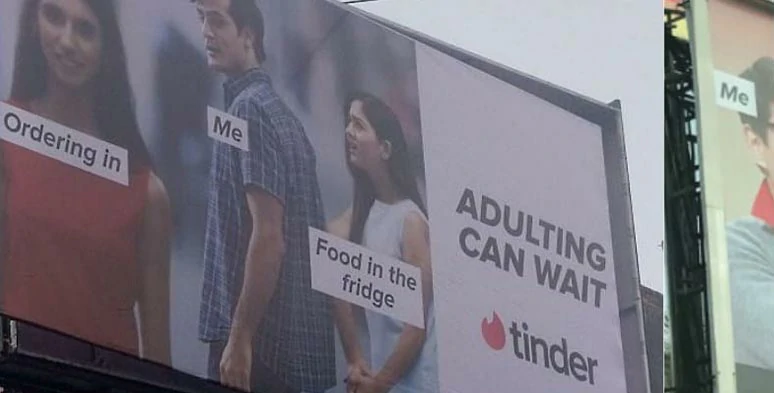 Tinder used memes to market its new brand campaign.
Again, in this marketing meme, the hard sell is avoided and the company skillfully used a young man's eyeing for a lovely lady to advocate the idea of cherishing the pre-adulting stage, which perfectly aligns with Tinder's new brand image.
3. Telfar
Another classic marketing meme example is from Telfar, a luxury and unisex purse brand based in NY. In the meme below, Telfar stitched two hilarious purse-robbery scenes together from the movie "White Chicks" to show the quality of its purse and the brand loyalty of devoted Telfar buyers. Such a witty and masterful use of meme marketing.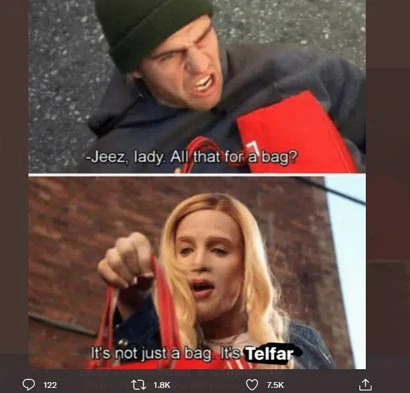 Telfar applied hilarious film screenshots as marketing memes to the sales promo.
4. The Living Potion
As a perfume brand devoted to delivering the experience of luxury scents to every customer, The Living Potion seized the opportunity of Drake's newly-released "Certified Lover Boy" album cover and photoshopped the original cover with 12 ladies of different races and skin colors to promote Living Potion's extensive perfume and scents for different ladies. Another epic success story of marketing memes.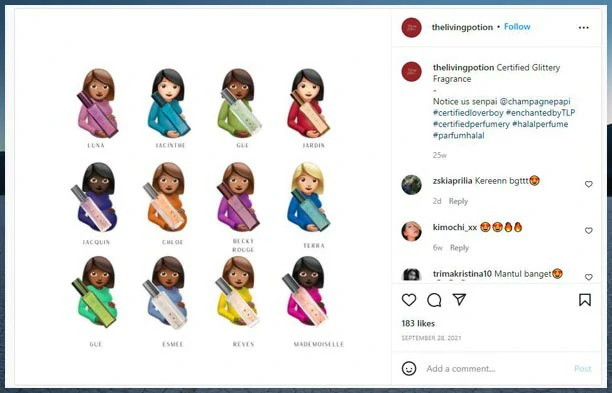 The Living Potion marketed her brand with a creatively twisted meme.
5. KFC
When the premiere of the Hollywood blockbuster film Godzilla vs. Kong grasped so many people's attention in 2021, KFC posted a funny monster-fight meme on Twitter as a metaphor to claim his dominating place in the American fast-food chains. As expected, this marketing meme went viral on the internet.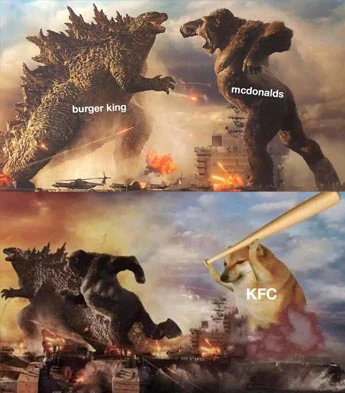 KFC's success story of marketing memes
7 Actionable Strategies for Marketing Memes
Having discussed the success stories of how different brands boost their brand awareness by marketing memes, now we'd like to walk you through 7 actionable strategies to create a marketing meme for your brand.
1. Know Your Target Audience
The very first step for marketing meme is to identify your target audience.
If you have been running Facebook, Twitter, Instagram or YouTube, etc for a while. you can use the free analytics, insight, and ads tools on different social media to accurately locate the target customer's age group, interests, shopping habits, geography, income, etc.
You may survey your Instagram, Twitter, and Facebook followers' accounts and find out what kind of memes they enjoy sharing and posting, such as deep-fried memes, expectation vs reality memes, or video memes.
2. Select Memes That Align with Customer Value and Your Brand's Idea
The worst mistake many brands made is randomly picking a trending meme template for their brand. In this case, you are very likely to put your brand's image and idea in jeopardy, esp. controversial memes concerning race, violence, and sexual equality.
What you can do is:
Use
Knowyourmeme
, a free online meme website that documents the origin and trends of memes, to check a particular meme's origin, year, type, status to decide if it aligns with your core value and customer's interest, and whether it is sharable( with many meme variations), trending and mighty cause any controversy.

Check the origin of a meme by Knowyourmeme
Knowyourmeme also offers video memes, photo memes, GIF memes, and viewers' comments on the trending memes. Pretty handy for marketing memes strategies.
Usually, a 7-20-day-old meme is ideal for marketing memes for businesses, because some memes emerge and die overnight. The 7-20-day-old memes have established a stable and rising trend and you can see how the public responds to a meme template and apply your product and service to this meme for the sales process.
Once you created a marketing meme, you can do a test run by passing it to your team and gather feedback and make adjustments accordingly.
Never use outdated memes.
3. Be Humorous, Relatable, and Subtle
Memes are made to entertain people and trigger emotions they can relate to. So are the marketing memes.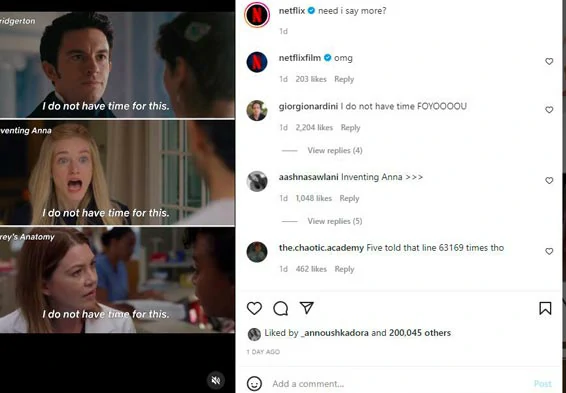 Netflix masterfully used humorous and relatable memes for marketing.
Make sure your marketing memes are packed with jokes related to your products and services and humor your target customers can resonate with.
Use self-deprecating humor.
Keep captions short and sweet.
Make subtle, witty, and casual product placement like Netflix and Telfar do on IG because no one likes a hard sell.
4. Use User-generated Memes for Marketing
UGC (user-generated content) serves as perfect social proof for your brand. It allows your customers to participate in your brand's growth and create genuine and growing engagement on your social media.
Collect the hashtag your customers and followers use to tag you. And find photos, GIFs, or video memes they use related to your brand and repost them on your official account. By doing so, it will increase the brand loyalty of customers and even lead to more followers creating memes for you.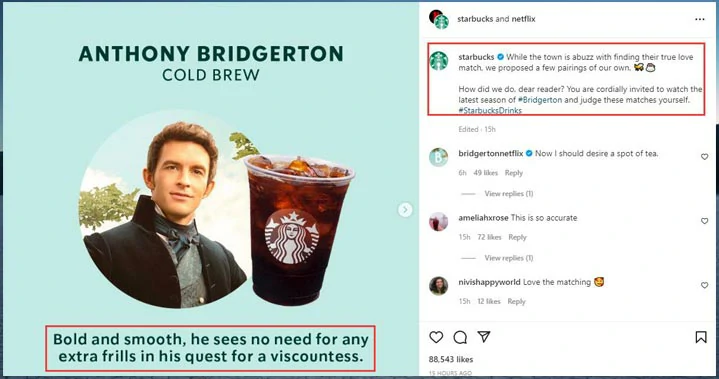 Netflix reposted Starbucks's meme for marketing on Instagram.
See how even Netflix uses Starbucks ' marketing meme and tag to achieve a win-win brand promotion.
5. Free Online Sources for Memes
Don't randomly search memes on Google. Here, we would like to offer you 4 reliable and efficient ways to find trending and free memes and meme templates.
KnowYourMeme
: a website dedicated to documenting all memes in history with detailed accounts of memes' origin, trend, comments, etc.
GIPHY
: the largest and most popular online database for hottest GIF and video memes.
FlexClip
: an all-in-one online video and meme maker with direct access to GIPHY's assets and meme templates and vast royalty-free video, photo, and music library, and tons of video tools.
Imgflip
: online and mobile meme generator for you to access the biggest meme template database.
6. Decide Where to Post Your Marketing Memes
With Instagram, Twitter, Facebook, Snapchat, YouTube, etc. so many social media to choosing from, how do you know which platform works best for your brand? Here are 3 solutions you may use.
Since memes are quickly-consumed jokes like images, GIFs, and short clips, Instagram, Twitter, Facebook, and Snapchat that feature short posts are more likely to be your battlefield for marketing memes than YouTube and Vimeo which prefer longer video content.
Use data from your social media to decide which platform sees the most active consumer activity.
Survey which social media competitors in the same niche use for meme marketing.
7. Don't Overdo It
Though technologically it's extremely easy to create memes for marketing, you are not expected to bombard your target audience with unrelated memes daily on IG and Twitter. Otherwise, they will become spam.
Wait for an interesting news story, a trend in your niche, or any viral content that aligns with your brand identity. They are the signals that tell you to market your brand with memes.
Easily Create Custom Marketing Memes for Your Brand
Once you've found the best timing and the ideal memes for marketing, the next step is to put your thoughts into creating a custom meme. An easy-to-use tool you can use is FlexClip, a feature-packed video, and meme maker online.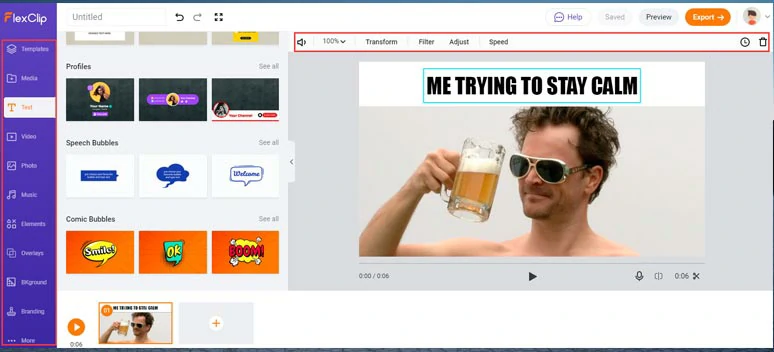 Create mareting meme video by FlexClip
All you need to do is: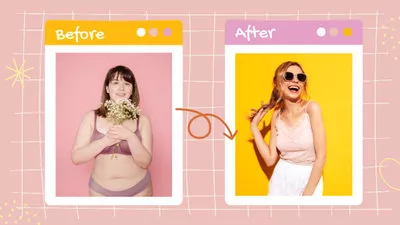 Before And After Meme
Step 1
Select a Meme Template.
Step 2
Drag and Drop Your Images, GIFs, and Videos to Customize the Meme.
Step 3
Export the Meme as GIF or Video.
With FlexClip, you can easily upload images, GIFs, and videos from your PC and mobile phone and customize meme fonts, color schemes, and captions with styles.
The user-friendly tools like image background remover and picture-in-picture effects and speed controls, filters, masking, and royalty-free GIFs, videos, photos, and music assets, elements will get your creative juices flowing.
Finally, you can easily pass the beta meme to your team via a clickable link, or Google Drive or Dropbox and get candid feedback from them. Easy peasy lemon squeezy.
Now, It's Your Move
To sum up, meme marketing is the latest marketing trend for big and small brands. It's zero cost and popularity can be a game-changer for your business. The key to the success of a marketing meme is to align your brand's core value with a funny, relatable, and sharable meme your target audience like.
Be open to experimenting with meme marketing with the tools we recommend like FlexClip, etc. If you find this tutorial helpful, don't hesitate to share it with your friends on FB or Twitter. Wish you have a great start to market your brand with creative memes.