Summary: Want to create Pinterest Videos? This guide will get you started. Keep on reading to know how to upload videos on Pinterest and get more.
According to Pinterest, more than 200 million people worldwide visit Pinterest for new ideas and try them in real life. The video stands out in those feeds on Pinterest to help people turn their inspirations into action. So it is no surprise that video gets more and more popular on Pinterest.
Meanwhile, with the popularity of video on Pinterest, more people are wondering how to upload videos directly to Pinterest?
This guide will walk you through everything you want to know about using video on Pinterest, including the specs of Pinterest videos, and how to upload a video to Pinterest directly.
Also Read: WhatsApp Status Guide: How to Make & Download a WhatsApp Status Video >
Part 1 A Quick Look at Pinterest Videos
Before we begin, let's have a quick look at Pinterest videos:
Video Pins contain a cover image(thumbnail) that is designed to capture the attention of the viewers. And those videos are usually played in users' feeds with the sound-off.
Pinterest has a simple requirement for videos; let's see the specs:
Depict video: Specs of Pinterest Videos( sources: pinterest.com)
Pinterest recommends making your videos in square (1:1) or vertical (2:3 or 9:16). More specs about pin videos as below:
Video Specs For Pinterest:
File type: upload videos in .mp4, .mov or .m4v format
Encoding: H.264 or H.265
Max file size: Up to 2GB
Video length: 4 seconds to 15 minutes
Aspect ratio: Pinterest recommend making your videos square (1:1) or vertical (2:3, 9:16)
Character Counts & Descriptions:
Title: Up to 100 characters. If you don't fill out a title, people will see your Pin description instead.
Description: Up to 500 characters. The first 50 - 60 characters are most likely to show up in people's feeds, so put your most important information first.
Now that you have known the Pinterest video specs. Let's move on to how to upload videos to Pinterest.
Part 2 How to Upload Videos to Pinterest
Here's how you get started and upload your video to Pinterest.
If you want to upload videos to Pinterest directly, you'll need a business account first. The process is pretty quick and easy.
Get Your Pinterest Account Ready
#1.Create a Business Account
Go to Pinterest's home page and click "create a business account" at the bottom of the page: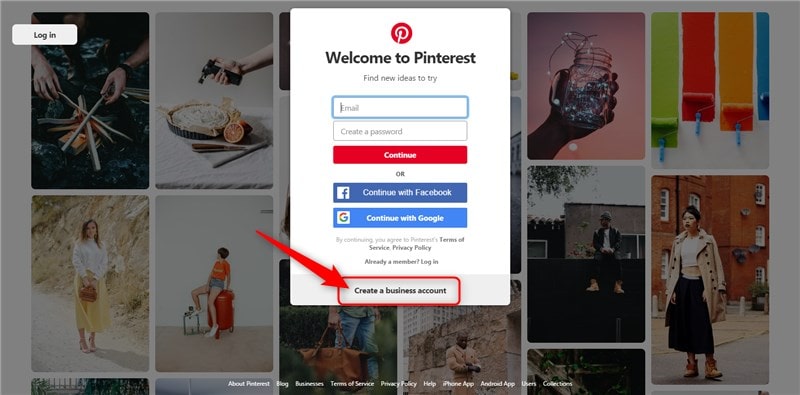 Image Board: Create a Pinterest Business Account 1
Enter your email address, a new password, business name, and business type to create a new account: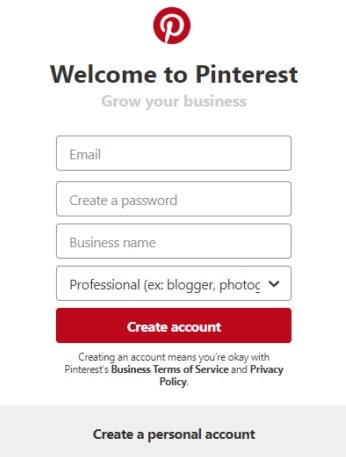 Image Board: Create a Pinterest Business Account 2
#2.Complete your Business Profile
Go to your settings to fill out your profile. You can add a profile photo, your location, and other helpful information.
#3.Claim Your Website
Image Board: Claim Your Website
Claiming ensures that your name and profile picture will appear on every Pin with your content.
#4.Adding Billing Details
Go to the setting icon and select "Billing" from the dropdown add your billing info (which can be done after your website has been verified).
Note: This just means you need to enter in credit card information that could be possibly used for ads. However, it's not required to do any paid promotion of your video pins with this billing information. It's just something to trigger having the option to upload videos.
Upload Your Video to Pinterest
Once you have your business account ready, it's time to upload your video to Pinterest:
# 1 Start by logging in your Pinterest account and clicking the "+" icon in the top right corner and then on Create Pin.
# 2 Then a new screen will pop up to upload your video. Drag and drop your video file into the upload file section on the left of the screen, or click on the up arrow and then select the video file you want to upload. Note that it could take a while for the video to upload.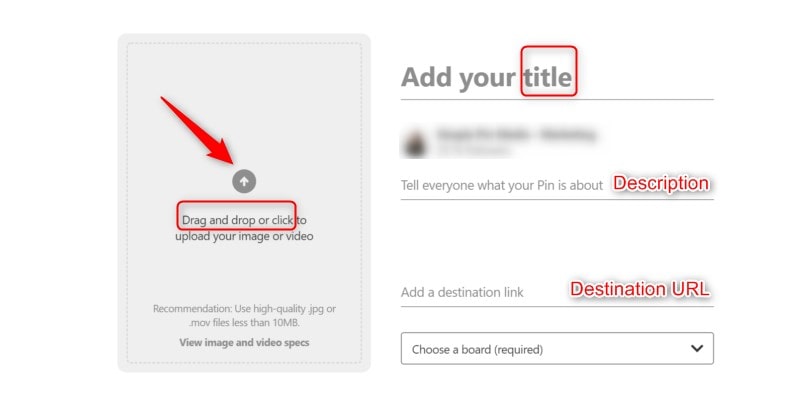 Image Board: Upload Videos to Pinterest
# 3 Add the title and pin description in the fields marked on the right. Also add destination URL (a link to your website, blog post, or related web address; like a YouTube video, product page, etc.).
# 4 Choose your most appropriate board from the drop-down menu. A board that most closely matches the topic that the video covers will allow the keyword data to attach to the pin.

Image Board: Choose a Board for Your Video Pin
# 5 You're done! Click "Publish immediately" and you're all set with your first Pin Video!
Further Reading: Create a Pinterest Video With FlexClip Video Maker
Don't have a video that's ready to be uploaded to Pinterest yet? Try FlexClip to create one right now!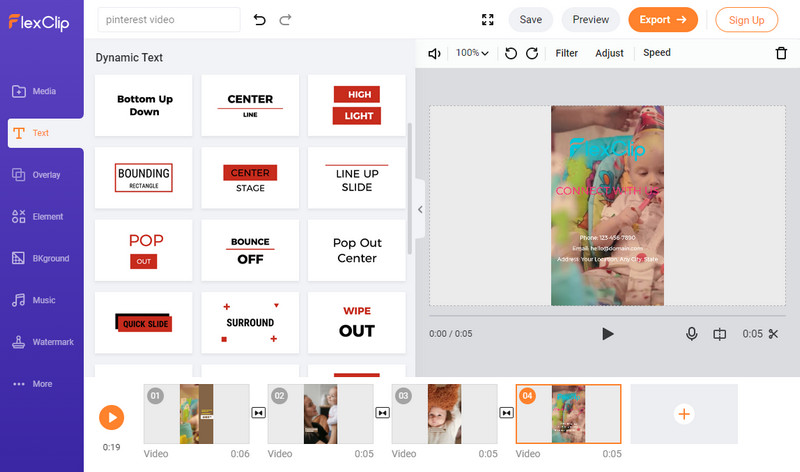 Image Board: FlexClip's Editing Interface
FlexClip is your best choice to make a stunning video for the following reasons:
Reasons:

Easy-to-operate: FlexClip allows everyone to create videos quickly and easily; even a layperson can do it with great ease! No video editing experience is required!
Powerful editing functions: FlexClip features various video editing functions helping you to make your video a masterpiece, like add text, add a logo, watermark your video, and so on.
Multiple video ratios are available: you can make your video in square(1:1), vertical(16:9), or landscape(9:16).
High-quality videos in mp4 format: after you finish your video, you can export it in mp4 format.
Steps: Go to FlexClip main page > Choose a Video Template or Start From Scratch > Add media > Customize > Export.
Depict video: Make Pinterest Videos with Flexclip
Make video can't be easier with FlexClip. What are you waiting for? Try Flexclip to make an excellent Pinterest video right now!